Designing kitchen cabinets in our new home was one of my favorite parts of home building. I loved thinking through what will go where and how to bring that to life. Creating a space that is both beautiful and functional was very important to me. This is especially true in a kitchen!
Today, I thought I'd share what the dimensions of our upper kitchen cabinets are. When building a new custom home, you truly have to think through every single aspect and square inch of the home. It is helpful to see how the dimensions of things like kitchen wall cabinets look in real life.
I originally had no idea where to start when it came to cabinet dimensions, so I wanted to share this information with the hopes that it can help someone else out that is in the new home build process.
Upper Kitchen Cabinet Dimensions in Our Custom Home
I will first start by sharing the dimensions of our upper kitchen cabinets. That way, you can see what the 2D renderings look like, and then compare them to pictures of the actual kitchen.
I will also show the interior of the cabinets in order to show how well plates, glasses, and bowls fit in the cabinets.
Kitchen Cabinets in a Kitchen with 10 Foot Ceilings
The ceiling height in our kitchen is 10 feet tall. I knew I wanted our shaker kitchen cabinets to go all the way to the ceiling.
Our cabinet installer left just enough room to put crown molding at the top, where the top of the upper cabinet meets the ceiling. We have two layers of upper kitchen cabinets – the largest on the bottom and the smallest on top.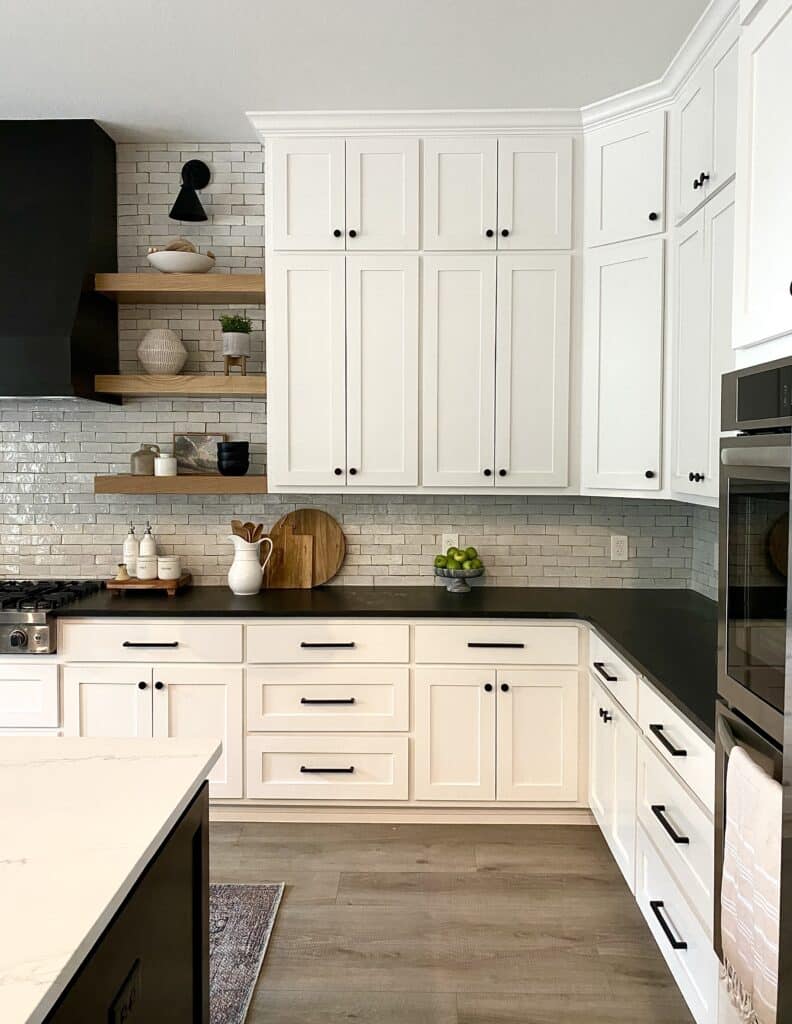 Be sure to talk to your cabinet maker if you have different heights of ceilings in your home. This way, your cabinets will fit the specific dimensions of your kitchen.
Depth of Our Upper Kitchen Cabinets
It's important to get the depth correct of upper kitchen cabinets. The depth of the majority of our kitchen cabinets is 12″ deep. This depth has worked very well to house all of the everyday items like plates and bowls.
The depth of the upper kitchen cabinet above the double oven is 24″ deep. The space above oven cabinets typically has vertical dividers, which is so helpful to store all of the cookie sheets, pizza stones, and similar items.
This would be the same depth if we had a microwave oven in that location as well. However, we decided to put the microwave in our pantry.
We did end up making the upper kitchen cabinets that are above our refrigerator much deeper, at around 32 inches deep. This is because I wanted the front of the cabinets above the refrigerator to be flush with the front of the refrigerator. Although it is still very tall, we can reach the items up there a little easier.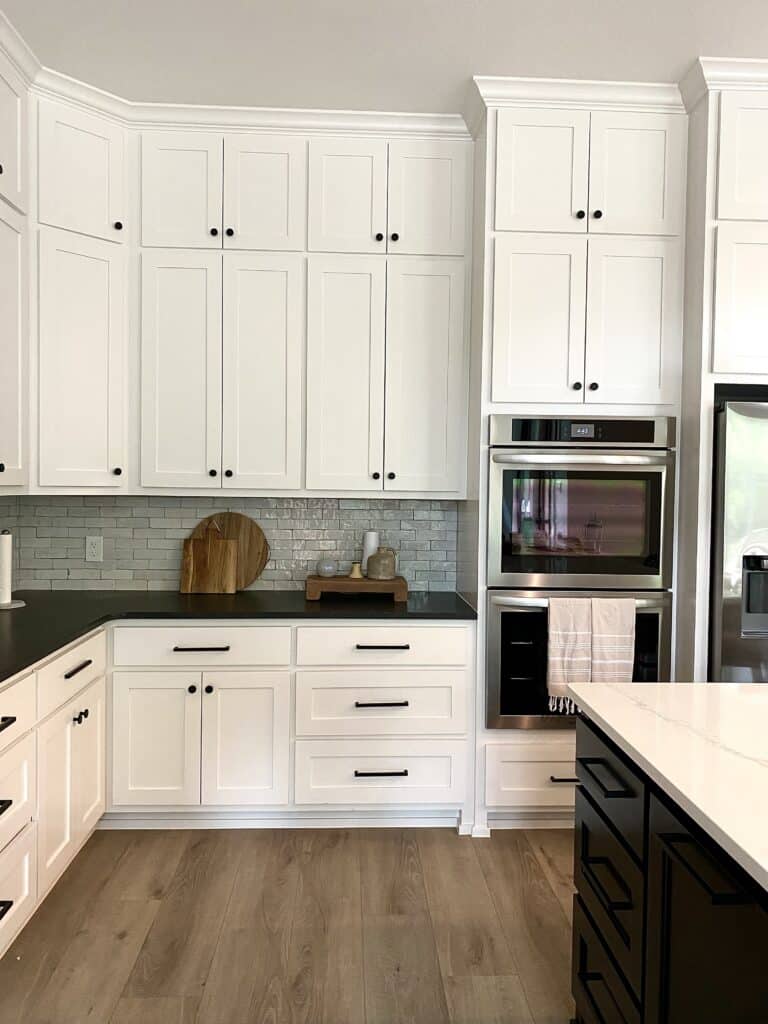 Something else to consider when determining the depth of the upper kitchen cabinets is the depth of the kitchen base cabinets below the upper cabinets. Standard base cabinets are around 24″ deep. So, the depth of these upper cabinets are based on that depth of base cabinets.
For something like pantry cabinets, they will be the same depth from top to bottom and are typically around 24″ deep.
Height of Our Upper Kitchen Cabinets
We do have very tall kitchen cabinets in our home. This is because I wanted the cabinets to go all the way up to the 10-foot ceilings, with crown molding added.
However, you can leave off the top layer of cabinets in order to lower the upper cabinet height. Simply add crown molding and leave a gap at the top if you desire fewer or shorter upper kitchen cabinets.
Here are the heights of the upper kitchen cabinets in our home:
The bottom set of upper cabinets is 39 1/4″ inches tall. The set above those is 18″ tall.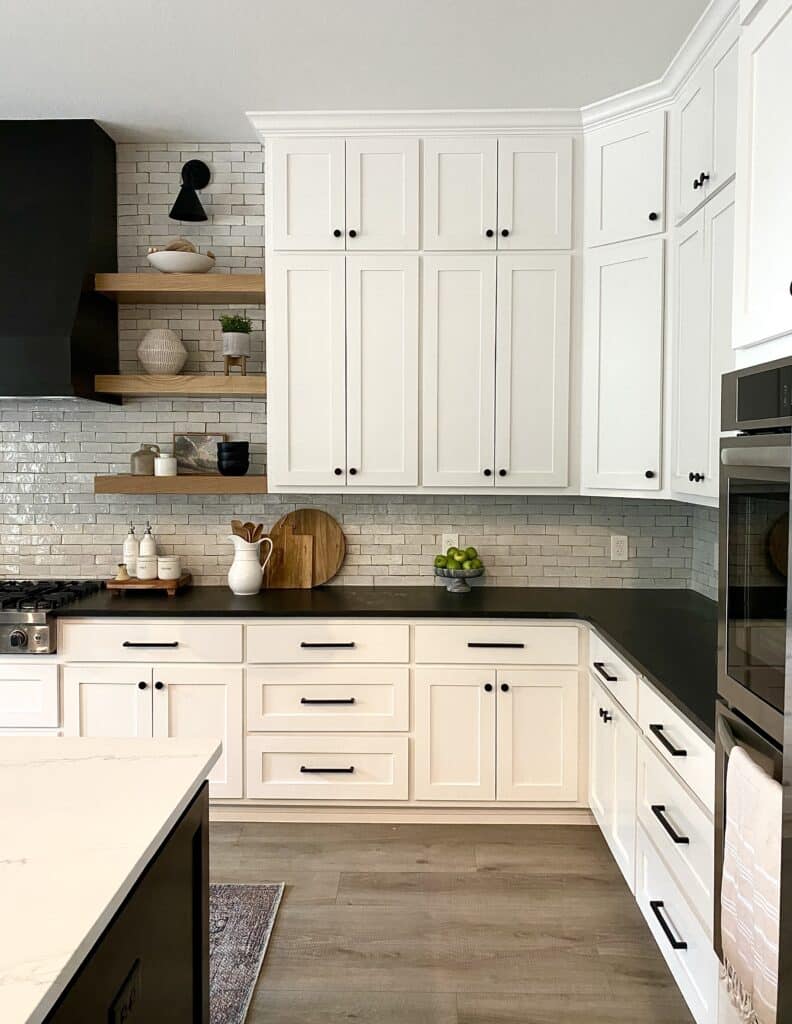 The bottom set of upper cabinets has ample space for 3 shelves and the set above has enough space for 1 shelf.
Tip: I often get asked how we reach those high cabinets in our kitchen. I purchased this very lightweight telescoping ladder. It has worked out wonderfully to create somewhat easy access to those very tall cabinets.
If you're interested in the vent hood in the pictures, check out this post on how to diy a kitchen vent hood.
It takes up very little space to store, is easy to carry around, easy to extend, and feels secure when it is being used. I highly recommend it if you get tall cabinets anywhere in your home! It has come in handy in other areas of our home like tall bathroom cabinets, pantry, changing light bulbs, etc.
Width of Our Upper Kitchen Cabinets
The widths of our upper kitchen cabinets vary from cabinet to cabinet. The widths are 13″, 24," 26 3/4″, and 29″. The smallest width is for a corner cabinet and the widest is what fit the best to the right of the open shelves. The corner cabinet has a lazy Susan in it to add easier access to items in the upper wall cabinets.
The varying widths are because they were custom-made to fit some of our appliances, like our oven and our refrigerator.
However, the most common width is 26 3/4″, as seen below.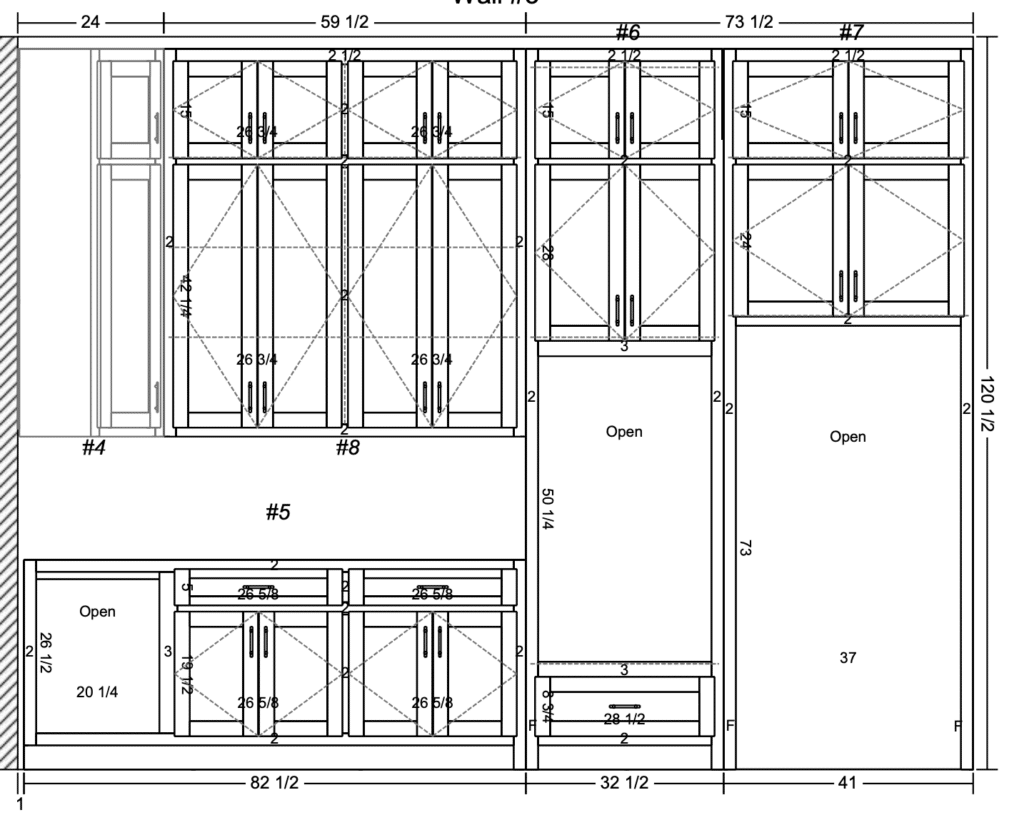 Distance from Countertop to the Bottom of Upper Kitchen Cabinets
The measurement from the top of our countertops to the bottom of the wall cabinet is 18.25″. This leaves plenty of space for counter-top appliances and decorations. Additionally, the bottom and second shelf of the upper cabinets are not too tall to reach inside.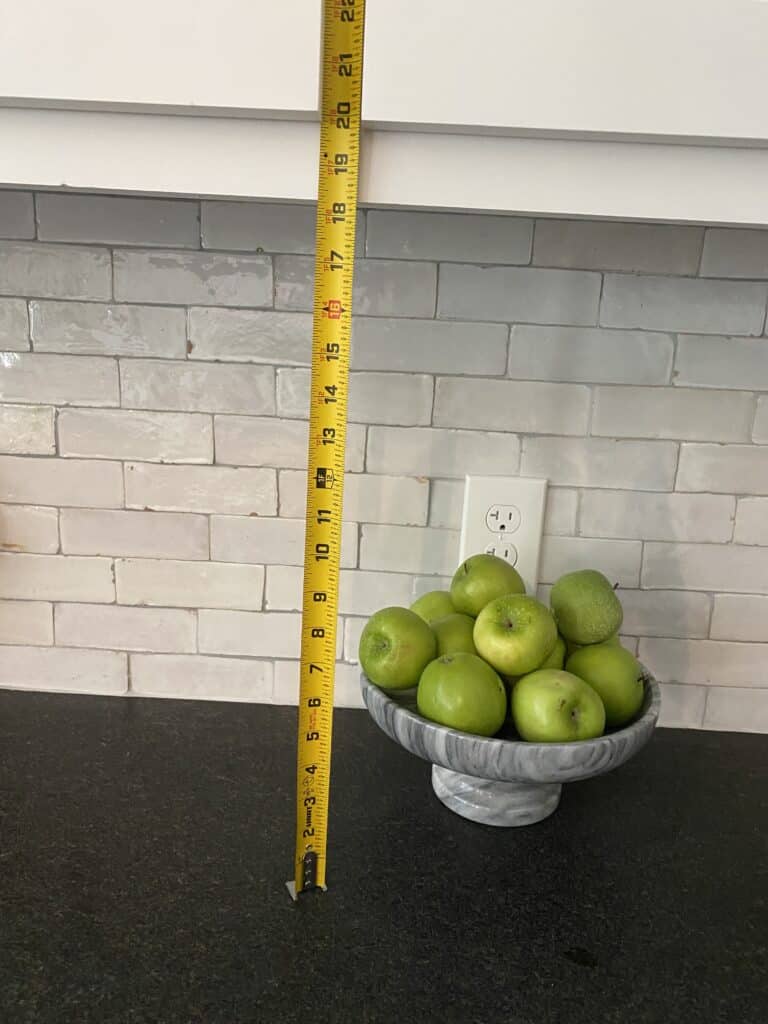 Standard Dimensions of Upper Kitchen Cabinets
The width, height, and depth of upper kitchen cabinets will vary based on the kitchen design and what fits the space. I will cover the standard kitchen cabinet sizes, specifically the upper kitchen cabinets, found in many homes.
Depth of Standard Upper Kitchen Cabinets
The standard depth of upper kitchen cabinets is around 12″ deep. This is typically what you would find if you were to purchase pre-fabricated cabinets. If you are designing a custom cabinet and would like deep cabinets, you can make deeper cabinets, around 14″. Be sure to think through if your cabinets need to be deeper for things like ovens, microwave ovens, refrigerators, etc.
Height of Standard Upper Kitchen Cabinets
The standard height of wall cabinets is anywhere from 30″ to 42″ tall. The standard kitchen cabinet height for the wall is 30″, 36″, or 42″. Cabinets that are 42″ in height would be great for taller ceilings. You could also double stack the wall cabinets as we have in our home for a more custom look.
Width of Standard Upper Kitchen Cabinets
Typical widths of pre-fabricated cabinets are 12″, 18″, 24″, and 36″ wide. If the cabinets are 24″ and wider, they will typically have double doors, instead of a single door.
Building a Kitchen with Stock Cabinets
The varying widths and heights of pre-made cabinets will allow you to find the right combination that will fit your specific kitchen. The standard sizes can be combined to find a custom fit.
If you do end up having a gap, you can use things like filler cabinets to fill the space. These can be things like pull-out spice cabinets or storage space for utensils. They are the full height of the base cabinet, but only a few inches wide. They are great for extra space to store often-used items.
Standard wall cabinets would be a great option for small kitchens with limited storage, as it will allow you to maximize the space.
I have seen many beautiful kitchens that are furnished with pre-fabricated cabinets, so it is definitely doable if custom cabinets aren't an option. Related: average cost of custom kitchen cabinets can be found here!
Hire an Experienced Cabinet Designer and Manufacturer
One of the most important thing you can do is to shop around for an experienced cabinet designer, manufacturer, and installer. Ask around for references, or you can even ask who local builders use. A kitchen designer will most likely have a preferred cabinet maker as well.
We found a great local cabinet company that produced quality work and allowed me to make very precise adjustments to the cabinet designs. This allowed us to have a truly custom kitchen that fits our floor plan very well.
One of the best things that our cabinet supplier did was to provide 3D renderings of our kitchen cabinets. It really brought the 2D drawings to life. It was the best option, as this allowed me to see needed changes and make those early on in the process. Be sure to ask any cabinet supplier you might hire if they do this.
DIY Custom Kitchen Cabinets
If you're doing any cabinetry yourself, the following articles could be helpful:
Building a house? You might find these articles helpful:
I hope this helps you in your custom home building endeavors. I'd love to see pictures of your new kitchen!