When designing a new custom home, one of the most fun parts is designing the kitchen. There are so many options! From cabinet color, to countertops, to the kitchen hardware style and color, there are endless combinations.
One of those decisions that I will cover today is color for the hardware. I will specifically talk about what color kitchen cabinet hardware would look best on white kitchen cabinets. I'll cover the most popular choices of cabinet hardware for white kitchen cabinets.
In our own kitchen, we decided to put matte black hardware on our white kitchen cabinets. Our kitchen cabinets are shaker style.
Updating the hardware on cabinet doors is such a great way to update the look of your kitchen. It is cost effective and can be done in an afternoon. This timeframe is assuming you are replacing the hardware with the same size, so that new holes don't need to be drilled and old holes repaired.
There are a few different colors to choose from, which I will cover today. Updating the hardware on your kitchen cabinets (or choosing the hardware for a new home build!) can provide many different looks for your kitchen – from an industrial look, to a more modern look, to a classic look. So, let's get into some examples of these hardware colors. Hopefully you will find the color hardware that suits your space the best.
Matte Black Hardware on White Kitchen Cabinets
I'm starting with matte black hardware as an option for white kitchen cabinets because this is what we chose for our own home. I think it's a great choice and a timeless choice for your own kitchen. I'll share pictures of exactly what the matte black hardware looks like on our white shaker style kitchen cabinets.
As you can see in the picture below, we have shaker style cabinets fronts for our drawers and cabinets, except for the top row. We decided to leave the top row with a flat panel.
We have 8 inch bar pulls in all of the drawers. I decided to go with a wider pull in order to fill the space of these wide drawers. The matte finish creates more visual interest and I love how it stands out against the white.
We used a combination of bar pulls and cabinet knobs on our white cabinetry. I personally love the contrast of the matte black finish and white and I think it's an excellent choice. We have stainless steel appliances in our kitchen and I love how it all ties together.
With the stainless steel appliances and crisp colors, it adds a touch of industrial style. That look is softened just a bit with the warm wood flooring in the kitchen, along with wooden accents and wooden shelves. I didn't want to to look too harsh, so I attempted to balance it all with a black, white, and wooden toned kitchen.
Black and white is a color scheme that is used throughout our home (black and white, with wood accents). So, the contrast of the black hardware against the white cabinets work well with the design aesthetic of the rest of our home.
As a side note, we also put matte black hardware on our black kitchen island. I'm specifically covering white cabinets in this post, but for what it's worth, I love how the black cabinet hardware looks on our black painted cabinets!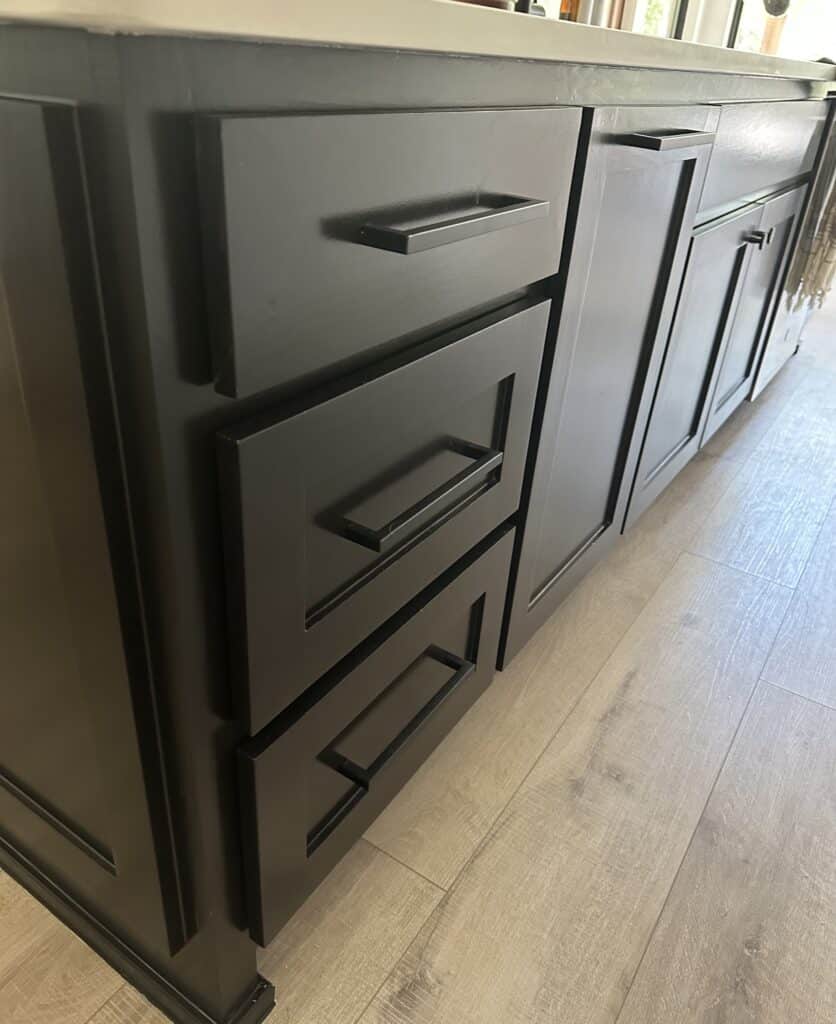 Brass Hardware on White Kitchen Cabinets
Brass hardware has made a comeback in recent years and it truly is beautiful. The warmer tones warm the space and create a beautiful and classy look.
I have seen quite a few interior design styles that mix and match hardware metals and brass is usually one that is incorporated. Brass and matte black is very common and is very beautiful.
It is common to see a mixture of brass and black hardware on faucets and light fixtures, like pendants over the kitchen island. If you choose fixtures like this, brass knobs and door pulls would look great with white cabinets.
Brass hardware can be described as antique brass or satin brass. Both shades are very similar and can be the perfect choice for a more traditional style.
Although we don't have any brass hardware on our white cabinets in our home, we do have them on our black painted dresser in our primary bedroom. I love how easy it was to update the look of this dresser by just updating the cheap hardware to new hardware, like a beautiful brass knob. The best thing you can do to an old dresser or old cabinets is to update the hardware!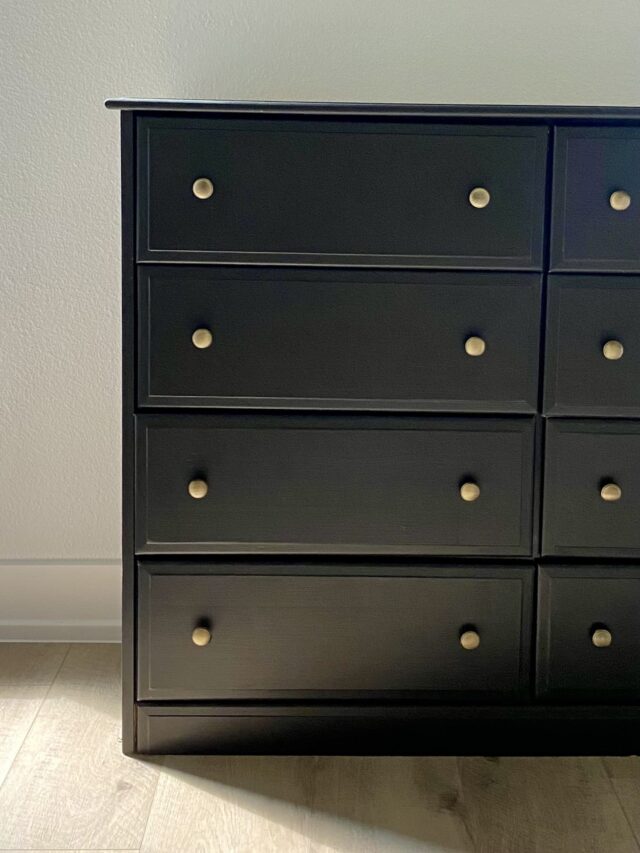 Brass hardware on white cabinets in a kitchen will create a modern kitchen that, when done well, can be very beautiful.
Gold hardware can go under this category as well. Even though "gold" is more of a shiny finish, brass can look gold and is often used interchangeably.
Nickel Hardware on White Cabinets
Hardware with a satin nickel finish can be a beautiful hardware finish for a kitchen space. It is a very similar look to brushed nickel and creates a very clean and simple look. It would tie in very well with stainless steel hardware and appliances.
Silver hardware would go under this category as well. Oftentimes, "silver" hardware looks more shiny and while that isn't as popular anymore, brushed nickel can still read as silver or chrome hardware.
Oil-Rubbed Bronze Hardware on White Cabinets
Although this style isn't as popular in new or remodeled homes anymore, it is still very common. It rose in popularity when the farmhouse kitchen style became so popular. As a result, there are a lot of options in style for oil rubbed bronze hardware for white kitchen cabinets.
White Cabinets Without Any Hardware
There are a couple cabinets that we chose to not put any hardware on. This is because those cabinets sit below open shelves. With that space being so busy because of the open shelves, I chose to leave all hardware off of the cabinets.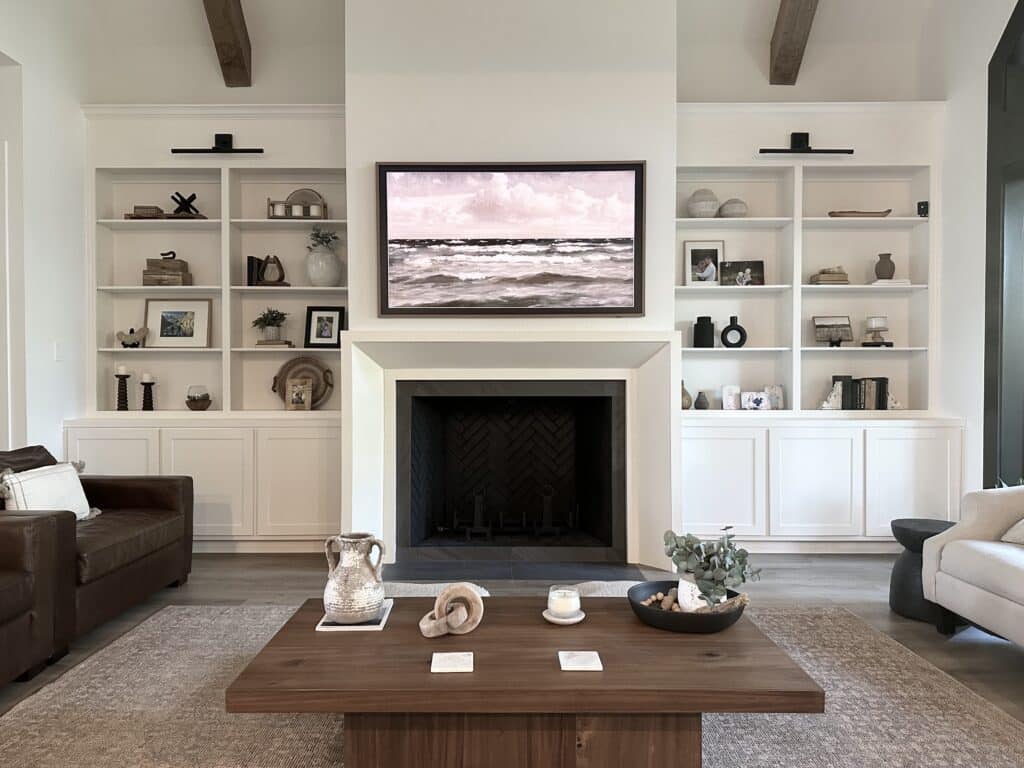 These are not often used cabinets, so it is feasible to leave off the hardware. If they were used more frequently, I would definitely put hardware on them.
Different Hardware Styles on White Kitchen Cabinets
Once you have settled on the right hardware color for your white kitchen cabinets, you can start choosing which style you want. There are many different styles to choose from.
Some examples include bar cabinet pulls, cup pulls, knobs, and fingers pulls. There are also different shapes to choose from, like hex, for example. Any of these would be a great option for your your kitchen with white cabinets.
Thoughts on What Color Hardware to Choose for White Kitchen Cabinets
One thing to think about when choosing hardware color for cabinets is to coordinate with the existing light fixtures. I have seen interior designers mix and match metal finishes in the kitchen and they are usually tied together through the light fixtures. When done well, it can create such a timeless look and be truly beautiful!
If you found this article useful, be sure to check out the following articles: