When it came to building a new home, the process of designing a kitchen included making many decisions. Some were big decisions, and some were smaller. There were so many things to pick out, and the area of countertops was no exception.
One of the many decisions we had to make was the overhang dimensions of our kitchen island. So, that is the goal of this article. I will outline all of those tiny details that went into designing a kitchen island, specifically the overhang dimension of our kitchen island.
I will also include pictures in order for you to see what the measurements look like in real life, with actual bar stools.
Standard Size of Island Countertop Overhang
The standard countertop overhang on a kitchen island is 12 inches to 18 inches. This is the measurement from the cabinets or island base under the counter, to the end of the countertop.
Real Life Example of Island Overhang Dimensions
These standard measurements are for the space where the kitchen island bar stools fit under the countertop.
The exact measurement of the overhang on our kitchen island countertop is 12 inches.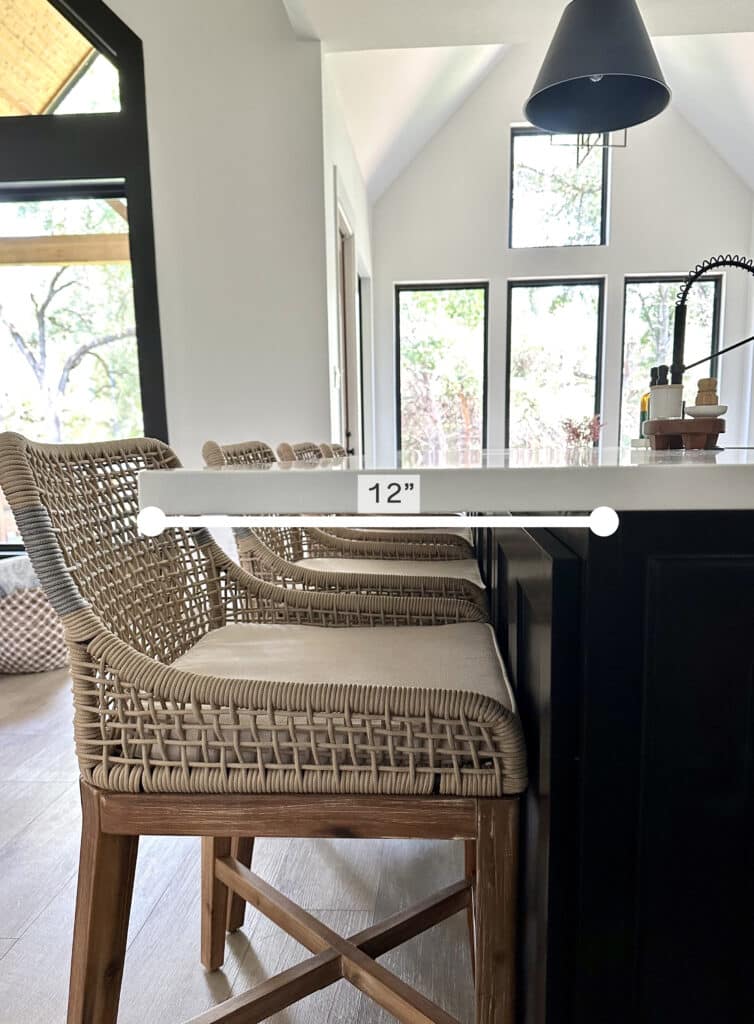 There are metal brackets under that quartz countertop that provide additional support for the overhang. This extra support could be needed for a larger overhang, so be sure to check with your countertop installer on if they are needed.
I will now cover a few other measurements concerning our kitchen island, as they might be important when making your kitchen design decisions.
The island in our kitchen measures 10 feet wide and 4.5 feet deep. It is 36 inches tall. The kitchen countertop material is made of quartz, and the quartz measures 1 inch thick.
The measurement from the ground to the bottom of the countertop is 35 inches.
Storage Under Island Overhang
We have cabinets that sit under our kitchen island overhang. We decided not to put any hardware on them. This is because they are rarely accessed because we only have seasonal and rarely used kitchen items stored there.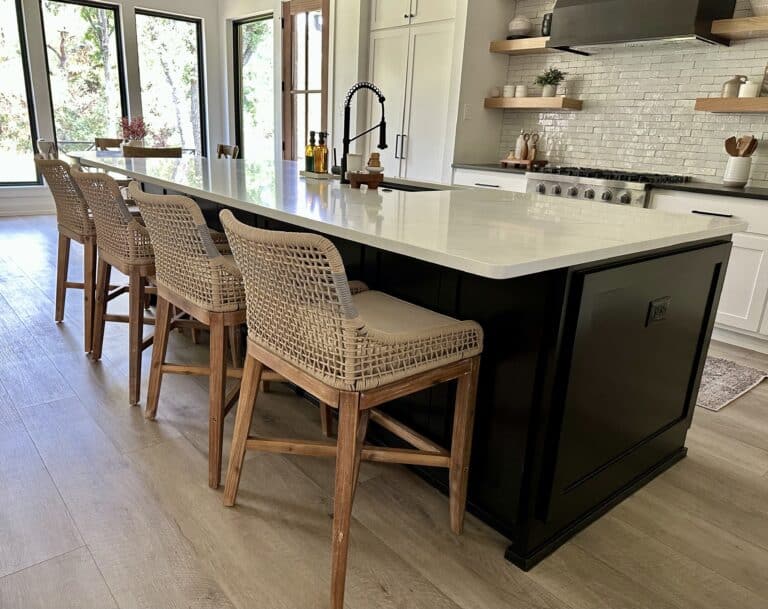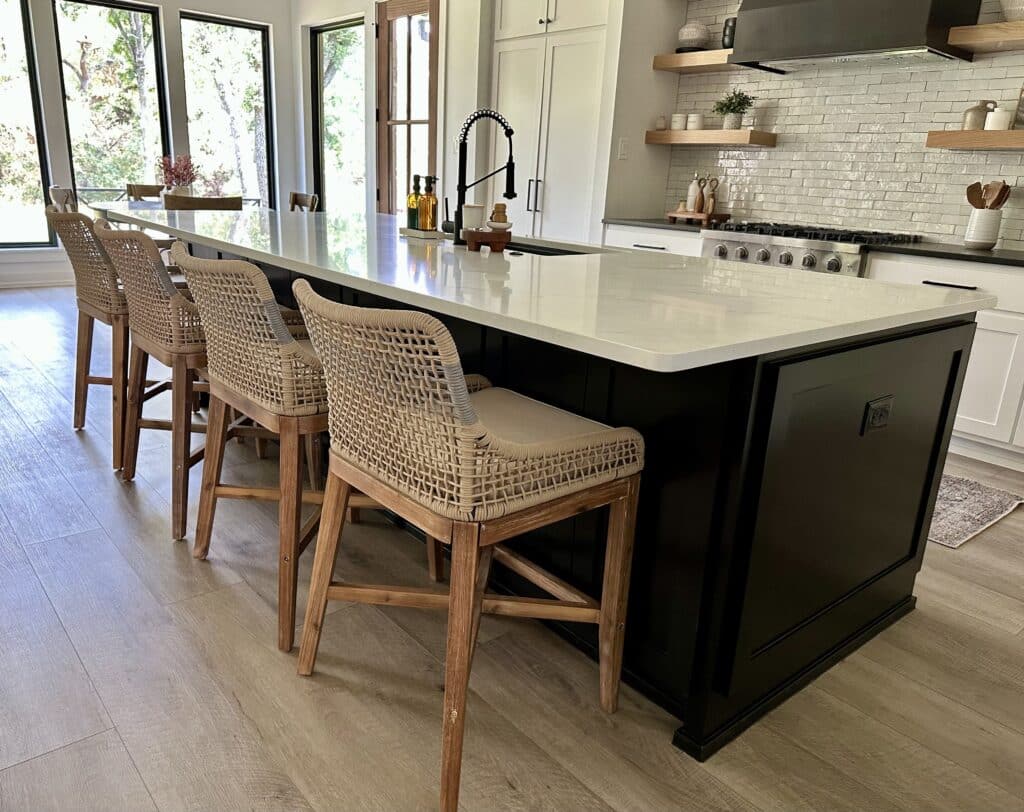 These cabinets are a great way to add function to a kitchen island. They are more shallow than a typical base cabinet, however, they are deep enough to store a standard plate size. We keep our china there and it works wonderfully.
Although our bar stools don't fully fit under the overhang, they still work wonderfully. The bar stools we have actually have deeper seats than typical bar stools, so this is also why they don't completely fit under the overhang. They are standard height, as that is what our kitchen island is.
I can't recommend these bar stools enough! They are comfortable, slide easily, and sturdy, but not too heavy. You can purchase them here.
My only complaint was that the seat of the bar stool was made out of fabric, which doesn't always work well with kids in the house. However, I purchased these washable, waterproof covers and they work wonderfully.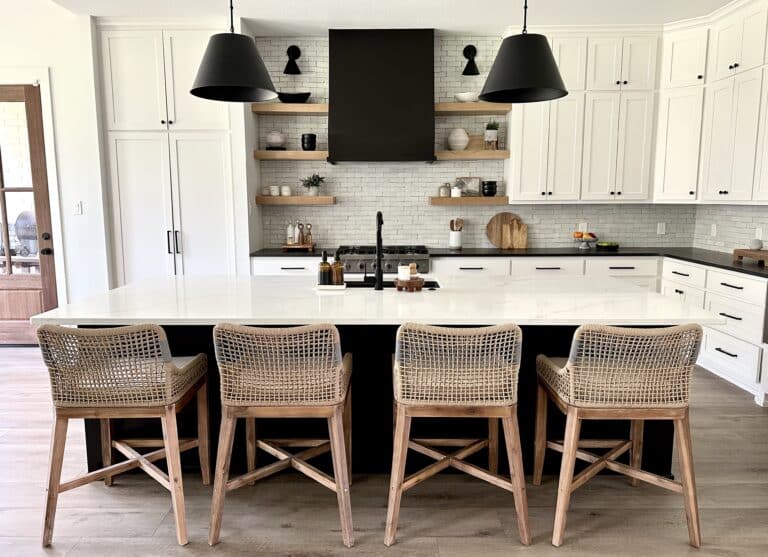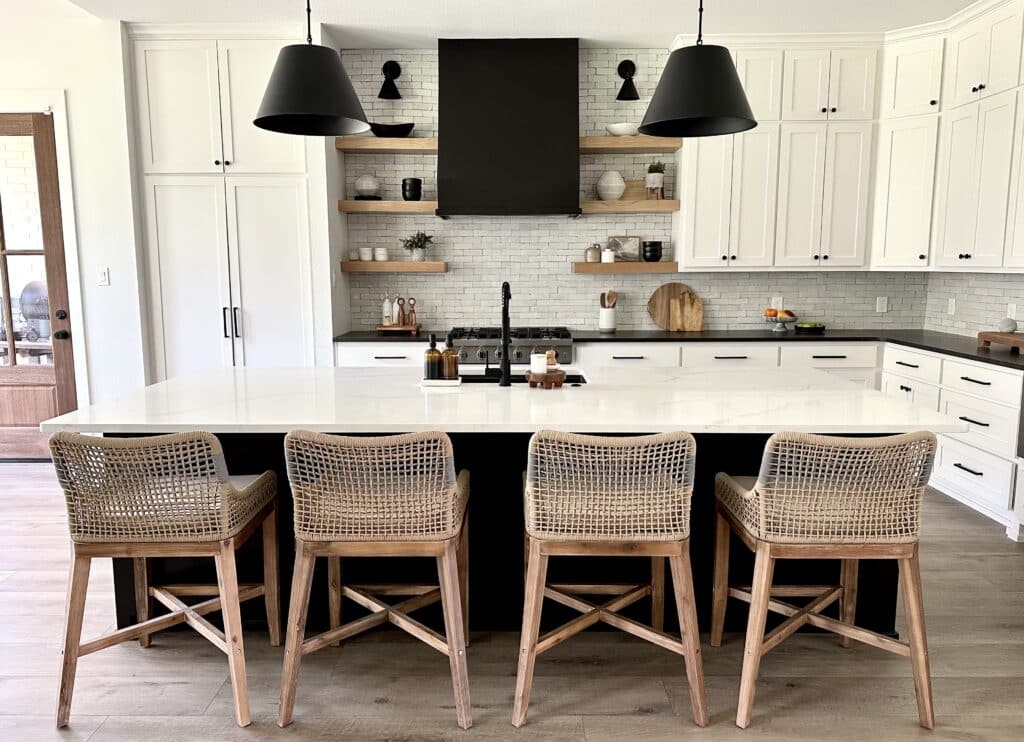 Note: Our kitchen island and vent hood is painted in Sherwin Williams Caviar. Find out why this is my favorite black color for furniture in this post.
Ample Space to Walk Around the Overhang with Bar Stools
We have adequate space to walk behind the bar stools when they are pushed under the island, so it has not been an issue that they somewhat stick out.
Considerations When Choosing Island Overhang Dimensions
Choosing the right overhang dimension for your kitchen island will depend on a few factors.
Kitchen Island Size
The size of your kitchen island will dictate how many, if any at all, bar stools you have. Smaller islands in a small kitchen might not be big enough for a bar stool to fit around. In this case, there would not be a need for an overhang.
If you have the space for a large island, it can be a great place to gather. You will want ample knee space so guests and family members feel comfortable while dining at the island. In this case, you will want an overhang closer to 18 inches of space.
Type of Bar Stools for the Kitchen Island
There are many different types of bar stools you can choose for your kitchen. There are backless, bar stools with armrests, swivel bar stools, etc. If you have more of a shallow overhang on your kitchen island, like around 8 inches, bar stools without a back would be the best option.
Use of Kitchen Island
Depending on the size of the kitchen island, there are a few different main uses for the island.
If the island is larger, it is likely that meals will be eaten at the kitchen island. In this case, the amount of overhang should be at around 12 inches to 18 inches. This will allow ample room to pull a bar stool under the countertop while you're eating at it.
The ideal depth of an island overhang for a breakfast bar is 12 inches as well.
For smaller islands, the main use might be for food preparation. In this case, a swivel bar stool might be the best choice. It would be is easy to get in and out of, along with the ability to easily fit under the countertop. You would be trading function over comfort, but it this case it might be the best option.
For smaller kitchen islands, the ideal countertop overhang measurement is 10 inches to 12 inches deep.
Traffic Flow in the Kitchen
You should also consider how much space is between the island and the surrounding countertops. If the overhang is too deep, it would cut into the walking space around the island. You want to make sure you allow enough room to easily walk around the kitchen. You will want to make sure you have enough space not just to walk around the island, but to open cabinets, drawers, and the refrigerator if needed.
On the other hand, if you were to cut into storage space in the island in order to have more of an overhang, you might lose out on some functional storage. It is important to find the correct balance of island storage and walking space when choosing how much overhang is right for your space.
A quick tip when deciding the island overhang size is to place something, like a box, on the ground. Place it where the overhang will be. Live with it like that for awhile. That way, you can get a real life feel for the future size of your island and get used to walking around that area. It will give you a good idea of what is will be like to walk around that lost walk space.
If you're building a new home, designing a new kitchen, or remodeling an older one, you might find these articles helpful: