Most Popular Kitchen Range Vent Hood Cover Ideas
In the realm of kitchen design, a vent hood does not only have a practical function in the kitchen, it provides an opportunity to add creativity to a kitchen design. A range hood is typically a focal point in a kitchen and is a great way to add your own personal touch to the design aesthetic in your kitchen.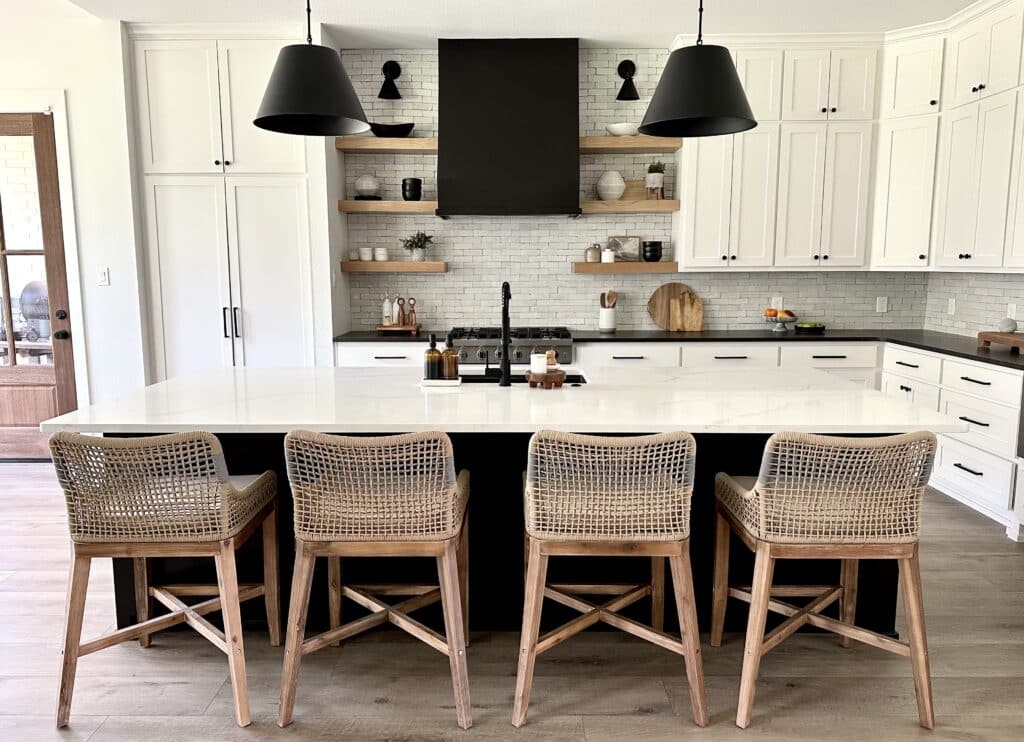 In this article, I will cover all of the most popular options for how to finish out a range vent hood in your kitchen. I'll also touch on how to get a new range hood cover (whether that's DIY or hiring it out) and how we incorporated this in our own custom home build.
What is a Range Hood Cover
A range hood cover is an enclosure over the ventilation system over a stove. It's purpose is both decorative and for protection over the range hood insert.
There are many different styles of kitchen hood ideas and I will cover a few of the most popular ones in this article.
Painted Range Hood Cover
A painted hood cover is a great way to easily match the design aesthetic of your kitchen. Typically, the base material of a painted range hood is a wood material, such as plywood.
A painted hood cover can also have a drywall base with a painted top coat. This is what we have in our home.
The possibilities are endless when it comes to painting a kitchen range hood. I personally love the contrast you can add when you paint them. For example, our cabinets are white (Snowbound by Sherwin Williams) and our range hood cover is black (Caviar by Sherwin Williams).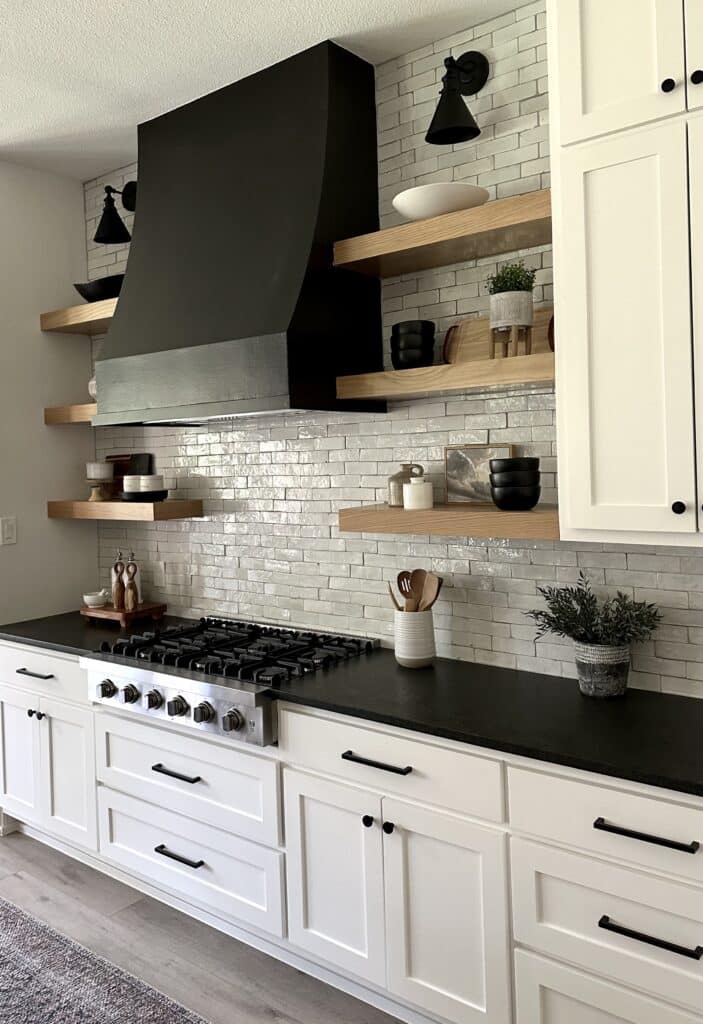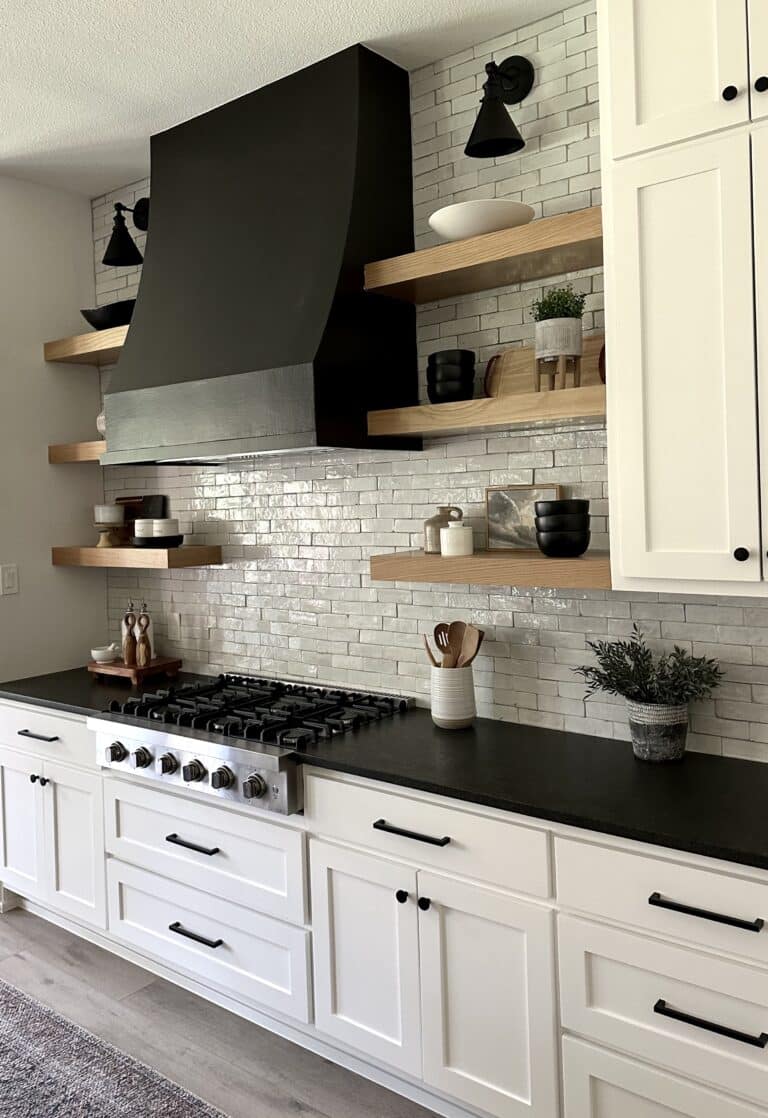 I forgot to ask our drywall texture installer to omit the range hood, so he sprayed drywall texture over it. I definitely didn't want that, so I added a skim coat of joint compound to the top. After a quick, light sand, it is now super smooth and I love how it looks!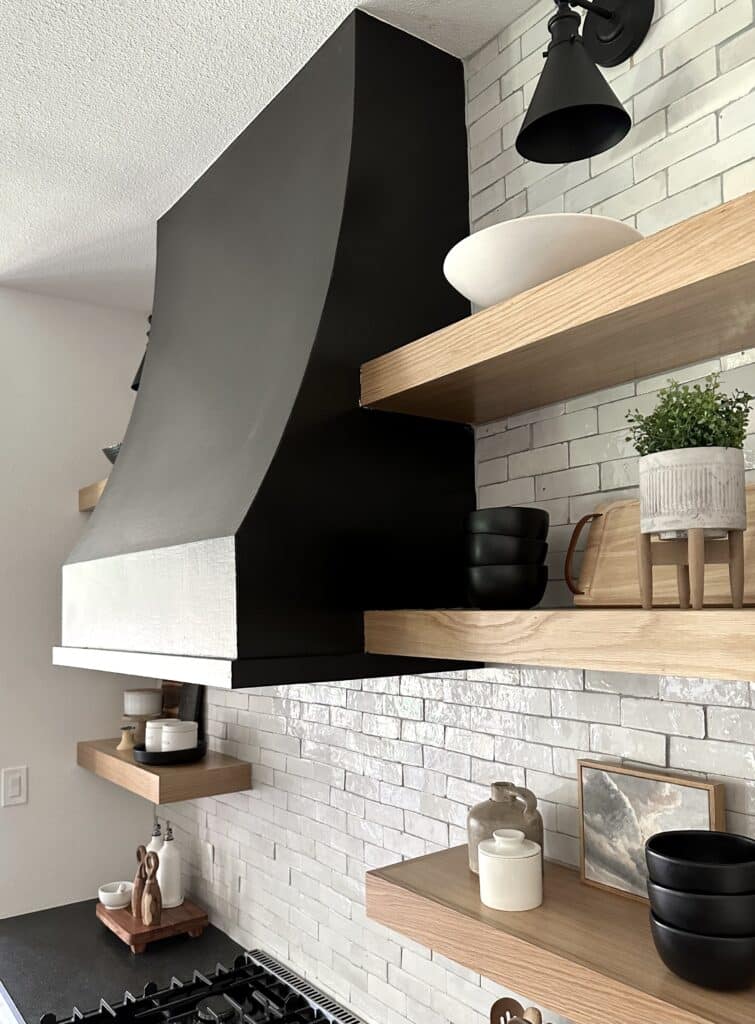 The color of this range hood is the same black that we used in the rest of our house and is my favorite color to paint black furniture. The tile backsplash in the picture above is made by Riad Tile and the open shelving is made of white oak.
You could also match the paint color to the rest of the cabinet doors or existing cabinets in order to give your kitchen a more cohesive look.
It would be smart to paint a range hood with a satin, eggshell, or semi-gloss sheen of paint. That way, spills or splashes can easily be wiped off. Something like a flat finish of paint would show dust or kitchen spills and be very hard to wipe clean.
Metal Range Hood Covers
Metal hood covers are a fun way to add a new finish to the design of your kitchen. You could match your appliances and use a stainless steel option. Stainless steel range vent covers are very common and can be a great way to incorporate an industrial look to your kitchen.
Wood Range Hood Covers
Wood is a great and cost-effective way to cover a range hood. A wood range hood cover can be covered with a smooth wood like eucaboard if that's the look you're going for. Trim pieces can easily be added to hide seams and give it a finished look.
Or, you could go with something like a farmhouse style, which in this case, tongue and groove would be a great option.
Depending on the wood you use, you can either paint it or stain it. If you are painting it, the nail holes can easily be covered with wood filler, then sanded smooth.
Plaster Range Hood Cover
Covering our range hood with a plaster, like Roman Clay from Portola Paints was a very close second for our home. I love the earthy feel and the interesting texture that plaster creates for a custom hood cover. It is a beautiful way to finish your range hood cover.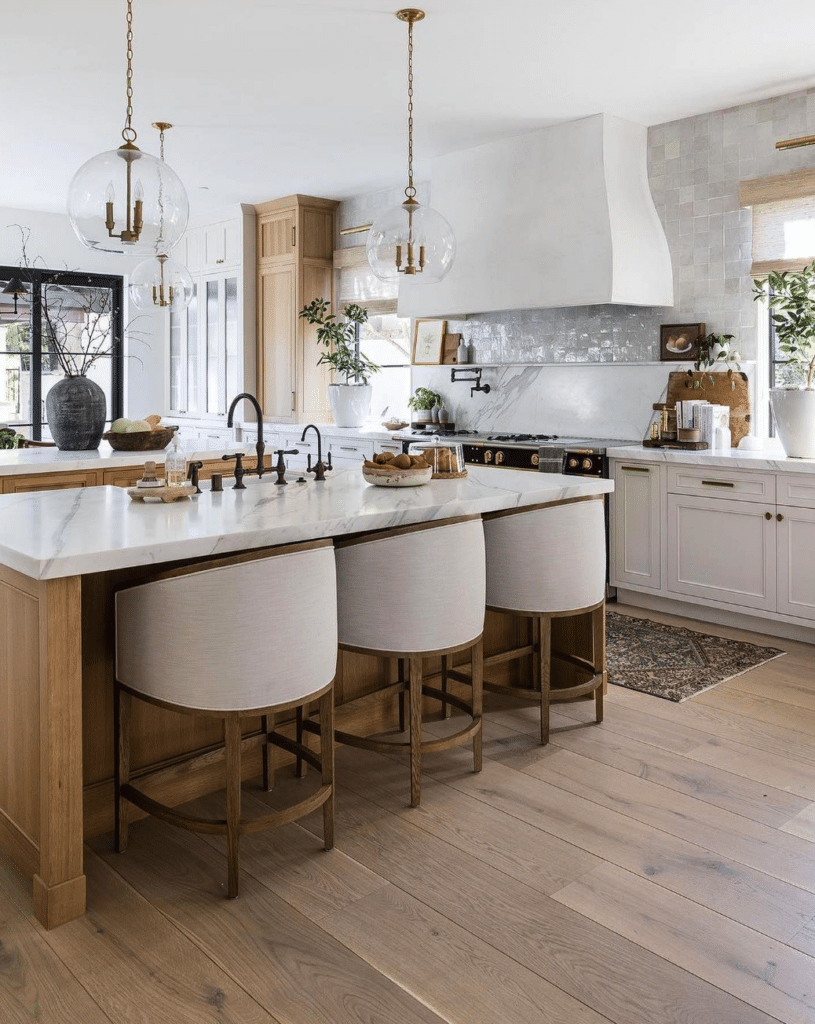 Modern Range Hood Cover
Modern range hood covers will have clean lines and be slightly more boxy. If your home has modern design elements, specifically a modern kitchen, this minimalist design could be a beautiful addition to your kitchen.
Kitchens with a modern look typically have sleek surfaces, so the front piece and side pieces can be covered with a shiny material in order to match the design style of the rest of the kitchen.
Curved Range Hood Cover
One thing I love about Archways and Ceilings (more on them below) is all of the options that they supply of curved range hoods for your new kitchen or remodeled kitchen.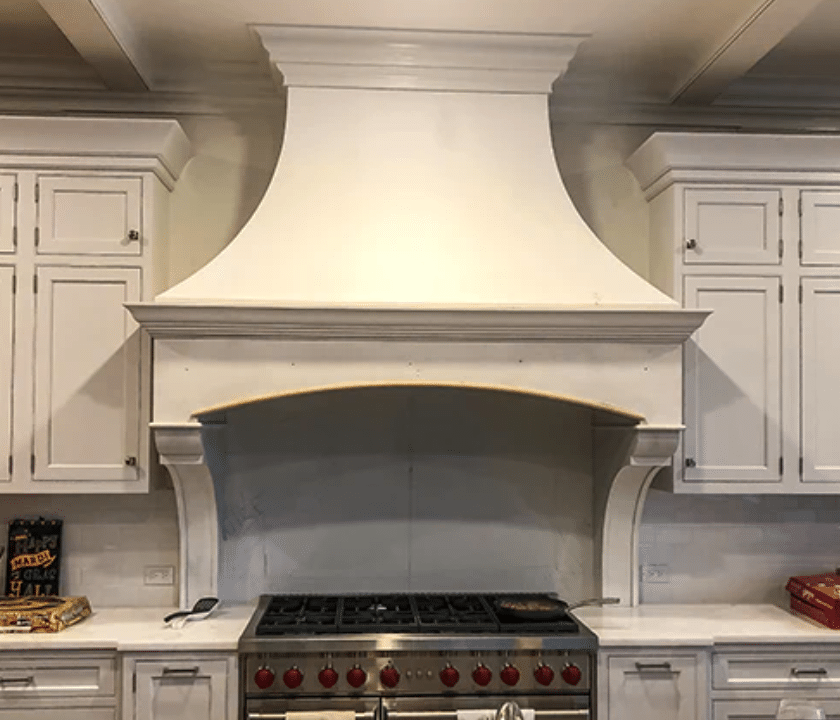 This style of range hoods are typically seen in a traditional kitchen.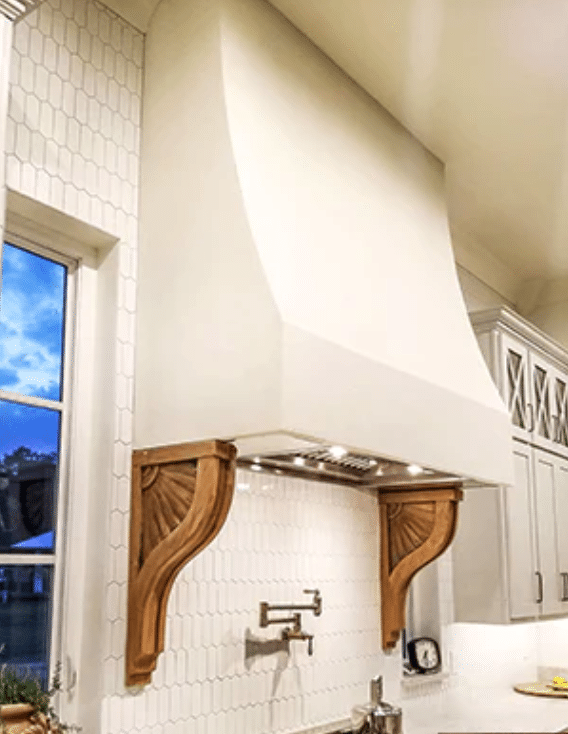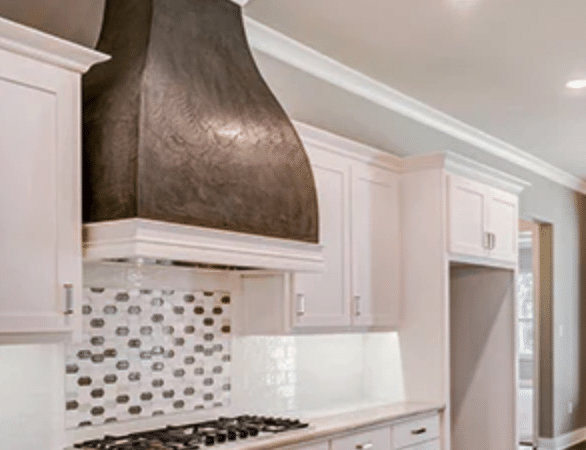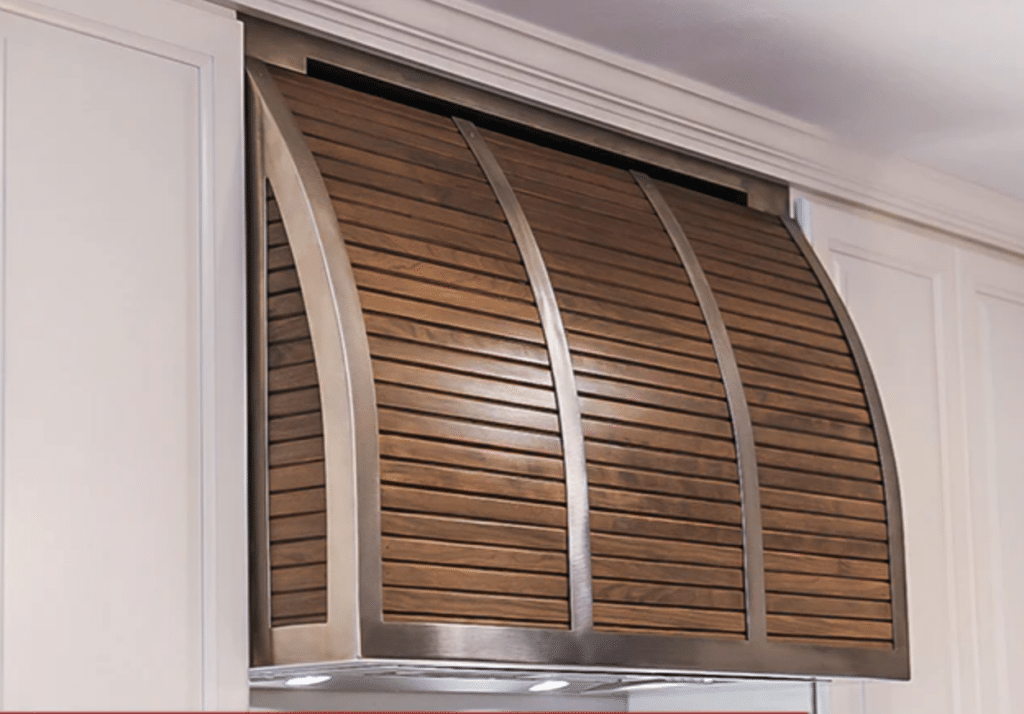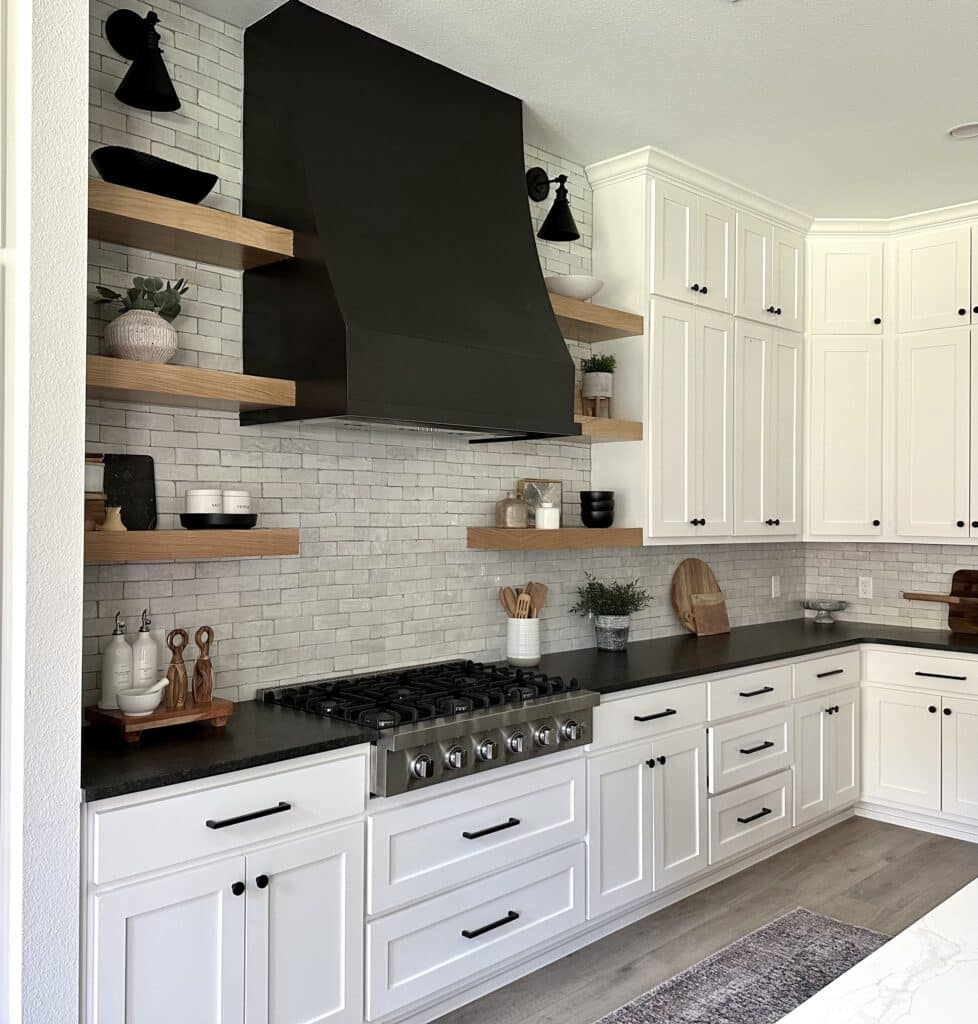 Curved range hoods are a great way to add beauty and uniqueness to your kitchen.
How to Add a Range Vent Hood Cover to Your Kitchen
There are a couple of options when it comes to adding or building a custom range hood cover. I will talk about a couple of ways to get your dream range hood below.
DIY Range Hood Cover
One great option for adding a range hood is to DIY it. There are many ways to add a vent hood at home and I'll cover a couple of the options here.
The first way is to purchase a kit through a company like Archways and Ceilings. For the first step, you will choose from one of their many range hood designs. They have many options – from a simple design or a more ornate one. Then, you will input the specifications for your kitchen. They will then mail you all of the parts for assembling the range hood on your own.
I did this in our new home build and I'm so glad I did. I found the exact design I had in mind. Assembly was simple and easy and I was able to quickly do it on my own.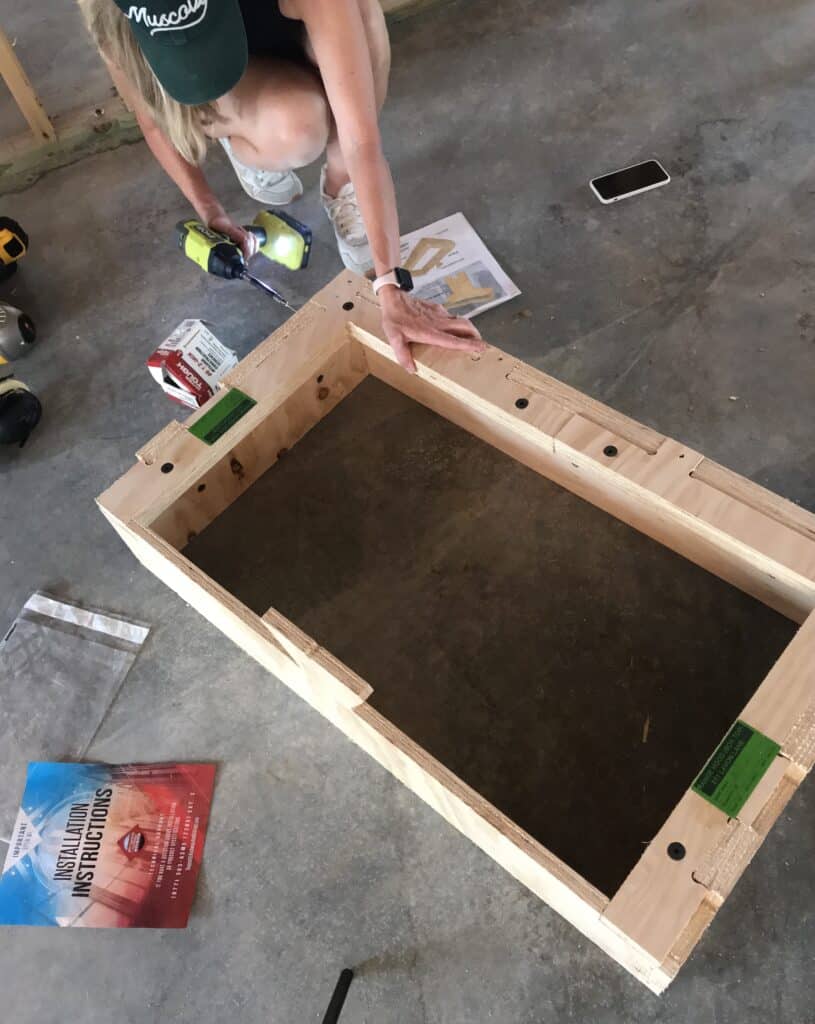 In the end, I was able to get a custom DIY range hood for a fraction of the price it would have cost me to hire a professional framer or carpenter. I highly recommend this route!
If you are a more experienced woodworker or carpenter, you might be able to completely DIY this project on your own. This would include planning around the exact measurements of your cabinets and vent insert, making all the cuts, assembling, and installing the vent hood on your own.
This option is much more labor intensive, but you can save some money going this route.
Hire a Professional Carpenter or Cabinet Maker
If DIY isn't your thing, or you don't have the space or tools to complete DIY projects like this, hiring a professional could be the best option.
When we were building our custom home, we could have had our framer build the vent hood or our custom cabinetry maker build it.
There wasn't much of a price difference between the two. However, it was a moot point because we went the DIY route instead.
Often, interior designers will use carpenters, framers, or cabinets makers that have a wide range of new range hood designs to choose from.
Whoever installs the range hood cover, this step should be done during the framing stage. That way, the range hood can be anchored to the framing of the wall and it will be the most secure.
If you're adding a vent hood to an existing kitchen, hiring a professional would probably be your best option. Although I almost always choose the DIY route, a project of this scope might best be handled by professionals. Be sure to ask for referrals and examples of their work!
Custom range hoods are a great way to add a statement piece to your new home build or for your kitchen makeover. I'd love to see what you design!
If you found this article helpful, be sure to check out the following: