In this article, you will find details on how long a roofing job takes on a typical home. I will be sharing my experience on how long it took the roofing company that we hired to install a new roof on our new construction home.
How Long Roofing Takes
Typically, roofing takes around 3 full work days from start to finish. The estimation begins when the materials are delivered, and ends when the cleanup is complete.
A few factors can affect this number. Be sure to check out the points below that can affect his time estimation.
Specifics That Can Affect Roofing Timeline
There are various factors that can affect the speed of service you might receive on your new roof installation. Like I mentioned, this is my personal experience, so I wanted to share the specific details for my home, so you can adjust your estimation when you compare the similarities and differences to your home.
The timeframe I'm providing is for a new home build. Therefore, this isn't for a roof replacement job.
So, if you're trying to figure out how long roofing takes for a replacement roof, add at least half of a day for the removal of shingles. Adjust the estimation up or down depending on the size of your home, the size of the roof, or if you're installing metal roofs or tile roofs. If you have a smaller roof, you can adjust the time estimation down.
The size of the home in my example is around 3500 square feet and is one story. The type of roof we installed is black asphalt shingles. There are quite a few pitches on our roof, so it is somewhat of a complex roof. This will add work time for roofing. We also don't have any simple parts on our roof like a flat roof.
There are a few additional items that should be factored into the time estimation, and these will need to be things that you talk to the roofing contractor about when you hire them. The first is the availability of materials. If there is a shortage of the specific types of shingles you want, that will delay your project.
The second thing you should ask your roofer is about their workflow and the number of roofing professionals that they will bring out to complete the roofing project. Of course, the bigger the roofing crew they bring out, the quicker the job will go.
The third thing that should be taken into account when it comes to how long roofing takes is weather conditions. If inclement weather is in the forecast, that can completely halt the roofing project and add to the length of time needed.
Be sure to take this variety of factors into account when determining how long roofing will take for your home.
Process of Installing a New Roof
Once you have worked with the roofing company to pick out the roof style and roof color you want, the materials can be ordered and delivered.
Once the materials are delivered, the process to install a new roof can begin. This is assuming that the framer has completed their job and the roof deck has been installed. To find out more information about framing, check out this article on what framing is in construction.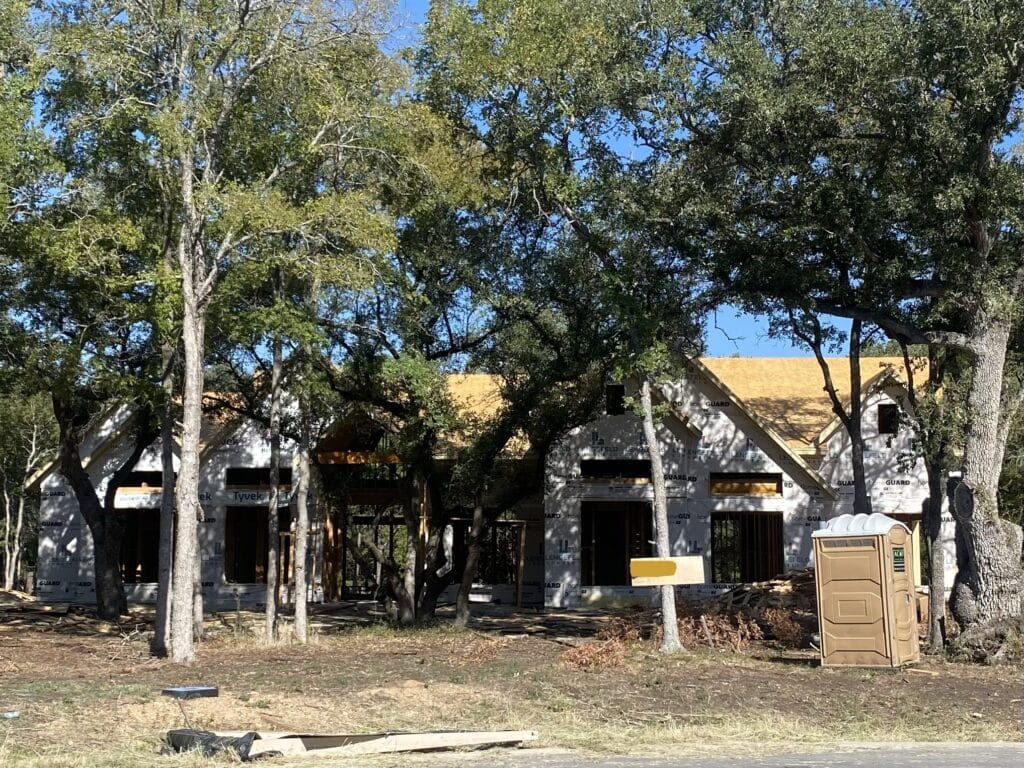 The roofing company can then come out and install the felt or plastic over the decking. This can typically be done in less than 1 work day.
Once that is installed, the flashing can be installed. This will take another half day of work, depending on the size of he crew working on it.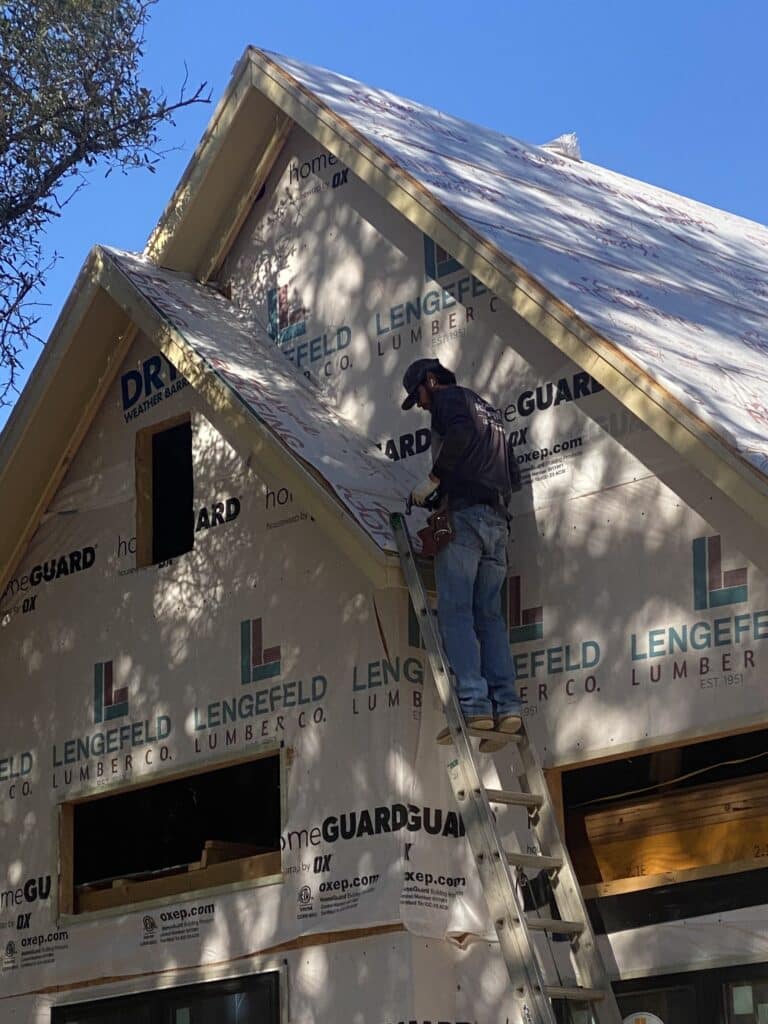 After the flashing is installed, the crew can now deliver shingles to the roof to begin the installation of the shingles. This process took about 2 hours from the time the delivery truck arrived, to the time the crew left. Large machinery was needed to hoist the shingles to the top, which were then manually taken off and set on the roof. This helped keep the time down to a minimum, as opposed to a long time to deliver the shingles to the top of the roof.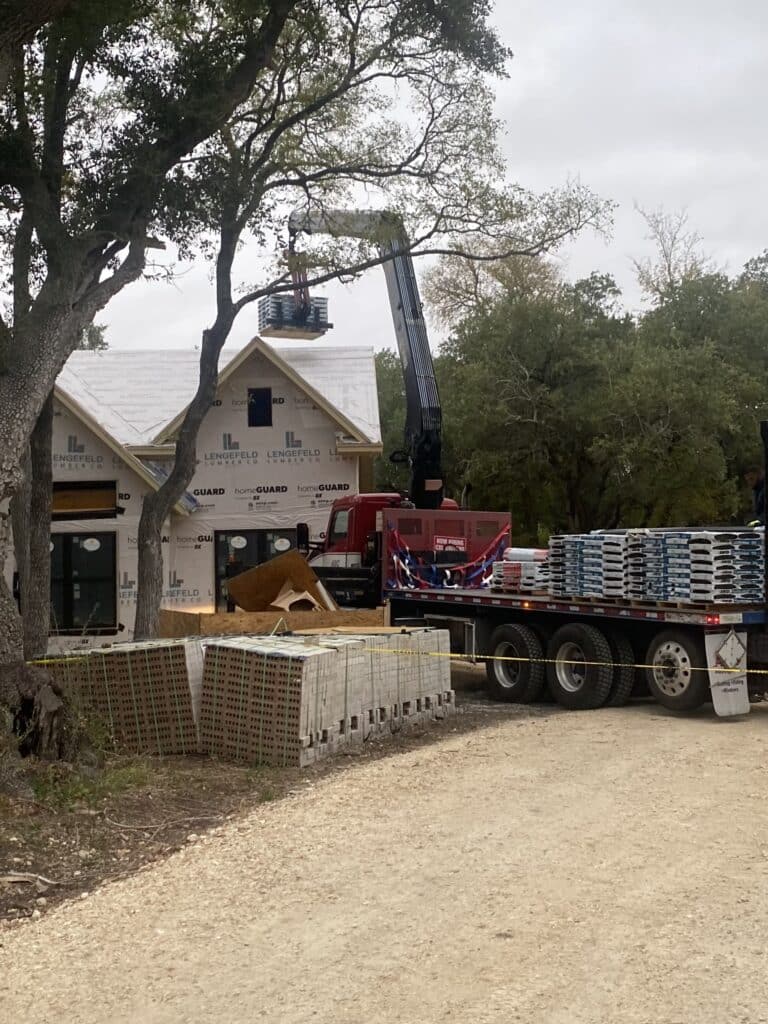 Once these things are done, the crew can now install the shingles on the entire roof. Although this step goes somewhat fast, allow for 1-2 days for this to be complete.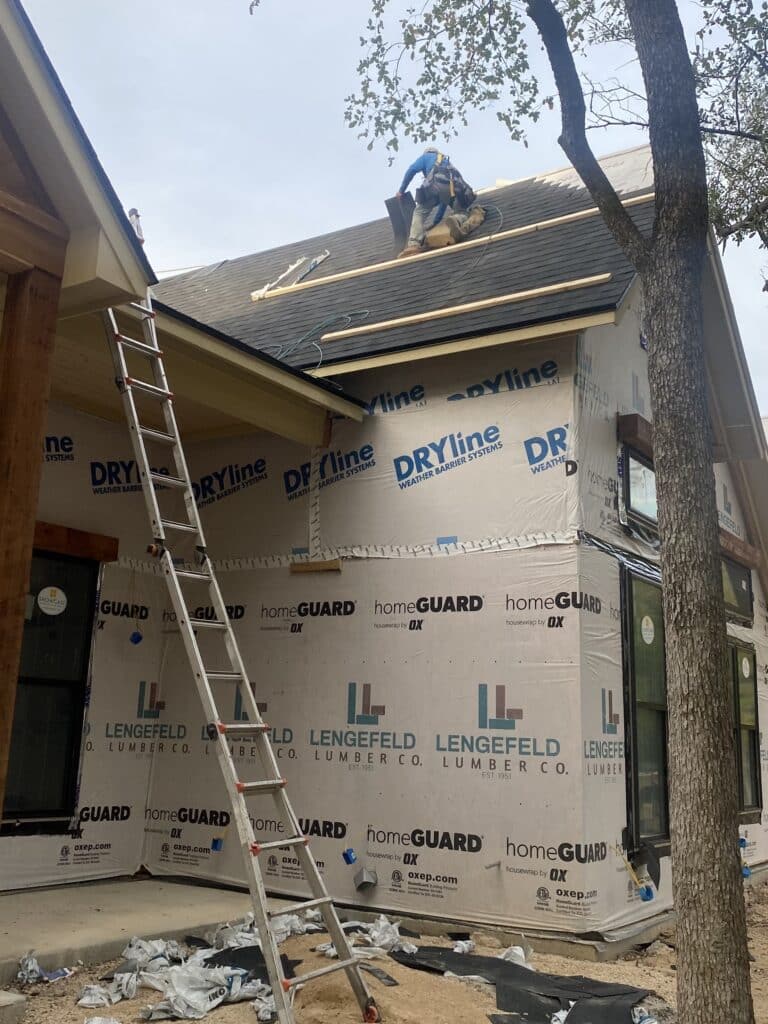 Once the shingles are installed, the home site can now be cleaned and trash removed. This can take around 4 hours, depending on the work crew size.
If you add all of these items up, you will arrive at a project completion of around 3 work days, starting from when materials are delivered, to a finished roof.
Roof Replacement Project
For those that are looking for information on replacing an existing roof, the roof replacement process will add to the project timeline. The process of complete removal of the old shingles should be taken into account when considering how long roofing takes.
First, the old shingle roof will need to be removed from the rooftop, then the old roofing material will need to be picked up. This extra work can add additional time to the project. I would allow for an additional one half to one full day to complete this.
Allow around 1 day for shingle removal, in addition to the timeframe mentioned above.
Hiring a Roofing Company
When hiring a roofing company, take extra care on things that should be considered before officially hiring them.
Make sure that the company is insured. If you're replacing a roof due to hail, water damage, high winds damage, structural damage, or weather damage, make sure that they will work with your insurance company.
References are always a good idea when you're working with a subcontractor on your house. Word of mouth can be extremely helpful when choosing who to hire.
If your roof is a big job, or more than just a typical house, talk to your roofing company about this. Oftentimes, they will have a team that is used to and trained for steep roofs or roofs with a lot of elevation changes. This could not only affect the time on the project, but could affect the cost as well.
When hiring a roofing company, be sure to find one that works with your insurance company to make a claim. They should also provide an inspection to see if you have a damaged roof or a leaky roof from wind, water damage, hail, or weather damage. A great roofing company will be present during the insurance inspection in order to ensure that the insurance company will cover everything that they need to.
This is also a personal preference, but I always hire someone local. Homeowners will often find that when bad weather hits, roofing companies come in from out of town to try to sell their business services. If you hire a professional roofer that is local, you have a much better chance that they will come back out to your home should any problems arise in the future. And as an added bonus, you can support your local economy!
How Long Roofing Tar Takes to Dry
Typically, roofing tar is completely dry within 24 hours. There are, however, a few things that can affect this number, such as weather conditions and outside temperature.
More Information on Home Construction
For similar posts on this subject, check out a free checklist for new home construction, diy vent hood range, Best Sherwin Williams White Paint Colors for Kitchen Cabinets, Layout Designs for Master Bedroom, Bathroom, and Closet, and 70 bible verses for new home construction.