Finding the right bar stools for your kitchen island is so important. They have such a big impact on the look, feel, and functionality of your kitchen.
I thought I'd share the dimensions of our kitchen island, in relation to the counter stools we chose. I'm very happy with the space allowed for each chair and they all fit great under the kitchen island overhang.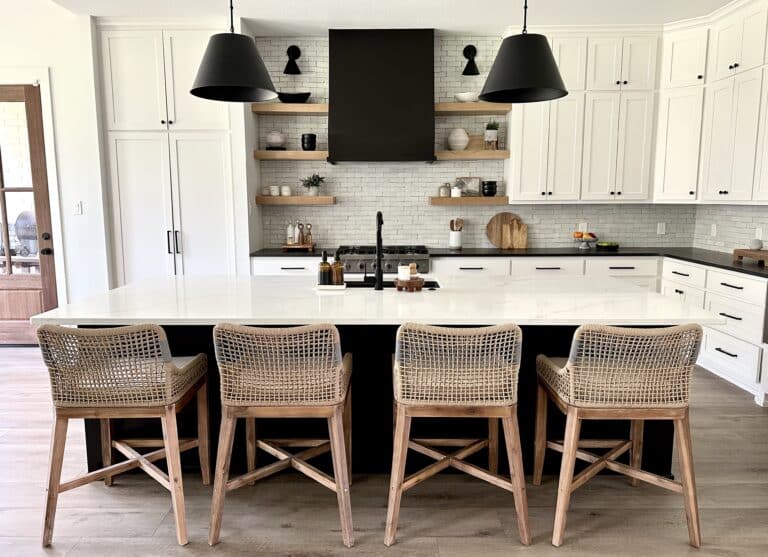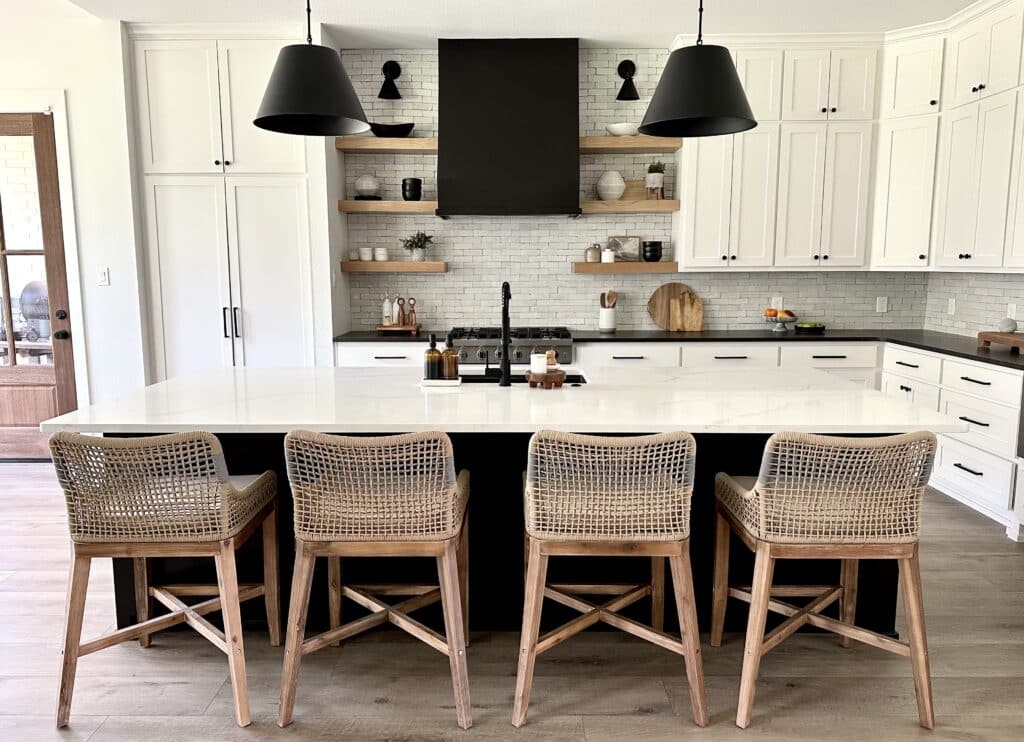 Finding the ideal bar stool size is a little easier when you have real-life examples. So, in this article, I'll show you what we have in our actual home!
Comfortable Kitchen Island Bar Stools
These are the kitchen island chairs that we purchased. They are incredibly comfortable for both adults and kids alike. The seats are deeper than a typical bar chair, coming in at 18″ deep.
The deeper bar stool seat makes it feel more like a regular chair. They also have cushions, which are great for added comfort. The seat width is slightly wider than a typical bar stool, which makes it more comfortable as well.
My only complaint is that the seats are made of cloth. This can be slightly tricky when you have kids that eat food when sitting in them. But, they are removable and can be washed, which is very helpful.
They look just like designer chairs that I've seen at many high-end stores, however, mine were much more discounted! So they are a great choice if you're looking for something similar. They are the perfect stool when you're trying to blend beauty, function, and price.
How Much Space Per Seat at a Kitchen Island
Our kitchen island is 10 feet wide. We can comfortably fit 4 bar stools at our kitchen island.
This means that each bar stool has a 30″ wide space to fit into. The width of your island will determine the number of stools you can comfortably fit.
This number could be smaller, as we have ample space for each stool. So, the range for the width measurement needed for each stool is from 24″-30″ wide.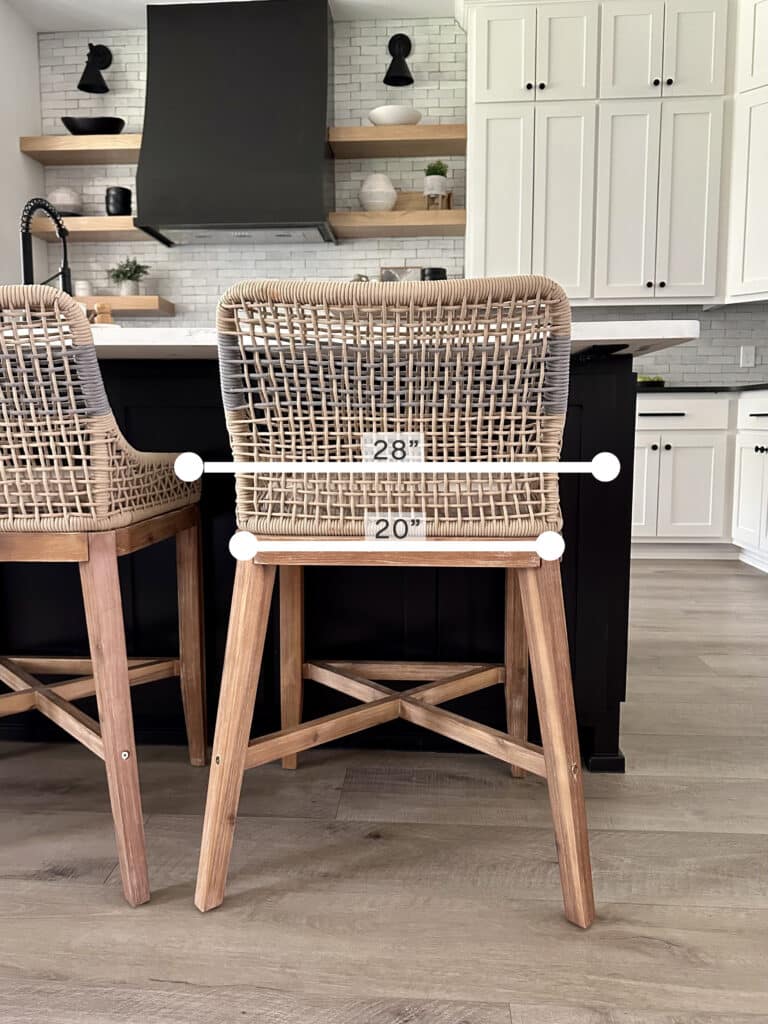 Note: Our kitchen island and vent hood is painted in Sherwin Williams Caviar. Find out why this is my favorite black color for furniture in this post.
Each stool is 20″ wide, which leaves room on either side of every stool for more space to get in and out of the chairs easily. If we really wanted to, we could fit a 5th bar stool at the island. However, the space would be a little more cramped and we don't need that extra one right now. If you are working with small spaces, consider swivel stools or armless stools.
One more thing to think about when determining how many stools will fit at your island is this. Be sure to take into account if you have open ends on either side of the island. Ours are open, so this allows for more space.
However, some islands have trim that go all the way flush with the front of the island overhang. Or, the countertop might have braces underneath. Either of these will cut into how much space you have for bar stools and should be taken into account.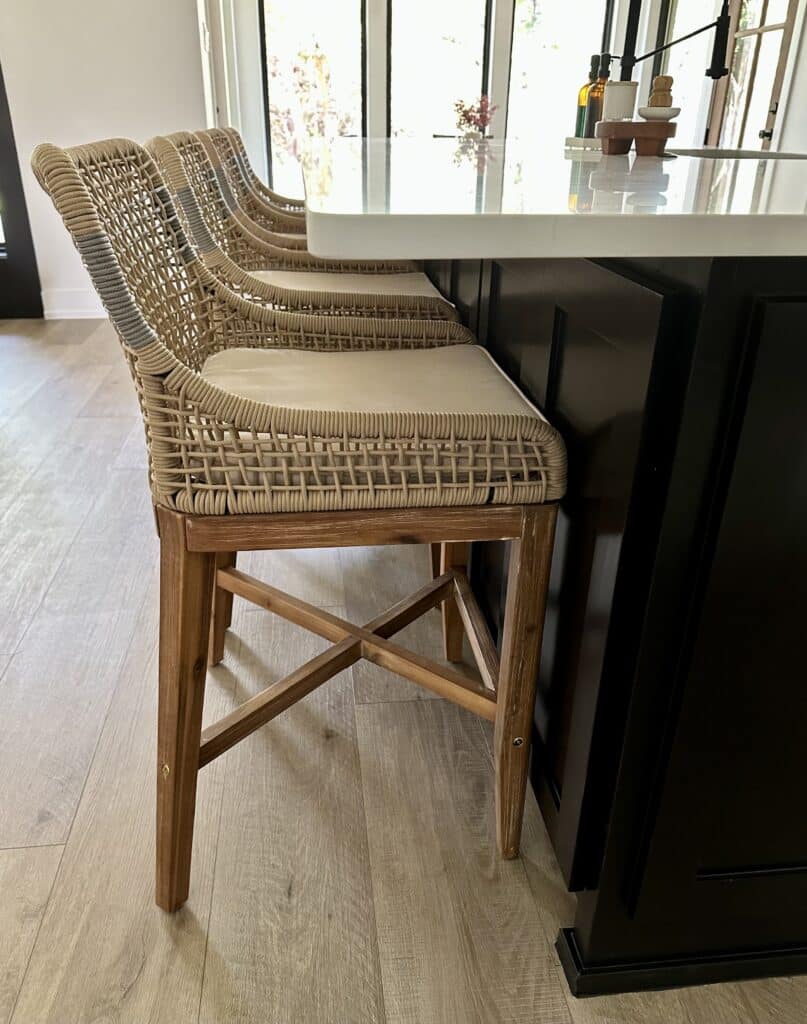 What Height Bar Stools for Kitchen Island
Be sure to check the dimensions of stools before you purchase them. Finding the right bar stool height that fits your space is very important. Standard bar stools typically come in 2 categories: counter height stools and bar height stools.
Counter Height Stools
Most stools for the kitchen island will be counter height stools. Counter height stools typically have a seat height of around 24′ tall. This is the measurement from the ground to the top of the seat. If the stool has a back, this would of course add to the overall height of the chair and is something that should be considered.
This height of the stool allows for ample knee space in regards to the underside of the counter. This style of stools would also work for counter-height tables as well.
Bar Height Stools
Bar height stools are slightly taller than counter height bar stools. They typically have a seat height of around 30 inches tall. If you have taller countertops, like a breakfast bar on your kitchen island, you will want to buy bar height stools.
Another option is to purchase adjustable bar stools. The height of the adjustable stools can then be changed according to the height of the counter and the height of the person sitting in them. These are typically backless stools.
Overhang Dimensions of a Kitchen Island
The typical overhang measurement of kitchen islands is 12″. This means that the counter top sits out horizontally around 12″ from the cabinets, allowing people to sit and eat comfortably.
This is the measurement that we have for the overhang of our kitchen island. This provides enough room for our stools (which are very deep) to fit under. It is also comfortable for everyone (including adults!) to sit and eat comfortably at the kitchen island. It allows for ample leg room under the kitchen counter.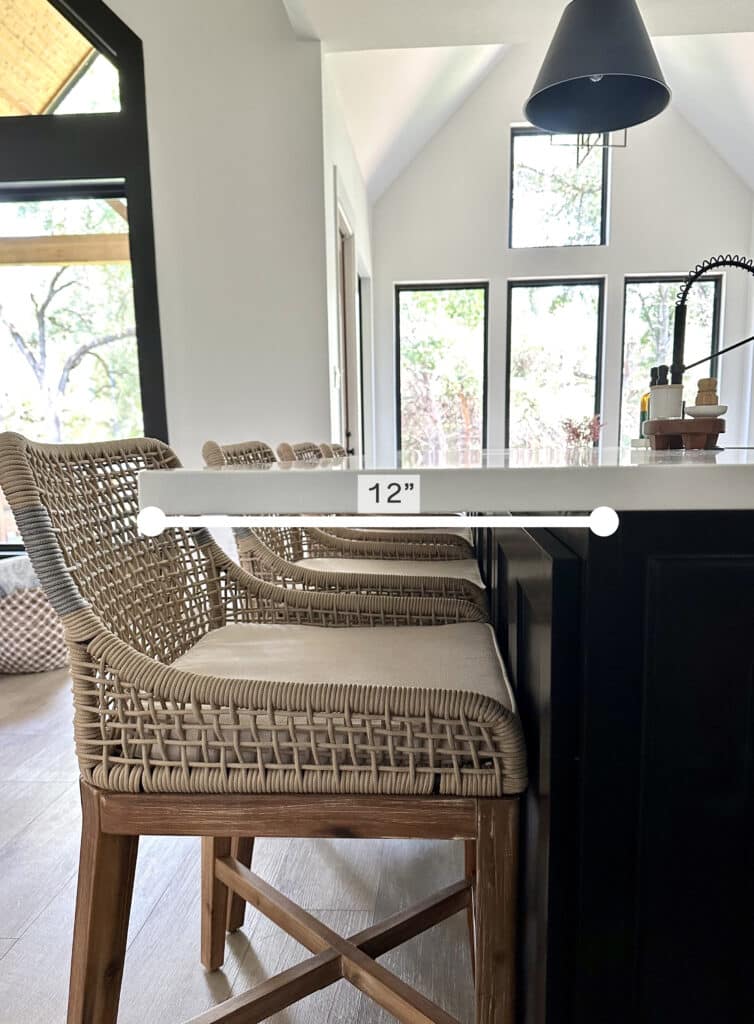 Backless bar stools will fit under a kitchen island overhang much easier than those with backs. However, having a back on the stools makes them much more comfortable. This is especially important if members of your family will spend a lot of time sitting there.
What Size Kitchen Island for 3 Stools
Given that each stool needs 24″ to 30″ of width in order to fit, you can comfortably fit 3 stools at an island that is around 7 feet wide.
What Size Kitchen Island for 4 Stools
The best size for a kitchen island with 4 stools is 10 feet wide. However, if you have smaller stools, you could easily fit 5 stools at an island this wide.
Finding the right bar stools for your kitchen will add more usable dining space in your home. Be sure to check the dimensions of the seat height and width that fits your space best.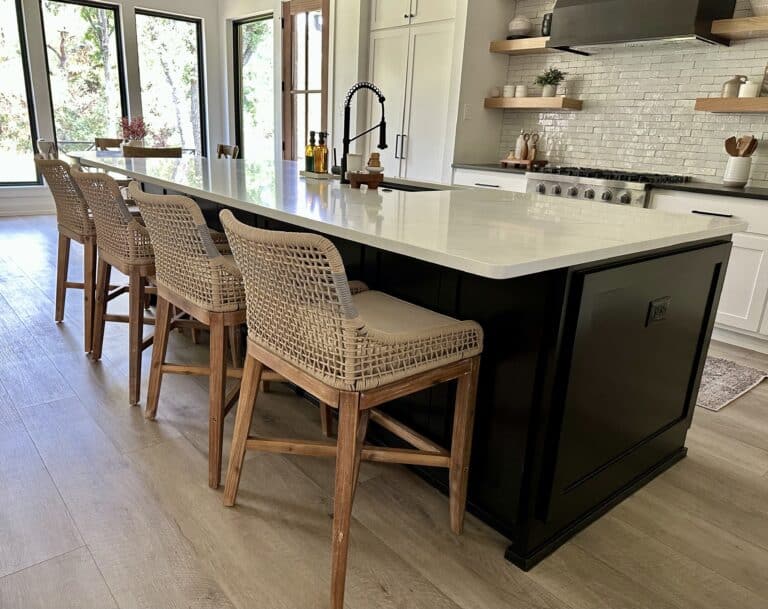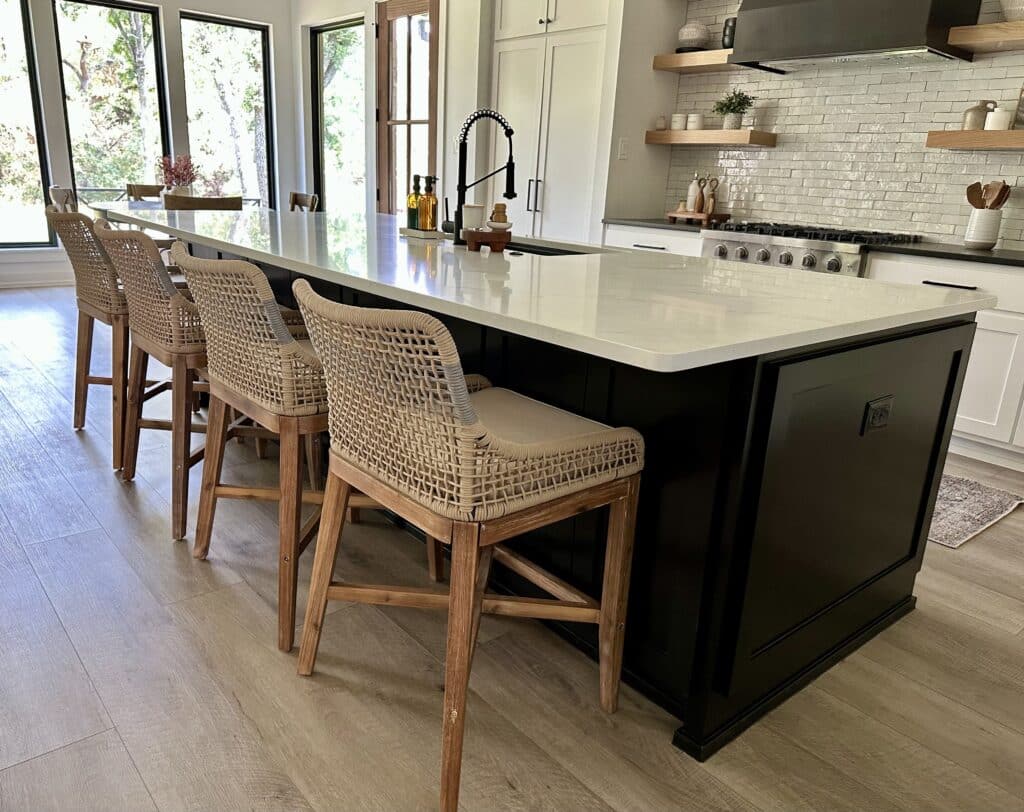 If you're designing a new home or kitchen, be sure to check out these articles that might be helpful: