The Average Cost of Custom Kitchen Cabinets in 2023
Since we are building a new, custom home this year, I thought it would be a great time to share the bids we have received for custom kitchen cabinets.
I know that when I was personally researching and building a budget for our home build, it would have been so helpful to have more examples of a kitchen cabinet cost. Real-world examples would have been so incredibly beneficial in the decision-making and planning.
So, I will share the average number we received from multiple cabinet makers, along with the details of our kitchen. This way, you can compare the size and the price per linear foot to your project, which will give you a decent idea of what to expect.
Before we jump into the exact number, we need to acknowledge the many factors that will affect the overall cost of your custom kitchen cabinet bid. A few of them are:
location (the average cost of kitchen cabinets I will provide is based in the southern US)
whether the cabinets are stock cabinets, semi-custom cabinets, or fully custom cabinets
If demo of old cabinets is included, like in a kitchen renovation, or if this is for a new build
quality of the materials (like hardwoods, etc)
frameless cabinets or framed cabinets
If labor is included
rising construction costs, affecting things like labor costs and material costs like current lumber prices
whether you are choosing paint-grade or stain-grade finishes
Q: What is the Average Cost of Custom Kitchen Cabinets?
A: The average cost of custom kitchen cabinets is $17,750. This number is based on a kitchen with an island that is 250 square feet.
This average price is based on quotes that I received in early 2022.
Our Kitchen Cabinets
We received two separate bids from two different companies. The price point from both companies was very similar, so in the end, we went with the cabinet maker that had a quicker turnaround time.
We have had many delays in our new home build, so production time for our custom cabinets was very important. Most of these delays were out of our control, so if we were diligent to take advantage of the few things that we could speed up. Custom cabinetry was one of those things.
In addition, the custom cabinet company we chose is popular with a lot of our local builders, so we trust them. They have been featured in a few Parade of Homes events in our area, so we were able to see their work in real life. This is something I highly recommend when hiring a cabinet company – ask for references and view their work in a real home.
This company also provided 3D renderings of our cabinets very quickly (only 2 business days!). Being able to see what the cabinets will look like helped immensely with design choices. There were things that I was sure I wanted – until I saw them rendered in 3D! It's very helpful for those of us that are visual, so be sure to ask any potential cabinet makers you might hire if they provide this.
Factors That Affect the Cost of Custom Kitchen Cabinets
The average cost of custom kitchen cabinets I provided above is specific to our home and kitchen layout. The custom kitchen cabinets cost will vary in price range, depending on many different factors.
Just to give you an idea, the type of wood for our cabinets is birch, the cabinet doors are shaker style, and they will have concealed European hinges, crown molding on the upper cabinets, trim on base cabinets and lower cabinets, and installation and labor is included in the total cost.
Location
Our bids are specific to our preferences and location. So, I will outline exactly our specifications so you can adjust to the size of your kitchen
We are based in the southern United States. The price of custom cabinets can vary even by state, so take this into account when you are making decisions.
Type of Cabinets You Choose
We have chosen fully custom kitchen cabinets, meaning none of our cabinets are pre-made, pre-fab, or RTA. Even though I'm using custom RTA cabinets in our primary bathroom, our kitchen will be entirely custom. They will be made to fit our specific house, made by a cabinet maker, and installed by the cabinet company.
Paint Grade verses Stain Grade Cabinets
Generally, stain grade cabinets are more expensive than paint-grade cabinets. The cabinet maker will need to know how you want to finish your cabinets (painting or staining) before they build the cabinets.
This is because stain grade cabinets will show the wood grain through the stain. Therefore, a higher quality wood species, with fewer imperfections will need to be used.
The cabinets we chose (both uppers and lowers) are paint-grade (not stain-grade). I have always dreamed of a black and white kitchen, so this decision was an easy one. We will have wood laminate flooring in the majority of the house, even in the kitchen. So the wood tones of the floor will warm up the black and white kitchen quite a bit.
Although I will have to nail down paint colors, choosing a stain color is much harder, in my opinion. Paint can always be changed and updated, whereas stained cabinets cannot.
If you are choosing stain-grade cabinets and would like to keep the natural look of the wood without staining it, the cabinets will still need to be sealed. Check out my favorite finish for a wood kitchen table here – it would also work great on cabinets!
Wood Species
There are many different options in wood species for cabinets. The options come into play when you are staining the cabinets. A common wood species for cabinets that will be painted is birch. However, if you are staining the cabinets, common wood species are white oak or walnut. White oak is a lighter color and walnut is a beautiful, rich brown.
Ceiling Height
Our kitchen will have 10-foot ceilings. The upper cabinets will have crown molding and not go all the way to the ceiling, although they will be tall! Check out this guide on the dimensions of upper kitchen cabinets.
Kitchen Island
A kitchen island will be a big factor in the cost of custom cabinets. The cabinet maker will need to build the whole island, which will, of course, up the price quite a bit. The size of our island is 10 feet wide and 4.5 feet deep.
Here are the dimensions of our kitchen. The average kitchen for a new home build will be around this size. You can adjust your estimation, depending on the size of your kitchen as well.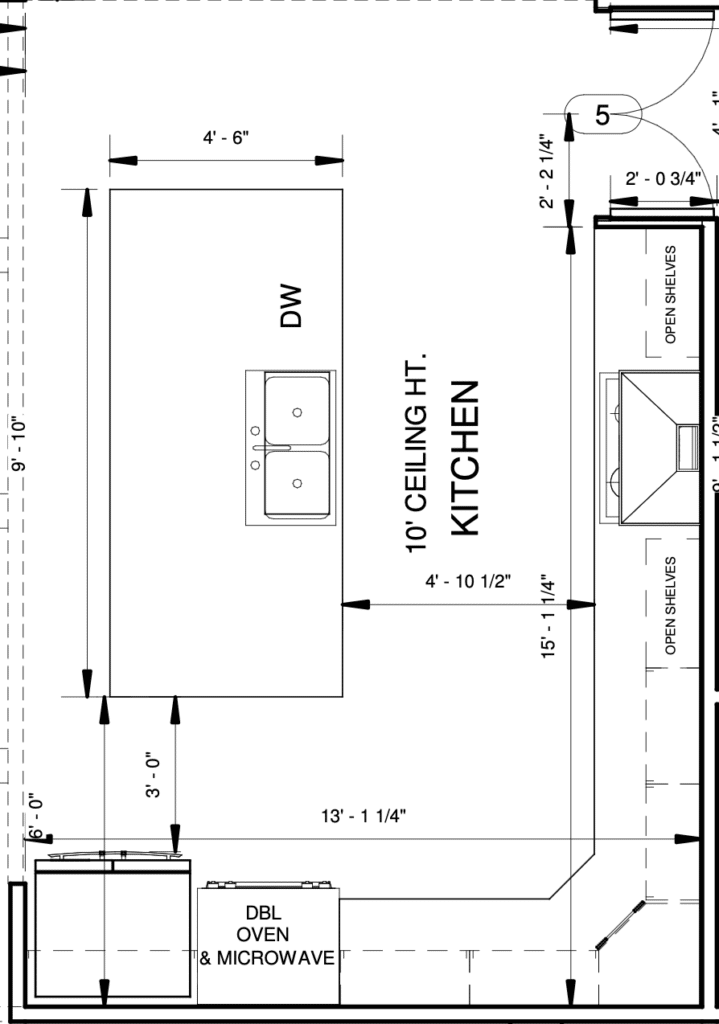 Labor for Custom Kitchen Cabinets
The cost of labor is included in the average number that I provided above. With our custom cabinet maker, "labor" includes one trip for measuring, one trip for installation, and one trip for punch-list items.
Typically, measuring is done after framing, even though drywall is not completely done. The time to make custom kitchen cabinets should be considered, so you don't necessarily want to wait until drywall is finished. This is especially true when proper measuring can be done right when framing is complete. While you're in the framing stage, it would be a great time to write bible verses on the walls of your new home construction!
Once the measuring is done, the cabinet maker will then build the custom cabinets. Then, they will be ready to install the wood cabinets by the cabinet installers.
Installation typically takes around 3 days.
After installation, there might be a few things that need to be adjusted. An example of this is soft-close cabinet hinges that need to be adjusted or drawers sticking. This is called punch-list. Typically, the average homeowner will mark everything that needs to be fixed with painter's tape and let the cabinet maker fix them during the punch list portion of the project.
Types of Cabinets
It's important to note the differences between custom kitchen cabinets, stock (aka pre-fab) cabinets, semi-custom cabinets, and RTA cabinets. I will explain the differences in every type of cabinet and how they compare to each other. New kitchen cabinets are absolutely an investment, so choosing the correct type is imperative to staying within budget.
Stock Cabinets
Stock cabinets are pre-made in standard sizes and manufactured in bulk. The customer cannot change the dimensions. Because of this, users will need to find a combination of stock cabinets that best fit their space. These cabinets are the cheapest option.
Stock cabinets can be purchased at a local big box store, like Home Depot, or they can be ordered online. Even though the cabinets will already be assembled, the customer will still either need to pay for cabinet installation, or DIY this on their own.
Of course, installation costs will be a factor, so completing the installation on their own would be the most affordable option. Oftentimes, this is a two-person job and requires some knowledge of how to use the proper tools.
Laminate cabinets and MDF (MDF stands for medium-density fiberboard) are common in stock cabinets. They are a popular material for stock cabinets, instead of higher quality materials like hardwoods. The quality will not be as good as custom cabinets made of hardwoods, but they will be more affordable.
Occasionally, you can purchase un-finished cabinets. This type of cabinet will need to be painted in the color you choose. Check out this post for all my best tips and tricks on how to get a super smooth paint finish when painting cabinets. In that post, I tackled the question of whether it's best to use a roller or brush, along with the tried and true methods for achieving a smooth finish.
Semi-Custom Cabinets
Semi-custom cabinets are a great option for those that are looking for more options in the finishes of their cabinets. The user can typically choose things like door style and toe kick preferences, for instance. Although these cabinets will be a higher cost than stock cabinets, the end result will be slightly higher end and more custom-looking.
The user will also need to install these cabinets on their own or hire that portion of the project out.
What are RTA Cabinets?
RTA stands for ready-to-assemble cabinets. These type of kitchen cabinets are for someone who has some DIY knowledge and know-how since the cabinets will need to be assembled. Typically, drawers will need to be assembled, base cabinets will need to be assembled, and drawers and doors will need to be installed.
This type of cabinetry can range from stock cabinets to custom cabinets.
An example of RTA stock cabinets is Ikea. This type of cabinet comes in one box, with all of the parts available to build your own cabinets. However, the customer cannot choose the dimensions that best fit their space.
An example of RTA custom cabinetry is a company called Cabinet Joint. In fact, I will be using this company to finish out the white oak vanities in our primary bathroom. We will have two vanities (his & hers) that are both 60″ wide.
The process of working with them has been wonderful so far. This is a popular option in order to cut costs but still have great design options. I was able to choose the exact dimensions I want (including height, width, and depth), and the type of material I want, along with many other custom options.
Since I enjoy assembling and building cabinets (check out this mudroom hall tree build with euro hinges, drawer slides, and shelf pins) this was a great option for me. It's the perfect mix of custom cabinetry and DIY cabinetry. In addition, I was able to save quite a bit of money by not having to hire our custom cabinet maker to build these vanities.
Custom Kitchen Cabinets
This is one of the more expensive options, but the end result will be beautiful and hopefully exactly what you want. Although you are paying a higher price, you are getting a product that fits your home perfectly and is unique to you. You are also saving time and effort by not doing anything on your own, like assembly or installation.
Custom kitchen cabinets are typically solid wood cabinets, so they will last for years to come.
If you are building a new home, be sure to check out these articles:
So, there it is! All you need to know about the average price of custom kitchen cabinets for your home. If this is helpful, I'd love to hear about it!