Choosing white paint is something that seems so simple from the outside. However, I quickly learned that there is so much that goes into choosing the right paint color for your home.
In this article, I will talk about the specific Sherwin Williams white paint color we chose for our kitchen cabinets. I will also cover other colors that we considered and are popular choices for white kitchen cabinets. In my opinion, these are the best white paint colors for kitchen cabinets made by Sherwin Williams.
There is a lot of dimension, reflection, warmth, and coolness that needs to be considered when choosing white paint colors. I will specifically cover white paint colors made by Sherwin Williams.
Our painter asked that we choose a color from there, which was actually helpful. It can be very overwhelming when approaching white paints. There are just so many options, narrowing it down to a specific company, like Sherwin Williams, was actually very helpful and appreciated. They have lots of great options there, so let's dive in!
Snowbound by Sherwin Williams: Our First Choice for White Kitchen Cabinets
I'll start by covering the color that we ended up chose for our home. It is called Snowbound by Sherwin Williams.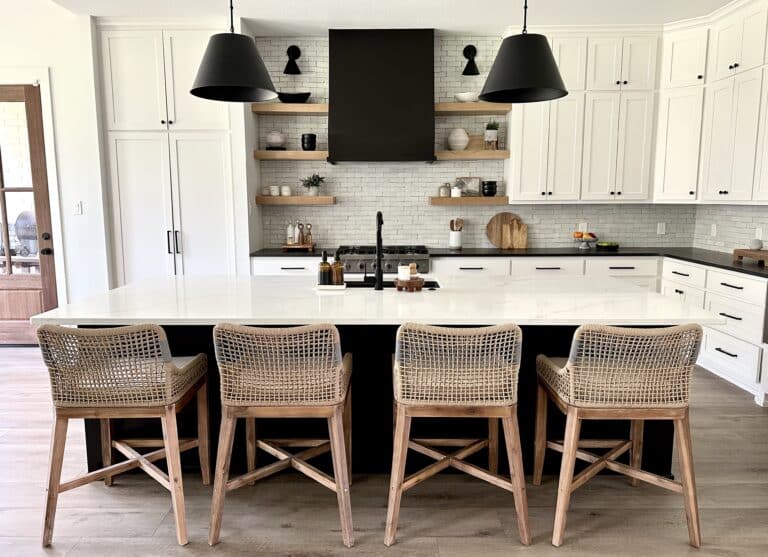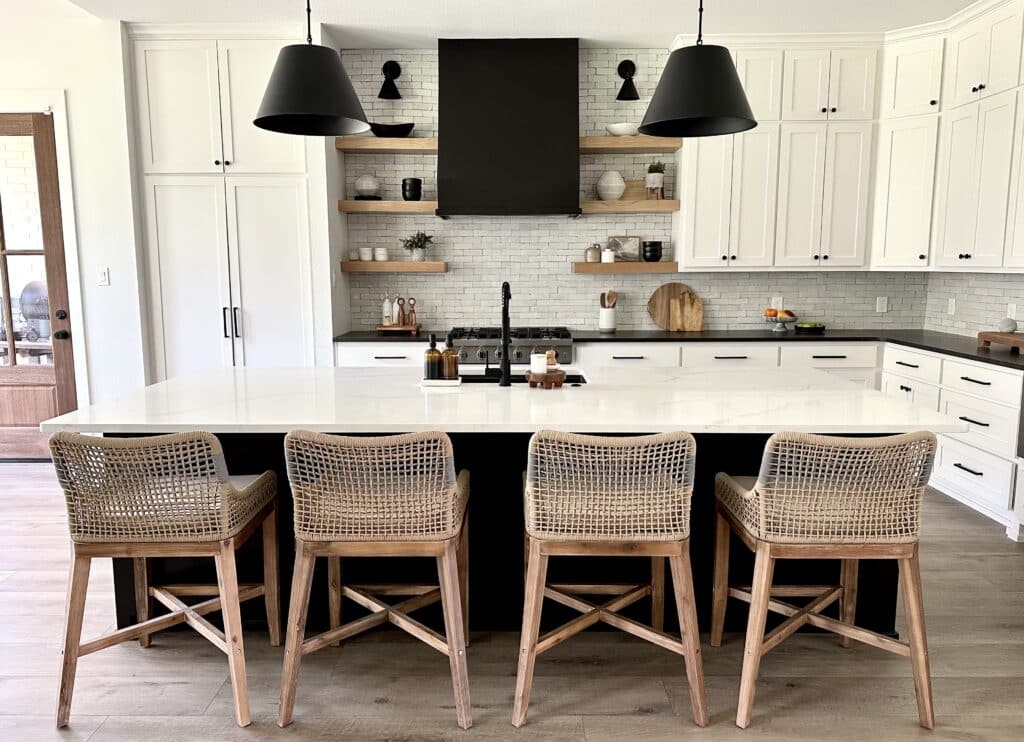 I'm so happy with how it turned out! It is not too stark, and not too warm. The undertones are neutral, which is a huge plus. I didn't want a white that was too warm or too cool. It was important to find a white that was truly neutral and Snowbound was the best choice for our natural surroundings.
Snowbound is a versatile white that keeps things soft, but also gives a crisp and clean white look. It can be used in many different areas other than kitchen cabinets, like a living room, bedroom, trim, ceilings, and even on the exterior of the home. In my opinion, it is the perfect color for white kitchen cabinets.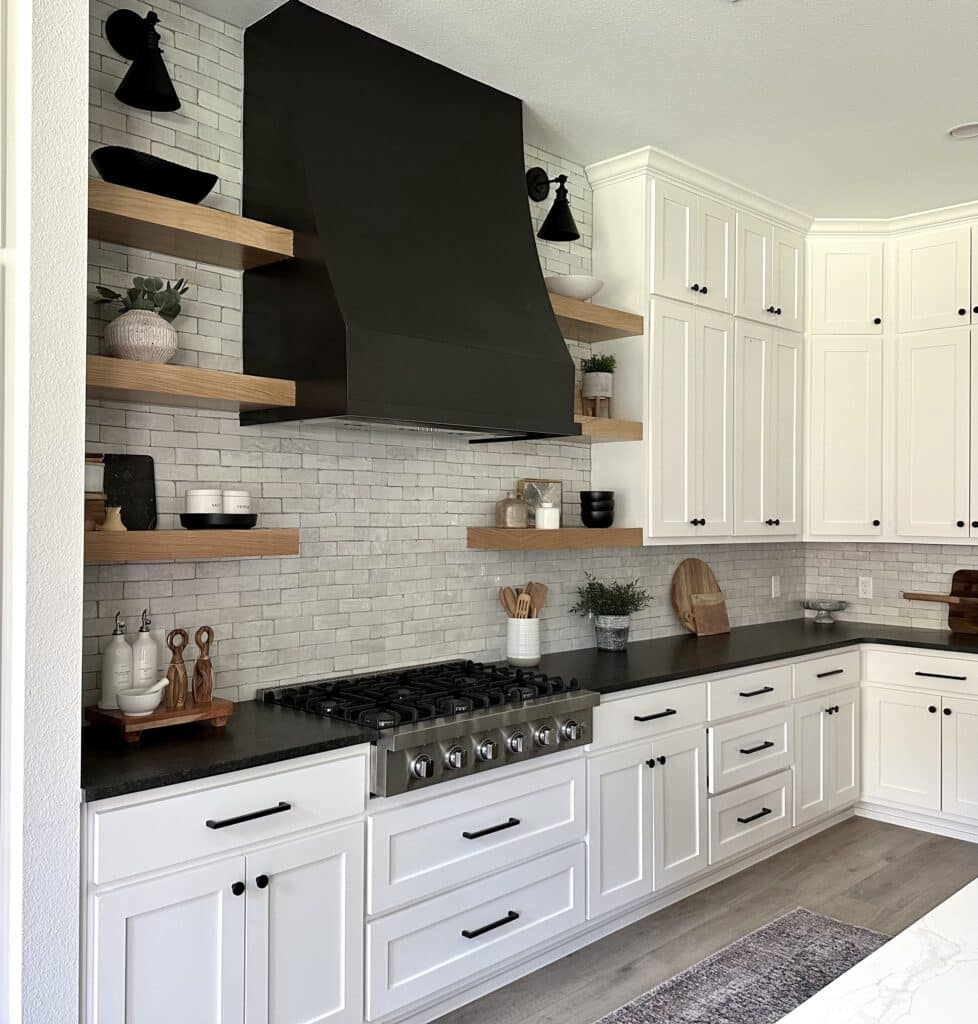 How Lighting Conditions and Surrounding Colors Affect White Paint Colors
Depending on the time of day, our kitchen gets direct sunlight, and during other times of the day, there is no direct sunlight. We do have a lot of windows, so my review of Sherwin Williams Snowbound will be through the lens of natural light. We don't have much artificial light, which could affect how Snowbound might look in your kitchen
Other Places We Used Snowbound in Our Home
I also wanted to note that we matched our walls, ceilings, and trim to our kitchen cabinets. All of the white paint in our house is Sherwin Williams Snowbound. All of the white color in our house was made at 100%.
You can see how Snowbound looks on our bathroom walls in this post on RTA Cabinets made in the USA, on our DIY gas fireplace surround, and our DIY custom closet.
I chose to do this because I knew that all of the painted parts of the house would complement each other. Trying to find two different shades of white that work well together can be especially tricky. The different shades might pull undertones of the other color and result in one looking too stark or too creamy.
In the end, I'm so happy that we chose the same color for trim, walls, ceiling, and cabinets. Each of those has different sheens, so they compliment each other without perfectly matching. I'm so happy with how it turned out and highly recommend doing this in your home!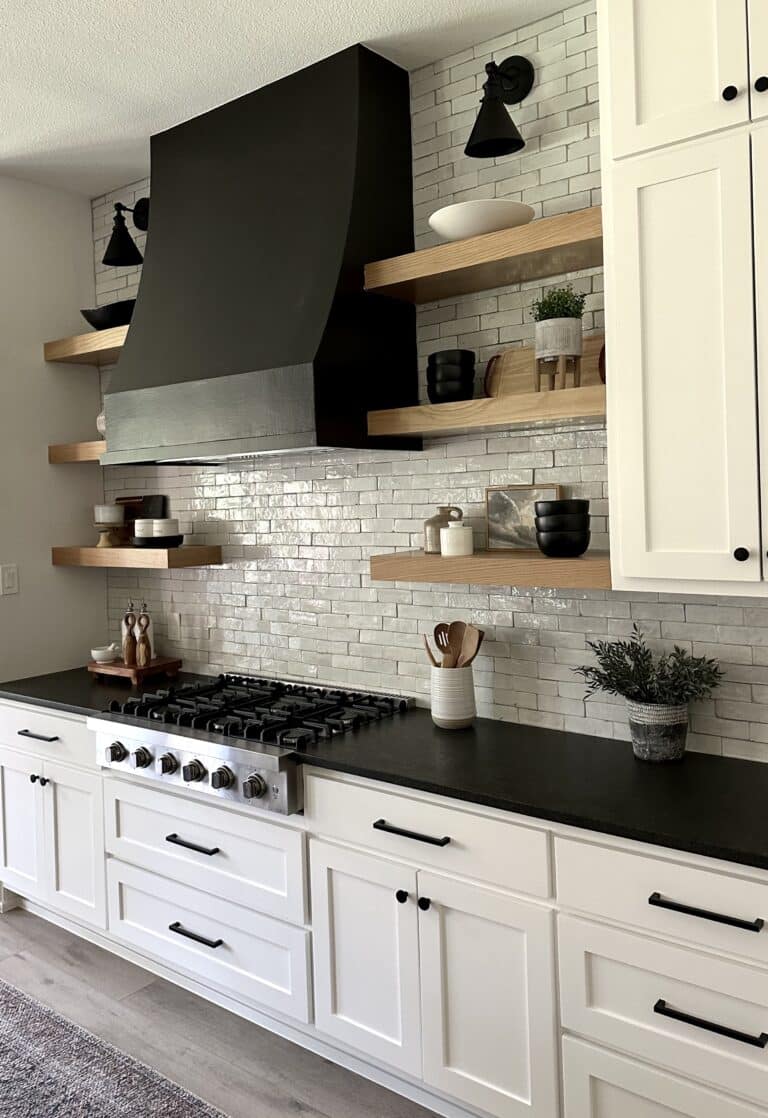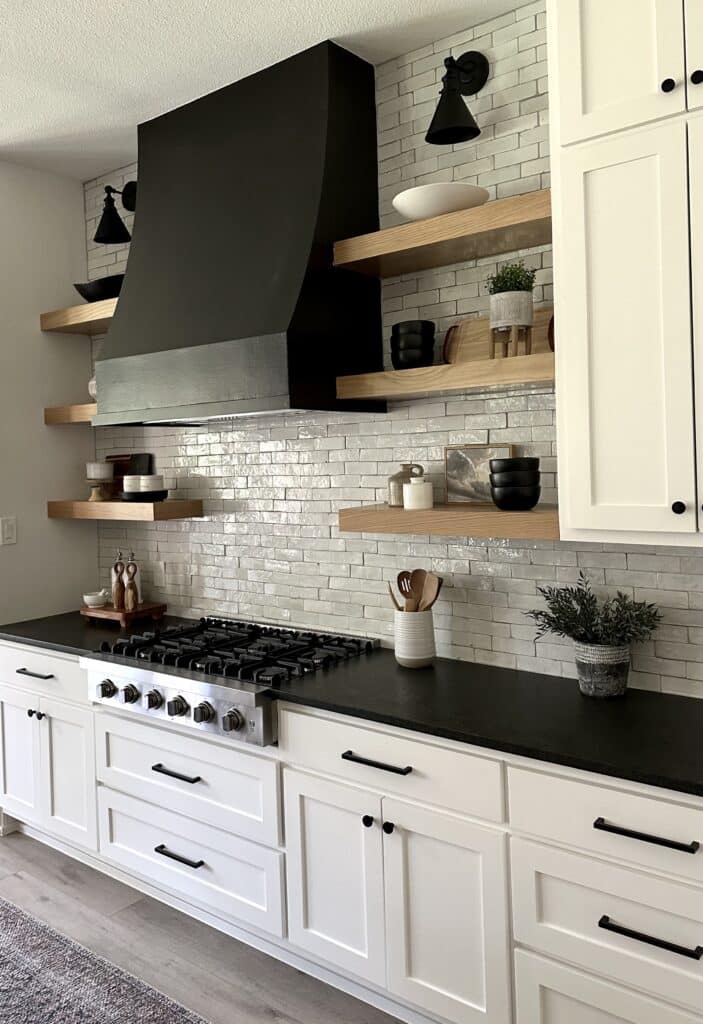 Our kitchen island and DIY kitchen vent hood is painted Caviar by Sherwin Williams. Find out why I think Sherwin Williams Caviar is the best black paint color for furniture in your home here. We also painted our mudroom locker from stock cabinets in Caviar as well.
Paint Swatches
It is important to note that guides like this are a great starting point. However, you should always obtain paint swatches to test out in your specific kitchen.
What looks great in one kitchen, doesn't always translate from the computer to your specific space. Some other factors include where the natural light is coming from, which way the room is facing, and what lighting you have in the space, just to name a few.
Our painters asked that we not test out actual paint colors on the wall because they could eventually show through and potentially ruin the finish on the walls. So, we tested out all of our swatches on the walls that would eventually be covered by cabinets. Pro tip: test actual paint colors on walls that will be hidden by cabinets.
LRV
It is very important to consider the LRV of any white paint that you are going to sample. LRV stands for 'light reflective value'. It essentially rates how much light is reflected or absorbed in the color. The higher the LRV, the lighter the color is because more light is reflected. The lower the LRV is, the darker the color is because more light is absorbed.
For white kitchen cabinets, you will want to look for a color with an LRV of about 80-95. Most white colors will fall within the range of 85-90. Anything lower will most likely be too creamy or muddy looking. Anything higher will most likely be too stark white.
All of the colors I will cover fall within this recommended range, aside from a couple (more on that below). LRV should be considered for each specific space because natural light will affect how white paint colors look on kitchen cabinets greatly.
If your space has a lot of natural sunlight, you can choose a lower LRV within the recommended range. If your space has a lot of artificial light, you might want to stick with a higher LRV, which will result in brighter looking kitchen cabinets.
Other Popular Sherwin Williams White Paint Colors for Kitchen Cabinets
We tested out quite a few white paint colors when deciding what to go for our walls and cabinets. I'll cover some other options of my favorite white paint colors in this article.
Although our favorite was Snowbound by Sherwin Williams, and was ultimately one that we chose for our house, there were a lot of great options, as outlined below.
It would be a great idea to get samples of these and choose the one that looks best in your specific space.
Sherwin Williams Alabaster
Alabaster by Sherwin Williams is a very popular choice for homeowners and interior designers alike. It can be classified a being slightly off-white. However, this is only noticeable if it is directly next to a bright white.
In our particular home, Alabaster read a little too yellow. However, I've seen it look beautiful in other homes. This is another reminder of the importance of testing paint colors in your specific space!
Since it does lean towards such creamy undertones, like yellow undertones or beige, it can really warm up a space beautifully. This would be a great option to warm up a space in the home but still use a white paint color. It has an LRV of 82.
In very bright spaces, it will hold its warmth well and won't look too cold or stark.
Sherwin Williams Pure White
Pure White is a beautiful and versatile white that can be used in all areas of the home, not just kitchen cabinets. It would look great on trim especially, in my opinion.
I originally chose to test this color out on our home mostly because of it's name. In addition, I've seen quite a few people use it in their home. I wanted a white that was neutral, but didn't have too many undertones, so with a name like 'Pure White', I had to give it a shot.
The LRV of Pure White is 84, which somewhat surprised me because of the name. I thought it would be brighter.
In the lighting of our home, it read as having slightly gray undertones. It still would have worked beautifully, but I ended up like Snowbound just a little more.
This is a very versatile white paint color and would look beautiful as a kitchen cabinet paint color. The undertones are neutral, with no strong blues, yellows, greens, browns, etc.
This color is probably closest to what we chose in our home: Snowbound.
Sherwin Williams White Duck
I hesitated to include this paint color as an option for white kitchen cabinets. This is because it very creamy. However, I included it because it can be a very beautiful color for interiors when done correctly.
It could be a great option for interior walls, paired with a brighter white on cabinets. The bright white cabinets would make this color look especially creamy, though. The LRV of SW White Duck is 74. So even though it is technically a white, it is a very creamy and warm white.
This would be a great color for an exterior paint color, especially if it is in direct sunlight often.
When done well, it can be very beautiful! It would be an excellent choice to pair with a villa or southwest theme in a home.
Sherwin Williams Extra White
SW Extra White is the brightest of all of the whites I will cover today, coming in with an LRV of 86. It is a very beautiful, cool white color. It would be great for a modern home, as it produces a very crisp and clean look with its cool colors.
Depending on the light surrounding it, I've seen this have a slightly green undertone, however, so that is something to keep an eye out for.
Extra White will be very good choice if you'd like to bounce light around the room. This is due to the high LRV rating. It will really brighten up any space. Just be sure to test it out in the actual space and be wary of the color being too stark.
Sherwin Williams Swiss Coffee
Swiss Coffee is a truly beautiful white that I have seen many interior designers use. Occasionally, I have seen them cut it to 50% strong. This way, they still have the same beautiful tones, just slightly less strong. That might be a great option for this color.
The LRV of Swiss Coffee is 83, so it is similar to SW Pure White. However, it differs in that it has strong brown and warm tones.
This would be a great choice to add warmth and coziness to a space and would look great on kitchen cabinets, wall color, trim, and ceilings.
Sherwin Williams Greek Villa
Greek Villa is another warm white option for kitchen cabinets. It would pair well with a brighter white if you wanted to paint your white walls a different color than your cabinets or trim.
The LRV of Greek Villa is 84, so although it is a warm white, it is not too creamy. The warm undertones create beautiful depth and the color will maintain it's warmth in many different areas of your home.
Conclusion
There are so many options when choosing a white cabinetry color for your kitchen cabinets. Sherwin Williams provides many great options to choose from like Greek Villa, Pure White, Extra White, Swiss Coffee, White Duck, Alabaster, and Snowbound.
All of these colors are worth purchasing samples of and testing out in the actual space. The natural surroundings can have such a huge impact on how colors look, especially whites.
I personally chose Snowbound by Sherwin Williams for the white paint color on my kitchen cabinets. I'm extremely happy with how it turned out!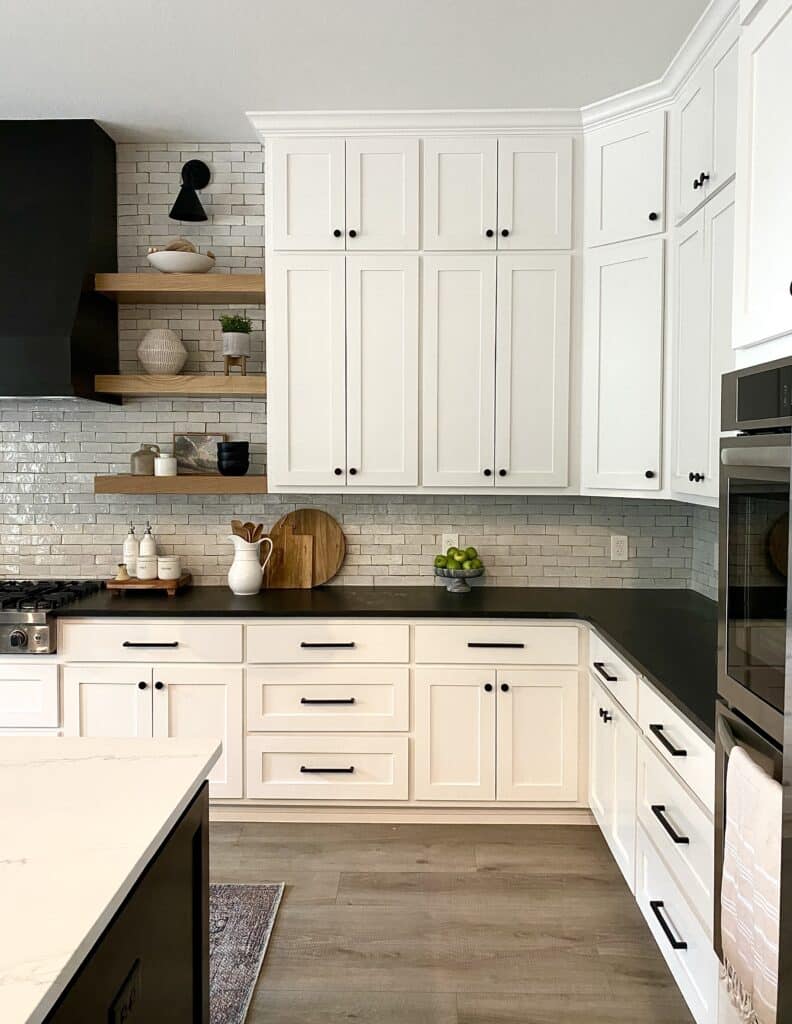 You are sure to find the best Sherwin Williams white paint color for your kitchen cabinets by checking out any of these options.
If you're designing or building a new construction home, you might find these articles helpful: