Shaker kitchen cabinets are currently a very popular style of cabinets. And for good reason! They are beautiful, yet simple. In this article, I will cover popular hardware ideas for shaker style kitchen cabinets.
We chose shaker cabinets throughout our new home build because we love them as well. Part of the fun of building a custom home is getting to pick out all of the little details. Every square inch of a custom home is poured over. Kitchen cabinet hardware is no exception!
Hardware for kitchen cabinets can completely change the look and feel of a kitchen. They can be dressed up or down, depending on if you are designing a more traditional or modern style kitchen.
My goal for this article is to cover the most popular ideas for kitchen cabinet hardware on kitchen cabinets that are shaker style. I will also cover exactly what we chose for our kitchen, with the hope that you can find inspiration and ideas for your own kitchen.
I know when I was designing our custom home, it was so helpful to see pictures of real-life examples of kitchen cabinet hardware ideas. Although I will be sharing pictures of my actual home, I will also provide additional ideas of other types of popular hardware ideas for shaker style cabinets.
What are Shaker Style Cabinets
Shaker style cabinets refers to the style of the door on the cabinets or drawers. They have a flat center panel, a border with clean edges, and with no other details. They have square edging and don't typically have any other added features.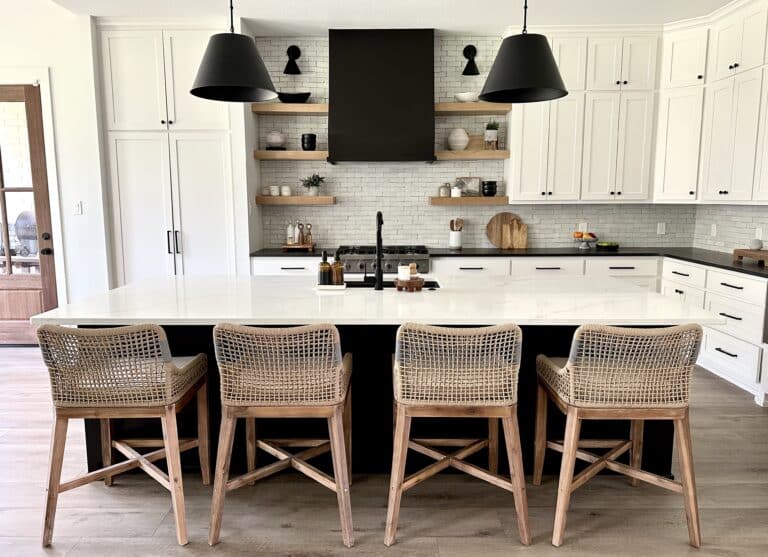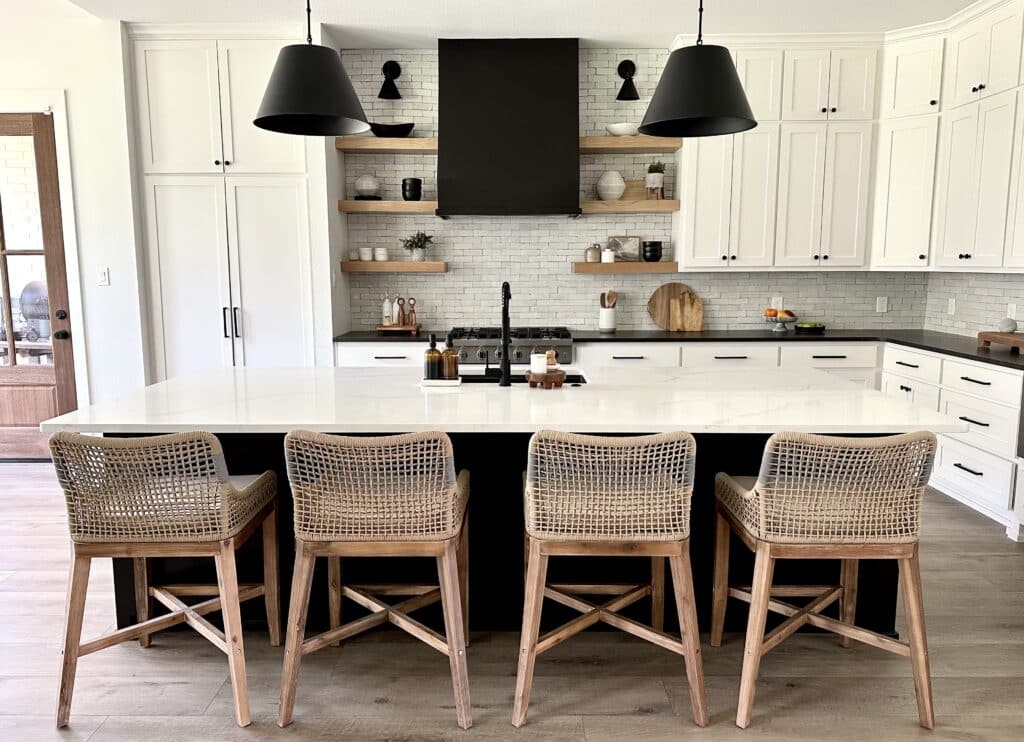 Shaker style cabinets have a simple, yet beautiful style for kitchen cabinets. The can be dressed up to have a classic look, and also easily changed to have a more modern look.
Shaker style cabinets can also be found on bathroom vanities, cabinets in laundry rooms, and mudroom lockers, just to name a few.
Knobs vs Pulls on Shaker Style Cabinets
A good place to start when choosing hardware for your shaker style cabinets is to decide where to put knobs or where to put pulls.
This is completely up to personal preference, although you will oftentimes see knobs on cabinet fronts and pulls on drawers.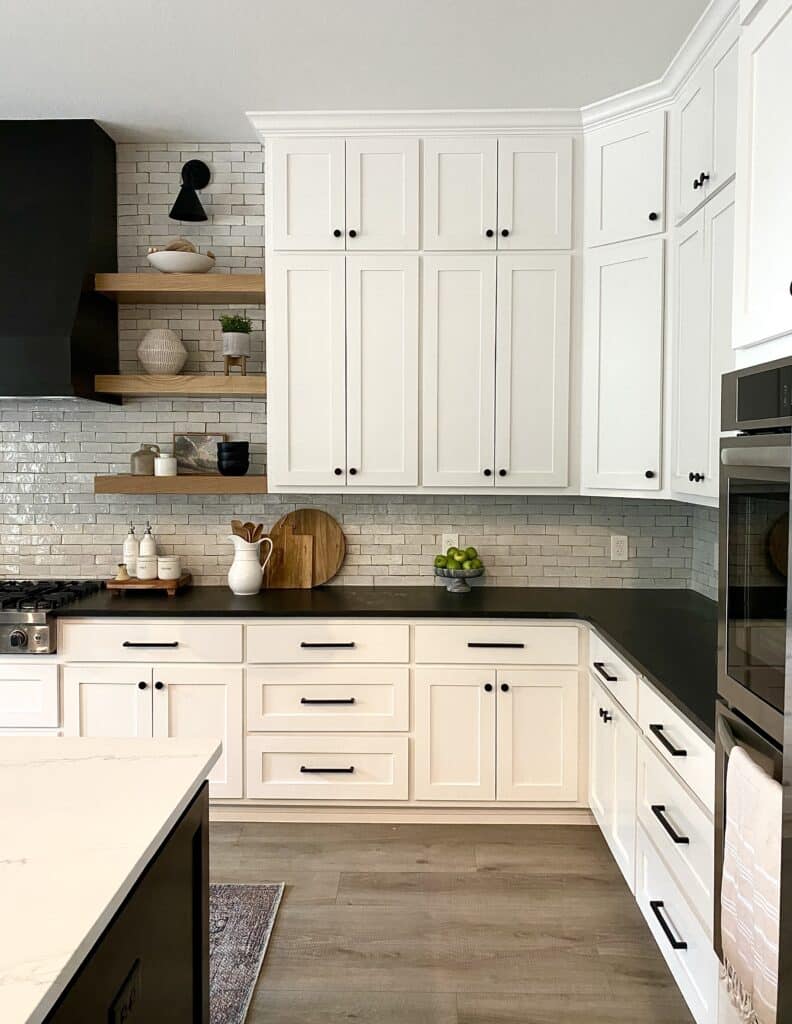 I went into detail in the following post, which you might find helpful if you're trying to decide where to put knobs and handles on shaker style kitchen cabinets.
Pulls on drawers fills the wider space well. Knobs on cabinets are unobtrusive, yet still add to the beauty of the cabinet front.
In our personal home, we chose bar pulls for all of the drawers. Round knobs are on all of the cabinet doors.
The only exception to this is in our living room. I chose to leave all hardware off of these built-ins. This is because there is already a lot going, style wise, due to the decorations on the open shelves.
We also don't access these cabinets as often. So, I left all hardware off of these cabinets and I love how clean it looks. Adding hardware might be too busy for your space as well, especially if it is close to open shelves.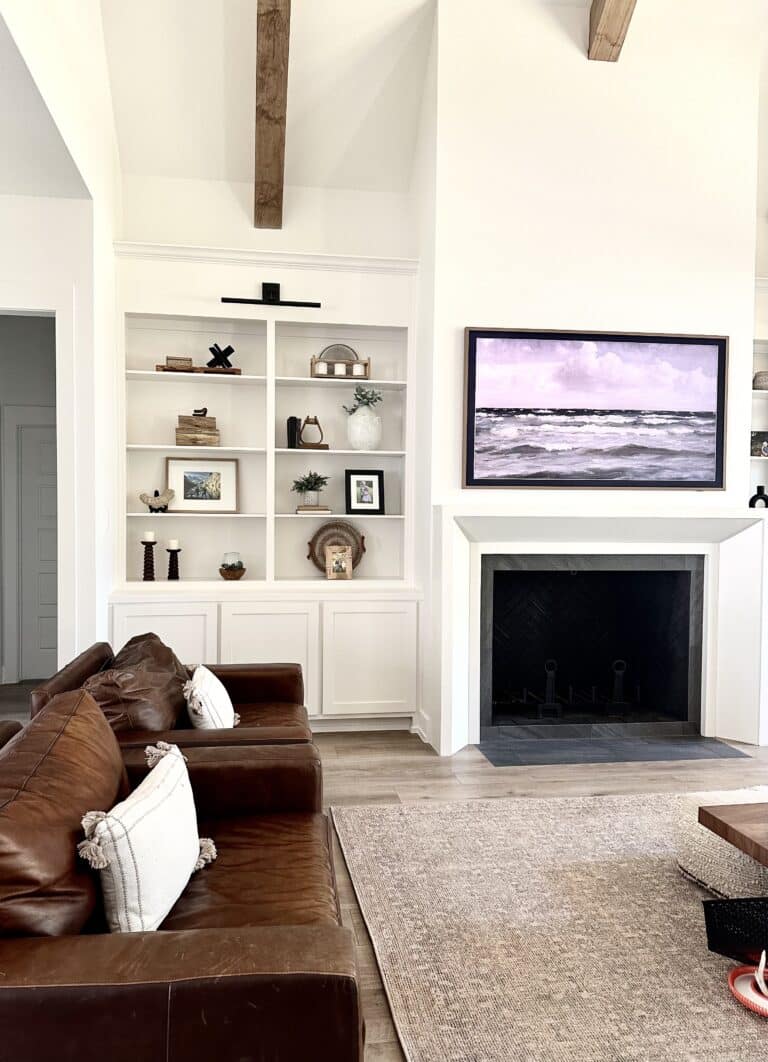 The second place there is an exception to this in our house is on our pantry doors. Our hidden pantry doors have to be tall enough to walk through, so they are 77 inches tall. They created such a tall vertical space, I placed bar pulls vertically to fill that space.
Bar Pulls on Shaker Style Cabinets
Bar pulls are commonly found on shaker-style cabinets. They are simple and sleek and really add to the visual appeal of shaker-style cabinets in the kitchen.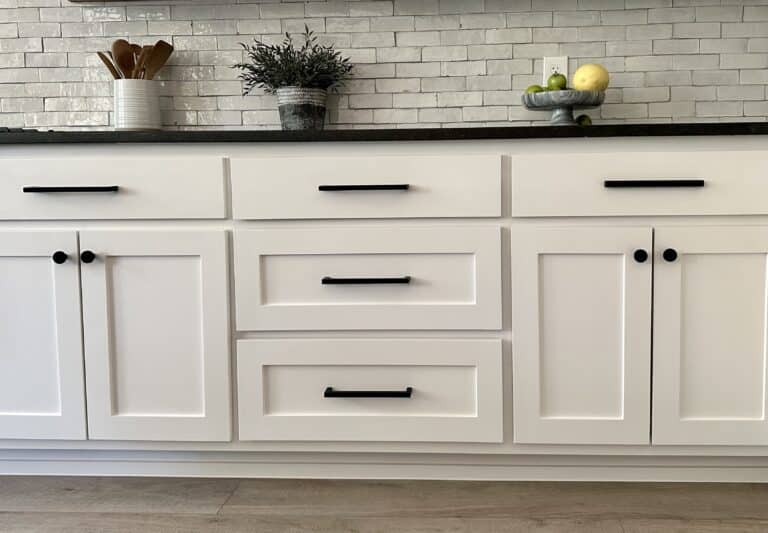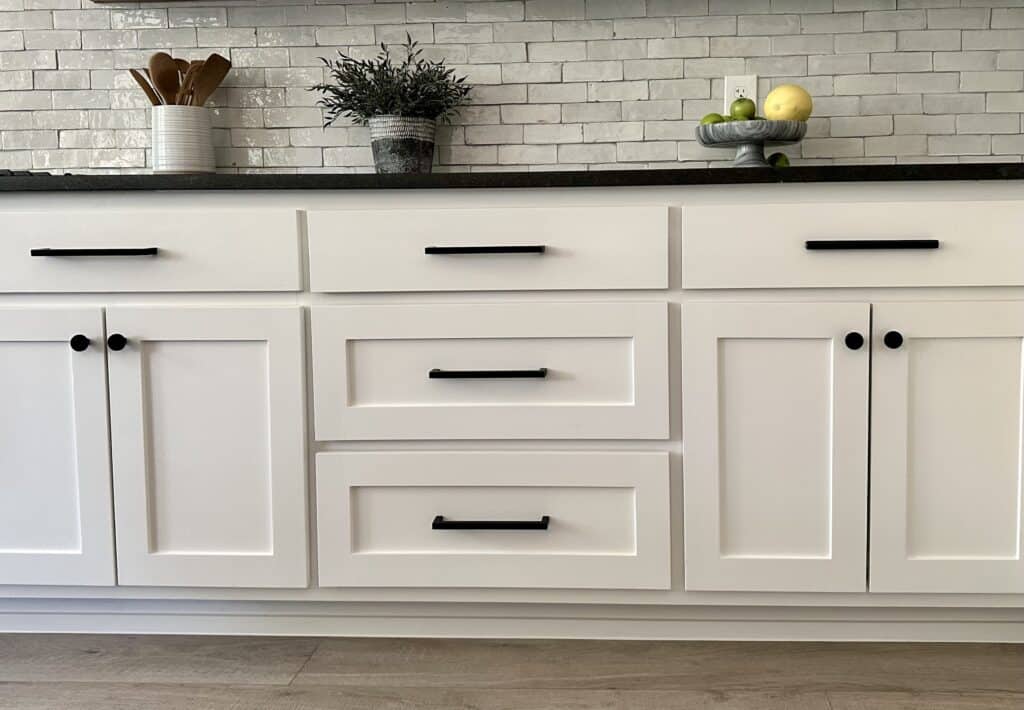 Bar pulls are what we chose for our kitchen and we love how they turned out. We have matte black bar pulls on white shaker cabinets. We also have matte black bar pulls on our black painted island.
Our island is painted Sherwin Williams Caviar.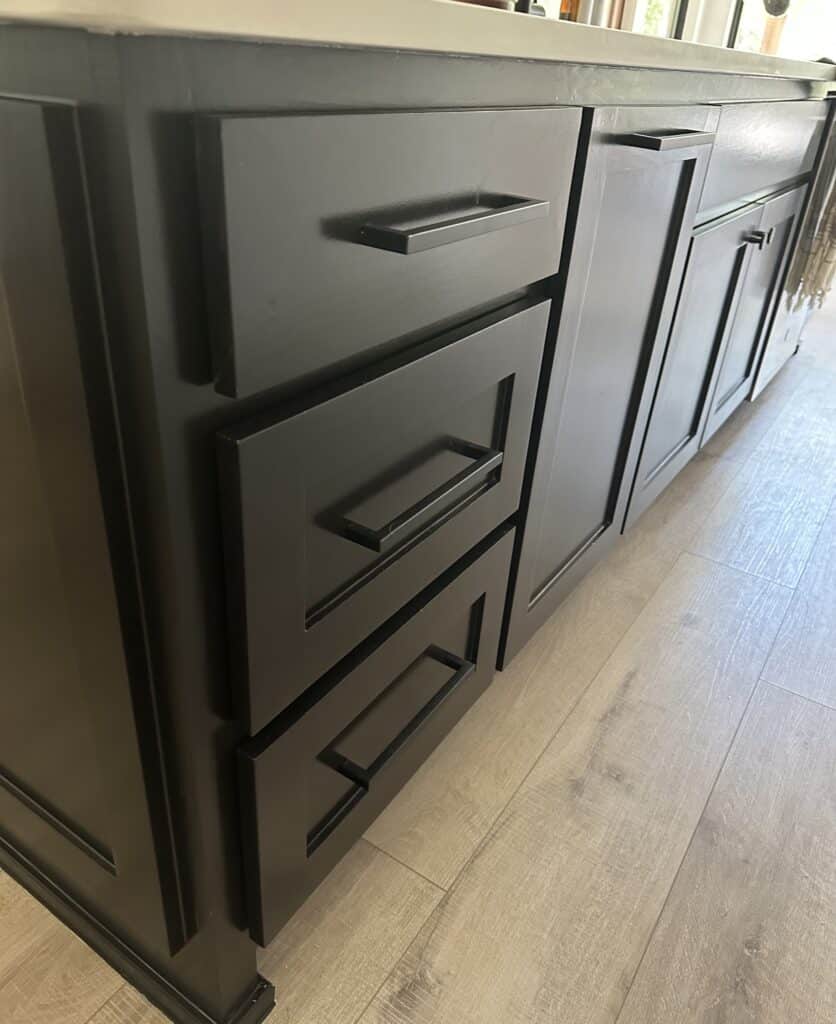 The top layer of drawers in our kitchen are flat-faced and not shaker style.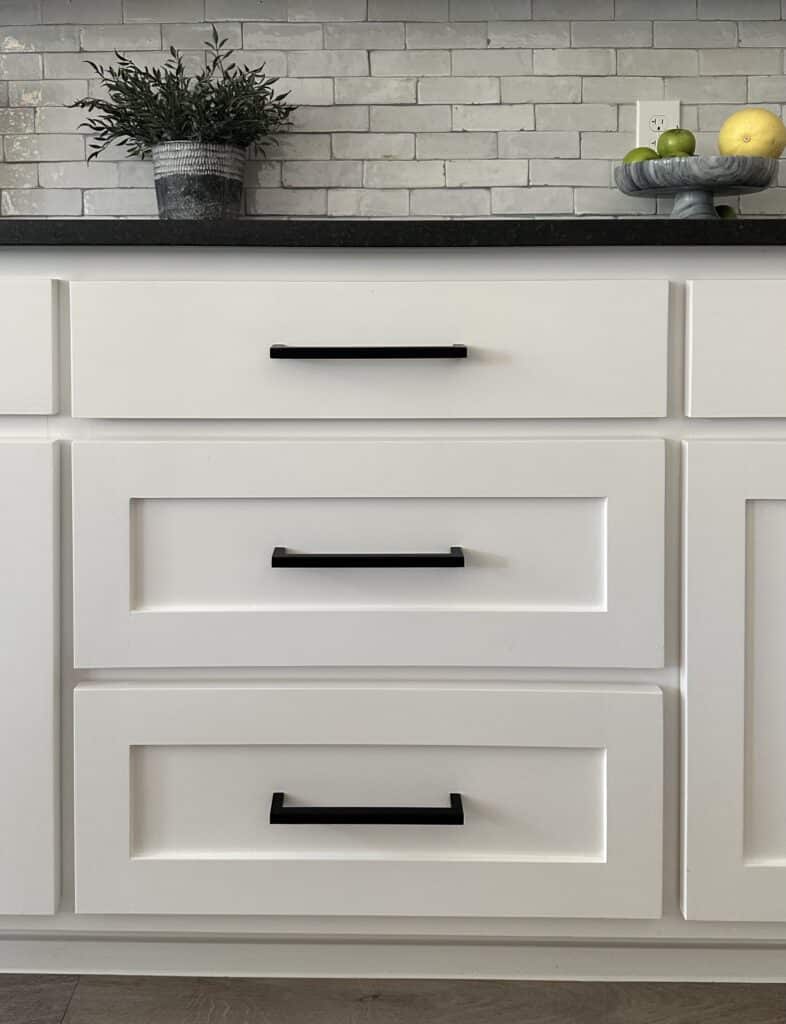 The drawers measure 24 inches wide and we placed 8 inch with bar pulls on those.
We also have a bar pull on the bin pulls that house our trash can.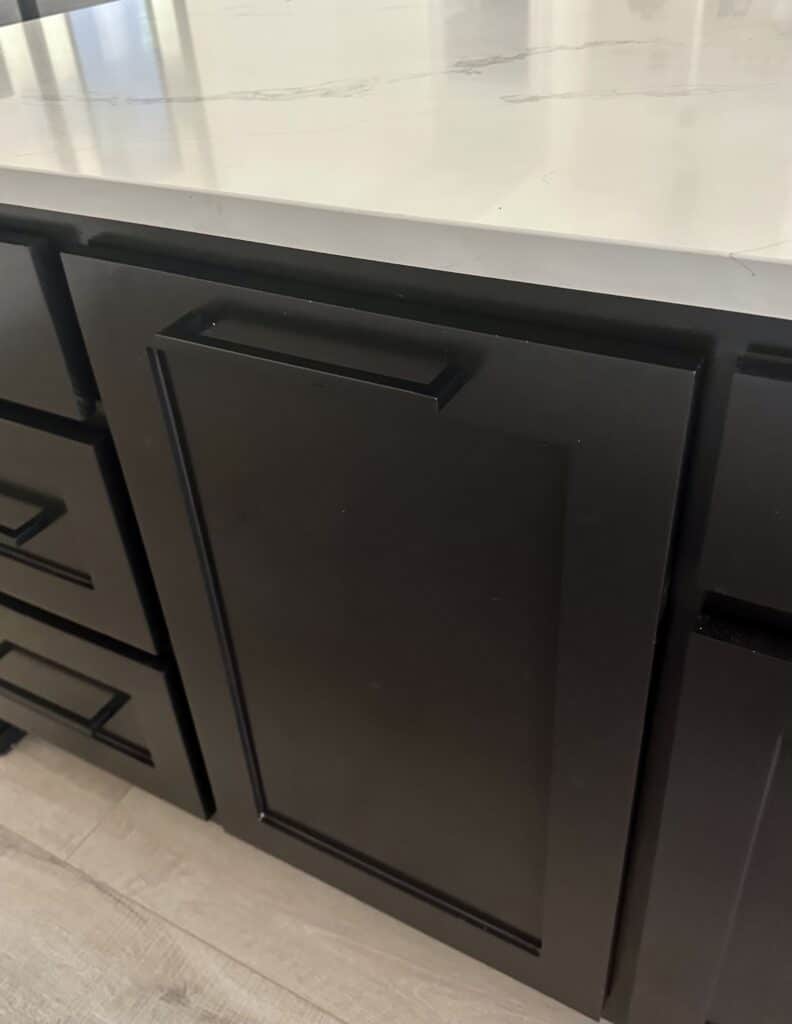 A quick note on bar pulls on drawers that are in corners: Be sure to measure how far the bar pull sits out in order to make sure the opposing drawer on the other side of the corner doesn't hit it. We had this problem, however, I found these shallow bar pulls. This allows the other drawer to get pulled out freely.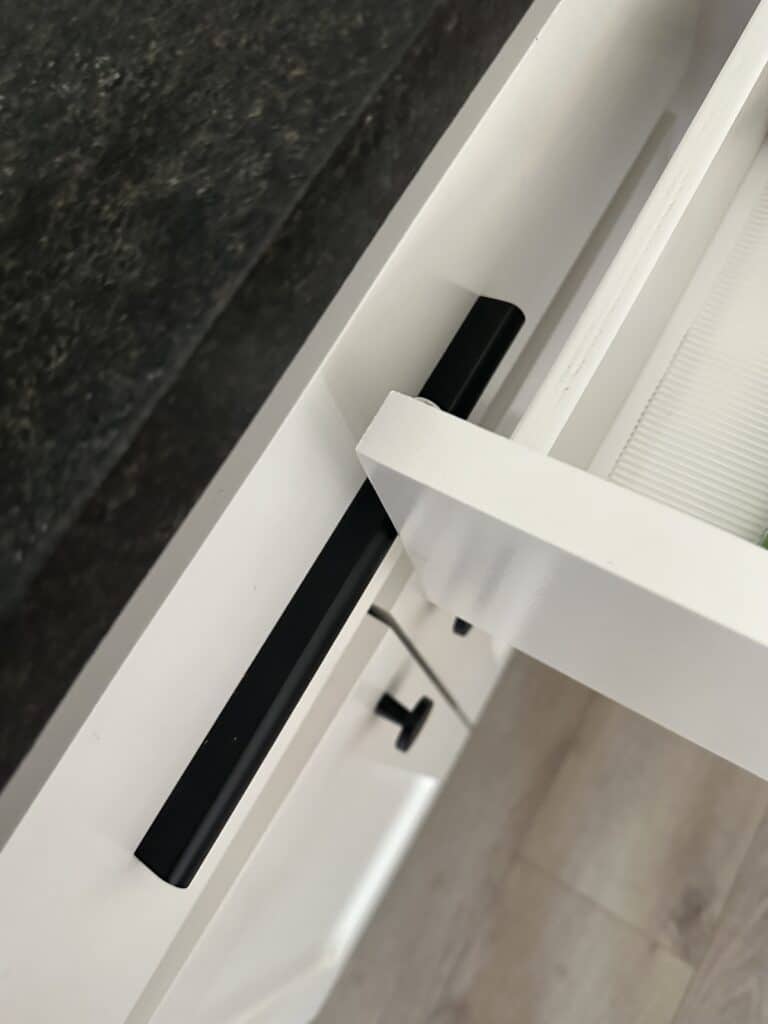 I have seen so many new kitchens recently with shaker style cabinets and bar pulls. They are all typically on the drawers and turn out very beautifully.
Knobs on Shaker Style Cabinets
Typically, knobs are on all cabinet fronts for shaker style cabinets. They are not typically found on drawers.
Knobs are commonly found on the border of the cabinet front and centered on the border. They are also commonly found on upper cabinets.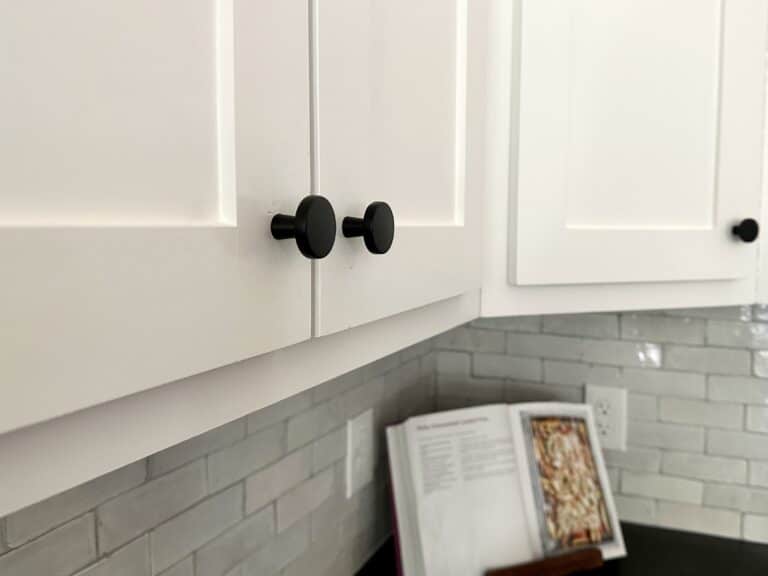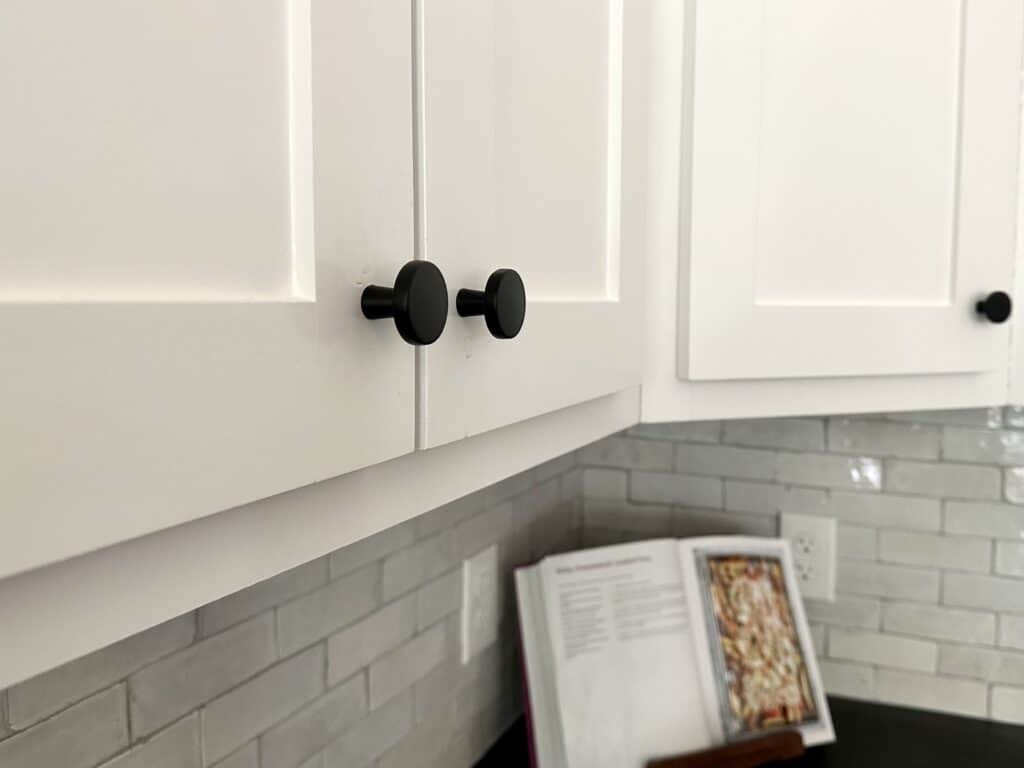 This is what we have in our kitchen. The cabinet doors on all upper cabinets and base cabinets have these 1 1/4 inch knobs, as opposed to the drawers having bar pulls.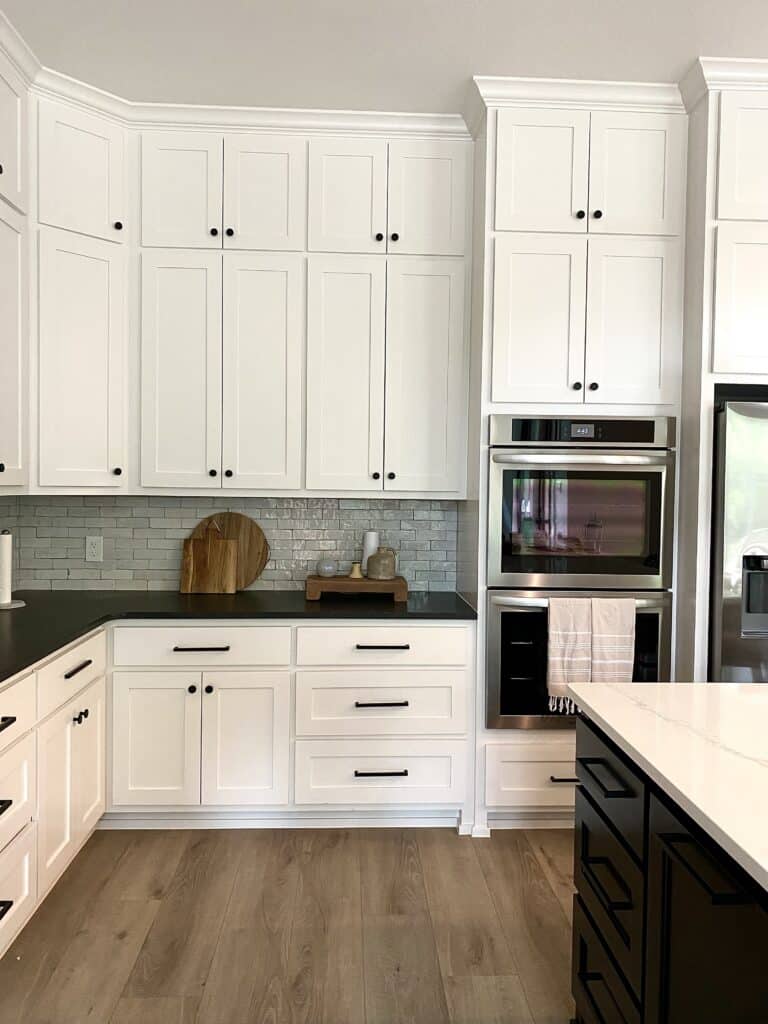 Matte Black Hardware on White Shaker Style Cabinets
Matte black cabinet knobs and pulls are what we chose for our kitchen hardware. We love the contrast of the white cabinets and black hardware. We chose black hardware for all of the surrounding cabinets in our kitchen – both upper and lower cabinets.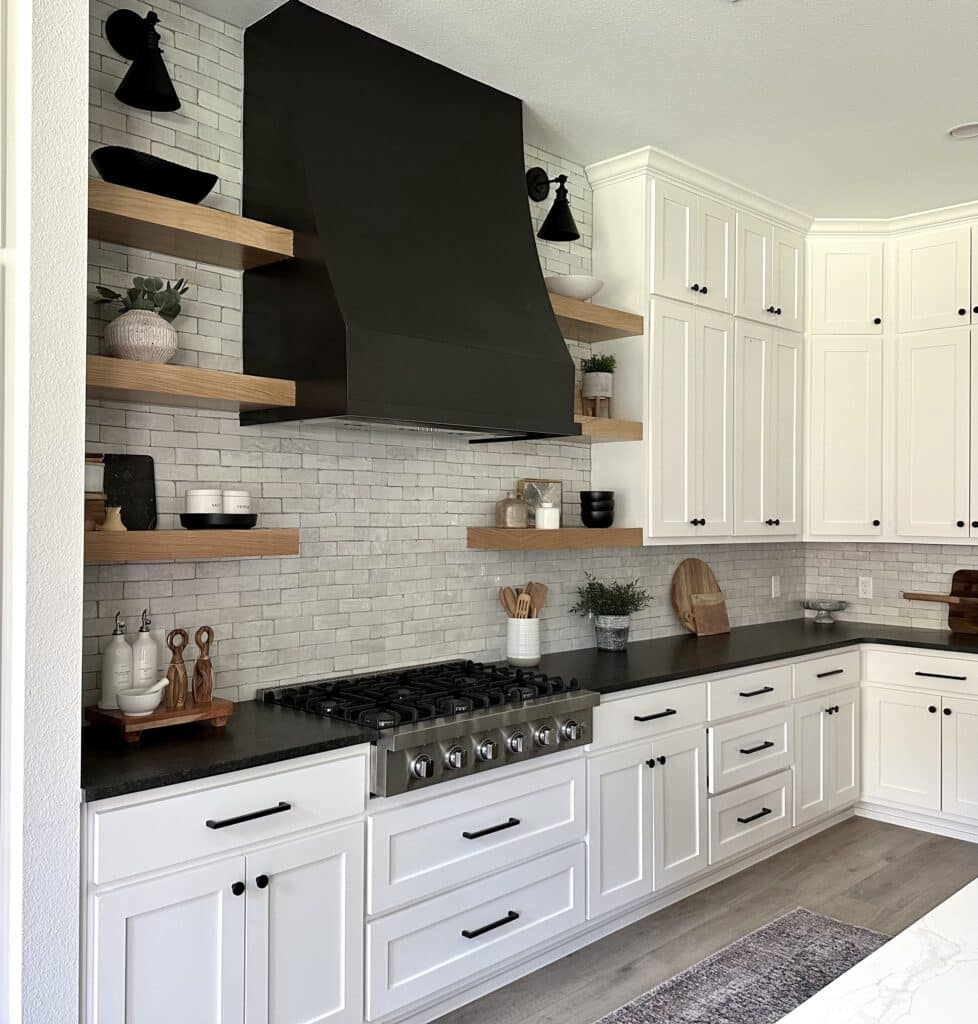 Additionally, we chose matte black hardware on our black painted kitchen island. I was concerned that there wouldn't be enough contrast with the black hardware against the black cabinets, but I love how it turned out. We are very happy with our choice.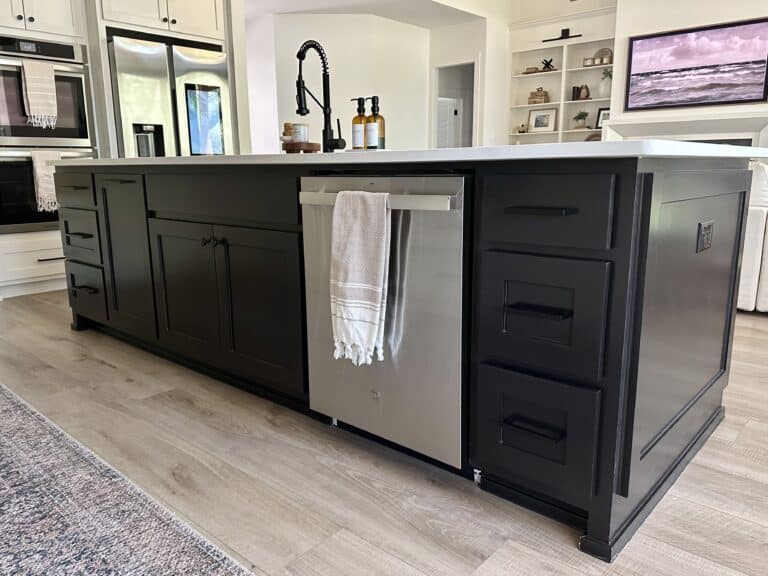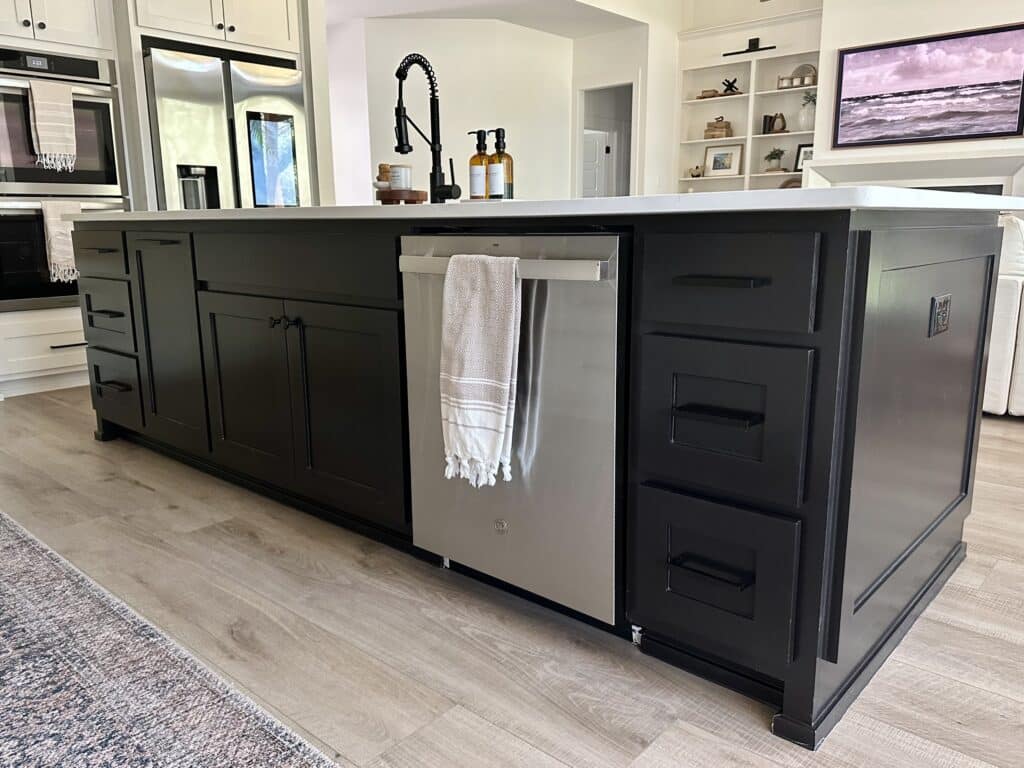 A similar look is oil-rubbed bronze hardware for shaker style cabinets. Oil-rubbed bronze hardware has more of a brown undertone than matte black hardware, although they both have a very similar look.
Gold or Brass Hardware on Shaker Style Cabinets
​Gold or brass hardware on shaker style cabinets can be done very beautifully. This combination brings a very classic and beautiful look.
Sometimes homeowners will mix metal finishes on their kitchen hardware. For example, they will have brass pulls on the shaker cabinets, and matte black kitchen faucet. They will tie in the mixed finishes with a light fixture that might have both black and brass.
This look of brass or gold hardware on shaker cabinets is commonly seen in modern kitchens. When done well, this mixture can be truly beautiful.
Brushed Nickel Hardware on Shaker Style Cabinets
Brushed nickel hardware on shaker style cabinets are common on black cabinets especially. However, it can also look great on white shaker cabinets as well.
Satin nickel finish is very similar to brushed nickel and would be a great option if you're going to try to mix metals in your kitchen. It would pair well with matte black hardware.
Glass Pulls and Knobs on Shaker Style Cabinets
Glass knobs and pulls on shaker kitchen cabinets will create a sleek and clean look for kitchen cabinets. Glass hardware would be an excellent choice for a timeless look, as they don't have color to go out of style.
​True glass knobs and pulls can be expensive, so there are some great acrylic options that will achieve the same minimalist look.
This would be a great option for any cabinet colors, as the color is still the focus.
Marble or Faux Marble Pulls and Knobs on Shaker Style Cabinets
Marble pulls and knobs on shaker style cabinets was a look that I was very close to using in our kitchen. I specifically considered using it on our black kitchen island.
The contrast of white marble hardware on the black kitchen cabinets would be truly beautiful. This would create a sleek and modern design aesthetic.
Below is the specific marble and faux marble hardware I was very close to using on our shaker style cabinets.
Cup Pulls on Shaker Style Cabinets
Cup pulls on shaker style cabinets are commonly found in the style of farmhouse kitchens. Although I personally haven't seen these put in new kitchens in awhile, they can still provide a beautiful and classy look.
Finger Pulls on Shaker Style Cabinets
Finger pulls on shaker style cabinets create a more contemporary look. It is a very minimalist and creates very clean lines. Finger Pulls would be a great choice for a smaller kitchen. This hardware option is a great way to make the space feel larger, as it is less busy.
Hex Knobs on Shaker Style Cabinets
Hex pulls or knobs on shaker style cabinets can be a very fun option if you would like to go a non-traditional route. This type of hardware will add a fin twist to your kitchen hardware.
Updating Shaker Style Cabinet Hardware
Choosing new hardware on kitchen cabinets isn't just for new custom home builds. Updating the hardware on white kitchen cabinets is a popular choice for quickly updating the look of an outdated kitchen. Changing the hardware can completely change the kitchen style and update the look quickly and easily.
Sometimes, simply changing the hardware during a kitchen renovation will change the look so much that not much more updating needs to be done.
While we are on the subject of kitchens and cabinets, you might find these articles helpful: