My Favorite Black Paint Color for Furniture
When we were building a home, choosing the right black paint was so important to me. It felt like such a big decision! I sampled so many black colors and brands and finally landed on a gorgeous and rich black. It is the color called Caviar by Sherwin Williams.
I have used this black color over and over again throughout my home, not just painting furniture. I chose this color for our kitchen cabinets (just our island), our DIY kitchen vent hood, our mudroom lockers made from stock cabinets, and for the trim around the windows in our living room.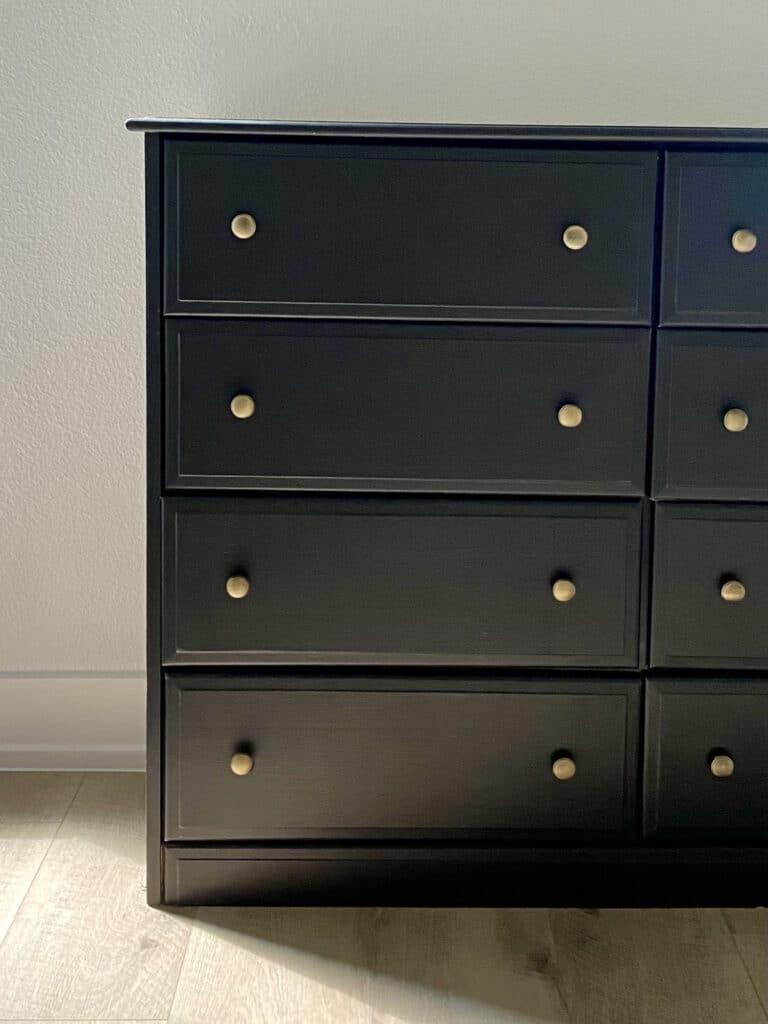 There are many reasons why I believe SW Caviar is the best black paint color for furniture. I will outline all of the reasons why in this article.
Why SW Caviar is the Best Black Furniture Paint
I love this color of black because it has a beautiful and soft tone. It doesn't have any strong undertones, which is something I also love about it. Even in natural light, it doesn't pull a lot of greens or blues, which some black paint tends to do.
Oftentimes, a softer black or white can have harsh undertones (like blue undertones or brown undertones) that tend to clash with the colors around it. However, Caviar is still a true black while still being a soft black.
Black Dresser Painted in Caviar
The most recent furniture painting project I completed was when I painted a dresser black. It was originally a white dresser that was looking a little dated, dingy, and the drawers needed to be fixed. Not only did I want to update it, but I also wanted the black to match the colors in our new home.
Once I painted the dresser black, I updated the hardware with these knobs to give it an updated look. I love how it turned out!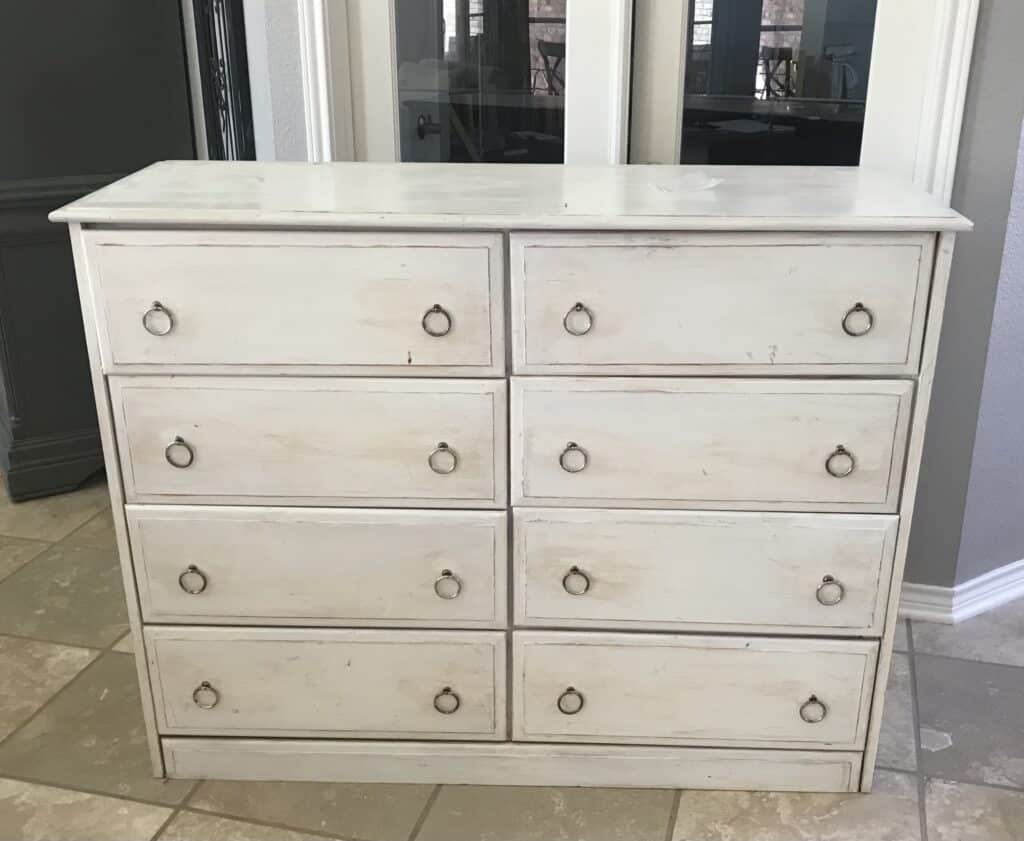 In our bedroom, the newly painted black dresser matches our side tables and our sliding door that goes into the bathroom. Although our side tables already came in black (end tables found here), I was so pleased to find that Caviar by Sherwin Williams paired so nicely with them. This was especially true when I updated the side tables with these knobs to match the dresser as well.
Check out the full tutorial for how to paint a dresser black here!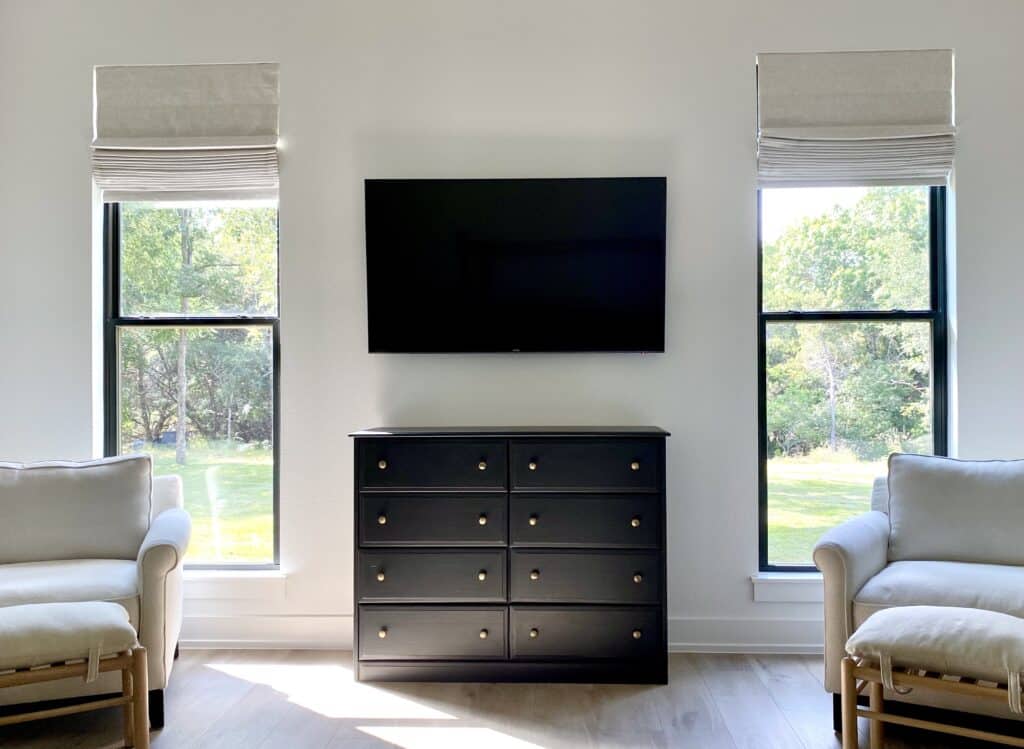 I also built our sliding door that goes from the primary bedroom to the primary bathroom. Again, I wanted it to have a cohesive look with the rest of our house, so I painted it Caviar by Sherwin Williams as well.
All About the Best Black Paint Color for Furniture
The official number from Sherwin Williams for Caviar is SW 6990. It has an LRV of 3, which means it is a very dark paint.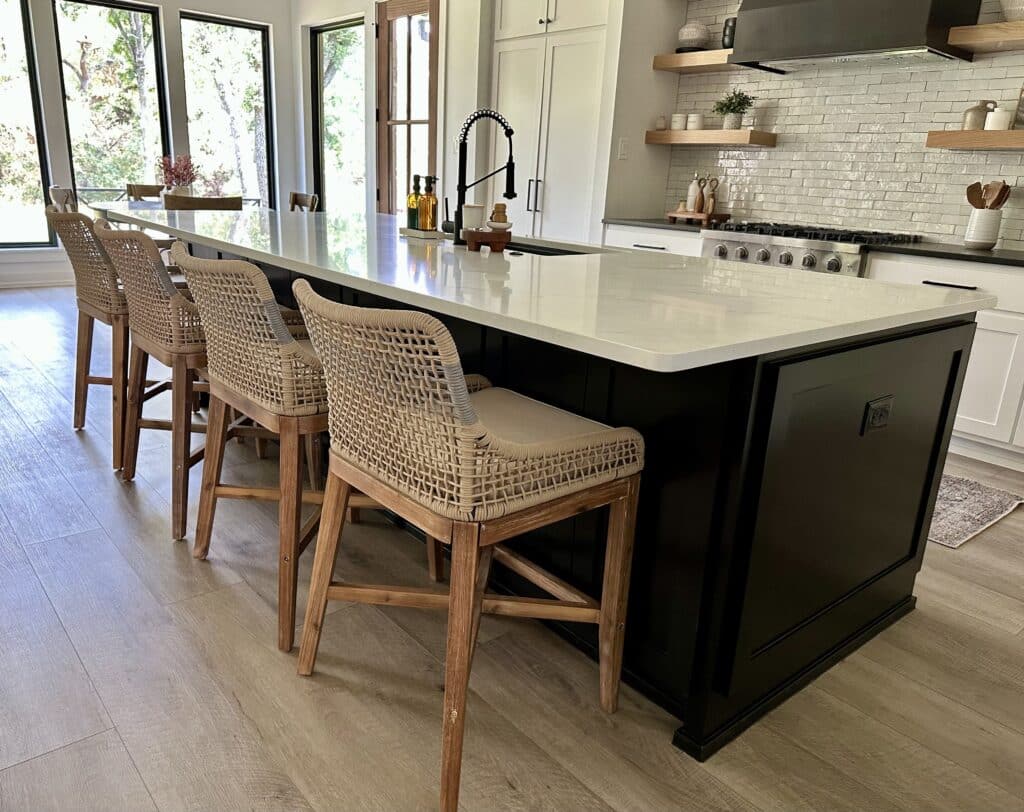 Our kitchen island is painted Caviar by Sherwin Williams. If you're interested, check out this post on where to put knobs and handles on kitchen cabinets and popular hardware styles for shaker kitchen cabinets.
What is LRV in Paint?
LRV stands for 'light reflective value'. The LRV number evaluates how much light is either absorbed or reflected in the paint. The lower the LRV, the more light is absorbed (darker colors). The higher the LRV, the more light is reflected (light colors like white).
For example, when using a white paint on the exterior of a home, try to find a paint with an LRV between 73-85. Any paint higher than an LRV rating of 85 will look too bright and stark.
Being that the LRV of Sherwin Williams Caviar is 3, it will absorb a lot of light, as it is a beautiful, dark color.
Examples of Furniture Painted with the Black Paint Color SW Caviar
I absolutely love how this desk turned out from @the.green.dresser. I'm always amazed at the transformation furniture will go through with just a little black paint.
This is another incredible update for old furniture that achieves a more modern look. To me, this further proves why Caviar by Sherwin Williams is the best paint color to choose when updating wood furniture.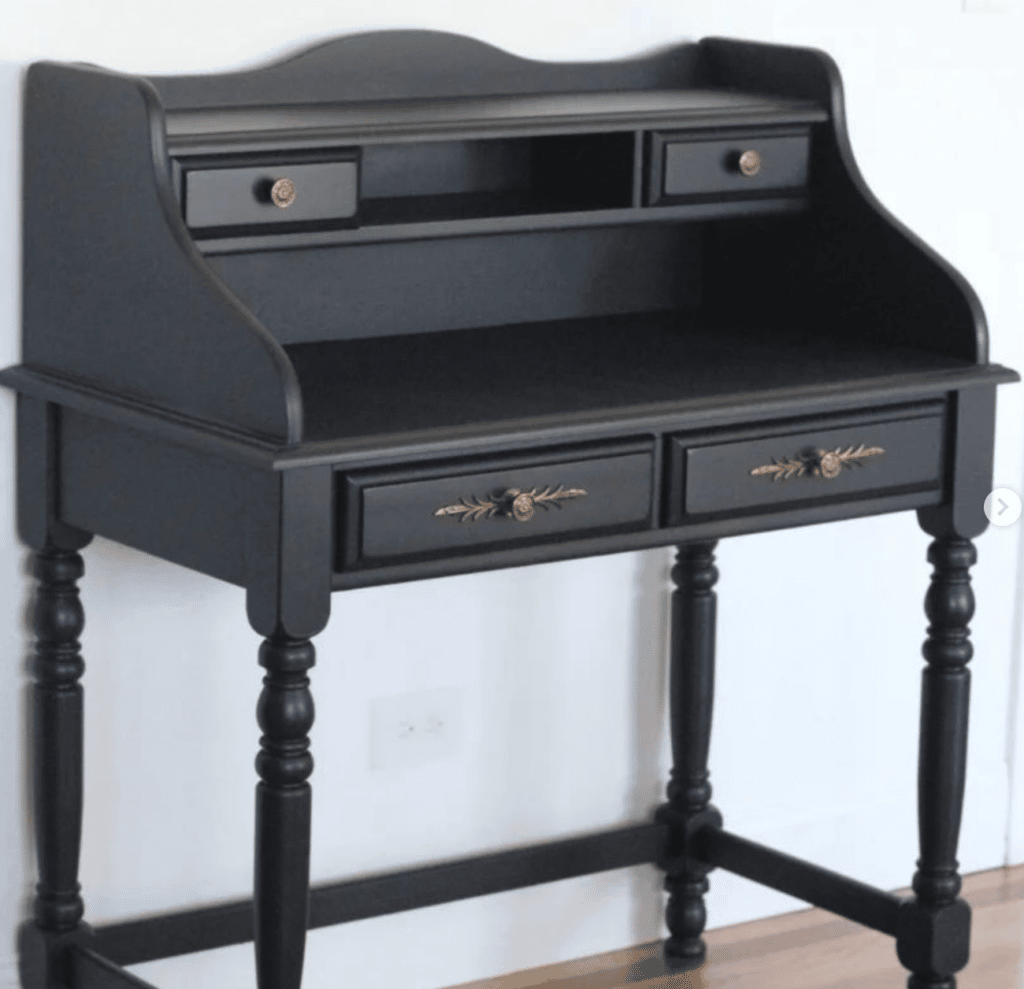 @rylan.designs updated this Ikea dresser to look more high-end. I always love a good Ikea hack!
Note: my painting process mentioned below would be perfect for painting Ikea furniture!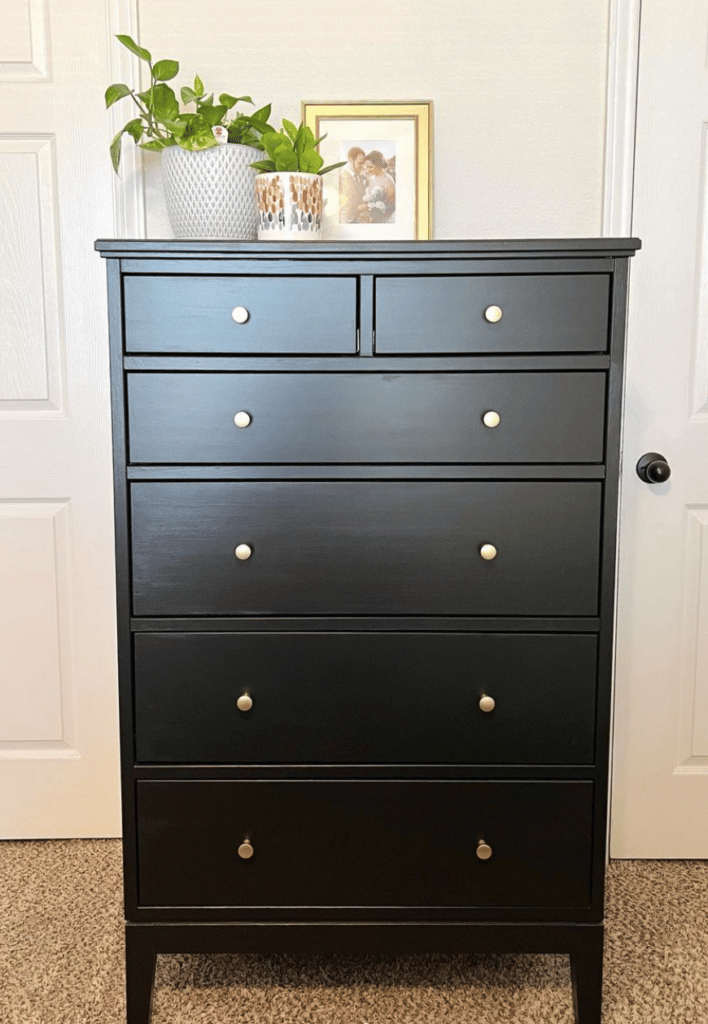 And below, we have another great Ikea hack. @ouracaciagrovehome took an old Ikea Billy cabinet and updated it with a little paint. It is now a gorgeous black, thanks to some hard work and SW Caviar.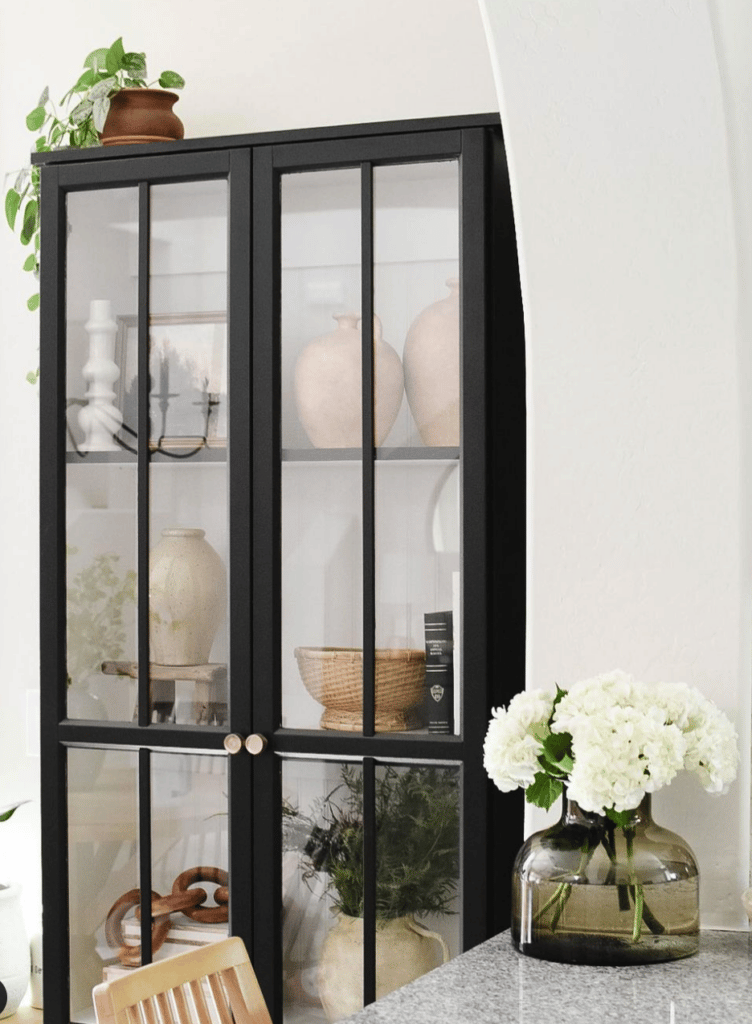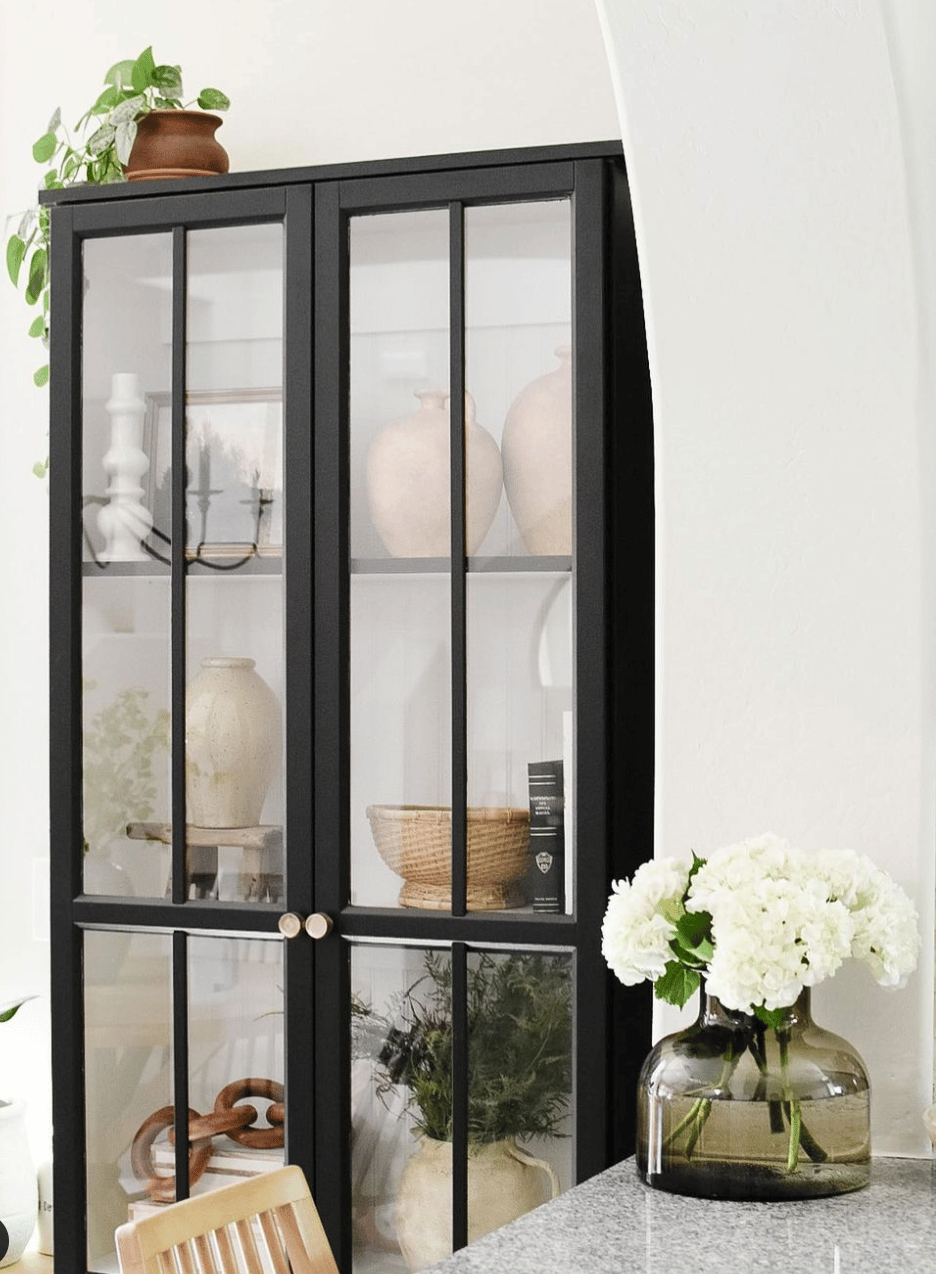 Tip: Check out this post on the best way to paint built-in bookshelves.
How to Paint Furniture Black
I will go into great detail in an upcoming post that will detail exactly how I painted our dresser black. But, the overall steps to getting the best results when painting furniture are this:
Step 1: Lightly sand the dresser to give the primer a surface it can adhere to. This is the best thing you can do to make sure the finish lasts for a long time!
Step 2: Apply 3 light coats of paint to the furniture with a smooth foam roller (lightly sand between each coat)
Step 3: Apply 2 light coats of the BEST matte finish found here (lightly sand just the first time). Find out why this is my favorite matte sealer for things like kitchen tables in this post!
And that's it! The process to paint a piece of furniture black is quite a simply process, really. Yes, it does require some elbow grease, but it is so worth it in the end. There is very little prep work needed.
Note: the sanding mentioned is just light sanding. You are not trying to remove all of the finish, however just trying to scuff up the surface of the furniture piece. This will give the primer a surface it can adhere to.
This process is the best way to create an incredibly smooth finish and durable surface when painting furniture that will last for years to come.
For more tips on the best way to get a smooth finish on cabinets, check out this post!
My Favorite Sherwin Williams Paint Line for Furniture
My favorite Sherwin Williams paint to use on furniture is called ProClassic in satin finish. It is a latex paint that is one step down from their Emerald line, which is the highest quality paint you can buy from them. I have painted many pieces of furniture black with this line of paint and it has never disappointed me.
The finish (when I follow the furniture painting steps above) always comes out super smooth and so durable. It is truly a great paint and one that I highly recommend!
It has great coverage and really goes a long way. This is especially true when you do multiple thin coats as outlined above.
Complementary Colors That Pair Well with SW Caviar
The complementary white paint color to Caviar that we use in our house is called Snowbound by Sherwin Williams.
SW Snowbound is a gorgeous, soft white. It is not too stark, however it is not too creamy or "yellow". The LRV of Snowbound is 83. I talked all about this color in this post on the Best Sherwin Williams White Paint Colors for Kitchen Cabinets.
Choosing paint colors for our home was one of the hardest decisions during the whole home building process. I wanted something that was not just beautiful on it's own, but matched our home decor as well. It just seemed like such a big decision that had such a huge impact! This is especially true for the exterior paint color.
When deciding on all of the paint colors for our home, I essentially just started with the color Caviar. I had no doubt that it was the exact tone of black I was going for in our home. That was the one and only easy paint choice! From there, I found colors and stains that complemented Caviar well.
Caviar will no doubt be my go-to paint color for a piece of furniture that I want to paint black. In fact, I was so close to painting our front door this beautiful black color. In the end, I was discouraged from that since we had a solid wood door. I went with black anyways (Minwax stain color: True Black) but Caviar was definitely a front-runner. It would also look incredible as an accent wall as well.
It should be noted that it is always important to test paint colors in your actual space before you commit to it. This is true for painting furniture pieces too.
Other Popular Black Paint Colors for Furniture
While choosing which black paint to paint our dresser, I continually came across the same names of dark colors over and over. I thought I would share my thoughts on them here and why I eventually chose to go with SW Caviar when I painted some of our furniture black.
Sherwin Williams Tricorn Black
Tricorn is a true black paint color. It is probably the darkest black offered by Sherwin Williams. There really aren't any undertones because it is so dark. I would describe it as more of a pure black.
Caviar has a touch (small touch!) more of brown in it. I say 'small touch' because it is still very black. However, Caviar is softer than Tricorn.
This is eventually why I decided to go with Caviar, instead of Tricorn. It was just a bit too much of a stark black, and I was looking for something just a touch softer, although still black.
Black Magic
SW Black Magic is very similar to Caviar. I would say it is a touch "softer" than Caviar. It is touching Caviar on Sherwin William's color options, so it is very similar.
Black Magic would also be a great option for painting furniture black. In the end, I chose Caviar, however, if you are looking for a black that is slightly softer, go with Black Magic!
Iron Ore
This might be a spicy take, but I would call Iron Ore more of a gray. Granted, it is a very dark gray, I would personally still consider it gray. I have seen it on furniture and cabinets in person, and I would have trouble calling it a true black.
It is a beautiful dark color, yes. But if you want your painted furniture to be more of a true black, I would go with Caviar or Black Magic.
SW Caviar: The Best Black Paint Color for Furniture
Sherwin Williams truly nailed it with this beautiful and rich black color called Caviar. I'm so glad I found one of the best black paint colors for our home! It is a great choice of black paint when you are updating furniture.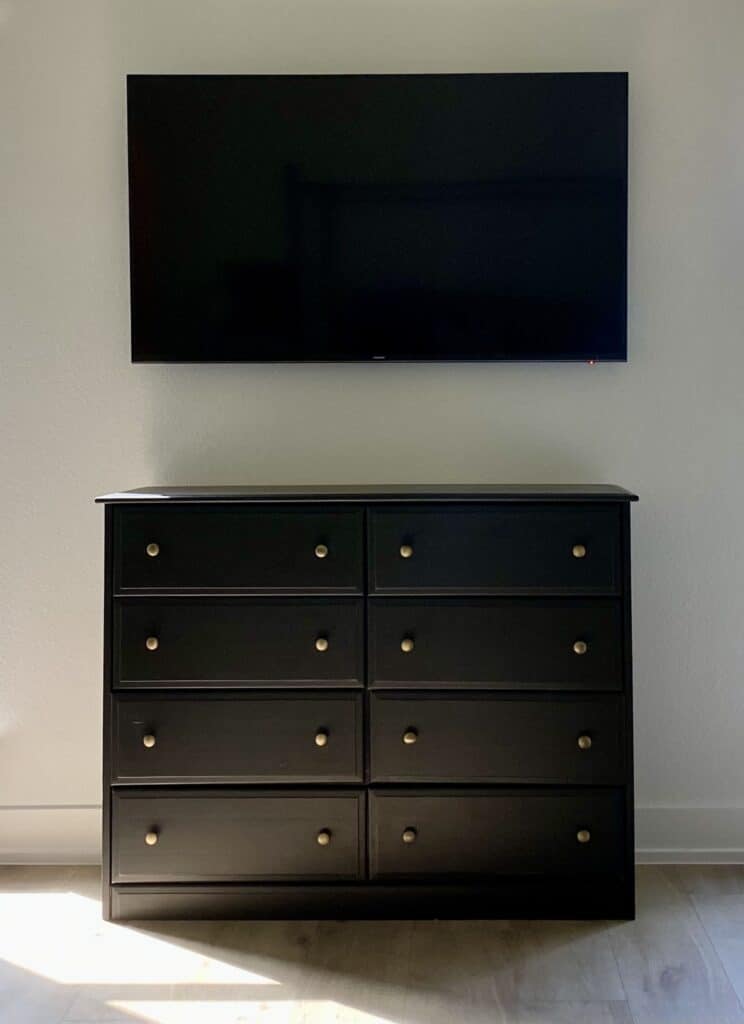 Have you used Caviar to paint furniture black or used it in your home? I would love to hear about it!
You can find the web story for the best black paint color for furniture here!
If you found this article helpful, be sure to check out the following article: