Today's project is one that I'm so excited to tell you about. It's the perfect blend of DIY, with a touch of high end custom cabinetry. I'll be covering a top USA-made RTA cabinet company called Cabinet Joint.
Now, for a little back story. While building our home, we knew we wanted to save some money where we could by doing a lot of the building ourselves. So, we began to brainstorm possible ideas of where to cut costs.
Cabinetry is a huge ticket item while building. I knew I wanted to do what I can to save money in this area. Although I didn't want to build cabinetry from scratch, I felt handy enough to have some part in it.
Best RTA Cabinets Made in the USA
Enter: a company called Cabinet Joint. In short, Cabinet Joint provides the means to order custom cabinetry (both sizes and material), and the user does the assembling and installing. They are a custom RTA (ready to assemble) cabinet company, and everything from them is made in the United States.
Disclaimer: This post is sponsored by Cabinet Joint, however all opinions are my own.
For our particular project, I purchased two bathroom vanities for our main bathroom. I couldn't be happier with how they turned out!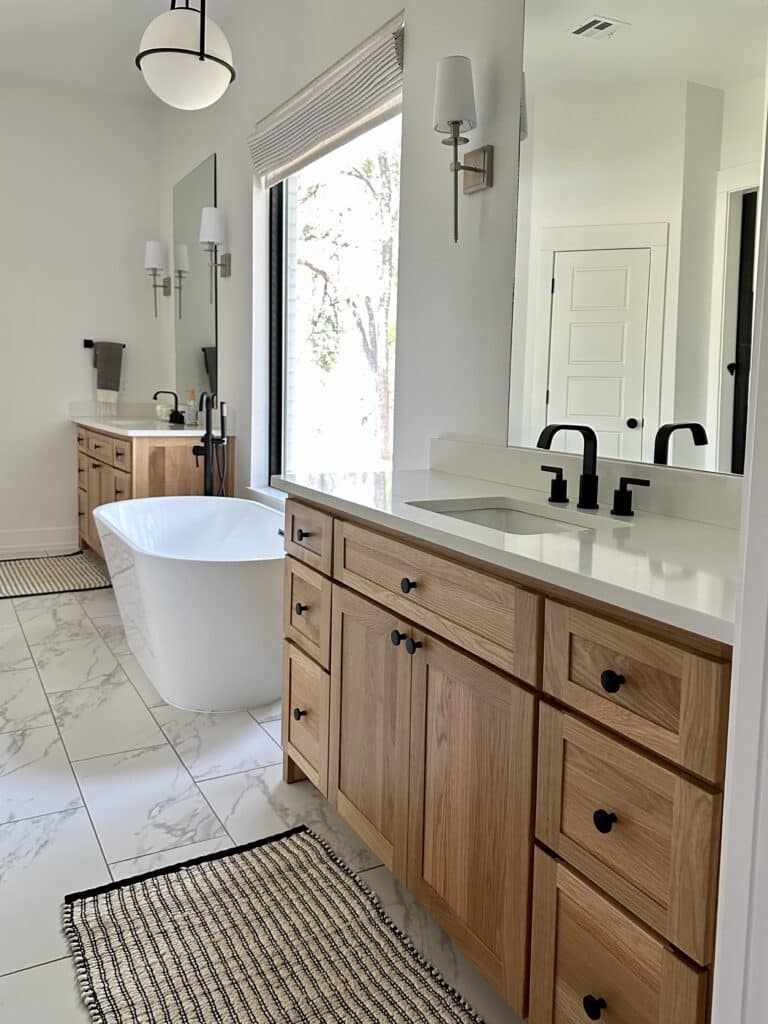 Sources: Rugs | Sconces | Knobs | Faucets | Tub | Pendant | Hand Towel | Towel Holder | Tub Filler | Roman Shades | Wall and Trim Color: SW Snowbound
Designing Custom RTA Cabinets
I knew I wanted the bathroom cabinets to be a natural wood. There is a lot of bright white in that bathroom, so I wanted to soften the space up a bit with some wood accents.
I found an inspiration picture and sent it to my contact at Cabinet Joint. He was so incredibly helpful every step of the way! He helped me figure out the species of solid wood used in my inspiration picture (which turned out to be white oak), and helped with countless other things along the way.
That's one thing I love about this company – how hands on they are. Their cabinet coaches are readily available to answer any and all questions you might have. And trust me, I had a lot!
From ordering, to assembling, to installing, I felt like I had a personal assistant every step of the way.
If you're building out something a little more involved, like new kitchen cabinets, you can trust that the design team and support system at Cabinet Joint will deliver. They are truly one of the best online retailers and cabinet manufacturers that I have found.
About Cabinet Joint
Cabinet Joint is an online store that provides custom RTA cabinetry made in the USA. These cabinets can be used for the kitchen, bathrooms, laundry rooms, or pantries, just to name a few. Really, anywhere there is a need for a cabinet, Cabinet Joint has a solution.
They offer many different cabinet styles and options, from more affordable prices, to more high-end cabinets.
They have been around for over 30 years and have truly figured out how to be an industry leader as far as RTA kitchen cabinets made in the USA. They cover everything from base cabinets, to upper cabinets, to wall cabinets, to everything in between.
They cabinets that they provide are all incredibly well made and are very good quality. In fact, everything about the process of working with Cabinet Joint is high quality – from the design steps, to technical specifications, to hardware, to the actual cabinets themselves. These high-quality materials and low prices make custom cabinetry much more attainable for many people.
Cabinet Joint, as a company, is also outwardly focused. In our emails back and forth, they mentioned the "Big Why" of their company. This is their definition of why they exist and how they can impact the world. Cabinet Joint highlights their employee-chosen organizations that they support both financially and by being physically present to help out.
As a small business owner myself, this is incredibly encouraging to see this company structure itself this way. They see the potential impact that can happen when employers foster a sense of giving in their company. It is not just an RTA cabinet store, it is a company constantly looking for ways to give back.
Ordering Custom RTA Cabinets from Cabinet Joint
Ordering the custom cabinets for our primary bathroom was painless and simple. This is mostly due to the cabinet coach being so readily available for any questions I have.
After submitting my order, I received a preliminary quote back. I went back and forth with the cabinet coach a couple times with some questions. I was even provided CAD drawings to address specific questions that came up. Then, I was ready to complete the order.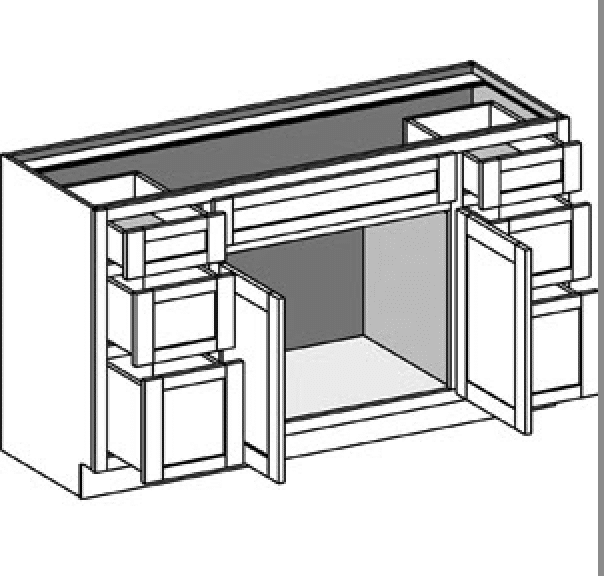 Before finalizing the order, I hopped on a quick call with the cabinet coach to go over the final details. This included things like hinges, finishes, drawer sides, materials, and verifying custom sizes and species choices.
Cabinet Joint then follows up with many very informative emails that cover shipment information and receiving information that will ensure a smooth delivery. Cabinet Joint's customers are truly kept in the loop every step of the way.
There are even resources that cover what to do when you receive the order. All of those boxes can be a little intimidating, but seeing how to organize the contents was very helpful.
How to Assemble RTA Cabinets
Cabinet Joint provides so many online resources when assembling your new custom cabinets. Everything was very straight forward and simple to understand.
There was one piece that I had a question about, so I reached out to my cabinet coach. We immediately hopped on a call and he very clearly explained what it was for a how to assemble that part.
Their videos even include what to do when you receive your cabinet shipment. They provide lots of tips and videos on how to organize the pieces for a smooth assembly.
Once I laid all of the pieces out and organized the hinges and brackets, I began assembly. I'd say it took about 2 hours per vanity to get them fully assembled. Not bad for a high quality, hardwood vanity!
You will start with the cabinet carcass. The assembly of the basic structure of the cabinets came together very quickly and easily. I used Titebond II glue to assemble the cabinets, as this is what the folks at Cabinet Joint recommended.
Then will come things like drawers, drawer fronts, cabinet fronts, and hardware installation. The drawer boxes were already assembled, which was very helpful.
One other thing I love about our new cabinets is the hardware. Cabinet Joint provides Blum drawer slides, which are the highest quality I have come across. Each drawer and cabinet door has soft close hinges, which is a great added touch.
You can also order sample doors, or sample finish blocks. This is the best way to ensure that the materials look great in your specific space.
After a couple hours of assembling, the cabinets were completed!
Installing RTA Cabinets
This was the hardest part of the whole process – only because I had to wait so long to install the vanities! It took awhile for our new home build to be ready for cabinets, as cabinetry is typically one of the lasts steps.
Once we were finally ready, the installation process was simple. It did take two of us to move them into place. We then attached them to the wall and they were ready for the plumber and for the countertop install.
One quick tip if you're building a new house: keep the drawers in a safe place until you move in. Construction is very messy and dirty. Things like cabinets often get damaged. Remove the drawers until construction is done and thoroughly cover the cabinet carcass in the meantime!
RTA Cabinet Install: Before and After
Since we all love a good before and after, here are some pictures from the framing stage, until now.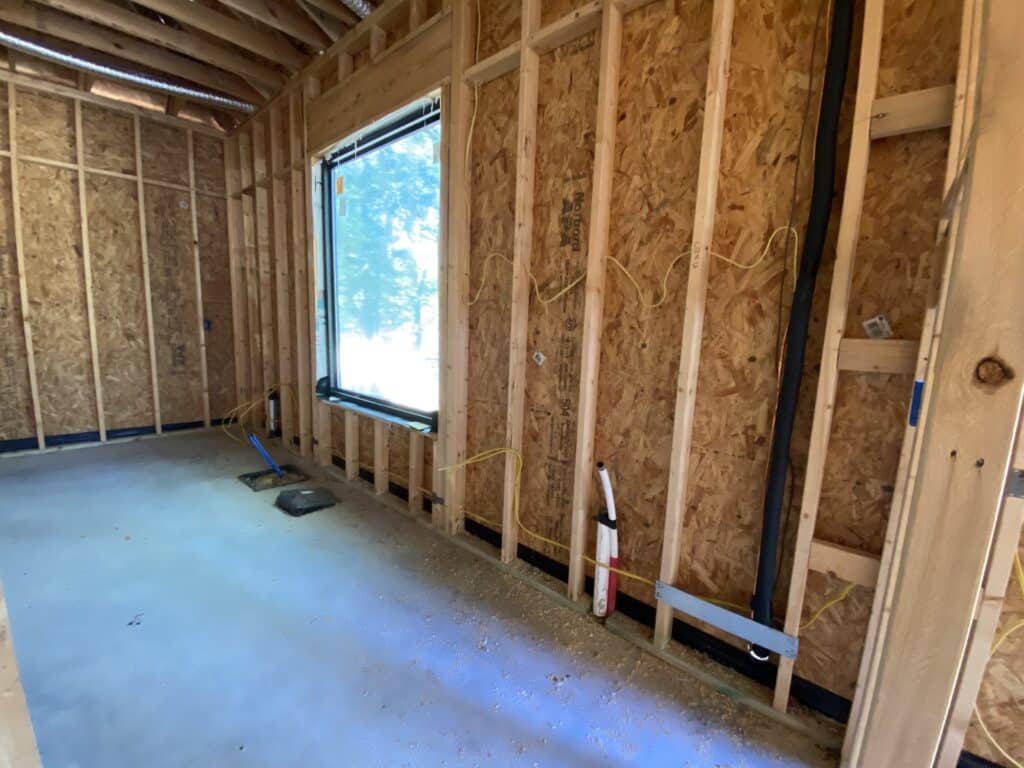 How to Cut Costs When Ordering Custom Cabinetry for New Home Construction
The cost of building a new home has skyrocketed in recent years. This is why it's so important to figure out how to mitigate the high cost of building a home.
For us, this looked like doing a combination of shopping around for cabinets. Yes, we did hire a local cabinet maker to manufacture and install our kitchen cabinets. However, it was the best option for us to go the route of an RTA store for our bathroom vanities.
Be creative and look for places to purchase RTA cabinets for your home. This will really help keep the cost of building down.
This way, we were able to cut some cabinet costs, but also have beautiful, custom, high quality cabinets throughout our house. So, when tackling the cabinets in your new home build or remodel, be sure to check out Cabinet Joint before you hire a custom cabinet maker.
Your dream kitchen might be more attainable than you think! Cabinet Joint provides affordable kitchen cabinets, keeping the cost down anywhere from 20-40%.
Thoughts on RTA Cabinets
Overall, I couldn't be happier with our custom RTA cabinets made by Cabinet Joint. They provided the means to get high-quality RTA cabinets at a fraction of the cost.
By using them for our vanities, we were able to get the best value at a lower price point, but also with the best materials we could have hoped for. They offer the best prices for custom kitchen cabinetry. In the end, Cabinet Joint could be the right choice for your home!
Be sure to check out Cabinet Joint the next time you need custom cabinetry for new home build or remodel. You'll be so glad you did!
If you're doing cabinet work, be sure to check out these posts: