The Best Budget Wood Router in 2023
I have used many routers over the years for various woodworking projects. Over time, I have found myself continually coming back to a certain compact palm router for specific wood routing tasks. It is the best wood router I have found to tackle those smaller, but common tasks in the shop. As an added bonus, it is incredibly affordable, making it a great option for those on a budget.
In this article, I will cover the best budget wood router that I have found. It is the Ryobi 18 volt Palm Router and it is not only affordable, but it is also stable to use and produces accurate cuts every time. Let's jump into all of the great aspects of this budget wood router and talk about why I have loved it for a long time.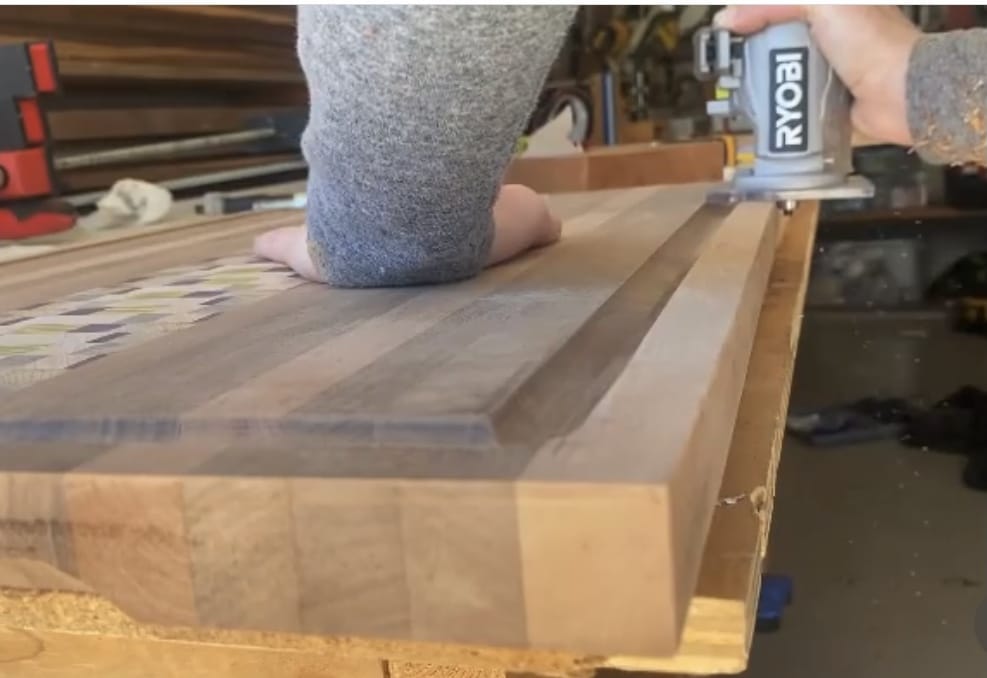 I also want to mention that this post is not sponsored in any way. This is simply my personal experience with a great and affordable router. When I find a great product, I want to share it with my readers, so this review is entirely my personal experience.
When to Use Budget Trim Routers
Like I mentioned earlier, I find myself often going to this palm fixed base router for so many quick tasks around the shop.
The most common task I do with this Ryobi router is cuts on my cutting boards. I have found a market for selling for large cutting boards in my area, so I have made quite a few of them. They are used mainly to house all of those large briskets made on BBQ smokers. I made so many of these over the years, and I find myself coming back to this router every time for a few tasks related to those cutting boards.
The latest large cutting board I made was an end grain cutting board. This router held up to the task of cutting through hardwoods for the juice groove and finger groove beautifully.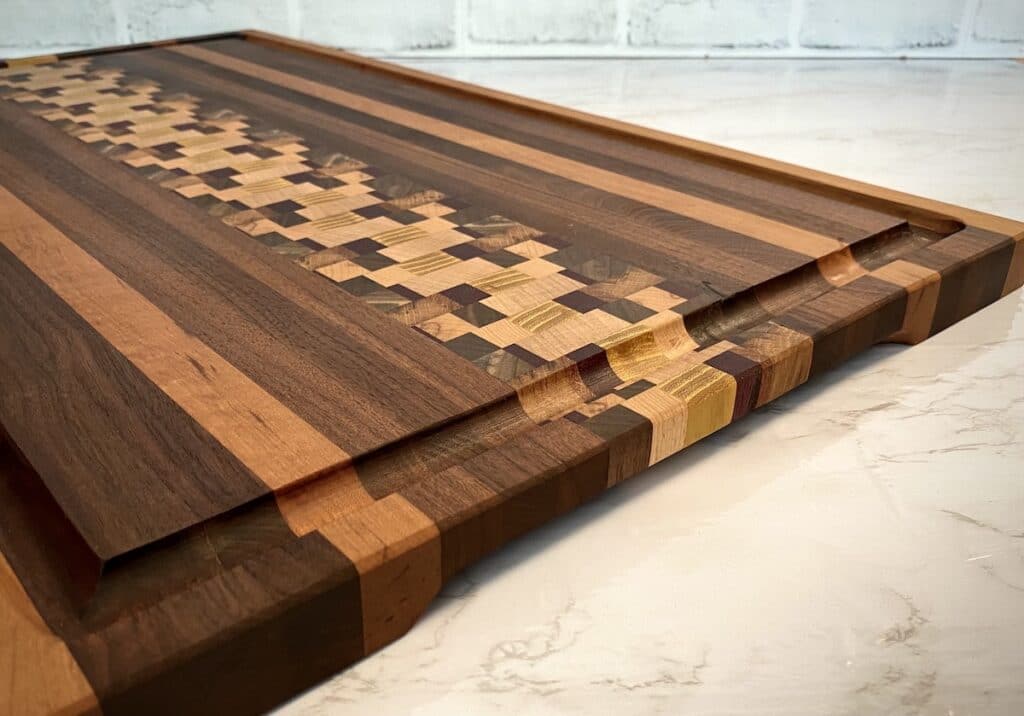 I love using this budget router to route juice grooves in cutting boards. Check out that post for tips on how to cut a juice groove without a jig. Because of this router, I can attach a simple edge guide to base routers and cut perfect juice grooves every time; all without the need for a complex jig or cnc router.
Another way I use this little router is to cut finger grooves in cutting boards. It is such a simple process – simply add a chamfer bit to the router. Route about 2/3 of the underside of the edge of the board and you will have a perfect and simple finger groove every time.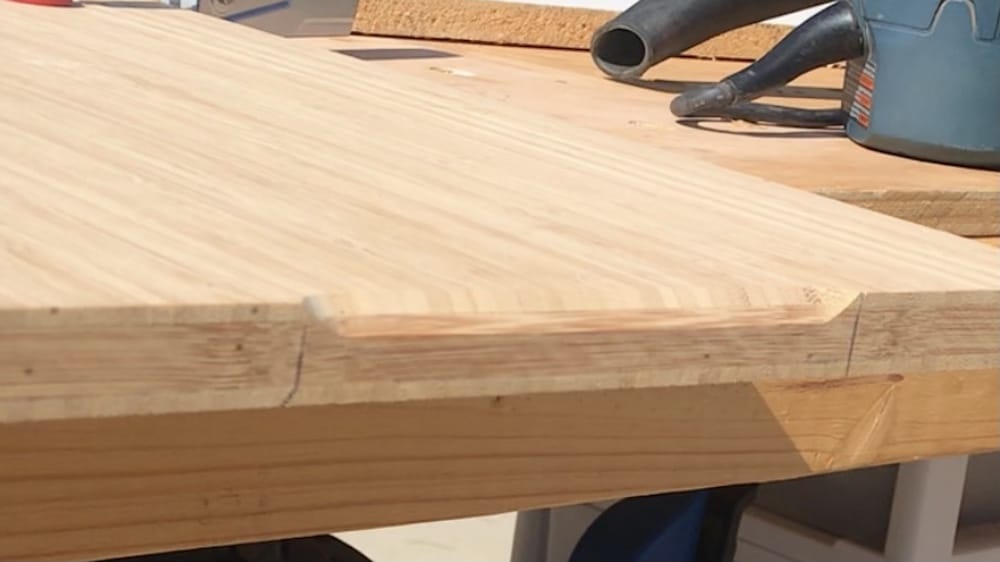 This low-cost router is perfect for these tasks because I can quickly change out the router bit, it's small enough to handle easily, and I don't even need to plug it in!
Features of the Best Budget Wood Router
There are many great aspects of this wood router that I will cover in this article. I have used this router for so many tasks and can attest to this tool being reliable, versatile, affordable, and a great option for weekend DIYers and advanced woodworkers alike.
Clean and Smooth Cuts
This router has always produced very clean cuts for me. I have used both Ryobi router bits and other router bit brands, like Freud, and the end result is always great. This router comes with 1/4 inch collets, making it compatible with many router bits.
One reason it produces such smooth cuts is because once it reaches the optimal speed, it keeps a constant speed. I have never had a problem with power or the speed jumping up or down, even when I'm routing hardwoods. The ease of use, once it is on, is great.
Even though it does not plug into a wall, it has so much power. This is one of the most important features because this makes it the best choice for an affordable option. Although it has a compact design, it can reach maximum power quickly and easily.
This router has a soft start feature that allows for safer use. Routers can be dangerous power tools and this feature helps make it more safe for the user.
This router can easily keep up with larger projects, like if you're batching out small handmade woodworking gifts to sell.
Simple Depth of Cut Adjustments
The router comes with a very handy fine depth adjustment knob. This allows the user to quickly fine-tune the depth of the router bit without having to adjust it with a tool like an Allen wrench.
This very helpful when I am making multiple shallow passes. I can quickly make the cut deeper with just the simple turn of a knob. The micro adjustments leads to precise depth control, which is imperative to creating quality work. This allows me to be very precise in the depth adjustments. This is such a powerful tool and is great for making a variety of cuts.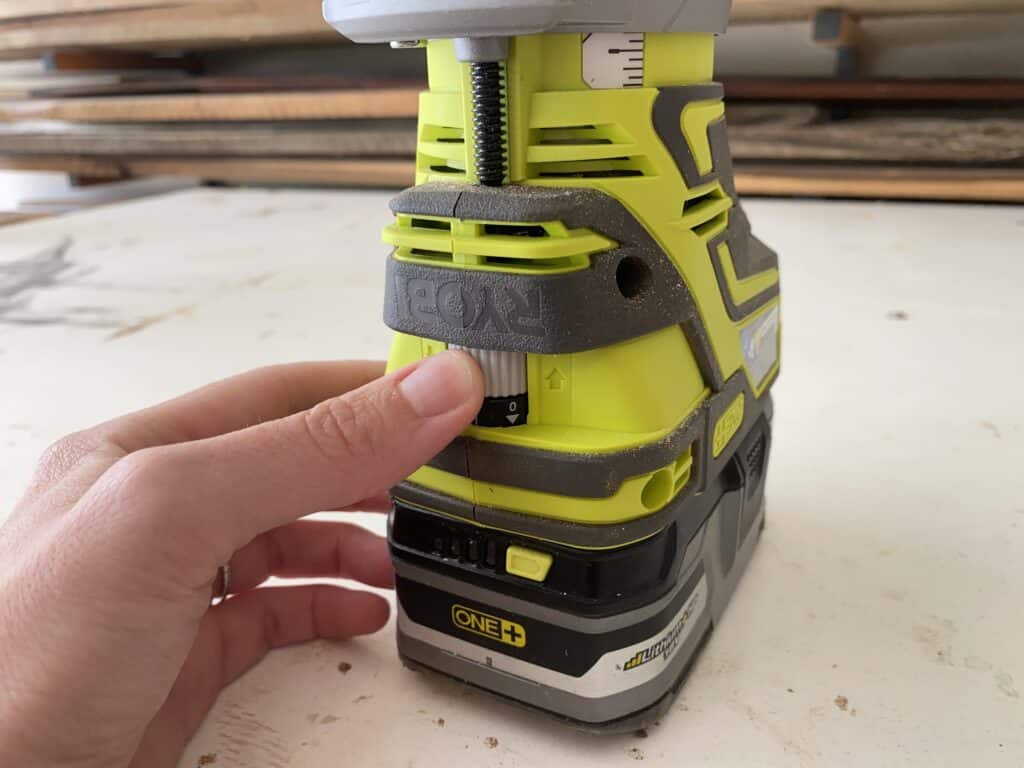 Battery Powered – No Cord
The fact that this router is cordless is my favorite feature. This is one of the many aspects that make it versatile enough for handheld routing tasks. Although it can be attached to a router table, it is such a great handheld router with great control.
Ryobi really hit the mark with their variety of ONE+ tools. They offer over 225 tools that run on the same type of 18v battery, and this router is one of them. I personally have probably around 25 Ryobi products that run on these batteries and I have been happy with every one.
The batteries have incredible power and durability. They charge quickly and you can use this router to cut over 600 linear ft. before it needs to be charged again. That is a lot of routing! Routing 600 linear feet with no cord in the way sounds great to me.
Not having to mess with cord when routing is such a game changer. Routing can be dangerous work and all cuts should be well thought out before started. If the user is having to constantly move a power cord around, it can lead to a potentially dangerous situation. The fact that this router has no power cord is, in my opinion, a great safety feature.
Note that the router tool itself does not come with the compatible 18V battery or the charger. These will need to be purchased separately. However, once these are purchased, you are able to add so many tools to your Ryobi collection that will use the same battery and charger.
LED Lighting When Cutting
There is an LED light that automatically turns on when the router is making cuts. This is incredibly helpful in being able to notice small details while working, which will in turn, create higher quality cuts and pieces.
Accessories for the Ryobi Palm Routers
Ryobi offers a few accessories with this router that will up the quality of work and efficiency.
The first is an edge guide. Like I mentioned earlier, I use this edge guide and router exclusively when I'm routing out a juice groove. These two simple tools eliminate the need for a complex jig. They make quick and easy work of adding simple features to cutting boards.
You can never have enough Ryobi batteries when you have at least a small collection of Ryobi tools. Having extra batteries is imperative to a smooth workflow. Although these batteries charge quickly, you definitely don't want to have to wait around for them to finish charging, so it's best to have a couple extra on hand.
The router bits that Ryobi offers are high quality bits that product clean and smooth cuts. I highly recommend this kit if you purchase this budget trim router.
When to NOT Use a Budget Trim Router
I do occasionally use higher-powered large routers for specific tasks. I use these when I need to have more power for wood cutting and routing.
An example of this would be jointing edges with a router. Oftentimes, I am jointing 2″ thick hardwoods and in that case, I would need something more powerful than a palm router. My favorite power tool for something like this is the Bosch router. It is a fixed base router, but also converts to the best plunge router I have found for tasks like these.
Another time I would opt for my Bosch router is when I'm cutting a circle with wood with a circle cutting jig. Although a small budget palm router could work if I were to make multiple shallow passes, I tend to leave this job for a bigger motor, as they are slightly more heavy duty. Also, it has a great design with the plunge base model for making multiple cuts where I increase the depth incrementally.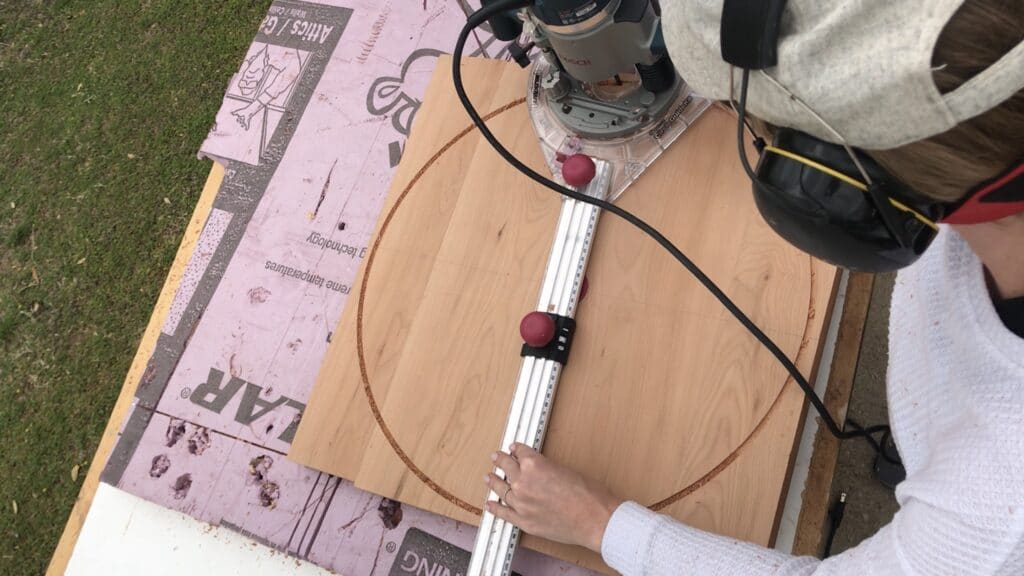 Best Budget Router for Handmade Wood Items
This Ryobi palm router offers so many great safety features that are comparable to the market today. The aluminum base keeps in stable, the grip zone allows for added control, and the LED light allows you to see your project much better.
This router offers great quality for the price, especially for those looking for an inexpensive option.
All of these reasons are why I believe the battery-powered Ryobi router is the best budget wood router for those looking for a more inexpensive alternative to more expensive and larger router. It is such a versatile tool and is one of the best tools for a beginner woodworker and a professional woodworker alike. It is the best router and my top pick for the best value in a wood router.