I am often asked how to get started with building furniture or other home DIY projects. I see many people who desire to make their own wood furniture as a hobby, but get overwhelmed with where to start. I'm always very excited to share with them that they can make quality pieces with only 3 tools: a miter saw, a power drill, and a Pocket Hole Jig System!
I once heard that the heart is happiest when the head and hands are working. I couldn't agree more. Building is my creative outlet. You can read more about my story here, but the short of it is this: I love creating and making. I especially love making things that will be used and will last a long time.
In this article, I will discuss a guide for the basic, must-have woodworking tools for beginners. And I would love for you to take a deep dive into learning the tools so you can build too! This blog exists to empower others to create a home they love as well. So, let's look at the only 3 major tools I believe you need in order to get started with making your own furniture, learning the basics of building and home DIY projects.
Basic Tool for Furniture Making #1: The Miter Saw
The miter saw is a work horse for your home shop. It is so versatile and it allows you to make much more accurate cuts than just a circle saw, for example. One thing I love about the miter saw is that you can make quality cuts and furniture pieces with a very basic miter saw.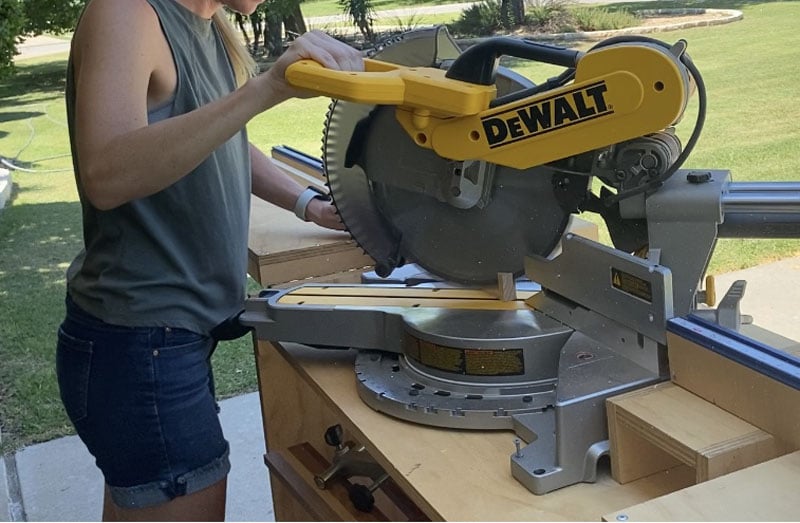 When I first got started with building, I bought the cheapest miter saw I could find. I didn't want to spend a lot of money without knowing if I would get much use out of it. Spoiler: I used it a ton and it served me well for years. For example, I made this DIY Wood Slat Headboard and Frame, this Sliding Barn Door, and these Custom Built-Ins with that little miter saw.
I have since upgraded my miter saw to the Dewalt Sliding Compound Miter Saw. As my projects have gotten more advanced, this upgrade was a game-changer for the quality of my work. A few examples of the projects I have built with this are a sitting bench, DIY large rustic coffee table, modular dining tables, floating canvas frame, picture ledge shelf, wooden light up Christmas star, and a wooden cigar ashtray. It's truly a great saw and will be able to handle any at-home furniture making you might do.
In addition to upgrading my miter saw, I also built a mobile miter saw workbench for it. It was also a game changer for a lot of reasons – one of my favorite being less sawdust in the garage! You can read a deep-dive into how to use a miter saw for beginners in this article.
You can spend a wide range on a miter saw, but one thing I love about miter saws, is that you can make quality pieces with just a basic miter saw.
Basic Tool for Furniture Making #2: The Power Drill
The cordless power drill is something that I'm sure you are at least a little familiar with. However, it is important to fully understand how to properly use the power drill in order to get the most use out of it.
I prefer cordless because it is so much more versatile than a plug-in power drill. Because of this, you will also need to purchase a battery and a charger. Certain systems, like Ryobi's One+ will offer a ton of tools that connect to their batteries. However, the batteries and chargers don't always come with the specific tool you are buying.
I learned this the hard way when I bought Ryobi's brad nailer. I saved up JUST enough to purchase it, then realized I had to buy the charger and battery as well. It has worked out in the end, since I have purchased so many Ryobi tools that are compatible with the battery and charger I had to buy, but it is still something to take into account when thinking of purchasing a cordless power drill.
I own this power drill and this impact driver. You can read all about how to get started with power drills here.
Basic Tool for Furniture Making #3: The Kreg Pocket Hole Jig System
Kreg's Pocket Hole Jig System is one that will take your builds up a notch. Pocket holes provide a way to hide your screws when joining pieces of wood. The Kreg Pocket Hole Jig is a system that allows you to quickly drill pocket holes with the correct angle and depth.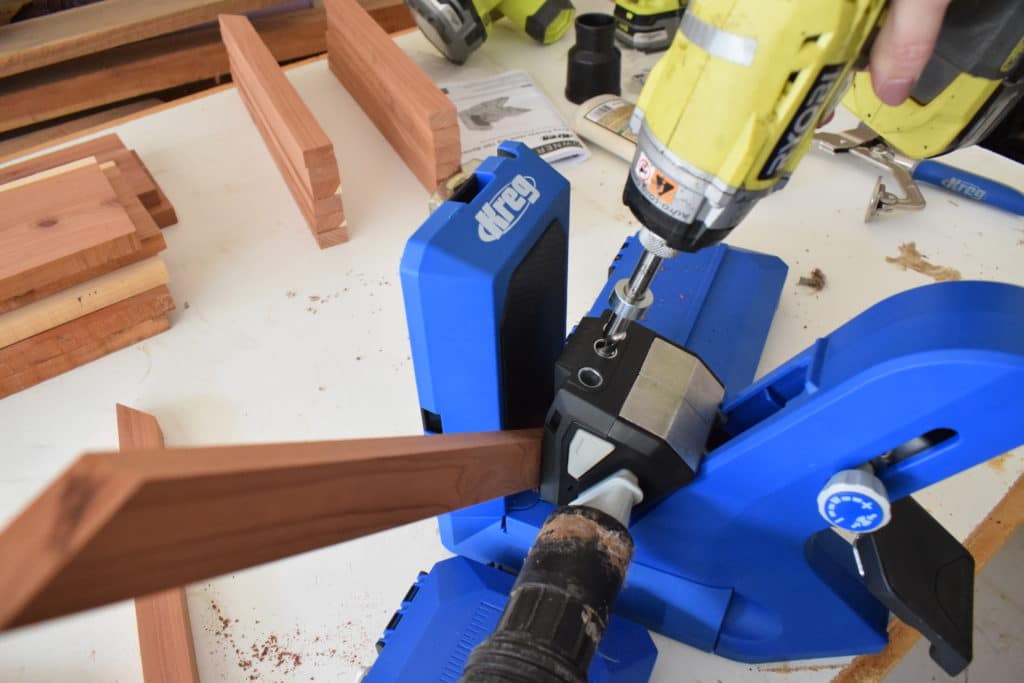 The projects you can make with a Kreg Pocket Hole Jig are truly endless. Start with something fun, like a table! Tables are my favorite builds – they create a space where people gather, relationships are made, and friendships are formed. I can't think of a better space to create!
You can find my deep dive tutorial for how to use a Kreg Pocket Hole Jig System here.
The Next Tools to Buy
Of course, we would all love a perfect, huge, well organized, and well-stocked wood shop with all of the best tools. But, that's far from a reality for most everyone. My "shop" is one half of our garage. And I feel very lucky to have that space! Because it is small, I have to think wisely about tools I bring home because of space. And I have to be intentional about shop organization.
Even with space in mind, these 3 basic power tools I just covered are a necessity for getting started with woodworking. If you would like to step things up yet another notch, the next tools I would suggest you buy are a router, a planer, and a sander. You'll be making store-bought quality pieces in no time.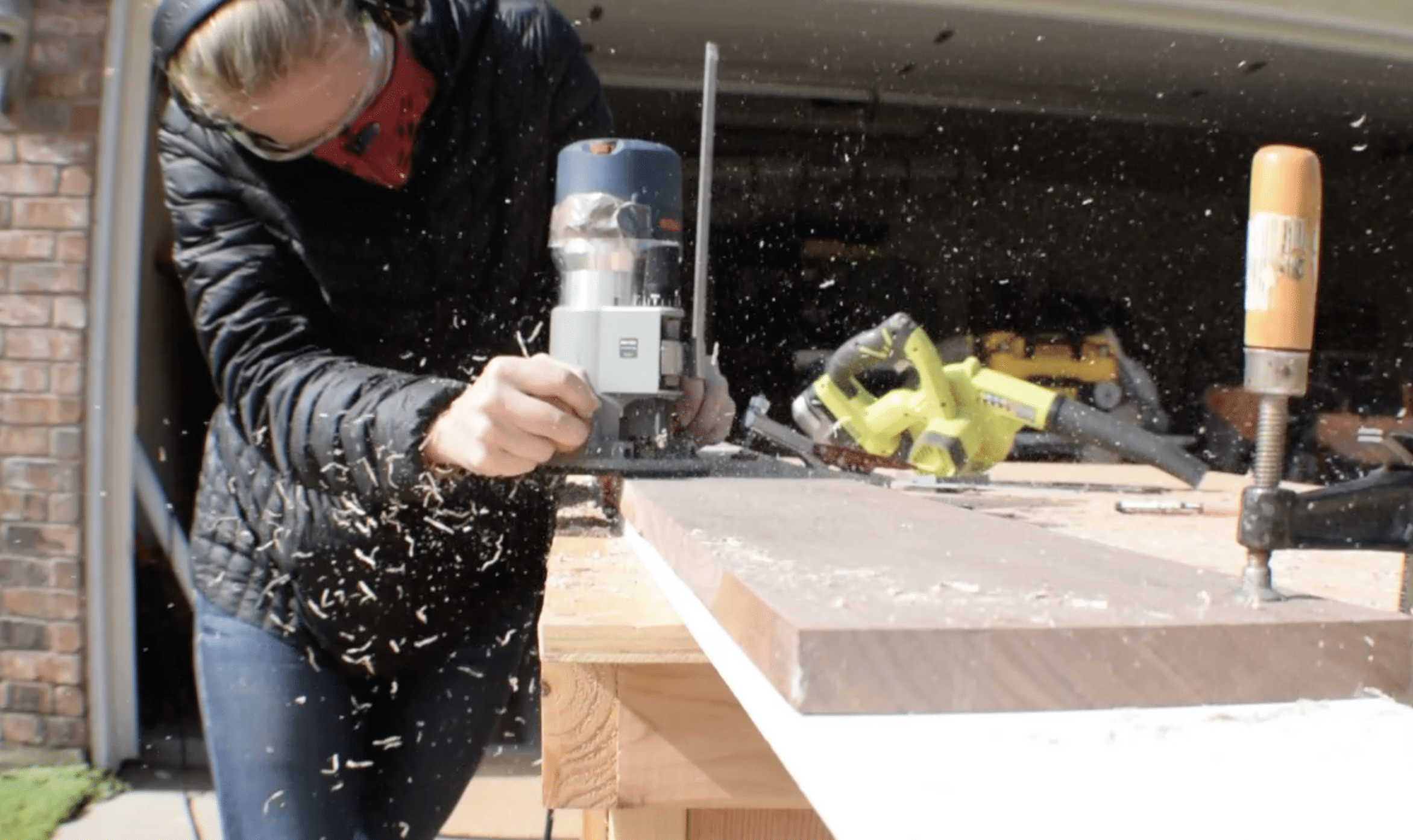 So, there it is – the 3 basic, must-have tools to get started with woodworking, furniture building, and home DIY projects!
Once you have honed your skills with these tools, a great project to attempt would be this DIY mudroom hall tree build. Building quality furniture doesn't just end there, though. Check out this post on how to get a smooth finish when painting things like cabinets!
I can't wait to see what you create!