Update: I have since used this shelf ledge to display my son's wide array of LEGO sets in his room. This wall shelf is a great solution for kids' growing selection of LEGOs. It's simple to make and provides tons of space to display those LEGO sets and figures!
This blank wall in our living room has been through many changes in the past few years. Nothing really stuck or looked right to me. We needed something substantial – some way to fill a big, blank wall. After rotating around artwork, family pictures, mirrors, and iron and wood pieces, I finally landed on making this DIY wood picture ledge shelf.
What I love about this project is the versatility to change it up and also how much wall real estate it covers. And as an added bonus – it's a really great beginners' project! For anyone starting out with making your own home decor items, the 7 foot picture ledge shelf is a great project to start with, since you need minimal tools and you will do very straight forward cuts.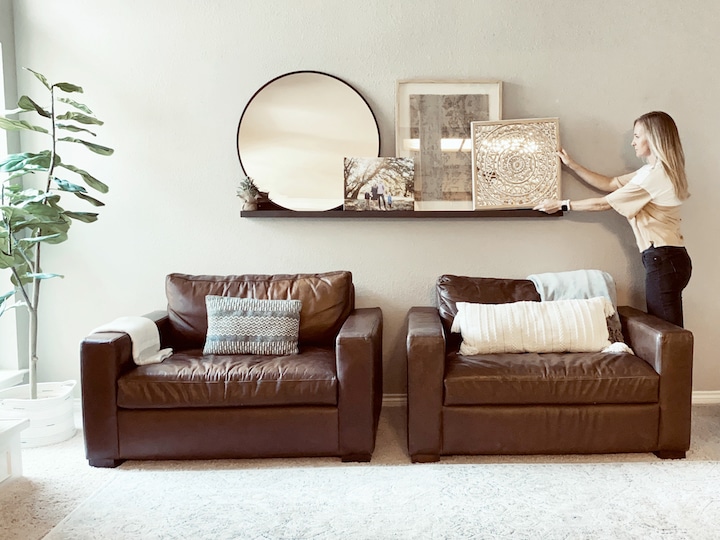 I rounded up all of the items I used to give you some ideas for a photo ledge decor at the bottom of this post. If I couldn't find the original, I linked similar products. That wooden/mirror piece on the right, for example. I got it at World Market years ago and they don't sell it anymore. But I found something similar for you from Target!
However, this wall shelf is perfect to show off LEGO builds for your kids. That's where it resides in our house now – on our son's wall in his room! He loves that you can easily see all of the LEGO sets he has made.
Although these are pretty simple plans, I created a step by step guide to build the picture ledge that shows the dimensions for the build. Enter your info below if you'd like a printable plan with dimensions.
Materials Needed to Make Your Own LEGO Display Shelf:
I wanted to use materials that I had on hand, so I ripped down these pieces of cedar on my table saw. However, the great part about this simple build is that it uses common stock found at the store.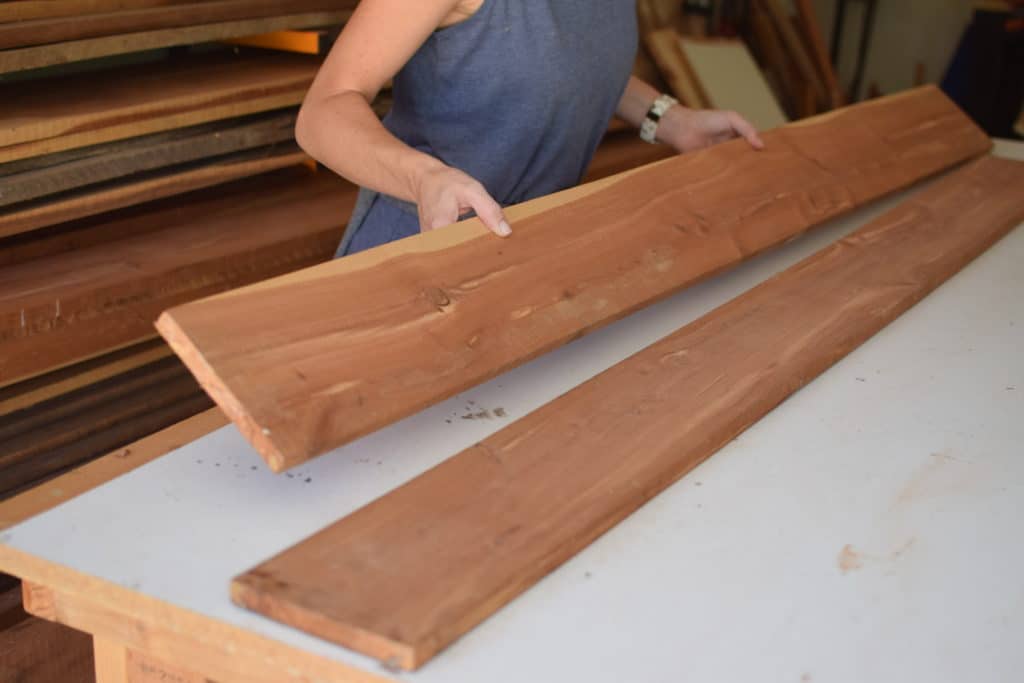 Like I said, this photo ledge is a great beginner project, because you don't need a table saw to rip it down if you just end up buying it dimensioned off the shelf.
Dimensions of a LEGO Display Shelf
But if you want to use stock you already have, rip (1) 1×4, (1) 1×3, and (1) 1×2. Otherwise, you can find these exact sizes at the store.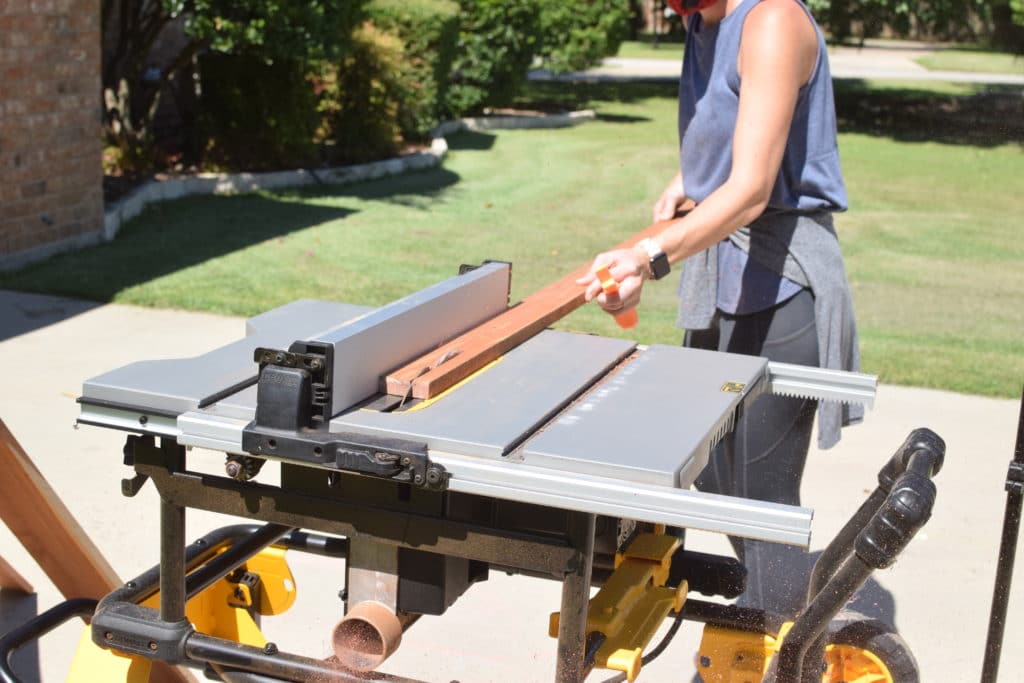 I ran all of my pieces through my planer just to clean them up a bit. Being that they were cedar and a little rough on a few sides, doing this saved me a ton of sanding time. You could skip this step if you bought the lumber off the shelf and it doesn't need much sanding.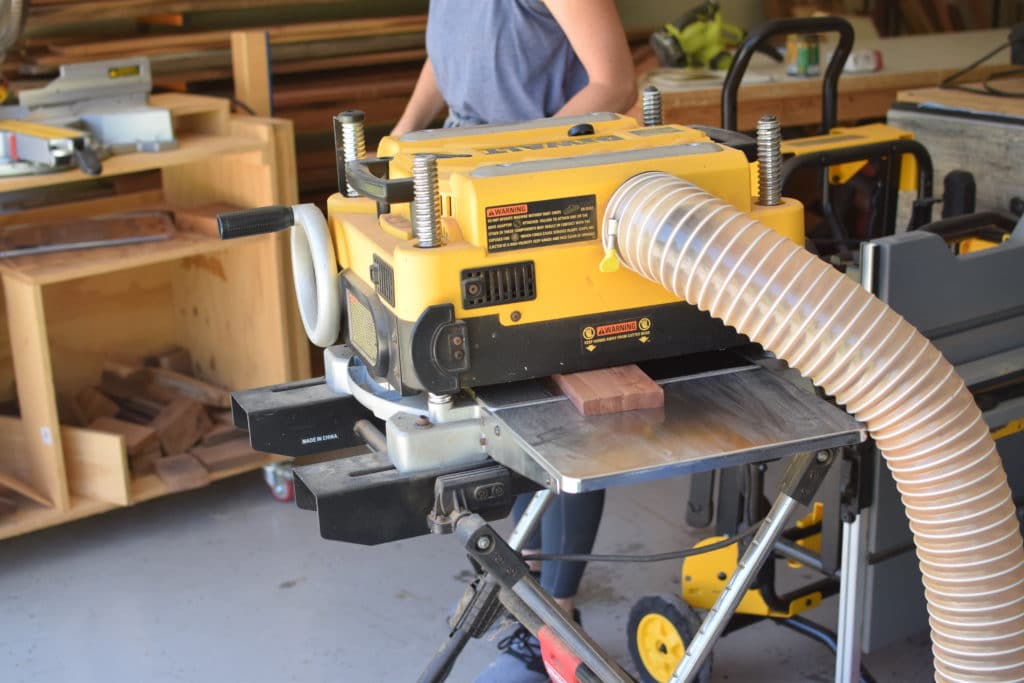 This is when you would cross cut your pieces with your miter saw to size. Mine were 7′ long, so I just decided to keep it that size. This size filled the wall space well and worked for my space.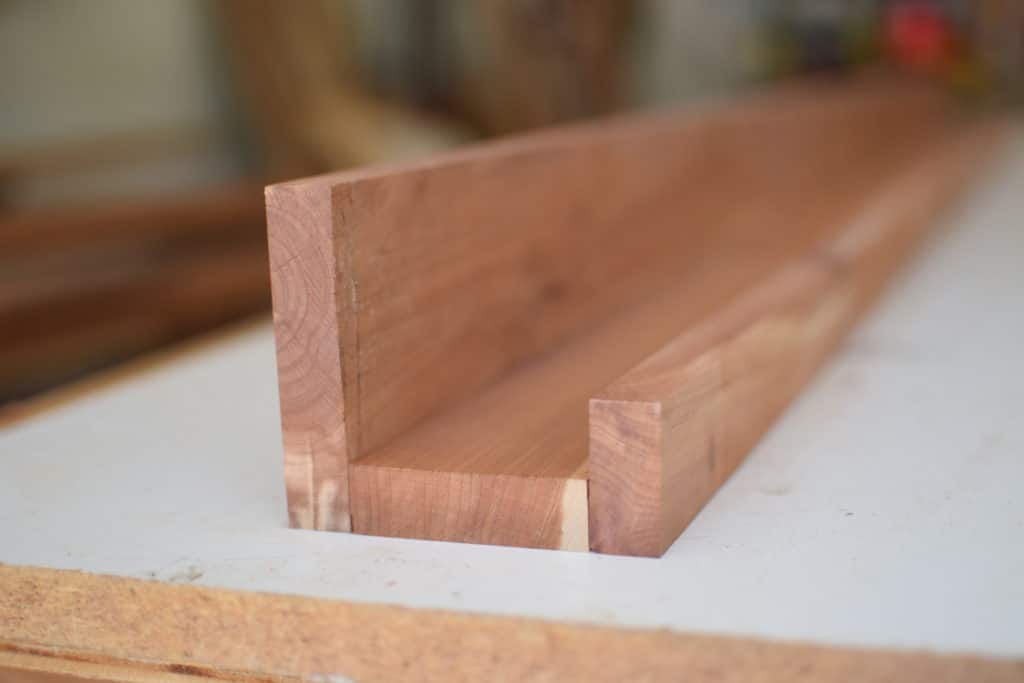 I have found that it is much easier to sand before it is assembled, so you can get into all of the nooks and crannies easily.
Using my orbital sander and 120 grit sand paper, I sanded all of the sides of all 3 pieces. I was careful to go over the front top corner of the 1×2 and round it off a bit. This gives it a finished look and achieves what a router with a round over bit would do as well. Just a small finishing touch that I think makes the piece look a little more polished. Only the best for those LEGO sets, right?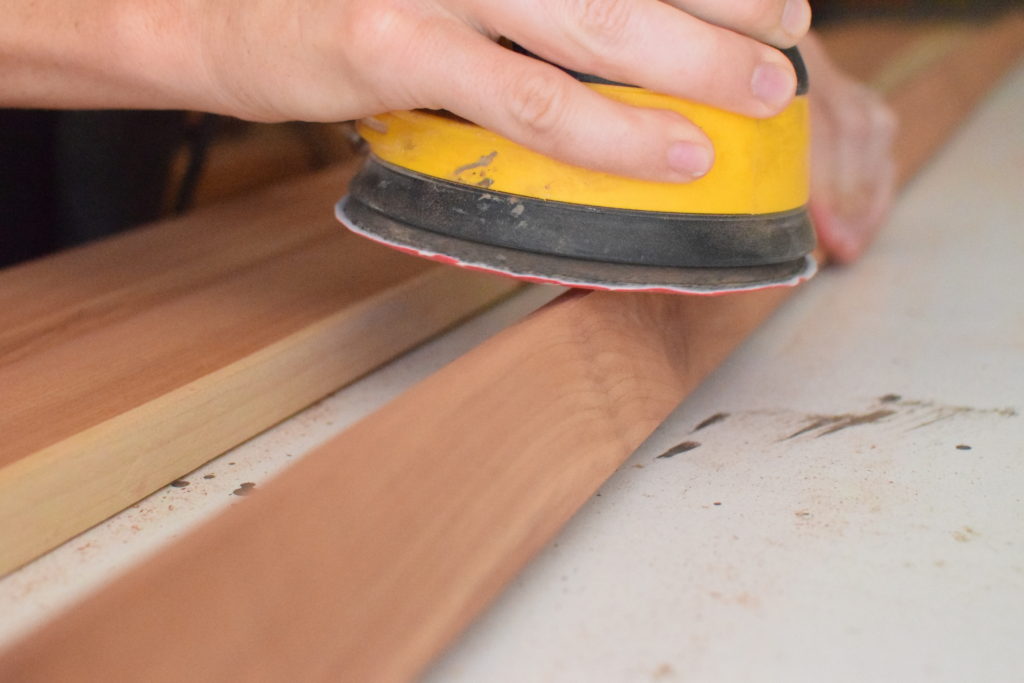 Next, glue the 1×4 to the 1×3 using wood glue and a glue brush. Clamp it together so you can drill support screws from the back of the piece.
These shelves are very similar to the shelves I made that house military challenge coins in a rustic American flag wall art that I made.
To prevent the wood from splitting, you will want to pre-drill holes. I just purchased this drill bit set and love it. It's amazing what a difference quality tools make, even for something small like drill bits. It's worth the cost for quality tools sometimes!
I also use a countersink bit so that the head of the screw will sit flush with the wood and not scratch the wall.
You can see what the countersink bit does below in order to make the screw heads sit flush. Since this is up against the wall, it's a must in order for the picture ledge to sit flat against the wall.
Add 1.5″ wood screws to attach the 1×4 to the 1×3.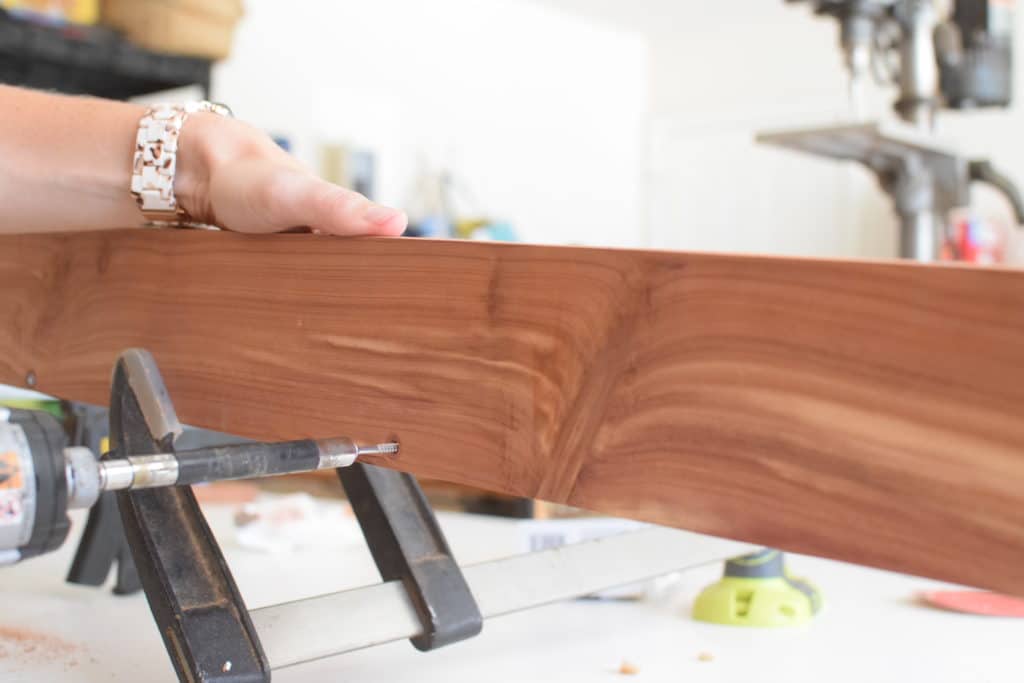 Once those two pieces are glued and screwed together, you can attach the front 1×2. In order for there to not be any holes/imperfections in the front of the piece, this 1×2 will just be glued on.
If you use sufficient quality wood glue and evenly distribute it with a glue brush, this will be plenty strong for its use since it isn't load bearing.
I opted for a darker stain for my space, almost black. It went well with the rest of my room, but you should choose whichever paint/stain fits your space the best.
I always recommend testing your stain on a scrap piece of the same species of wood to make sure you like it first. I have ruined more projects than I'd like to admit because of the stain choice. Trust me, test it out first!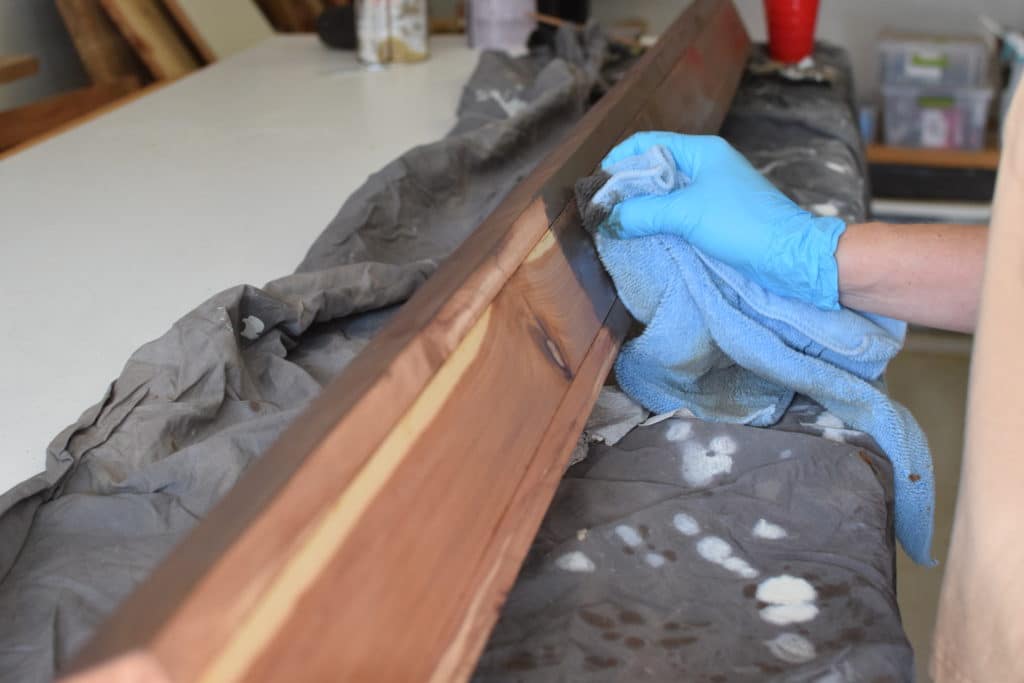 To give the picture ledge a finished look, protect it, and even out the wood tones from the stain, I gave it a few coats of sealer. This helps make it look a little more professional and finished.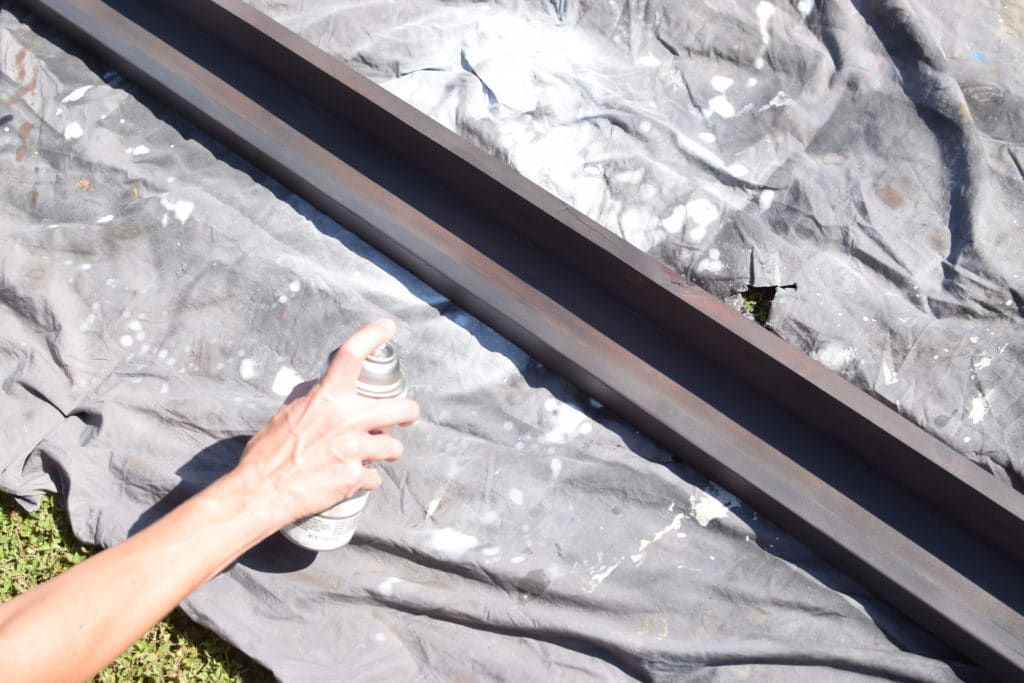 How to Hang a LEGO Display Shelf
Alright, now that it's made, it's time to install it! Since it will most likely be holding an ample amount of weight, you need to locate your studs with a stud finder and install the picture ledge directly into those. Mark however many you can to fit the width of the shelf – the more the better.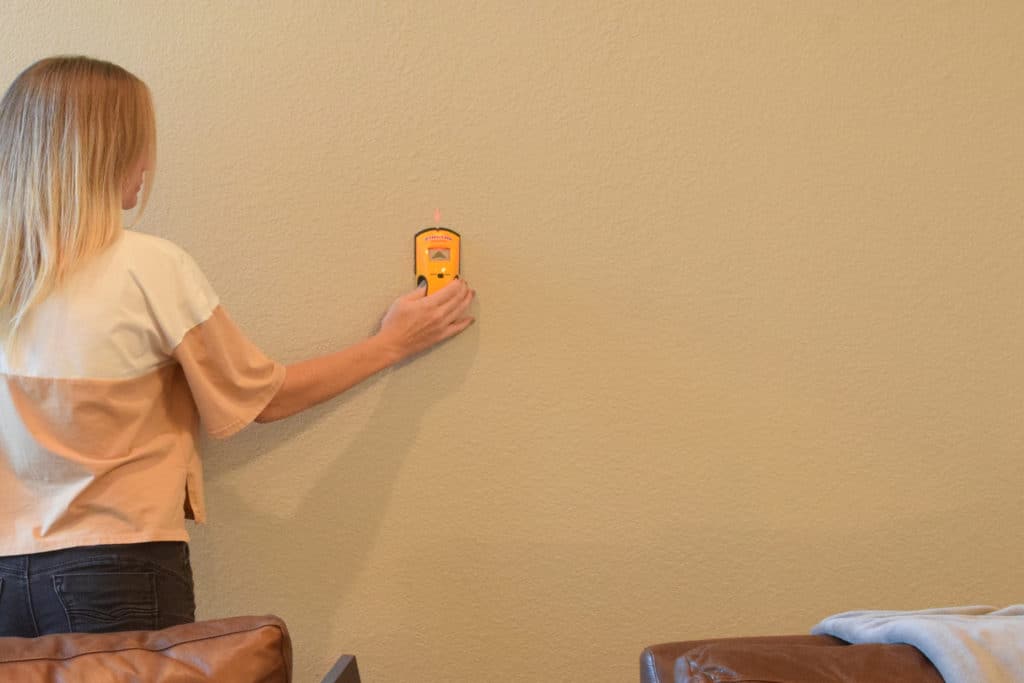 Pre-drill your first hole that will go into the middle stud. Don't worry about pre-drilling the rest of the holes just yet – we will do that once it's up on the wall and level.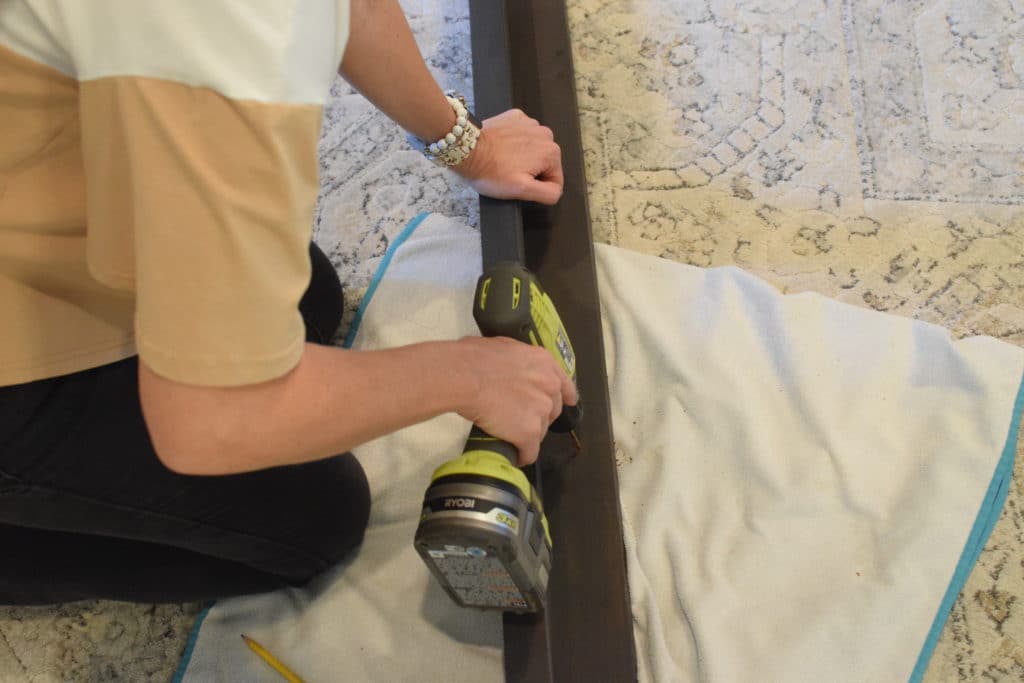 Start the 2.5″ wood screw into the picture ledge with your drill. It's much easier to do it now, rather than trying to hold it up on the wall and do it then.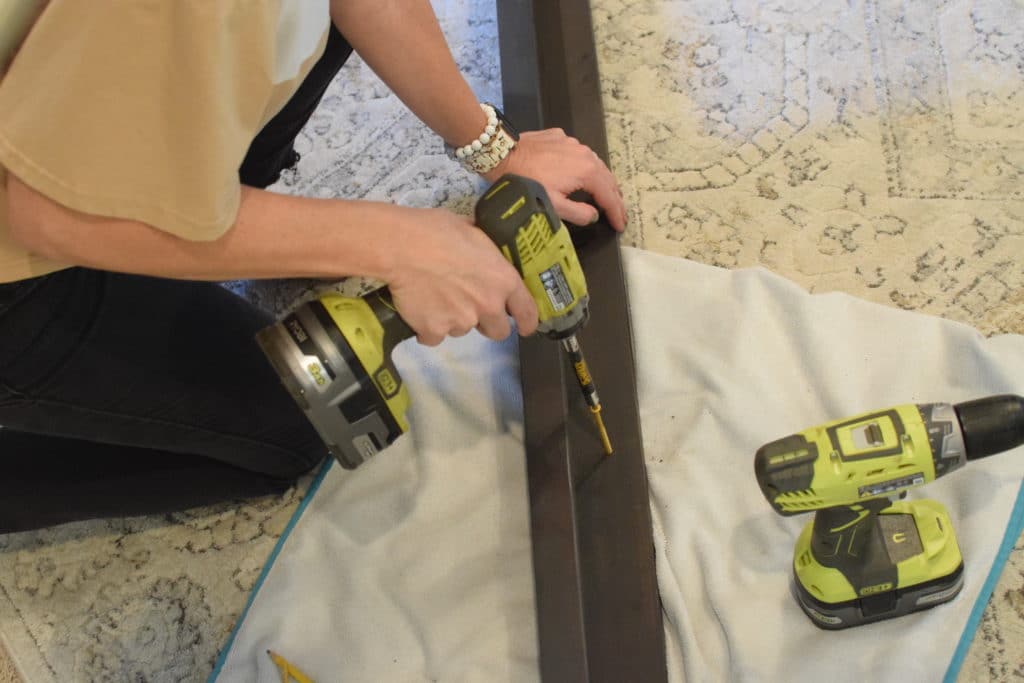 To make it easier to level, only add this one screw for now.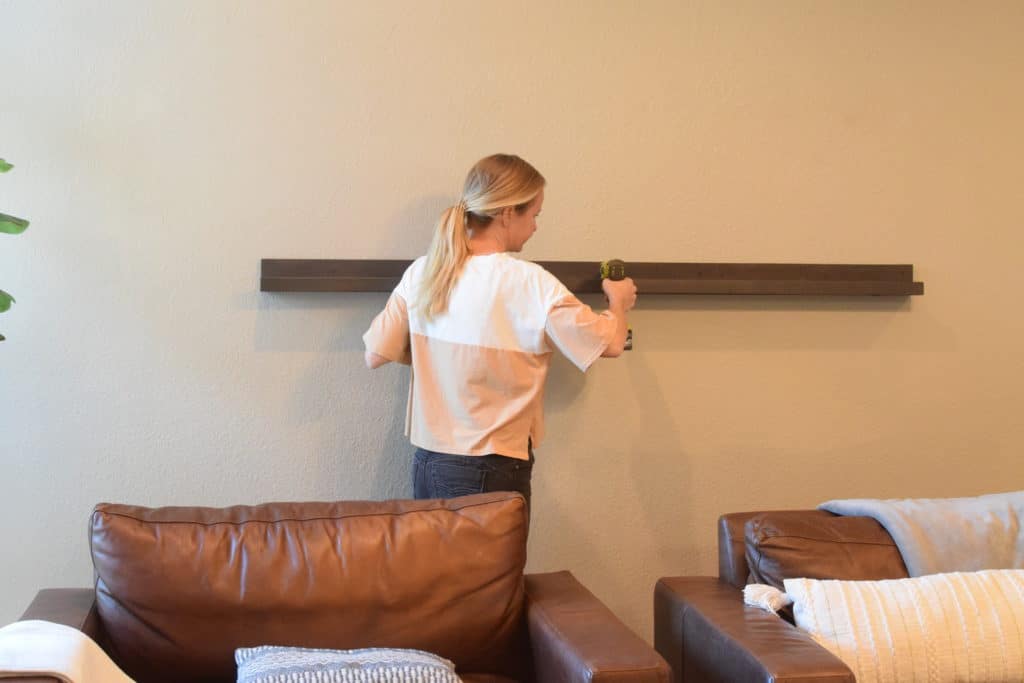 You can now pivot the picture ledge on that one screw as needed to get it level.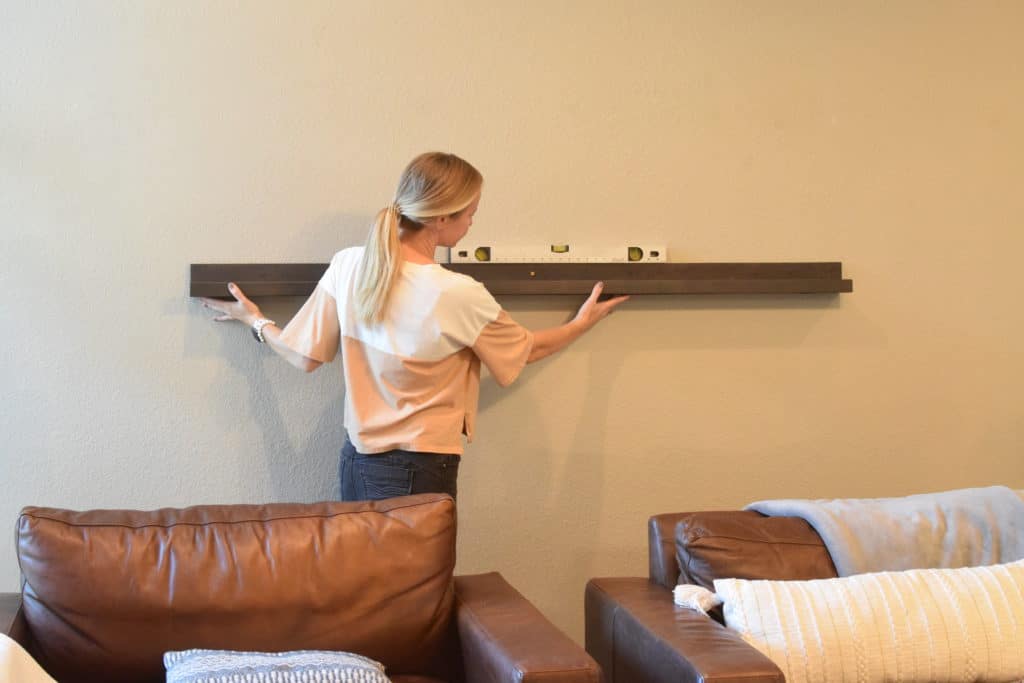 And now you can pre-drill the rest of the holes to line up with the studs. Add the screws directly into the studs. Do this for the remaining studs. Again, the more the better!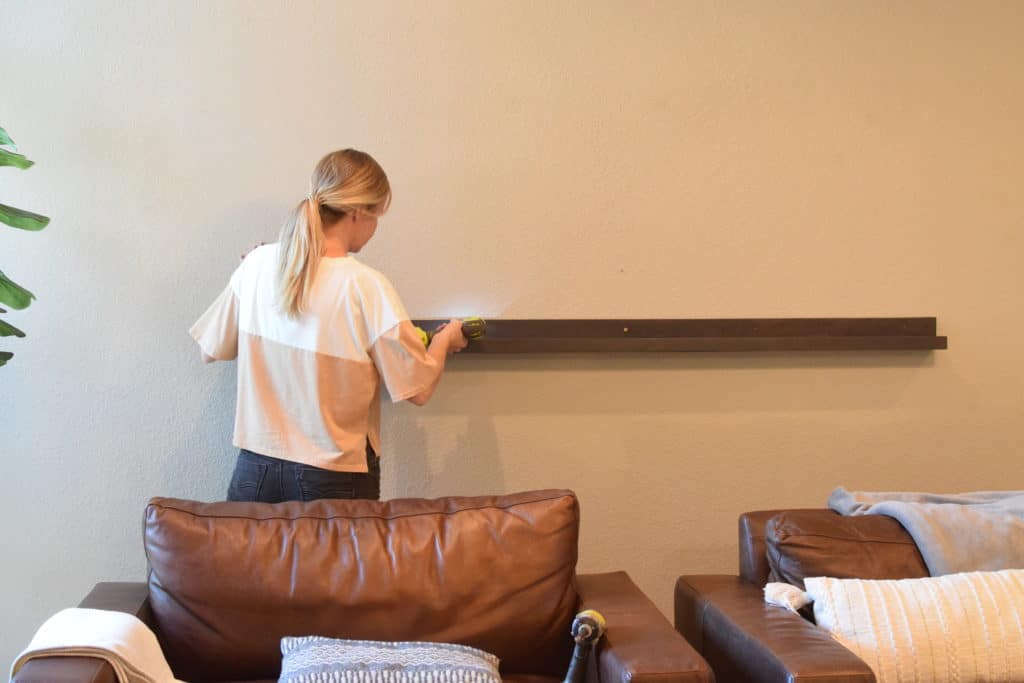 RELATED: For another idea for a how to fill a large wall, check out this tutorial for how to frame a canvas print!
And now the fun part – style it! This is much easier with those LEGOs, but here are a couple ideas as well –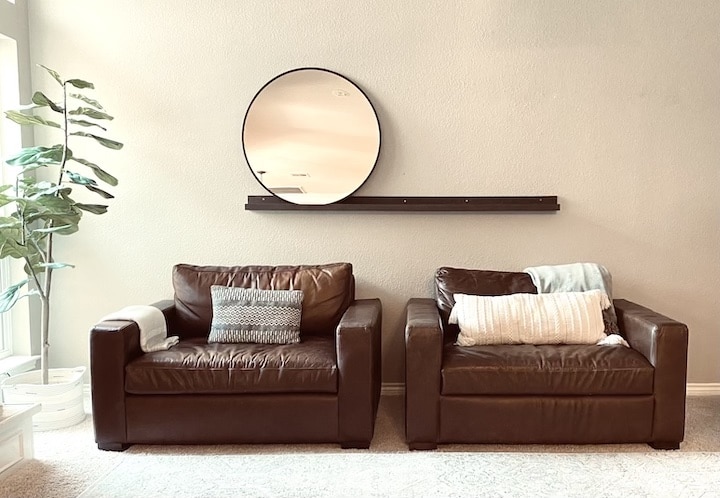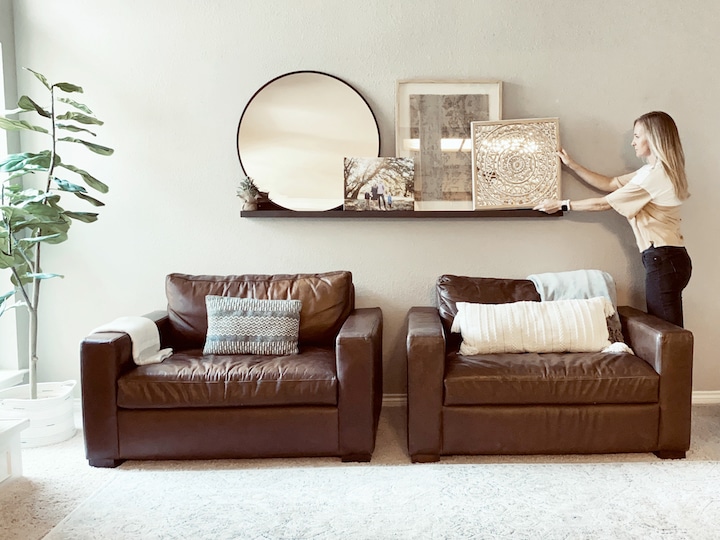 Shop the look of the whole space below! I provided links in order to give you ideas of how to style your picture ledge shelf.
Shop the DIY Picture Ledge Decor Items

Find the web story for this picture ledge shelf here!