Awhile back, we decided that we needed an outdoor dining table.  So naturally, I decided to build a HUGE outdoor dining table! And then I couldn't decide on a rectangular table, or a square table.  Thus, the idea for these modular tables was born! 
The set consists of 3 outdoor dining tables: one large one and two smaller ones.  This extendable outdoor dining table set can seat 12-14 people.  The mobile tables can be configured in a number of different ways to fit the needs of your space. 
The two main ways are to be assembled as a large square, or lined up for more of a banquet style table.  There are lots of other ways as well (but more on that later).  This is a great project for beginners, and I have provided free PDF plans so you can easily DIY your own set of large outdoor dining and patio tables!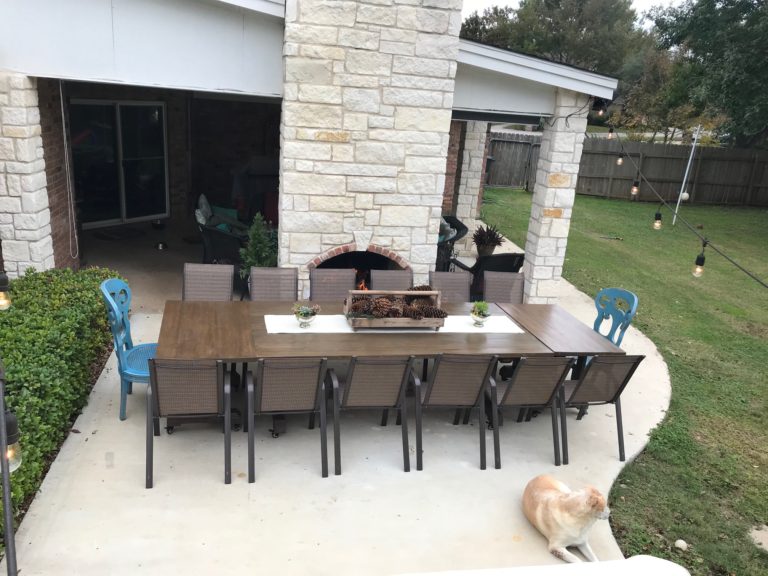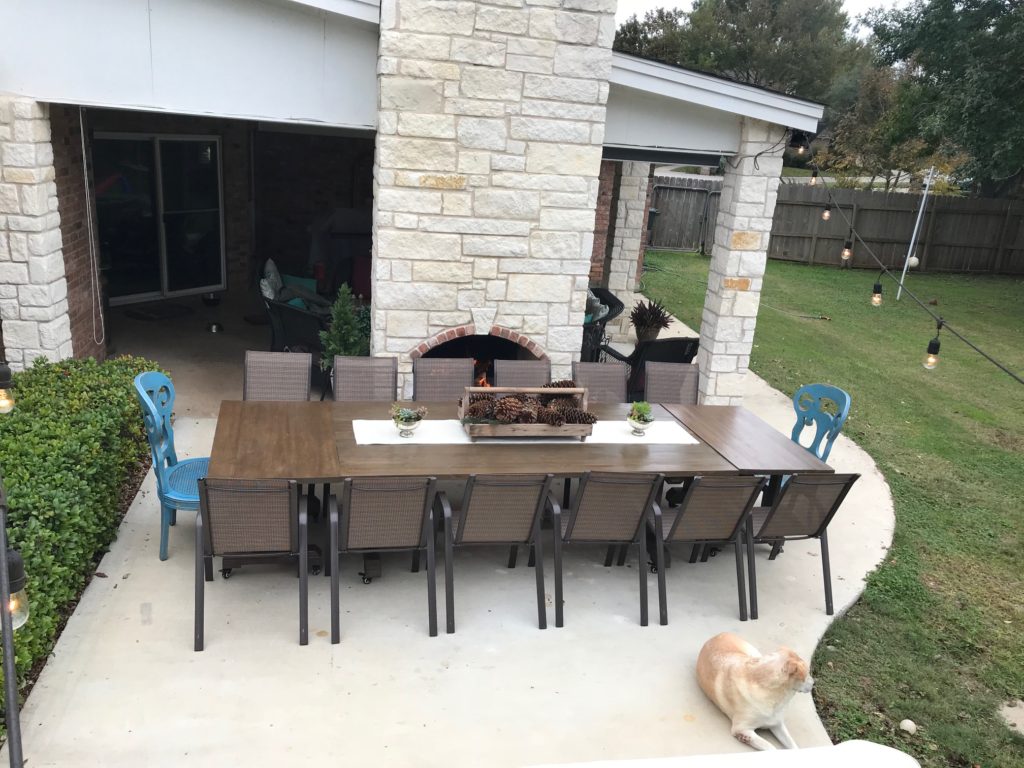 Enter your information below to receive free PDF plans of the outdoor dining tables: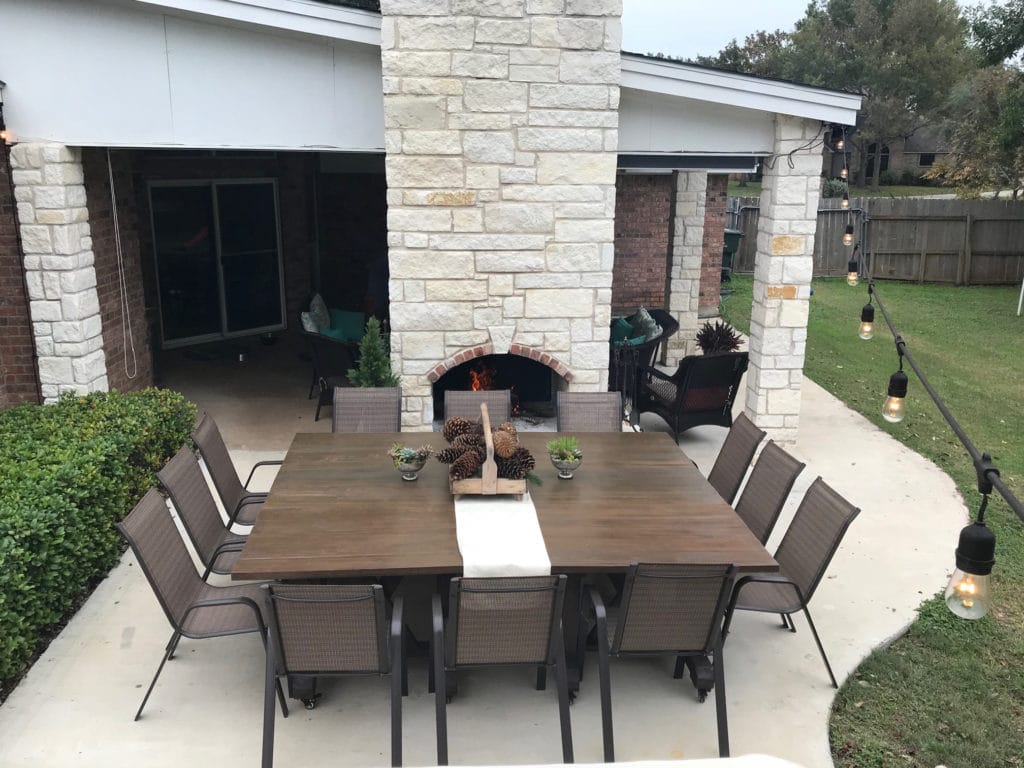 These outdoor tables are made up mostly of 2×4's, 2×6's, and a couple 1×4's (see plans for details). The other materials you need are:
Start by getting all of your lumber.  I bought everything (for all 3 tables) at the same time to save a couple trips to the store.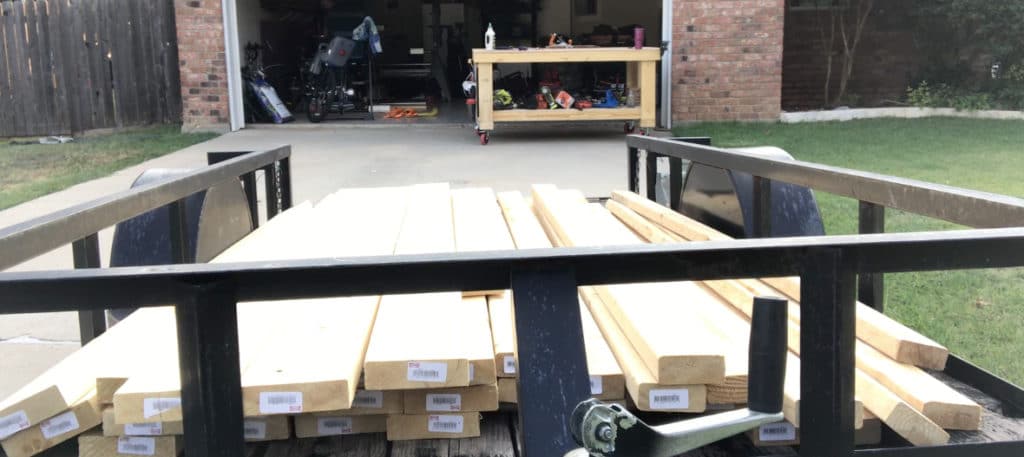 I find I get best results when I lay out the lumber first.  This way you can pick the best layout to hide any imperfections in the wood and eliminate more work later on.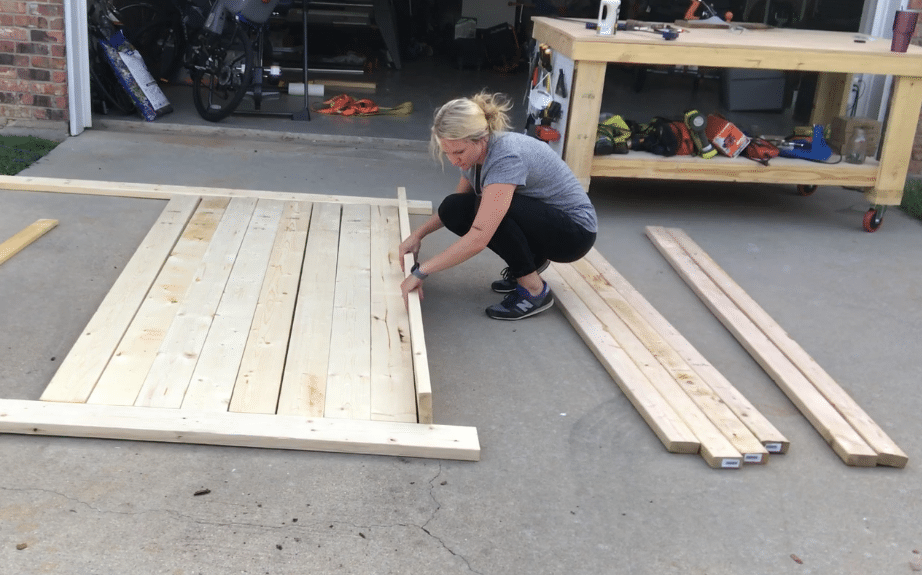 Mark all of your cut marks and use the miter saw to make your cuts.  Once all the cuts are made, I like to sand all the pieces before assembling. It's quicker and easier (and saves your back).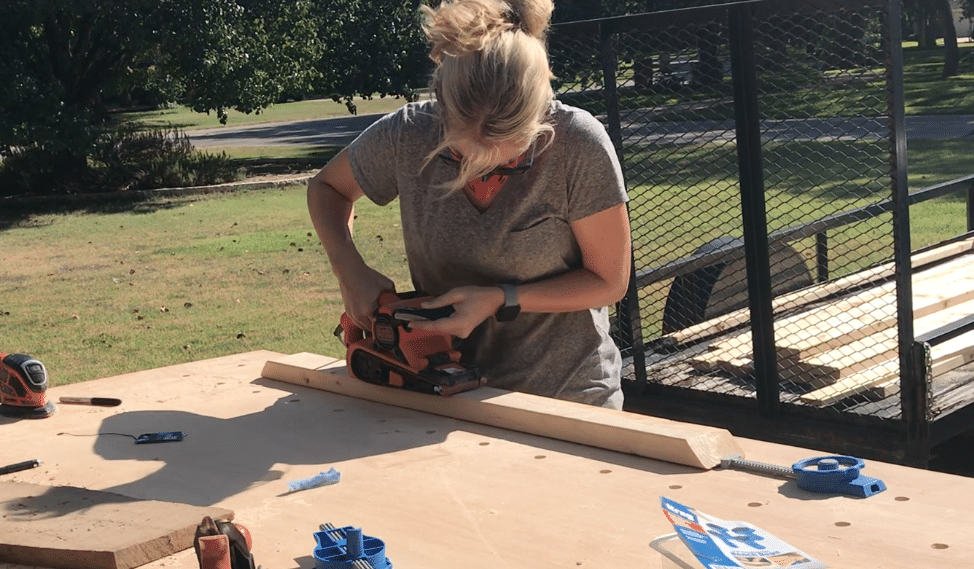 Next, mark all of your pocket hole placements.  It will go much faster if you can knock them out all at the same time.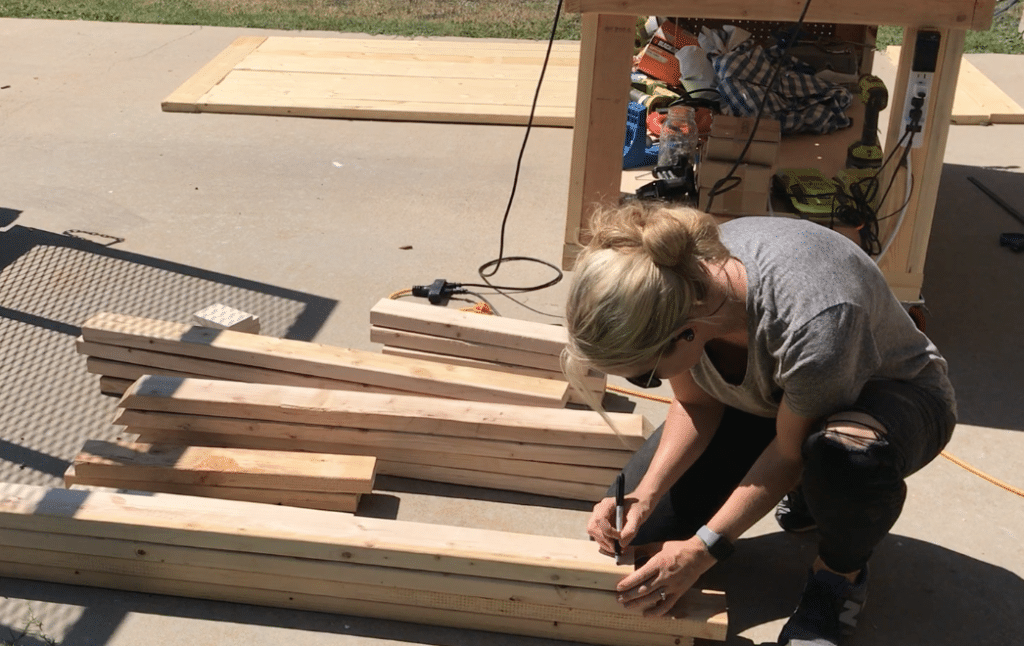 Make all of your pocket holes using your Kreg Jig.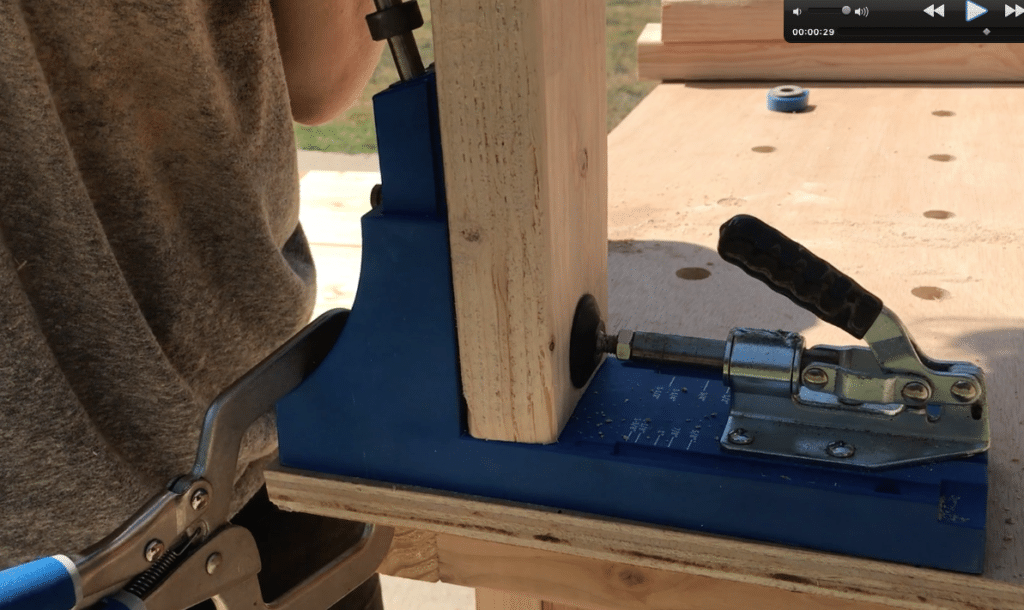 Now you can start assembling! I used these screws for all of the pocket holes and also wood glue.  For the feet, use this countersink drill bit so that your screws will fit flush with the wood.
Since this will be an outside table for us, I used this glue.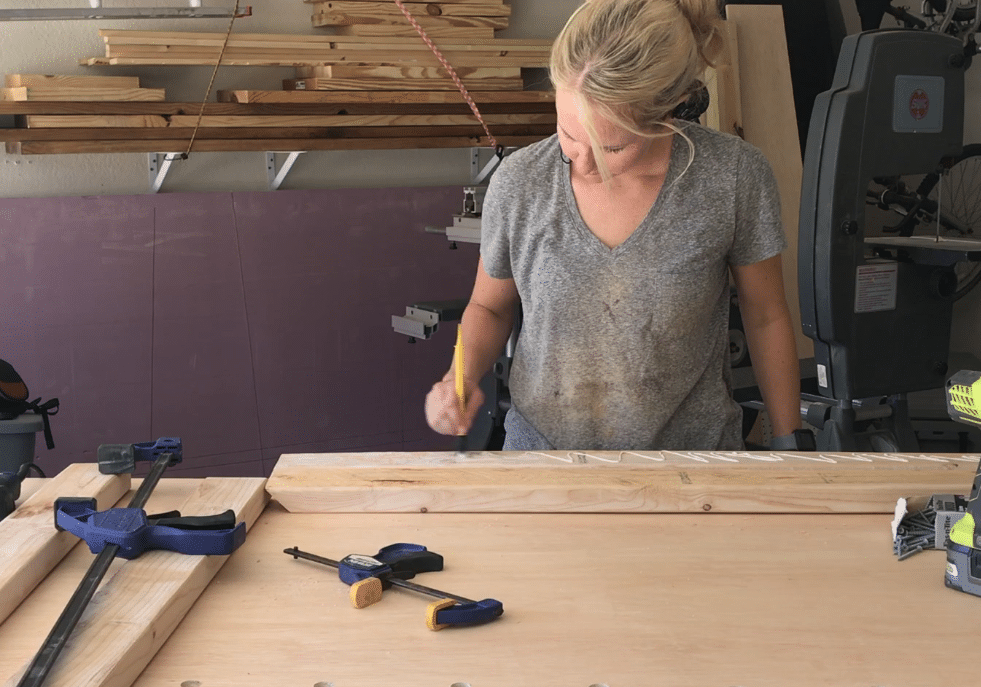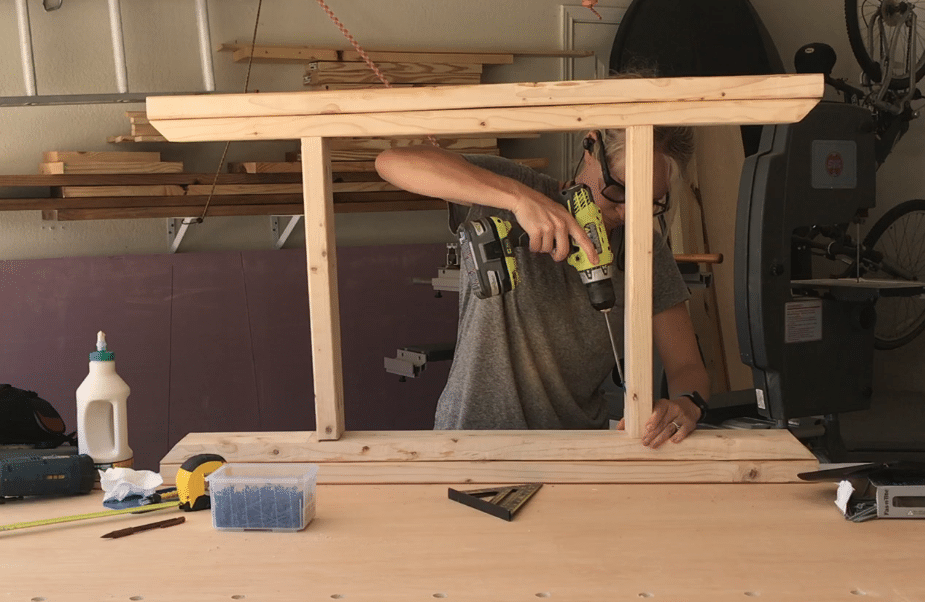 I have found that it's easier to assemble it upside down to ensure that the stretchers will fit flush with the base.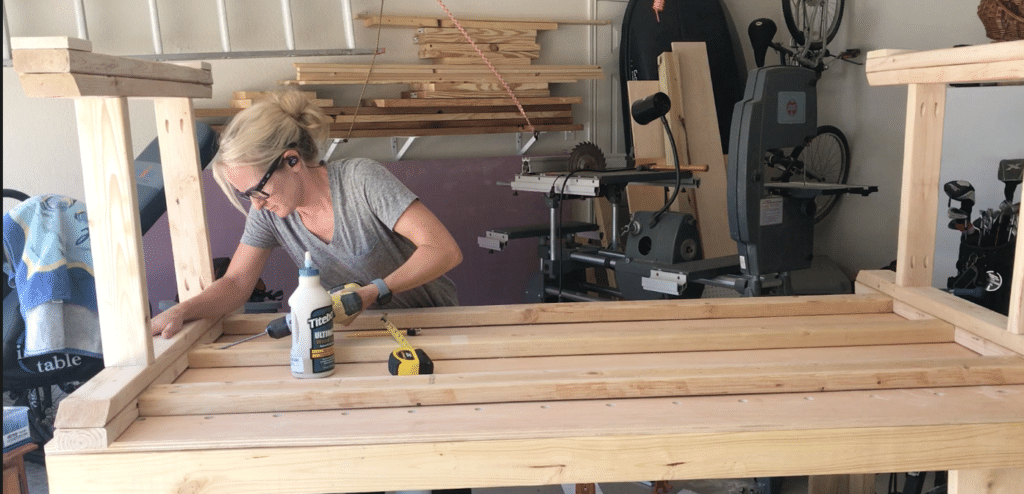 For the x brace in the middle, make your cuts at 30 degrees.  I recommend making these cuts when you get to this step since they need to be very precise and you can measure perfectly now that the base is assembled.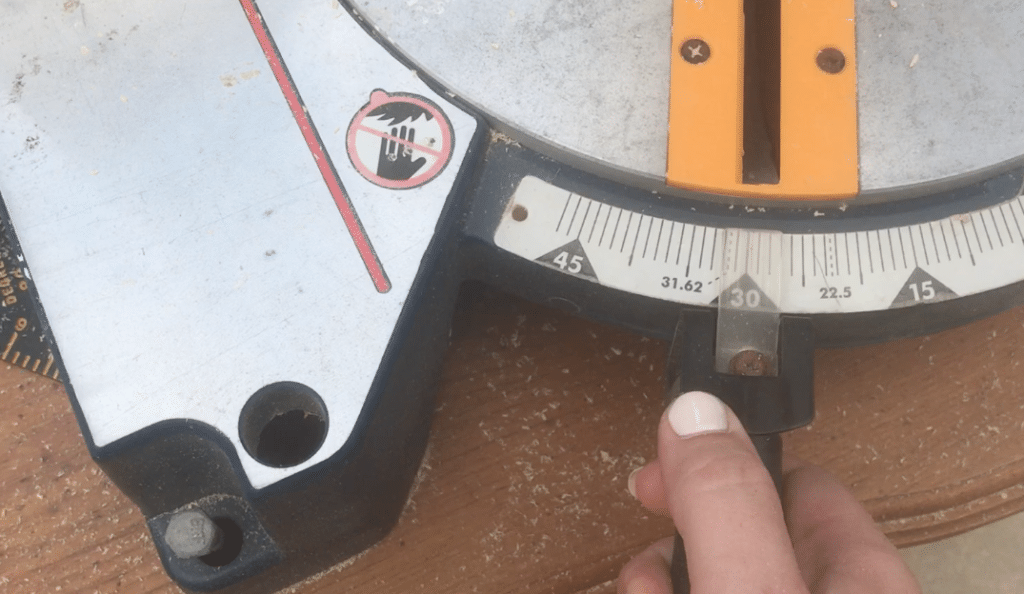 Now that the base is assembled, add these figure 8 fasteners to attach the tabletop later:
Now to assemble the tabletop!  I glued each 2×6 one at a time, clamped them together, then added the pocket hole screws.
When deciding on the dimensions of the base, be sure to check out this post on how tall kitchen tables are.
If you want to make perfect edges on a long board, check out this tutorial for how to joint edges with a router, or this method to joint edges with the Kreg Adaptive Cutting System.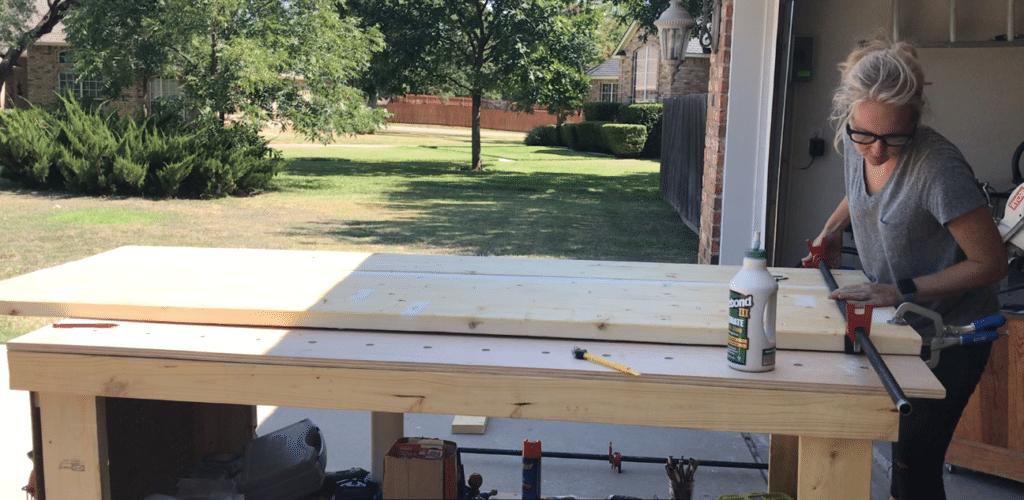 At this point, the ends of the tabletops might not be flush. You can use your circle saw and a straight edge (or this track) to clean up the ends.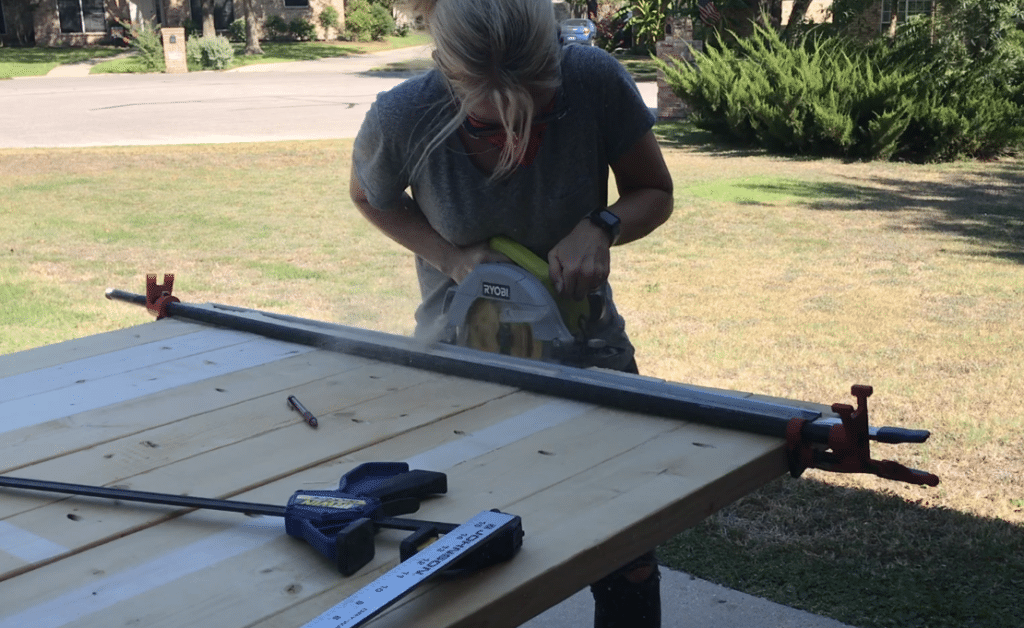 Now that the large table is built, use pretty much the same process to build the smaller two tables.  Give it all a good sand, then stain it and seal it with this spar urethane if it will be outside.  I got this look by applying this stain and letting it dry.  I then added this stain and almost immediately wiping off the excess.  It adds a lot of dimension and texture!
If you ever get a heat stain or water stain on your table, check out this post on how to remove steam stains from wood tables.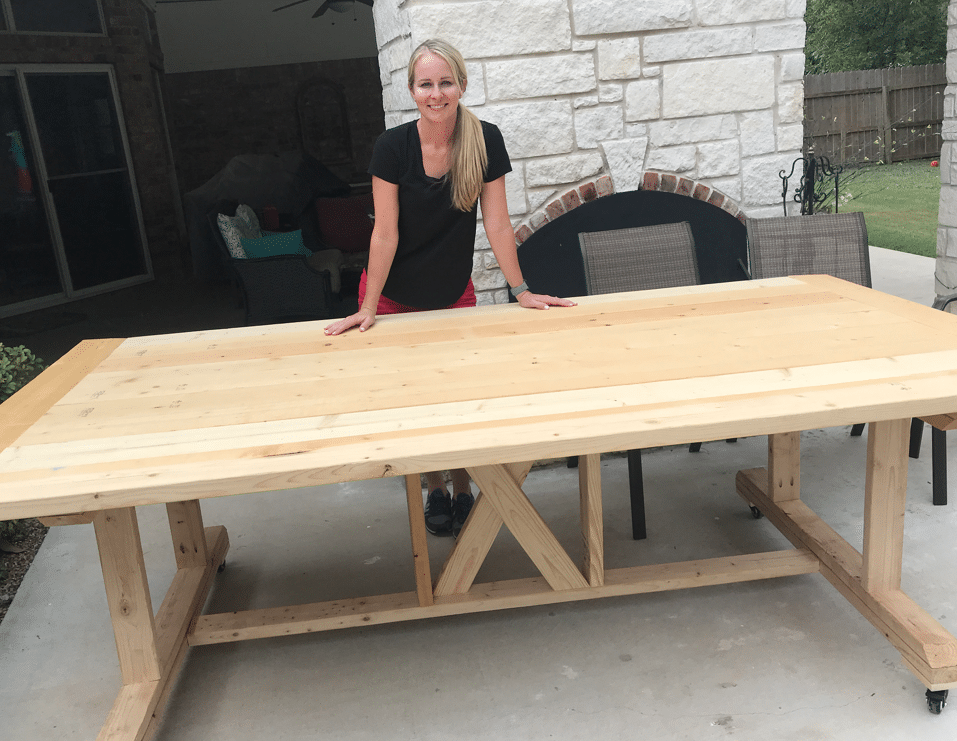 RELATED: For a different table idea, try out a live edge wood and concrete dining table top!
You can assemble them as a square: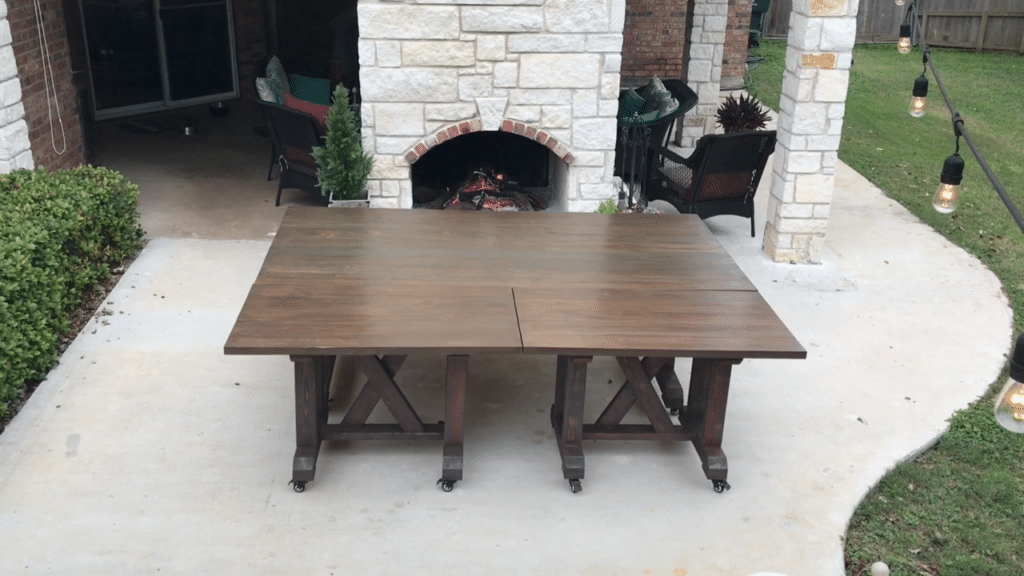 Or as more of a banquet style seating: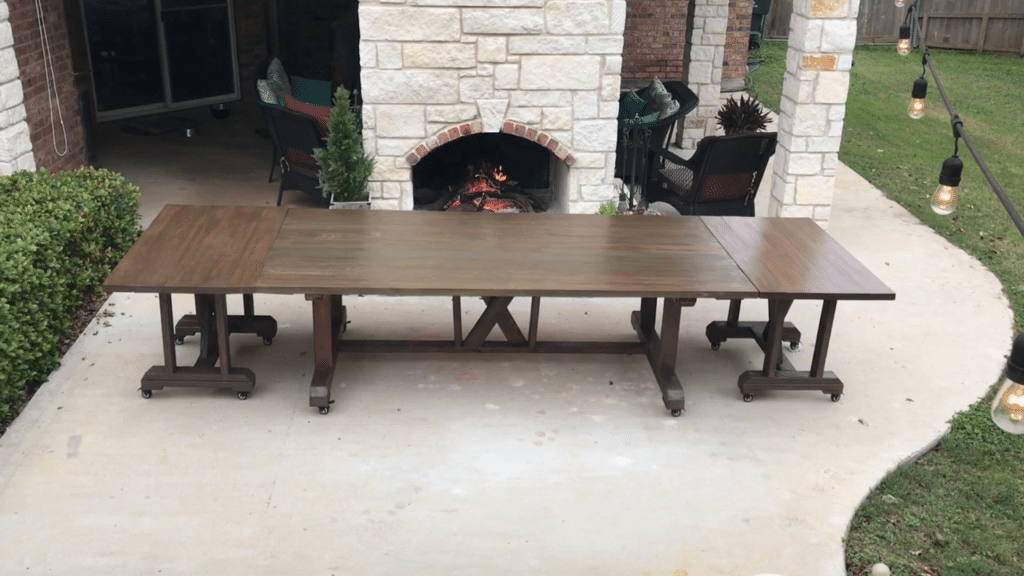 Or you can have a smaller table with a buffet: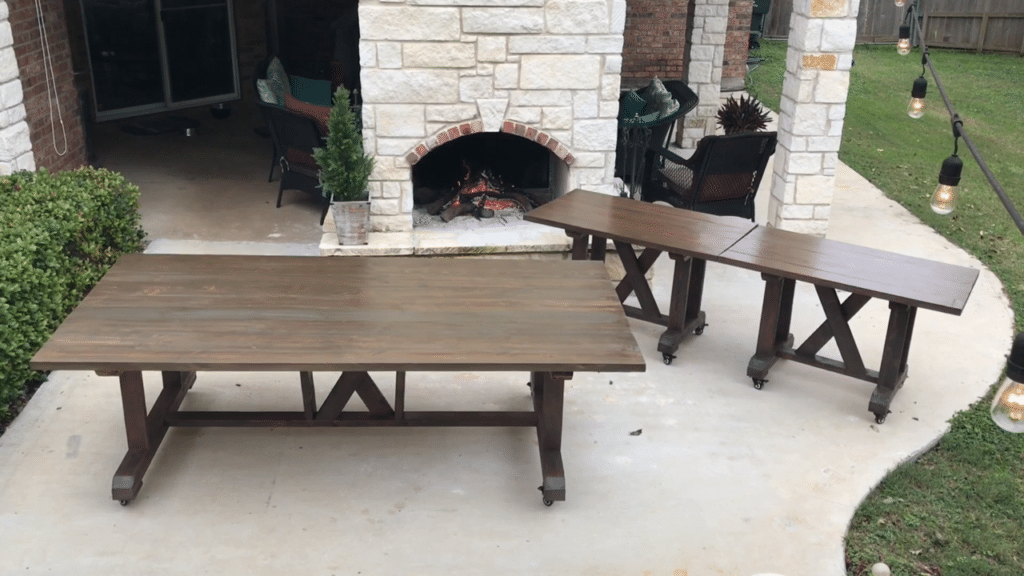 Or a larger table with a smaller buffet: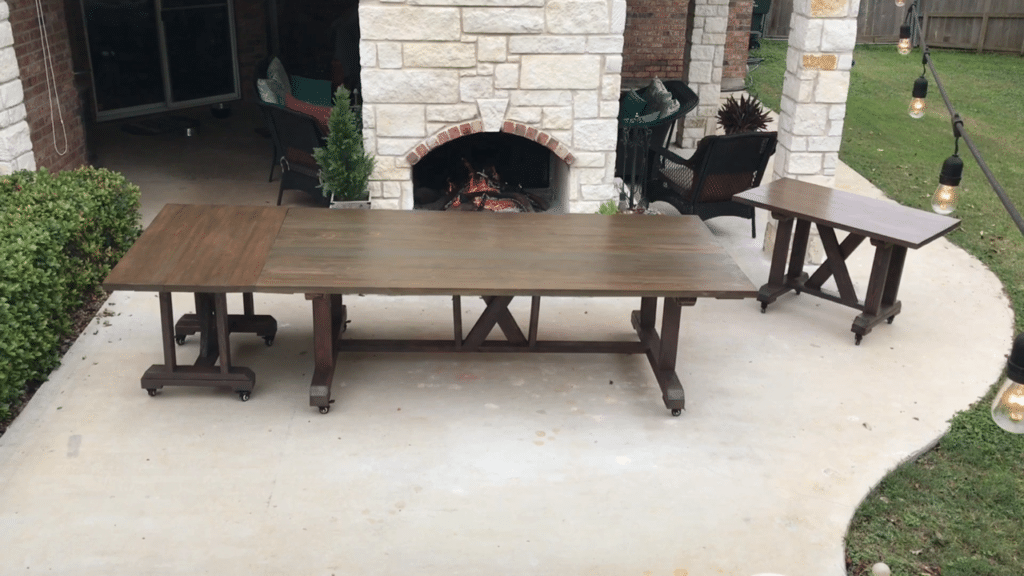 Or every parent's favorite: the kids table!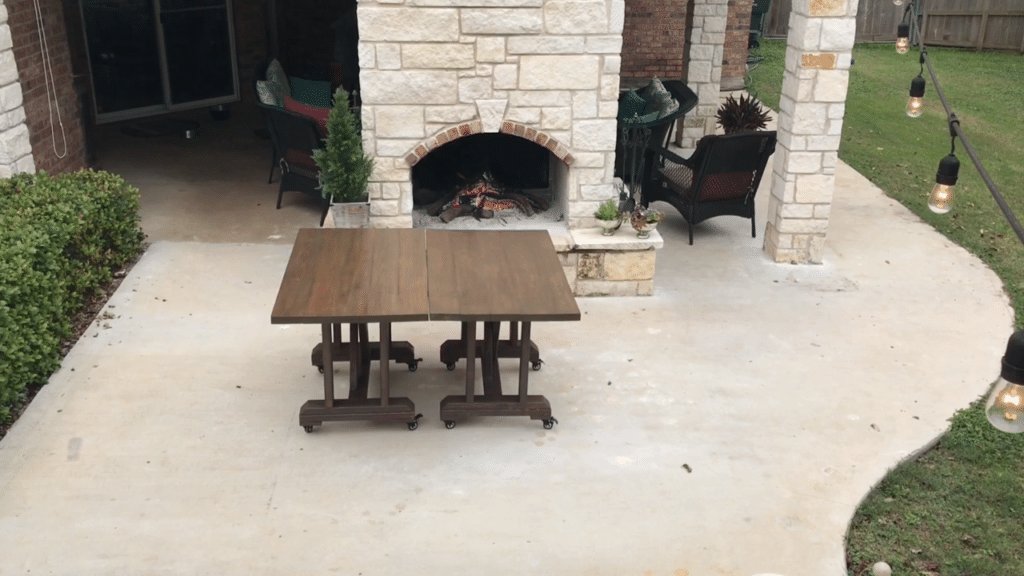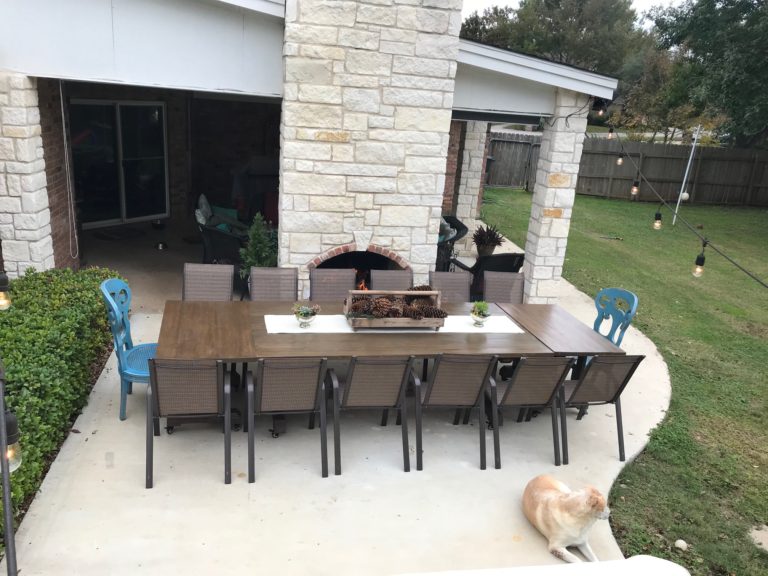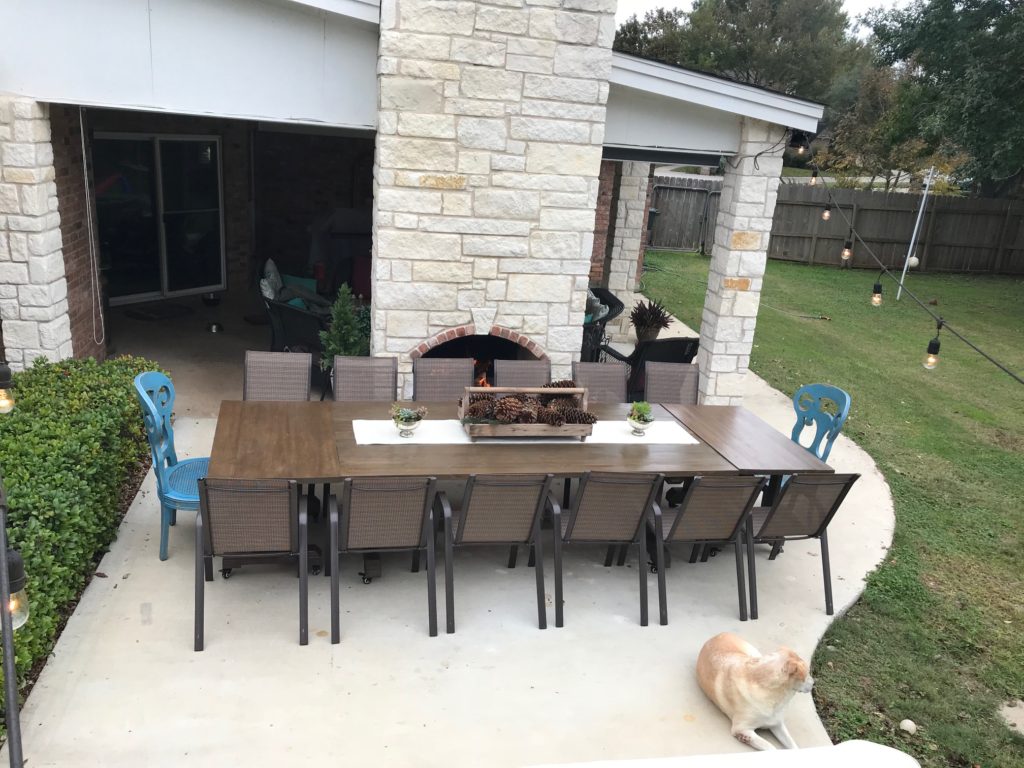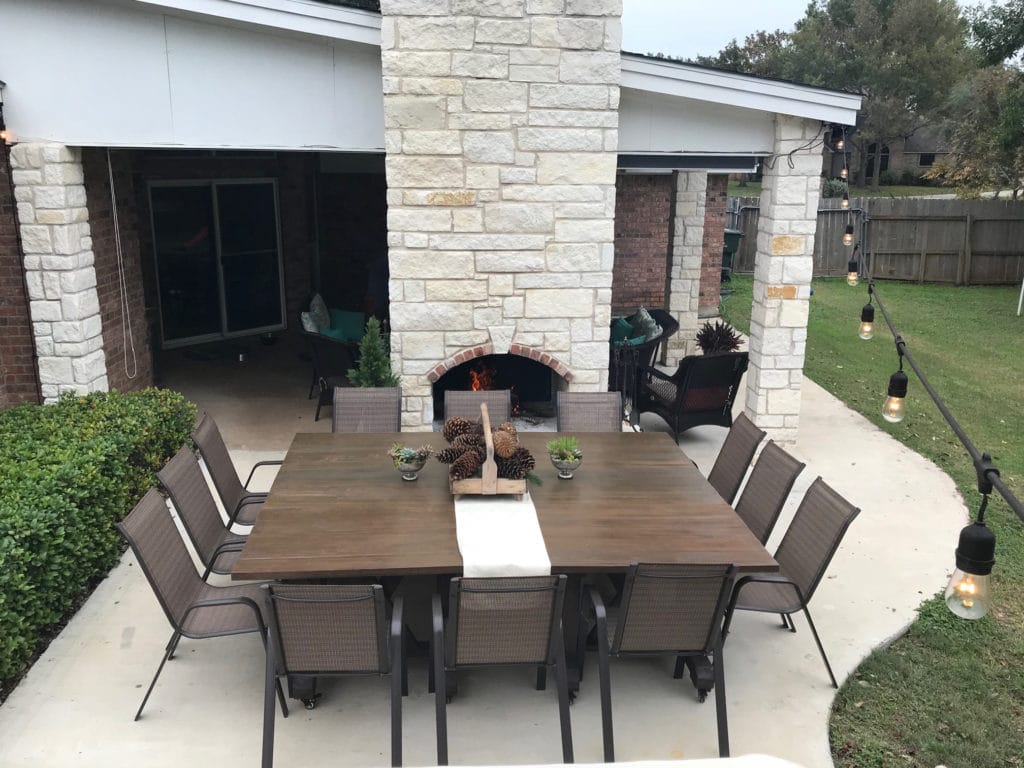 Find the web story for these large outdoor dining tables here!