I've wanted a sliding barn door for the bathroom in our bedroom since, oh I don't know….forever. So for my birthday, Jon surprised me with the hardware to DIY our own sliding barn door. Seriously!? He knows me so well. Not many girls will get this giddy over hardware for a birthday present. I just can't help it!
I'm breaking these DIY barn door plans into a couple posts because it will get pretty lengthy. First off: building the sliding barn door.
Step 1: Gather Materials
Awhile back, we found some glorious old wood at the Habitat for Humanity Restore.
I had the idea back then to make a barn wood accent wall. Then came the idea for the rustic door. It was a close race but in the end, the door took the cake (although we still have some wood left over for another project just waiting to happen).
When I first fell in love with sliding barn doors, I did a quick google search on the hardware and got a little discouraged. At about $450 for just the hardware, I knew I couldn't justify spending that any time soon (or probably ever). While grumbling about my woes, a lovely reader brought up the idea to buy actual sliding barn door hardware…like for actual barns…from a place like Amazon. (Find out what to buy in this post). ***Update: being that this post is a few years old, you can now find hardware kits like this one or this one,
We gave the wood a good scrubbin since it was pretty dirty. I love how rustic this door ended up, so be on the lookout for wood with character!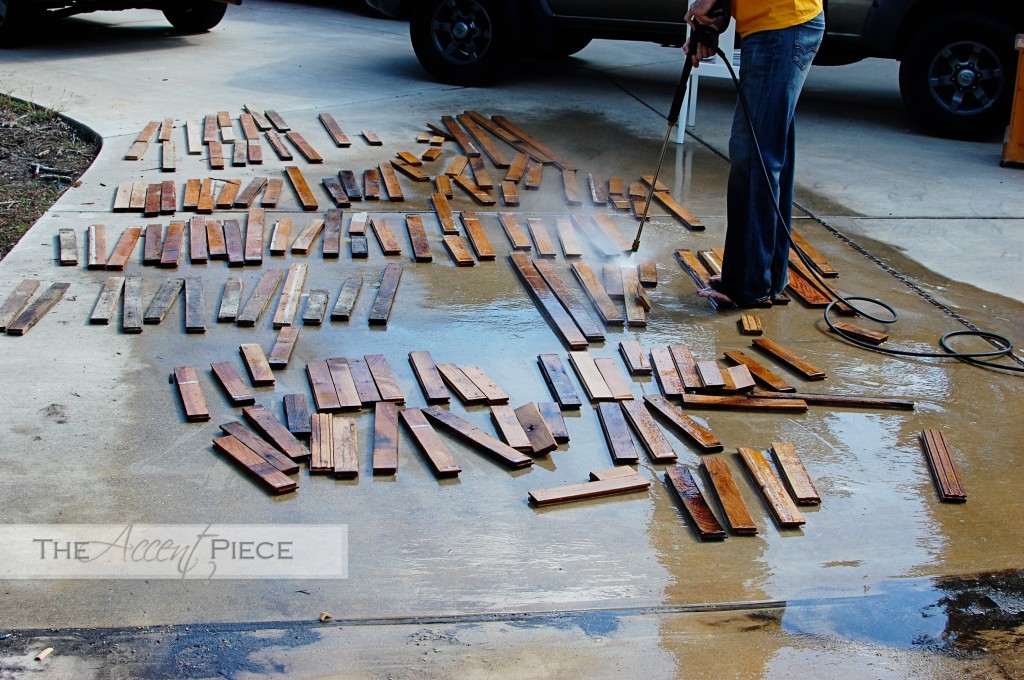 We needed something for all of the planks to attach to so we cut some MDF the height/width of the door.
Q: How much bigger should a barn door be than the opening?
A: You will want to make your door 1″ wider than the door casing on both sides and 1″ taller than the top of the casing. So if the opening of your door is 32″ wide, and the outside of the casing is 36″ wide, make your door 38″ wide.
Of course, this will vary for every home/door etc, so measure your own door opening to see how wide your sliding barn door should be.
One other thing to think about when it comes to this: make sure the wall space to the side of the door has enough room for the door to sit fully open.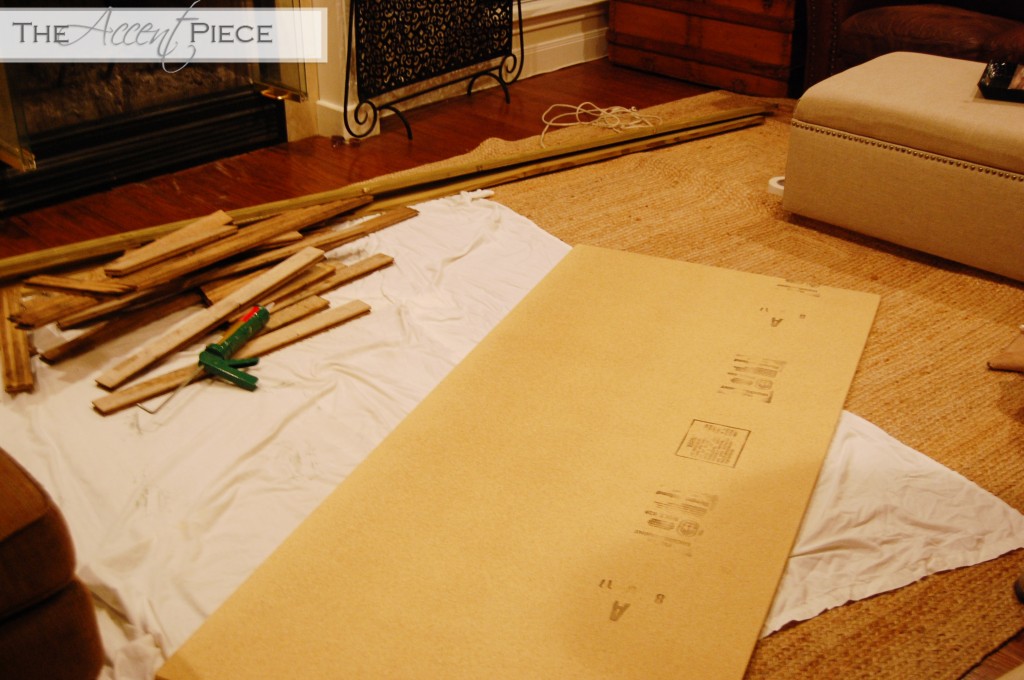 The measurements of the door were the measurements of our door frame, plus an inch on each side (top and sides). We wanted to make sure the door totally covered the frame when it was shut. We thought it might look a little funny if parts of the frame were showing.
Step 2: Attach the Frame to the Backing
I drew out what I wanted and started the building/cutting/gluing/nailing.
We started building the door back in January. I just noticed the Easter basket in the picture below. I'm very puzzled as to why there is an Easter basket in our living room in January. We didn't even get Easter baskets out for ACTUAL Easter. I don't even recognize the basket.
I'll ponder this freaky phantom Easter basket and get back to you.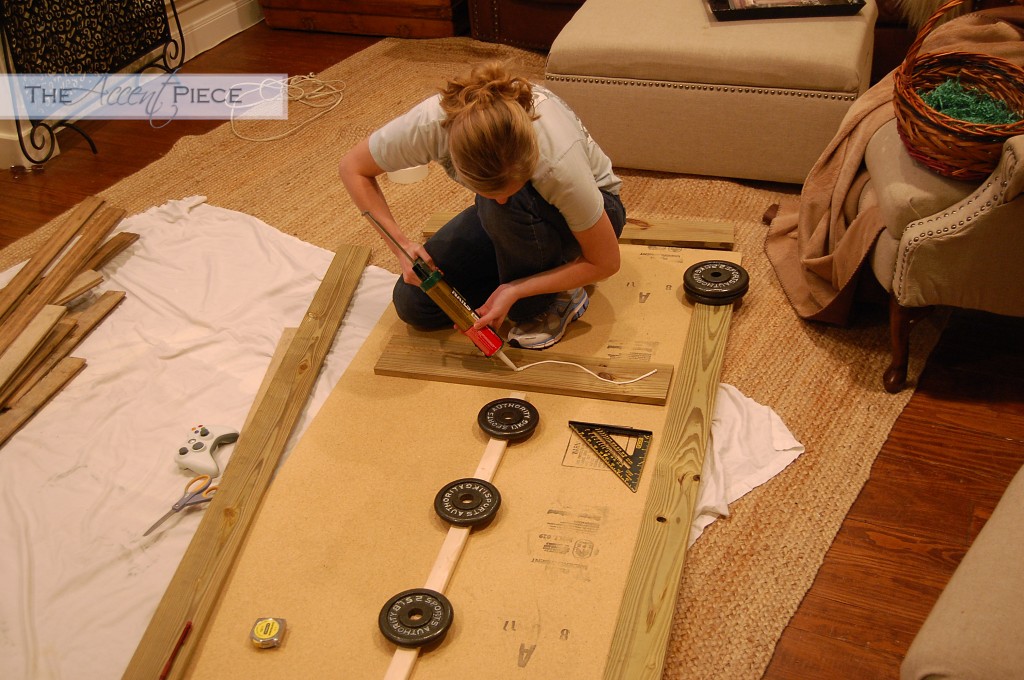 We initially used Liquid Nails to attach the wood to the MDF.  It didn't work at all.  So, we used the wood glue we had on hand, with some nails for extra security and it worked great.  Lesson learned.
I trimmed all the pieces with our miter saw. TIP: for tips on how to use a miter saw for beginners, check out this post!
Q: What is the best wood for barn door?
A: Learn from us and don't use MDF. Use plywood instead as a backing because MDF has a lot of really great uses, but this isn't one of them. More information can be found here.
The plywood backing used for the sliding barn door will be more sturdy, and a great material for the herringbone layout of the wood to attach to.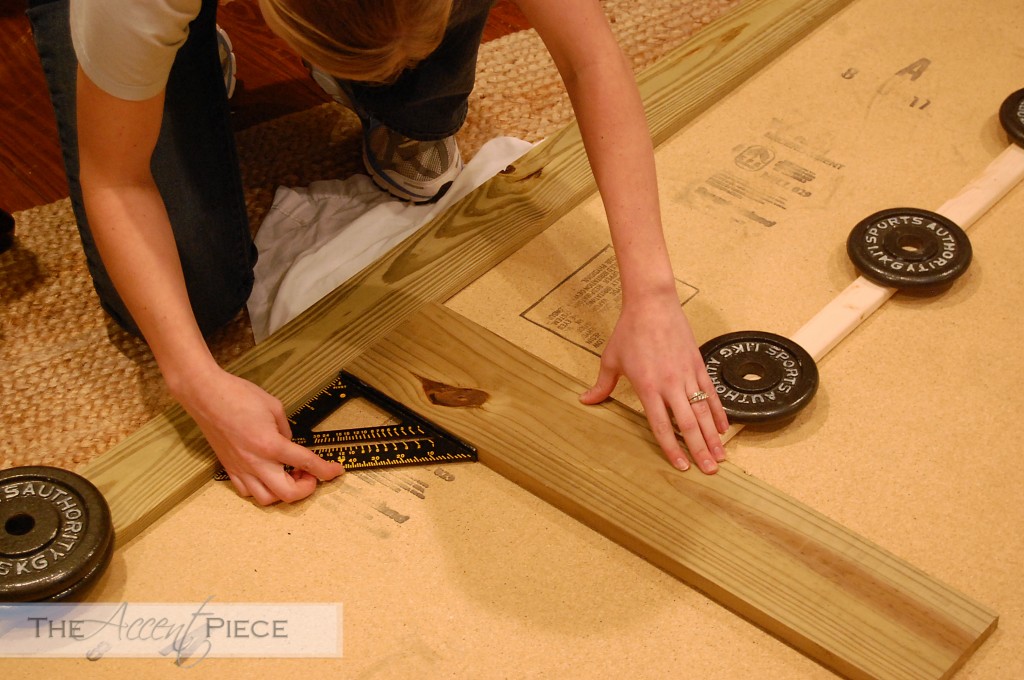 Once we had the frame where we wanted it, we used every heavy object we could find to add weight while it sealed overnight. Yes, we might have even gotten a couple rocks from the woods to help out.
Step 3: Create the Herringbone Pattern on the Sliding Barn Door
RELATED: All About DIY Sliding Barn Doors – Types, DIY Hardware, and Free Plans
To get the herringbone or chevron pattern for the sliding door we wanted, we cut the planks at 45 degrees on both sides with this miter
saw. We started in the corner and just worked our way up.
No, I didn't clean my garage just to take a picture. Just keepin it real.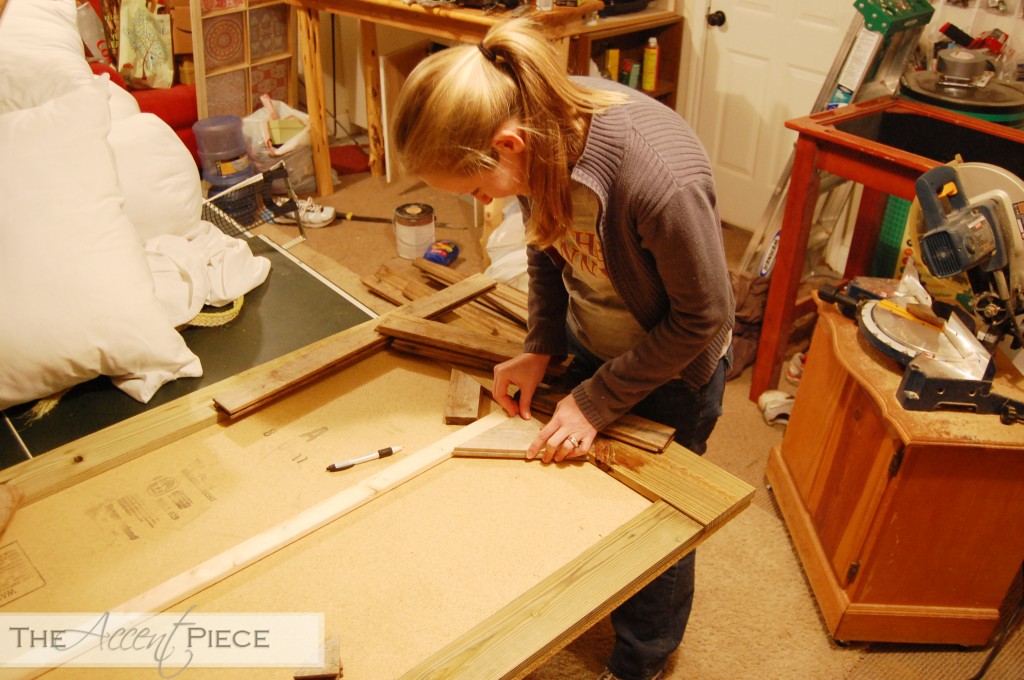 I was the wood cutter and Jon was the installer. What a team.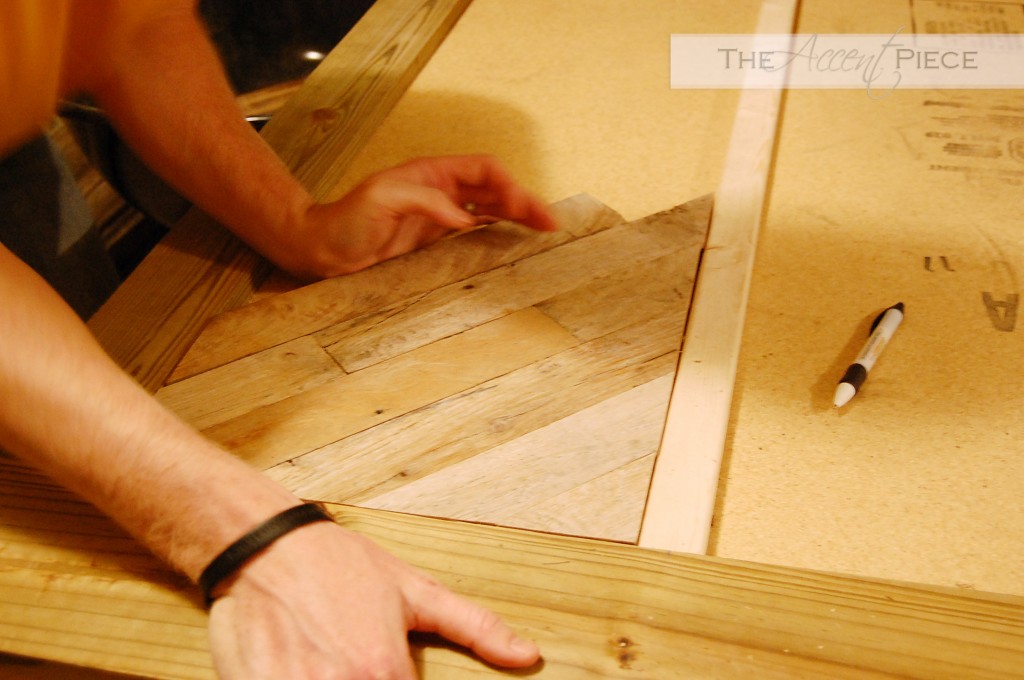 We even had our usual helper in his usual helper stance. (Usual stance = staring straight at us, not moving a muscle).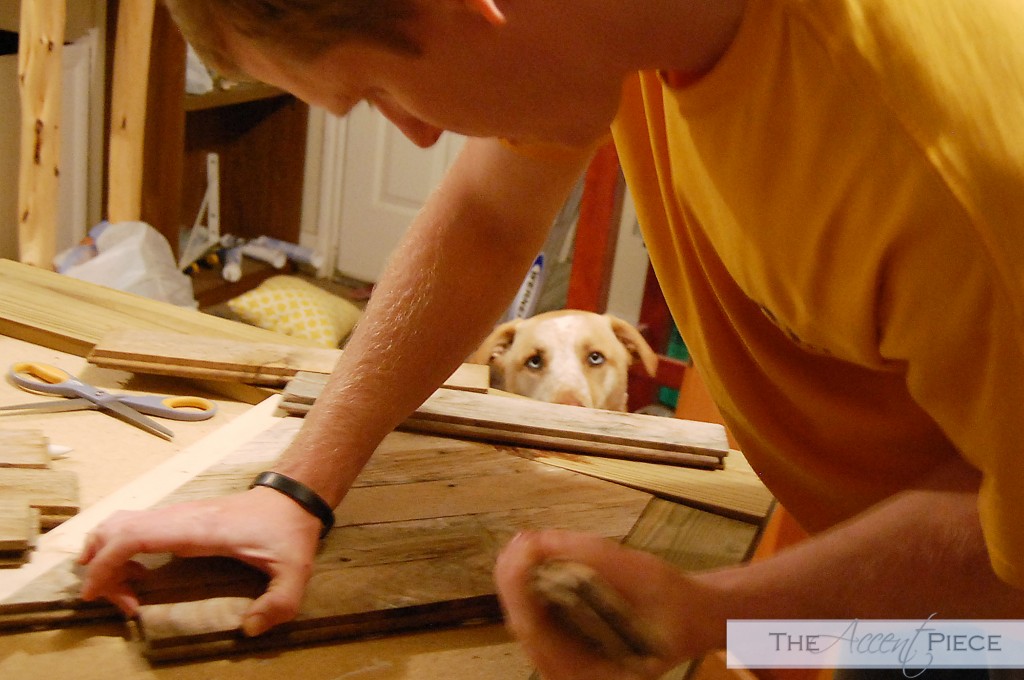 Seriously, our dog has a staring problem to the max. It was a little creepy for the first couple months we got him. I would be cooking or something similar, minding my own business, then I turn around to do something, then BAM! I see a dog sitting in the corner perfectly still, staring me down.
"Oh hey buddy…what's up?"
(Blank stare, statue-like, no blinking)
"Nothin? Ok…well…um… Did you see that cat earlier? He was just beggin to be chased"
(Blank stare, statue-like, no blinking)
"No? Ok…um…I'm going to…um…go to another room…because you're being creepy"
(Blank stare, statue-like, no blinking)
(I slowly back out of the room)
But don't worry, we're totally used to it now. It would be weird if I WASN'T being stared down every. single. moment.
And again with the find-everything-heavy-you-can-and-pile-it-on: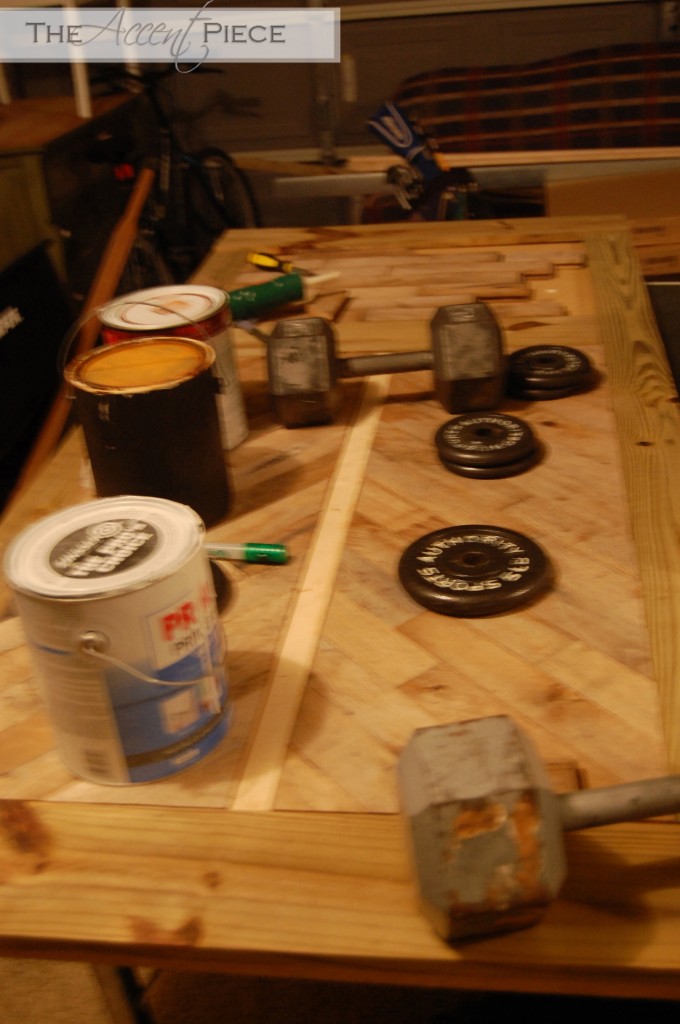 Step 4: Sand, Stain, and Seal
After the rustic herringbone sliding barn door was built, we gave it a good sanding…
Here it is all built, sanded, and ready for staining: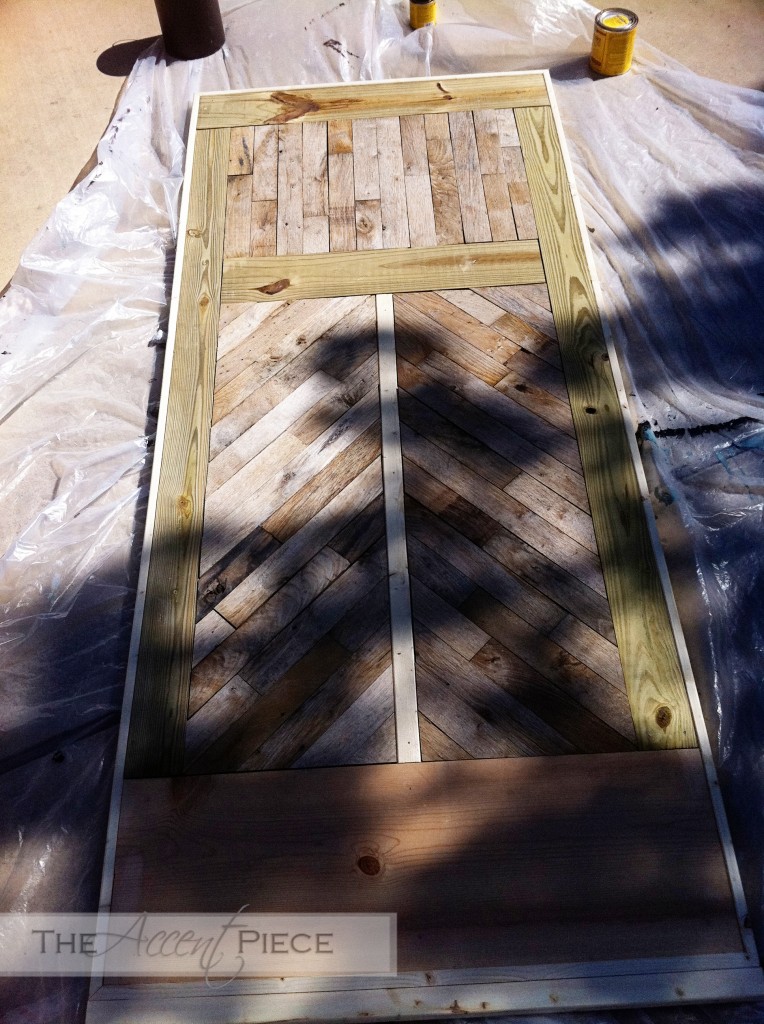 And after. We stained it a mixture of Dark walnut (which can be found here)
and Provincial (which can be found here
). Then, we sealed it with this poly
. Sorry for the harsh shadows, but I promise you some better pictures of the finished door will follow soon!
Check out the next part here!
For another rustic project for the bedroom that matches this sliding door perfectly, check out this DIY barnwood bed!