Today, I'm going to take a deep dive into Kreg Tool's Pocket Hole Jig System. I can't say enough about how imperative this pocket hole system is for any home shop and woodworking projects. I have personally used this system on countless projects over the years and I rarely do any kind of furniture building without using Kreg's Pocket Hole Jig!
Table of Contents
This post is part of a series about how to get started with furniture building and home DIY projects.
Like I mentioned, I have used a Kreg Jig on so many projects, but just a few samples are: Wooden Star, Modular Dining Tables, fireplace surround, a bench for mudroom locker built-ins from stock cabinets, and Wood Slat Bed.
It was one of the first tools I bought back when I began woodworking and it's a tool that I highly recommend for anyone wanting to do any type of DIY furniture projects or home decor builds. The builds you can tackle with just this pocket hole system, a miter saw, and a power drill are truly endless. That's one of the main things I love about it – the possibilities it provides for you to build your own custom-looking furniture are limitless!
In this article, I will cover the 6 simple and basic steps to use your Kreg Jig, compare different models, provide a Kreg screw guide, angles you can join, accessories, and general tips and tricks to getting the most out of your tool. Let's get started!
First, lets talk about what exactly a pocket hole is why it is a useful skill to have when building furniture, cabinets, and home projects.
Q: What is a pocket hole joint?
A: A pocket hole joint is a way of joining two boards by screwing a hole in an angle on one board. It provides a way that hides the screw and allows you to join the pieces together on the faces or edges. This allows the pieces to have a simple butt joint instead of overlapping them.

Q: What is a pocket hole jig?
A: A pocket hole jig is a system that allows you to create pocket hole joints in a way that is quick, accurate, and secure. It provides the means to drill the screws at an accurate angle and depth in order to have the best pocket hole joint possible.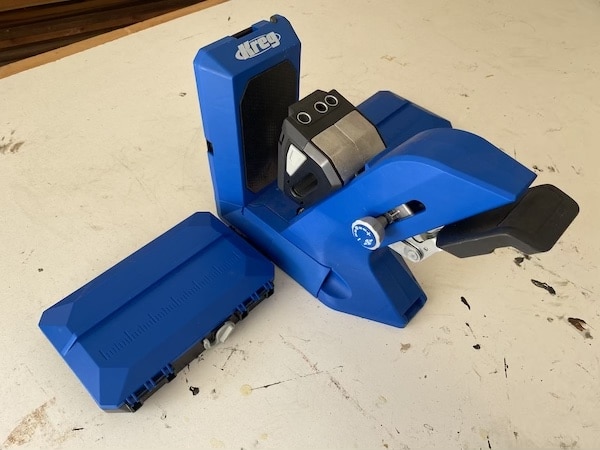 Benefits of Kreg's Pocket Hole Jig System
quickly and easily create accurate pocket hole joints
join boards without having to overlap them (butt joint)
create joints that hide the screws
when used with glue, joints are generally strong enough for most DIY furniture builds
very little measuring is needed to join boards together, as opposed to dowel or mortise & tenon joinery
If glue is not used, you can quickly and easily disassemble the piece if needed
It's easy to get started! You don't need to have advanced woodworking skills to create beautiful pieces using pocket hole joinery
Drawbacks of Kreg's Pocket Hole Jig System
will not work on joining very thin pieces
the joint might not be as strong as other forms of joinery like mortise and tenon joints
If the drilled pocket hole is visible, it can be difficult to hide or disguise it
Which Kreg Pocket Hole Jig Should You Buy?
Kreg Tools offers many different options of pocket hole jigs to buy. This is great because you can choose the best system for your woodworking needs, although it can be confusing to know which system you might need. So, let's compare models.
I will cover 5 of the main models available. I will also link to other options below. The cheapest model will still get the job done, but the more you spend, the more efficient your projects will be and the more accessories you will get.
| | | | | |
| --- | --- | --- | --- | --- |
| Kreg Pocket Hole Jig 310 | Kreg Pocket Hole Jig 320 | Kreg Pocket Hole Jig 520Pro | Kreg Pocket Hole Jig 720 | Kreg Pocket Hole Jig 720Pro |
| Pros: Most affordable, good for simple household repairs | Pros: Simple to set up and use, portable, affordable | Pros: the most efficient option if you want it to be portable, fast thickness setting, can convert to benchtop | Pros: quickly clamp for various thicknesses, on-board storage for acessories, dust collection port | Pros: Most efficient of these 5 options, comes with the most accessories, ability to secure large pieces |
| Cons: Least efficient of these 5 jigs, which can really slow down projects with multiple pocket holes | Cons: Less stable than a benchtop option, clamping for every use is needed | Cons: No dust collection, not as stable as benchtop options | Cons: less accessories (screws and clamp) as the pro options, no wings to support large pieces | Cons: Most expensive of these 5 options |
My recommendation for a beginner woodworkers that have never used a pocket hole jig is the Kreg Pocket Hole Jig 520Pro.
My recommendation for woodworkers who will be doing a lot of pocket holes and need the efficiency is the Kreg Pocket Hole Jig 720Pro. This is the one I own and use often!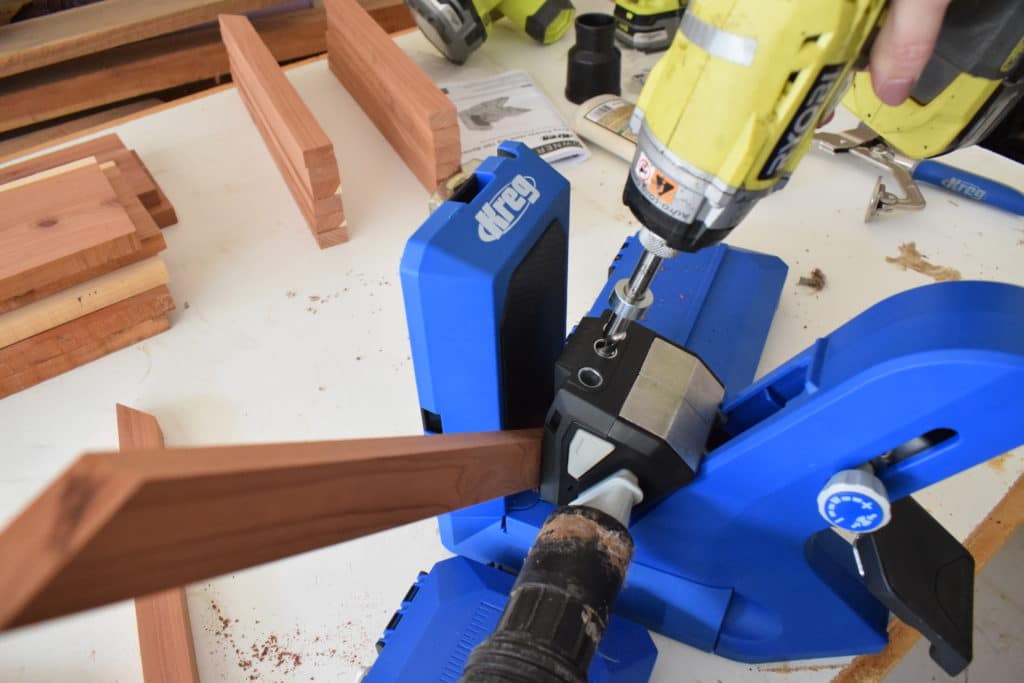 There are other options available besides the 5 listed above if you'd like to check them out. If you're looking for one to just get started and see if you like this type of joinery, check out the Kreg R3 Jr. A more advanced option is the Kreg Foreman, which will clamp and drill the hole in one single step.
How to Use a Kreg Pocket Hole Jig
Alright, now for the practical stuff – how to actually use your Kreg Pocket Hole gig to join wood boards! These instructions will vary slightly, depending on which Kreg system you own, but that basics are the same for all pocket hole systems.
Step 1: Determine pocket hole placement
I find it is easiest to mark all of your pieces first, so you can drill all of your pocket holes at one time. This is especially useful when you have a lot of pocket holes to drill, as it cuts down on time.
Step 2: Determine screw size
See my tips below for which screw you need to use. The Kreg screws are self-tapping so they won't split the wood and eliminates the need to pre-drill holes.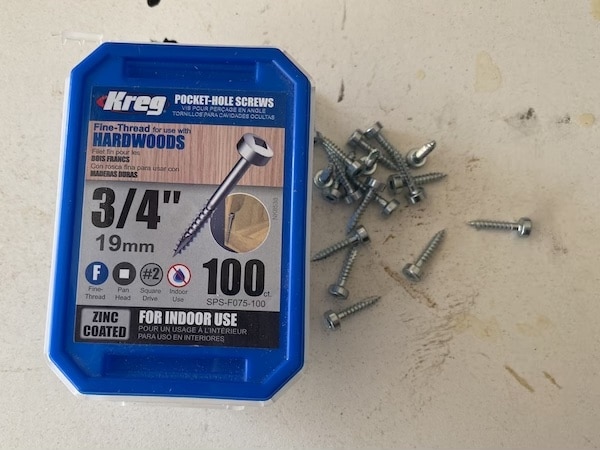 Step 3: Set Drill Guide Height
This setting is on your actual jig. You will set this setting to the thickness of the thinnest board you are joining. Lock this in place before moving on.
Step 4: Set Drill Bit Depth Collar
This will control the depth of the hole you drill into your piece. Align the step collar on the bit to the guide on your jig that matches your wood thickness. Tighten the collar with the provided allen wrench.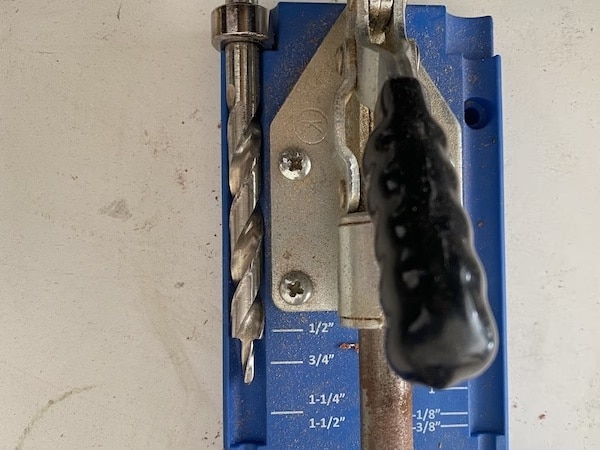 Step 5: Drill your pocket hole
Using one of the three drill bit guides of your choice, plunge your drill until you reach the depth collar. Place the pocket holes 6-8 inches apart if you are joining long pieces together. Two pocket holes are generally needed so your piece doesn't twist.
If you are joining smaller pieces, the drill guide is designed so you can place two pocket holes and once, without having to unclamp and re-clamp your piece.
Step 6: Attach the pieces with screws in the pocket hole
Use the screws that you chose (tips below), along with the provided drill bit and clamps to secure the screws within the pocket hole. Glue is optional, although it will make your joint much stronger.
Q: What Kreg screw should I use?
A: There are a lot of options for screws that you can use for Kreg's pocket hole joinery. I took a deep dive look into choosing the correct length of Kreg screw here. There are 3 things to determine while choosing the correct screw:
Indoor/Outdoor
Type of wood
Determine Screw Length:
Kreg Screw Length Guide Chart
And now for the 3rd part of determining the correct Kreg screw: the thickness of your wood you are joining. If you are joining different thicknesses, use the thinnest material to determine the screw size from the chart below.
A note about board thickness: be sure to use the ACTUAL thickness of the wood, not the nominal thickness. For example, a 2″x4″ is actually 1.5″x3.5″, so you would use 1.5″ for the chart below.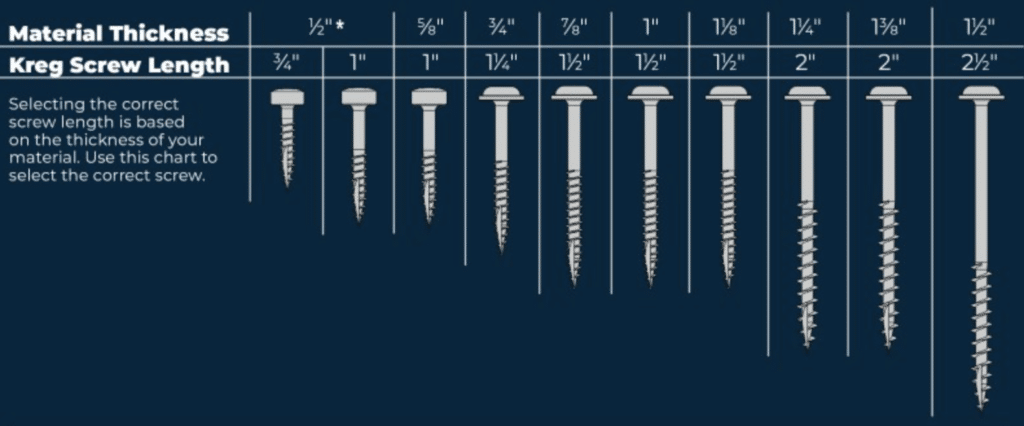 Kreg Jig Tips, Tricks, Extras, and Answers
Kreg Pocket Hole Jig Accessories
Accessories that go along with your Kreg Jig really make your efficiency and accuracy improve for your woodworking projects. I've listed a few of my favorites that I own and highly recommend! Some of these might come with the kit that you buy – so be sure to check that first before you purchase accessories.
Face Clamp
This clamp is very useful when you are joining two pieces and you want them to be flush. It holds the pieces together perfectly flush while you drill. I used this for every pocket hole when I made the Wooden Doormat. This is the smaller version (pictured) and this is the larger 6″ version.
---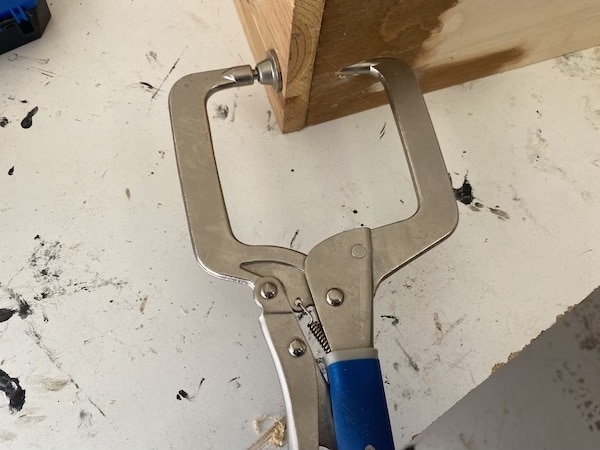 Pocket Hole Corner Clamp
This corner clamp is very useful when you are making a corner for things like cabinets. It holds joints at 90 degrees, as opposed to flush and flat like the face clamp above.
---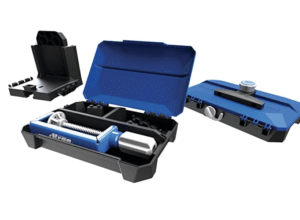 Kreg Docking Station
This accessory allows you to take a 520 and make it a bench top jig, in addition to a portable one. This could be a great option for you if you're looking for the best of both worlds!
---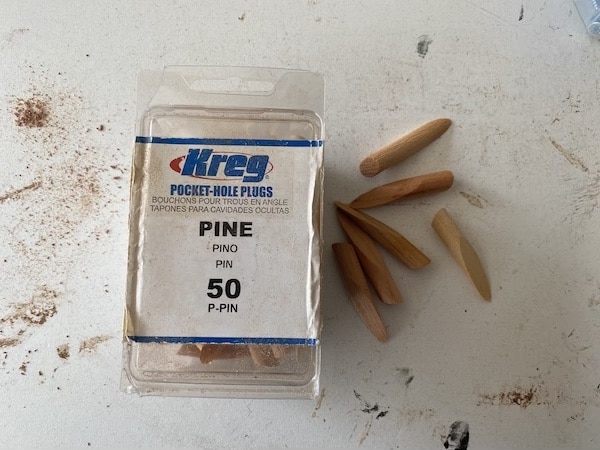 Pocket Hole Plugs
If your pocket holes are visible, Kreg makes hole plugs that are very beneficial to quickly cover them up. They make paint grade ones, pine ones, plastic ones, and oak ones. You will want to purchase the plug that best matches the wood you are working with.
---
Q: Should you use glue for pocket hole joints?
A: Pocket holes don't require glue, however, you will have much stronger joints if you do glue them. I personally rarely join boards together without glue. One huge bonus of Kreg Jig is that if you do use glue, you don't have to wait for it dry before moving on since it is secured by screws. If you are planning on disassembling your piece for various reasons, don't use glue.
How to use Kreg Pocket Hole Jig on 45 degree angles (plus 6 other angles!)
You can make many different types of joint with Kreg's pocket hole system. The vast majority of joints you will make are either flat or 90 degree angles. However, you can also make 45 degree angles by drilling your holes like the pictures below: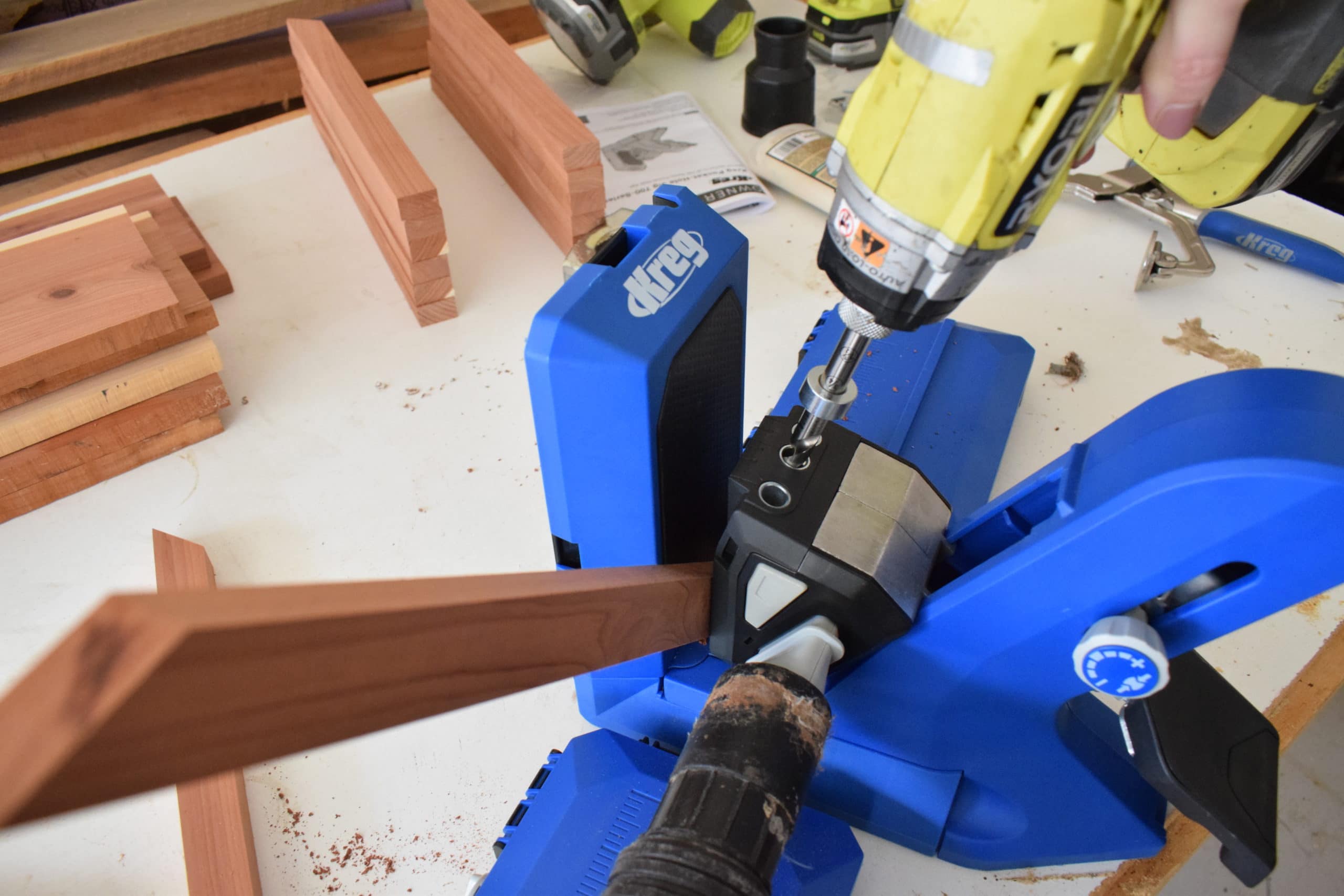 Kreg Tool has a great article for how to use Kreg Pocket Hole Jig on 6 other angles. Check it out here!
Alright, now you are ready to tackle those furniture builds on your own!
Check out the web story for How to Use a Kreg Pocket Hole Jig System here!