I have always loved the idea of decorating with stars for Christmas, so I set out to learn how to make a 5 point wooden rustic lighted Christmas star to decorate the exterior of my home with. The angles of the star proved to be a little more involved than I originally thought (get ready for some math!) but I got it figured out and shared all of the details in this tutorial. I also included a tutorial for how to cut any angle on your miter saw, which is a skill I'm excited to have for future projects!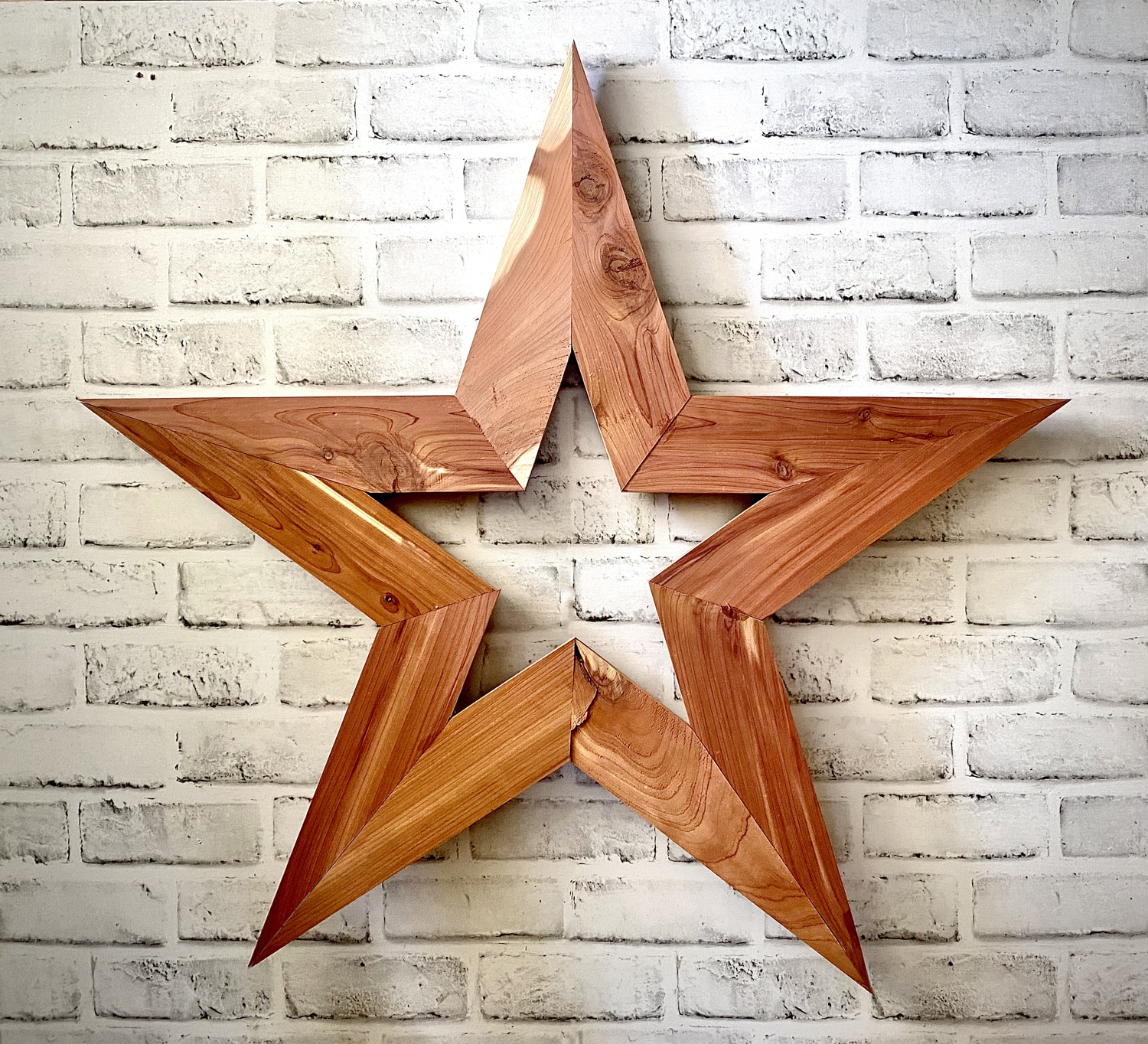 Step 1: Gather your Materials
To make this outdoor wooden light up Christmas star, you will need:
Step 2: Make sure you have enough stock to make (10) 20″ long, 4″ wide pieces.
Since I used cedar that I had on hand to make this wooden star, I needed to dimension the pieces down to 20″ long and 4″ wide.
Tip: if you don't want to rip your boards to dimension them, you can buy stock off the shelves at any big box store with these dimensions.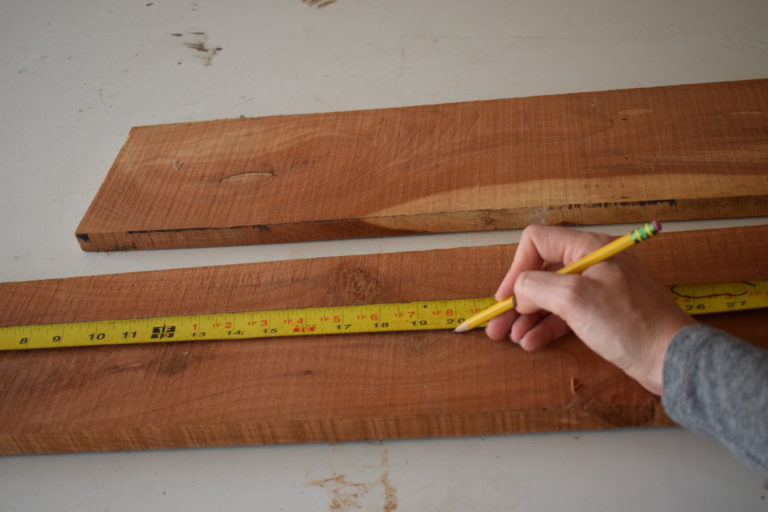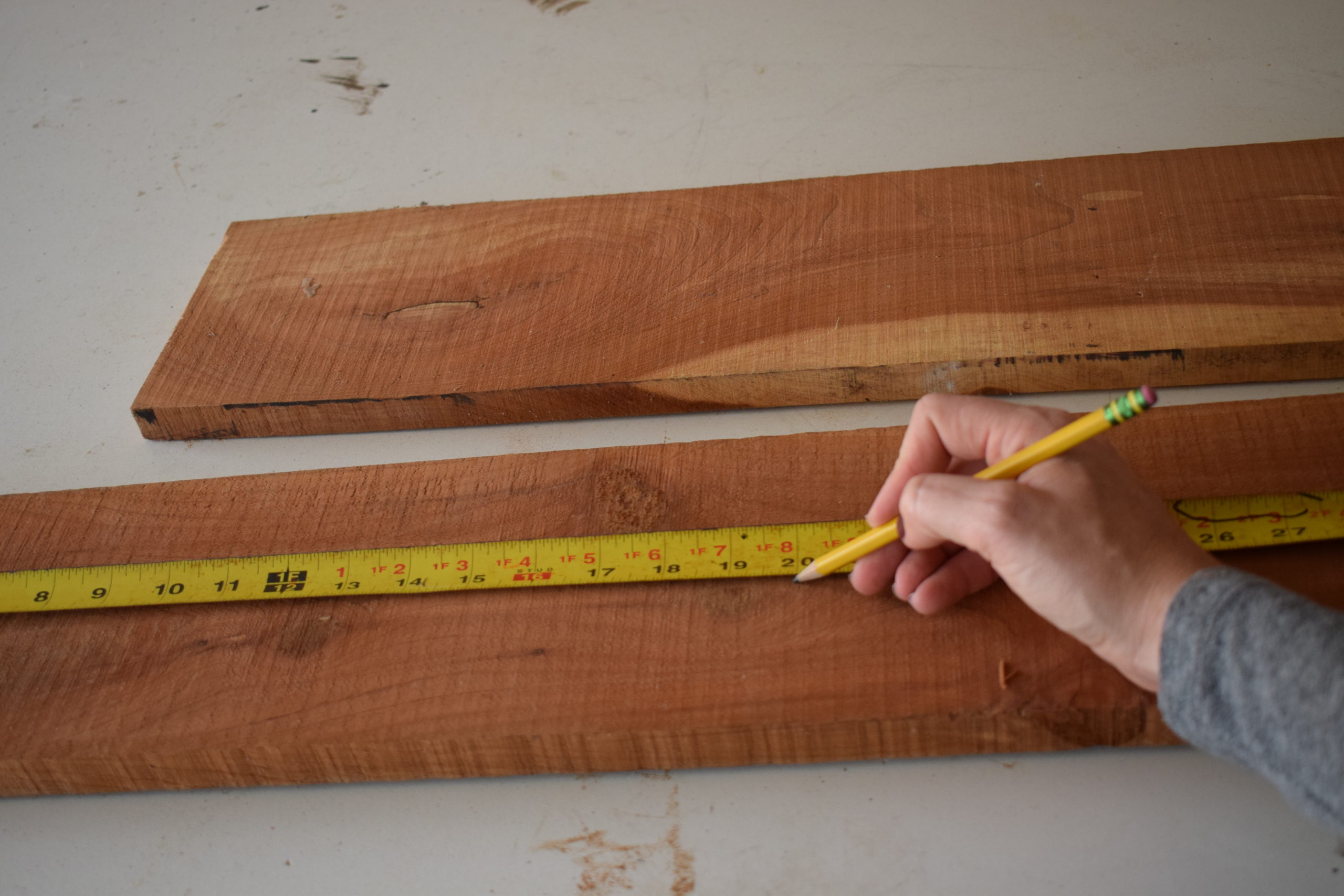 Since these cedar boards were rough sawn, I ran them through my planer to smooth the surface. By doing this, I was also able to make sure they were the same thickness so that they fit together well when I assembled the wooden star together.
If you're wanting to make a star with reclaimed wood or make a pallet wood star, you will need to make sure they are all the same size and thickness.
Q: Why is cedar good for outdoor use?
A: Cedar is great for outdoors because it is rot and bug/insect resistant. It also has a natural resistance to decay and moisture. Because of this, cedar is a good option for this outdoor 5 point rustic wooden star, especially when it is sealed with Spar Urethane.
Step 3: Cut (10) pieces, each 20″ long
Measure your first cut at 20″. You will make this cut on your miter saw.
I'm using the Dewalt Dual Bevel Sliding Compound Miter Saw and it's been a game changer for almost every project I do. It's worth the investment, especially when you build a work station to go with it (I purchased and built these plans awhile back and it was such a good investment).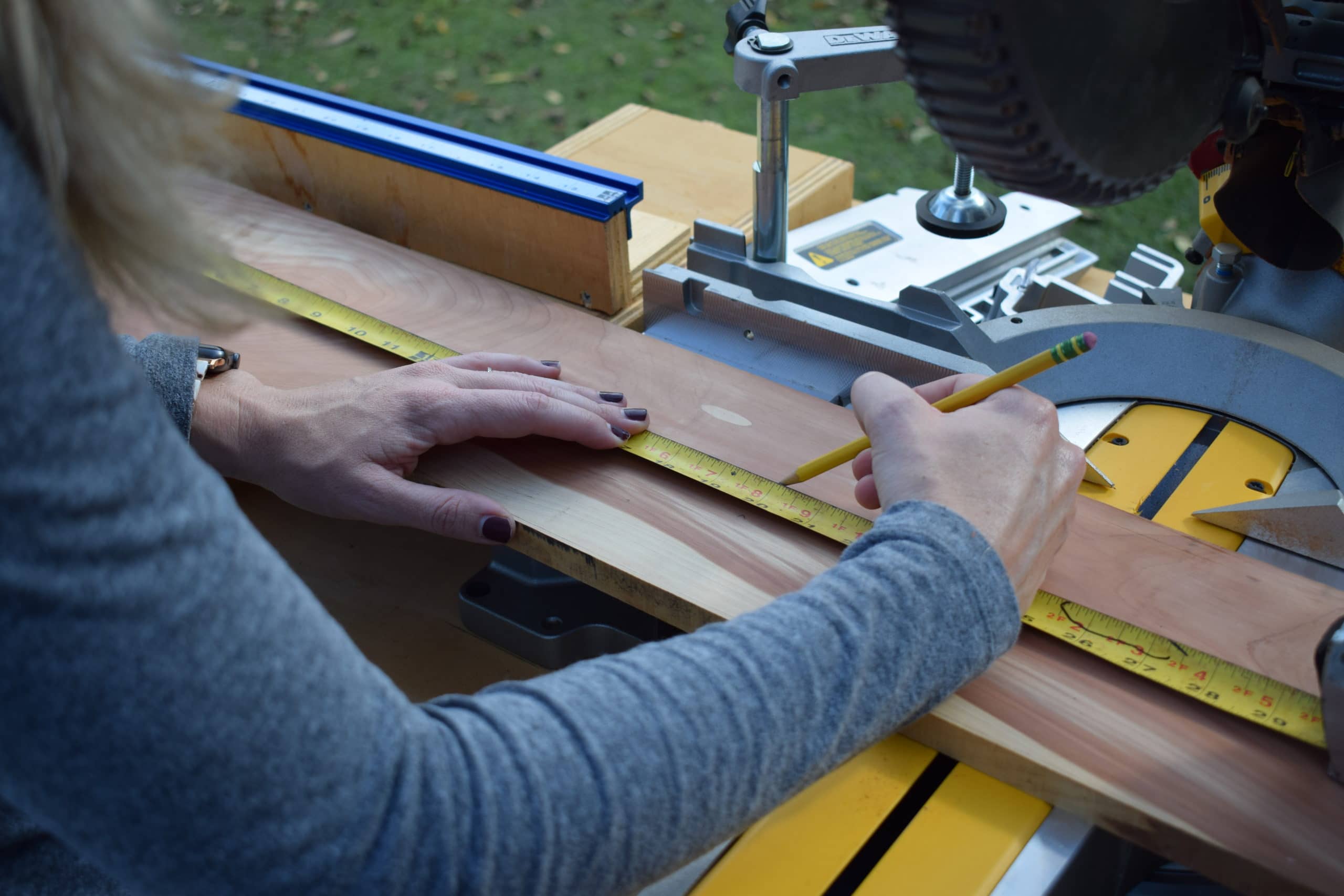 In order to make repeatable cuts on your miter saw, install a stop block on your saw fence for the wood to butt up against. This is the stop block I have, but you can just clamp a piece of scrap wood to your saw fence and use that as a stop block.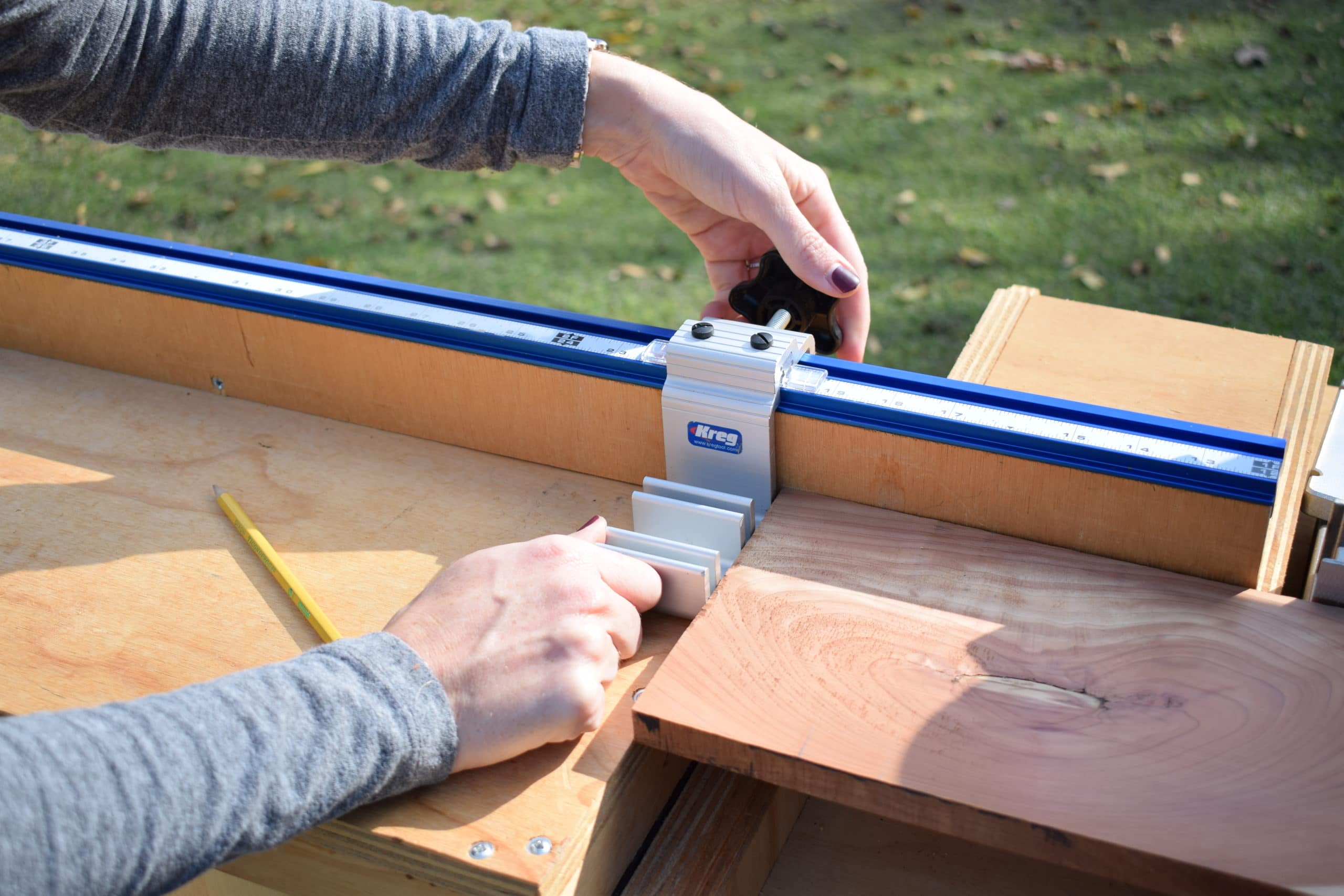 Cut your (10) 20″ pieces.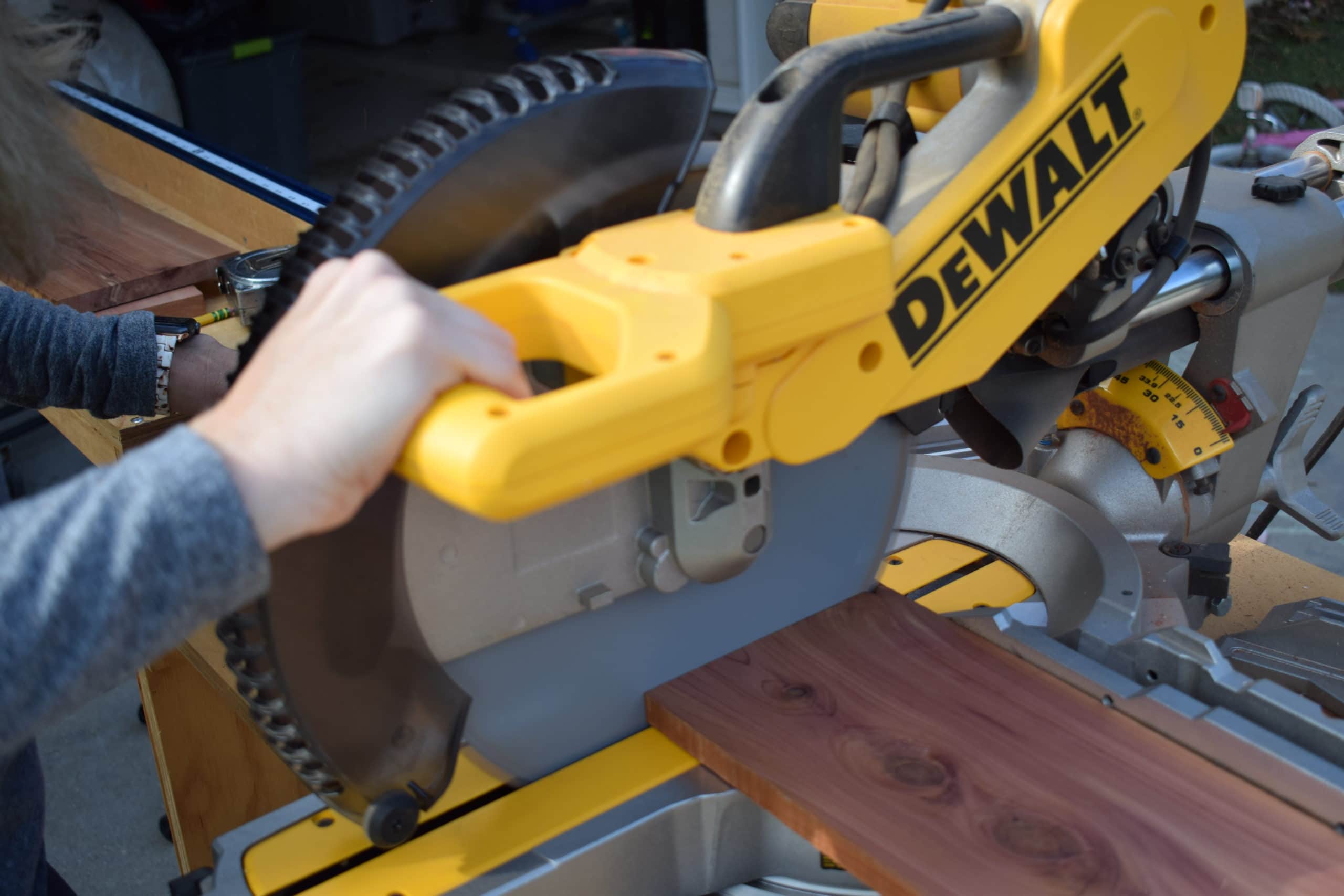 Like I mentioned before, I dimensioned wood I had on hand. So, I ended up only cutting 5 of the pieces 20″ long and ripping those 5 pieces into two pieces each using my table saw. This gave me the 10 pieces I need to make the wood star.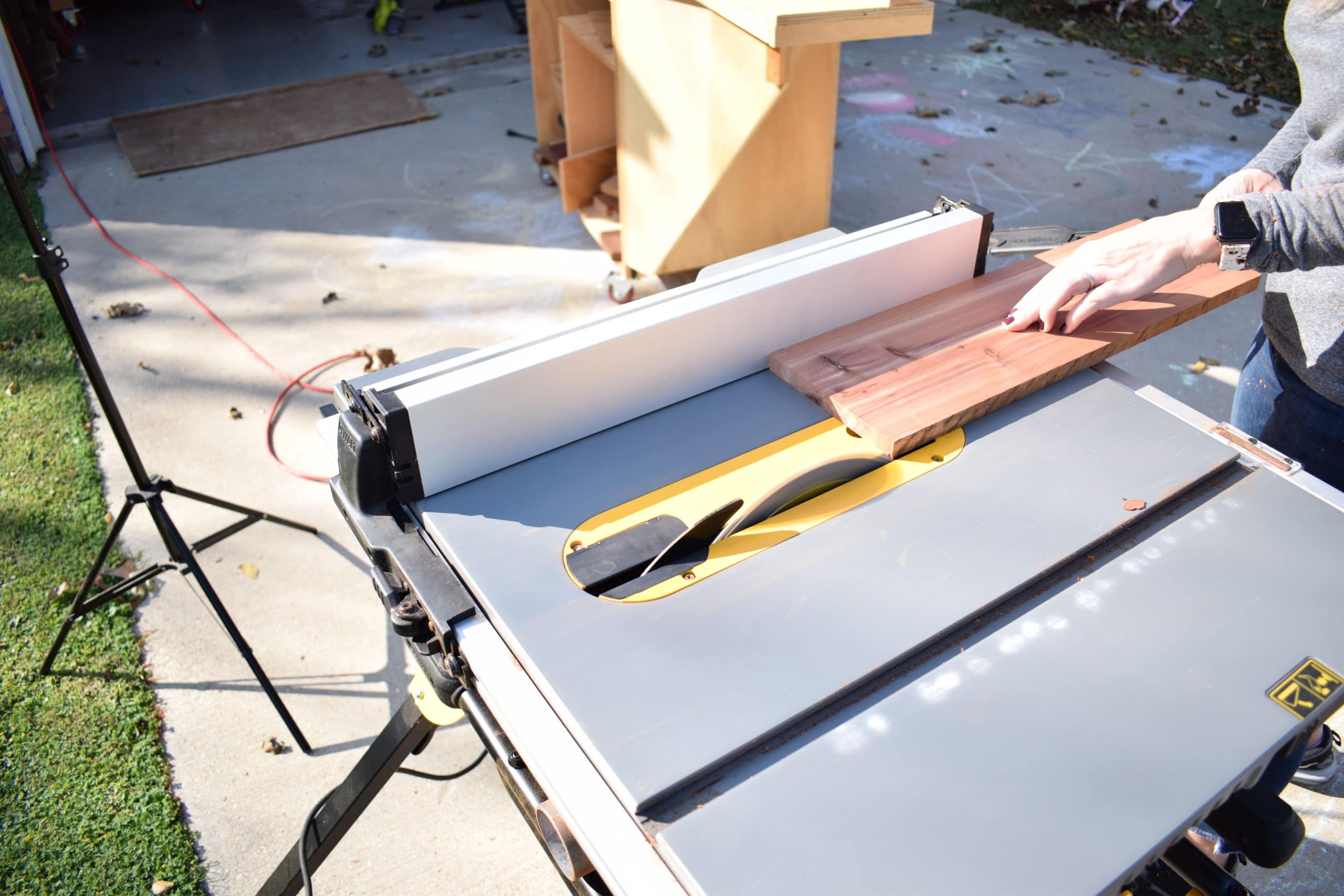 Step 4: Cut the angle of the star
Ah, the angles of the star. They were a little (ok, a lot) more confusing and involved than what I expected, but I'll do my best to explain them to you! Luckily the first angle is no big deal on a miter saw.
RELATED: For a deep dive into how to cut any angle on your miter saw, check out this post.
Q: What angles make a wooden star?
First, let's talk about the angles of a star. I created this visual to help explain how to cut angles and degrees of a wood star.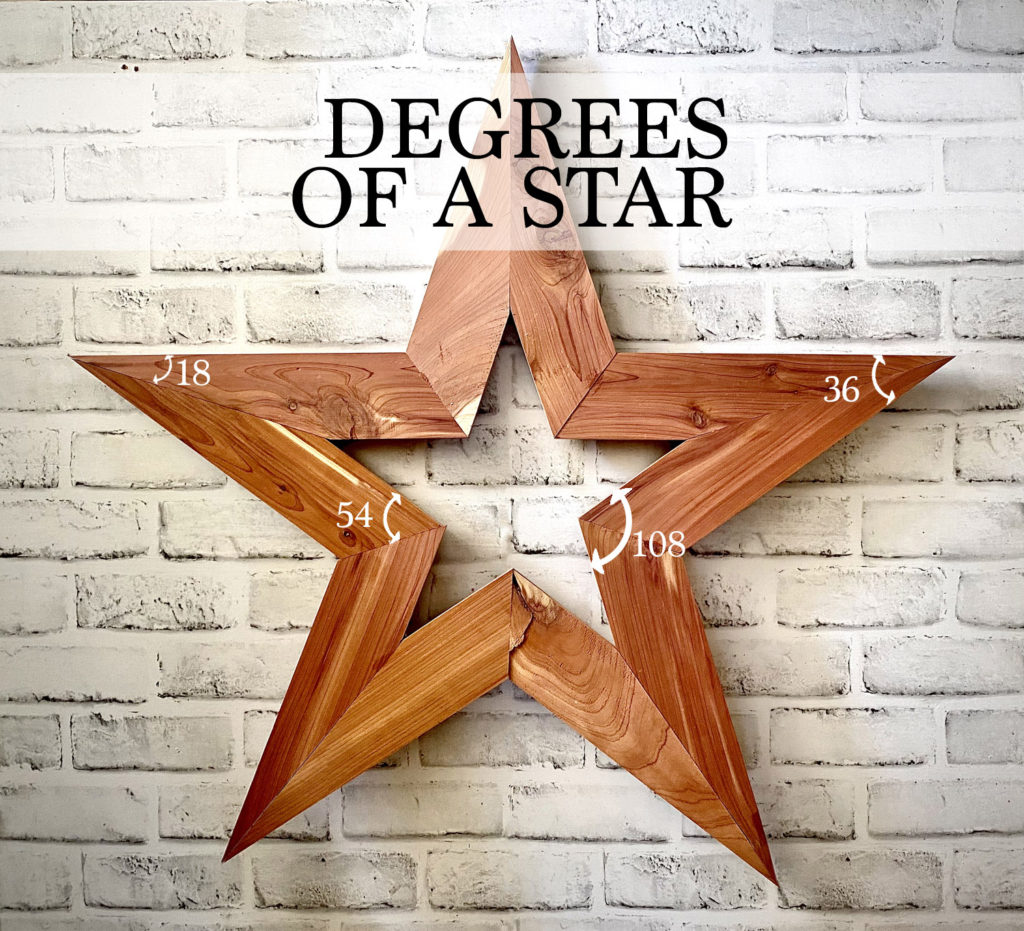 You will make the exact same angle cuts on all 10 boards. So, you will have 10 identical pieces.
I find it easiest to clearly mark on each board what you will be removing. There's nothing worse than messing up a cut and having to re-dimension the boards. Remember the whole 'measure twice, cut once'? Totally applicable here.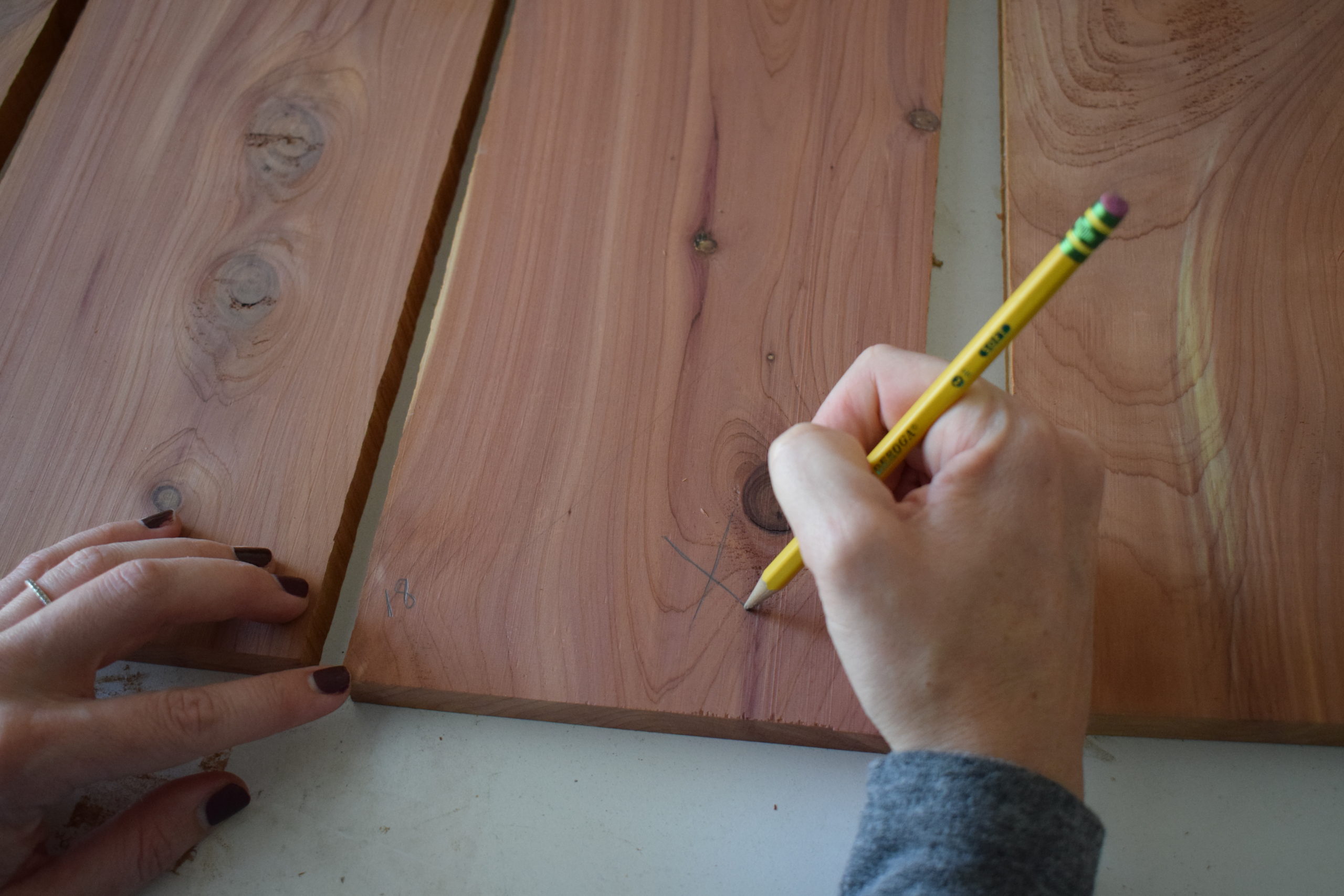 Cut a 54 degree angle on all the boards on your miter saw. To do this, set your angle on the miter saw to 36 degrees when it is rotated to the right. This is because 90-52=36 degrees.
I also want to point out that squaring up your saw is so important for a project like this. If your saw is off by a tiny amount, that tiny amount times 20 cuts = a janky star. Trust me on that math.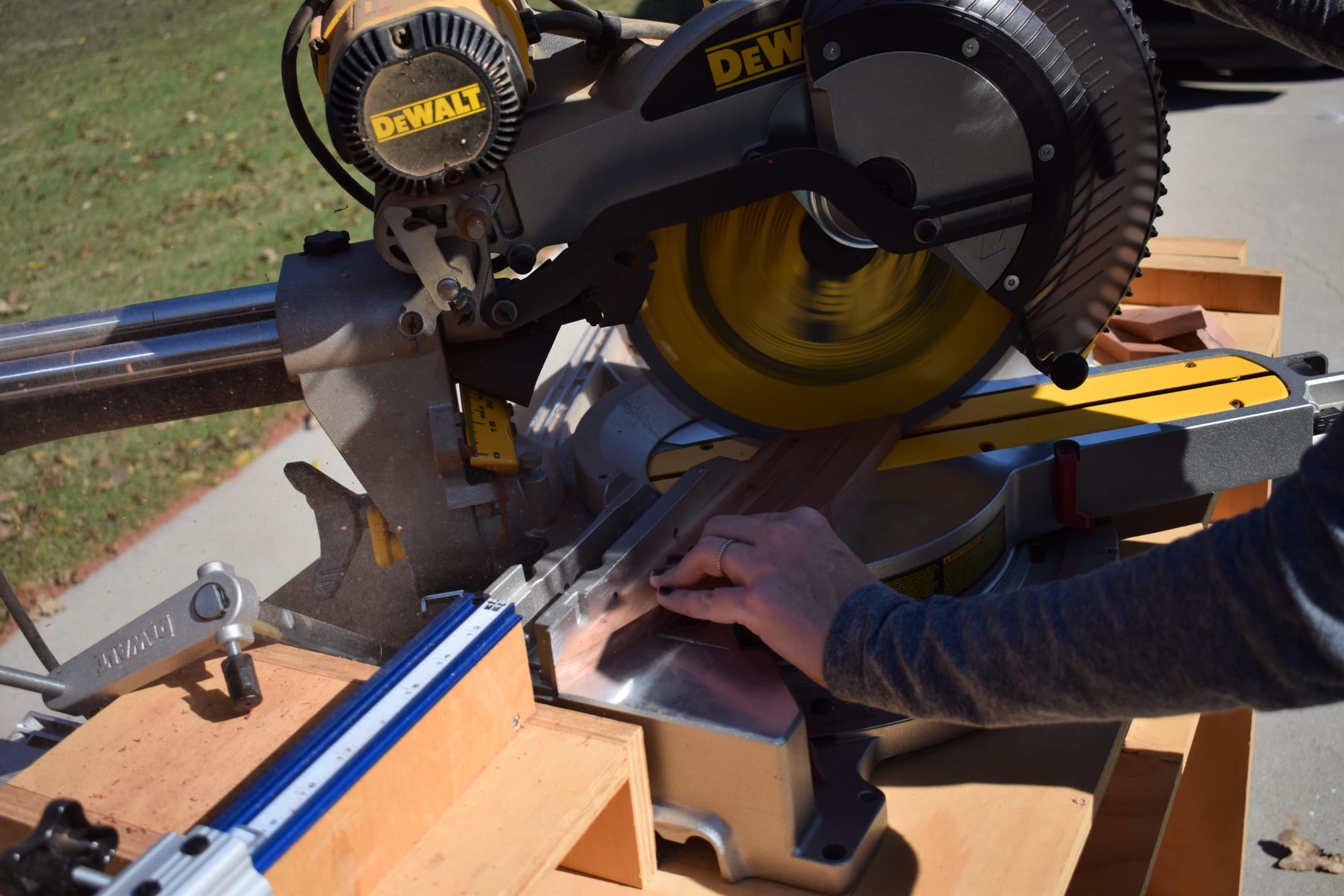 Alright, now for the tricky cut. This angle needs to be cut at 18 degrees. Miter saws don't have that angle capacity, so we need to make a jig to safely make cuts on a miter saw at any angle.
Luckily, all you need is a scrap piece of wood!
RELATED: For another method of making miter cuts, check out this tutorial on the Kreg Adaptive Cutting System. It might be a great option for what you need!
The first step to making extreme angle cuts on your miter saw is to clamp the scrap piece of wood to your saw/fence to make the jig.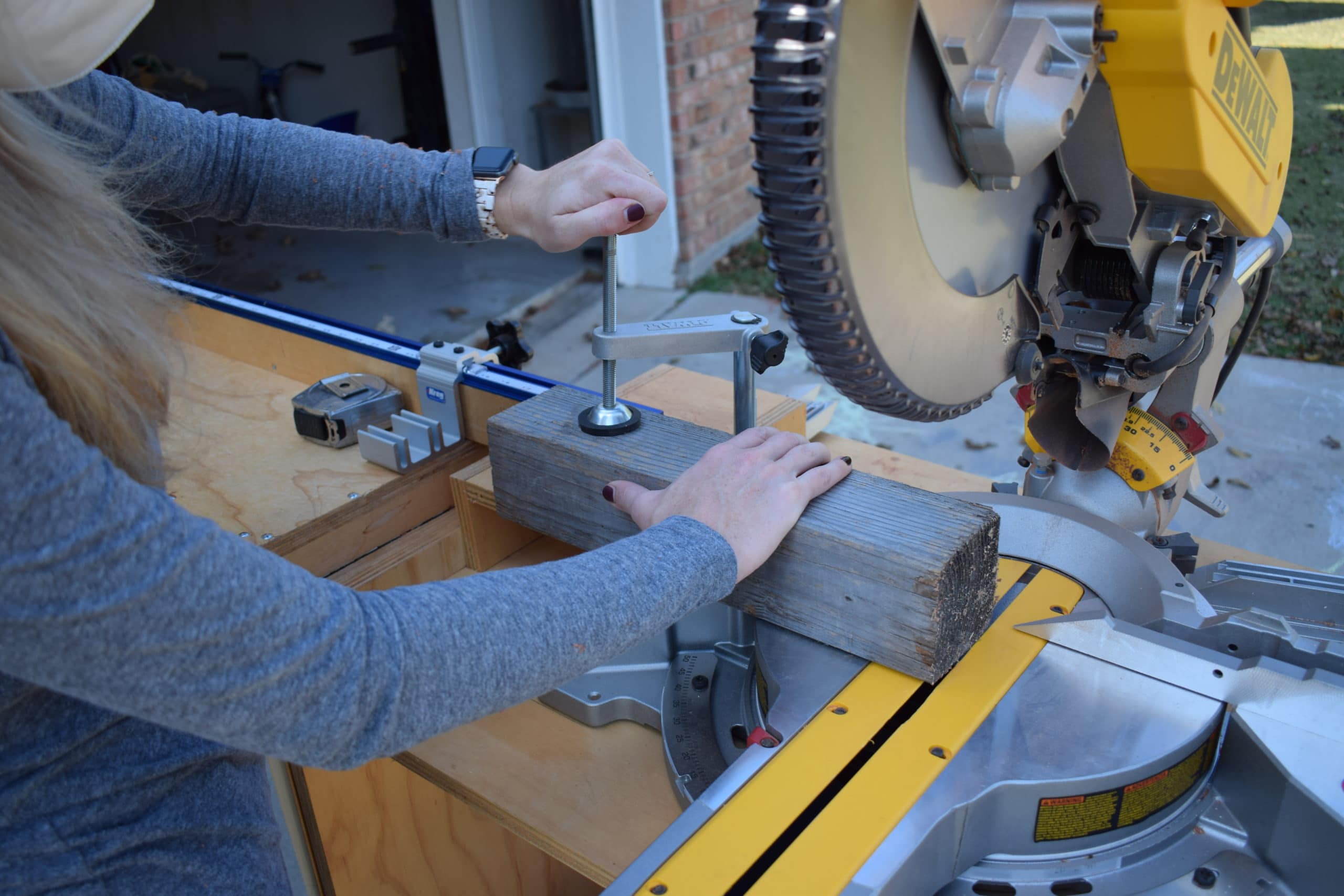 Cut a 45 degree angle on the scrap piece. Leave it clamped down.
The most important part to understand is this scrap piece will now become your new fence. So, when your blade is set to 0 degrees, the fence is now at 45 degrees in relation to the blade, instead of the normal 90 degrees.
Now that your cut is made, leave the clamped scrap piece there.
You can now change the angle of the blade. Remember, your new "fence" (the scrap piece) puts your blade at 45 degrees to the fence instead of 90 degrees to the fence when your saw blade is set to 0 degrees.
You are now able to cut any angle cut on your miter saw. You can cut extreme angles, more degrees, or less degrees than what your miter saw would normally allow.
For example, we need an 18 degree cut to make this star. In order to make this cut with your jig in place, you will subtract your desired degree of cut from 45 and set your saw to that number.
So. To make an 18 degree cut, set your blade to 27 degrees with the jig in place. This is because 45-18=27 degrees.
Notice the orientation of the board below (concerning your previous 36 degree cut) when you make this 18 degree cut.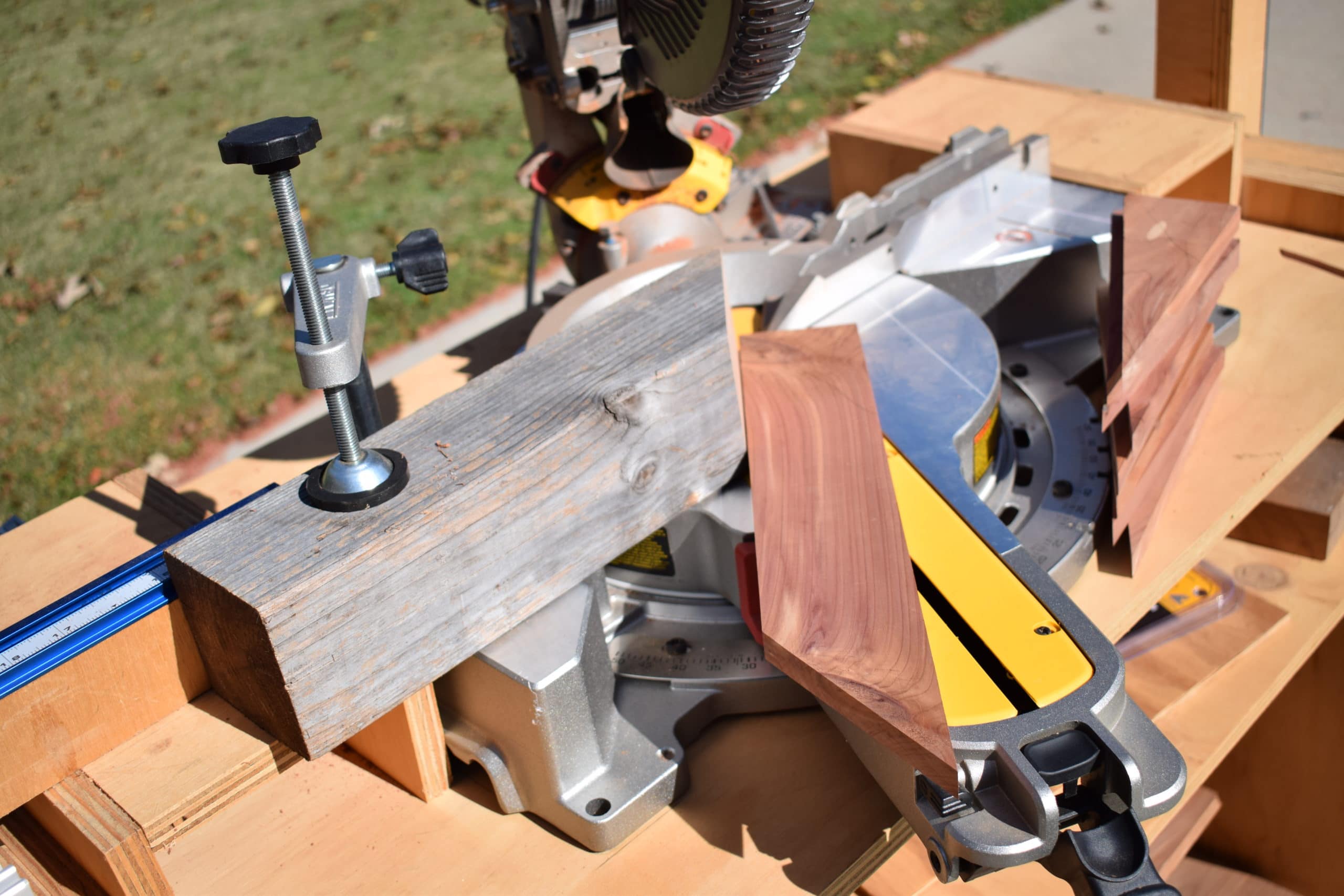 It's important to note that when you make a jig like this, it will be hard to keep your hands out of the danger zone on your miter saw. So find a way to clamp your piece before you make the cut.
Don't make unwise cuts. Stars are great and everything, but keeping your fingers is even better.
Clamp your piece before you cut it.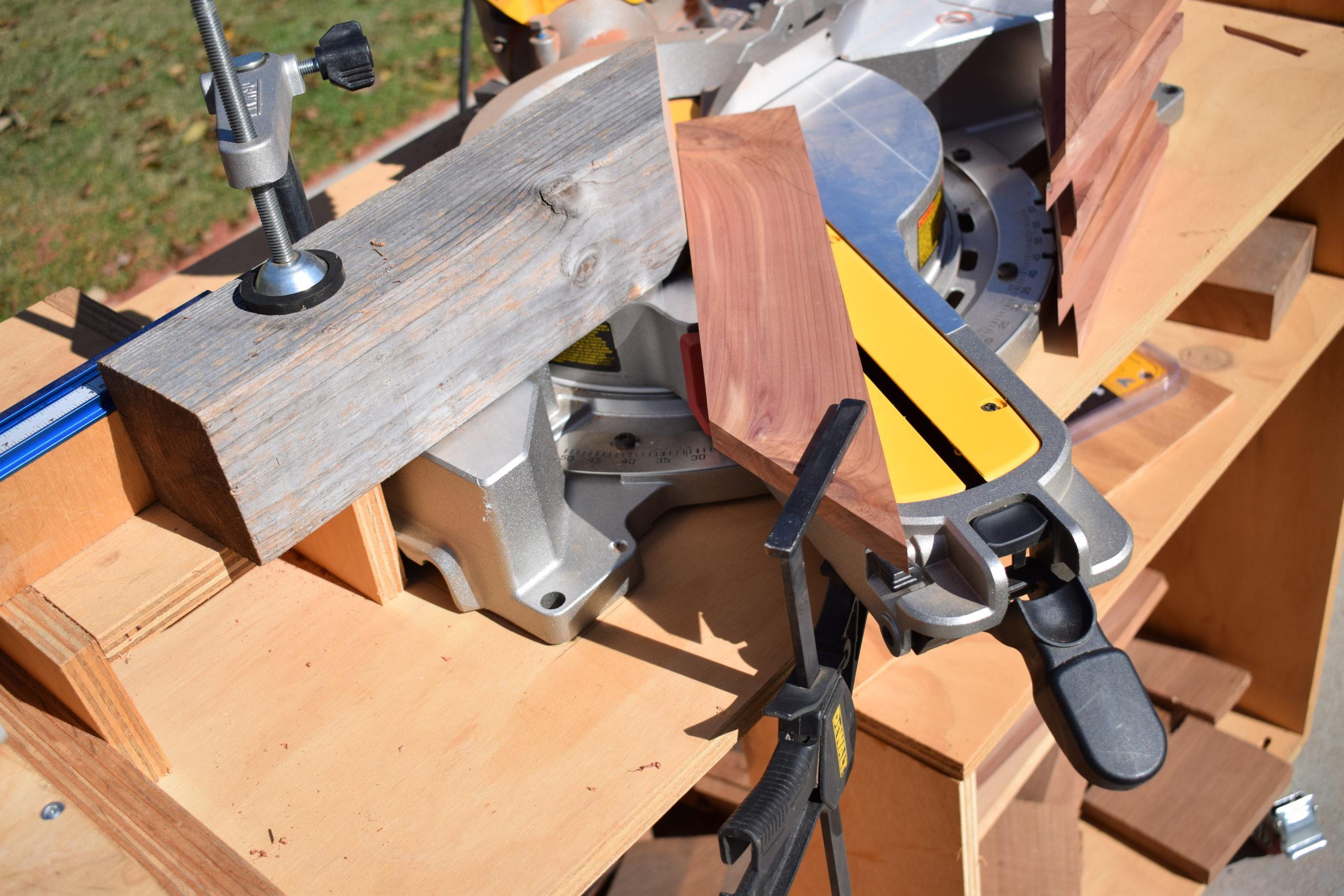 Cut this 18 degree angle on all 10 boards . This is also where I like to clearly mark on the board the part I'm cutting before I make the cut. It would be easy to accidentally flip the board over and cut the wrong side.
Again, notice the orientation of the board below (concerning your previous 36 degree cut) when you make this 18 degree cut.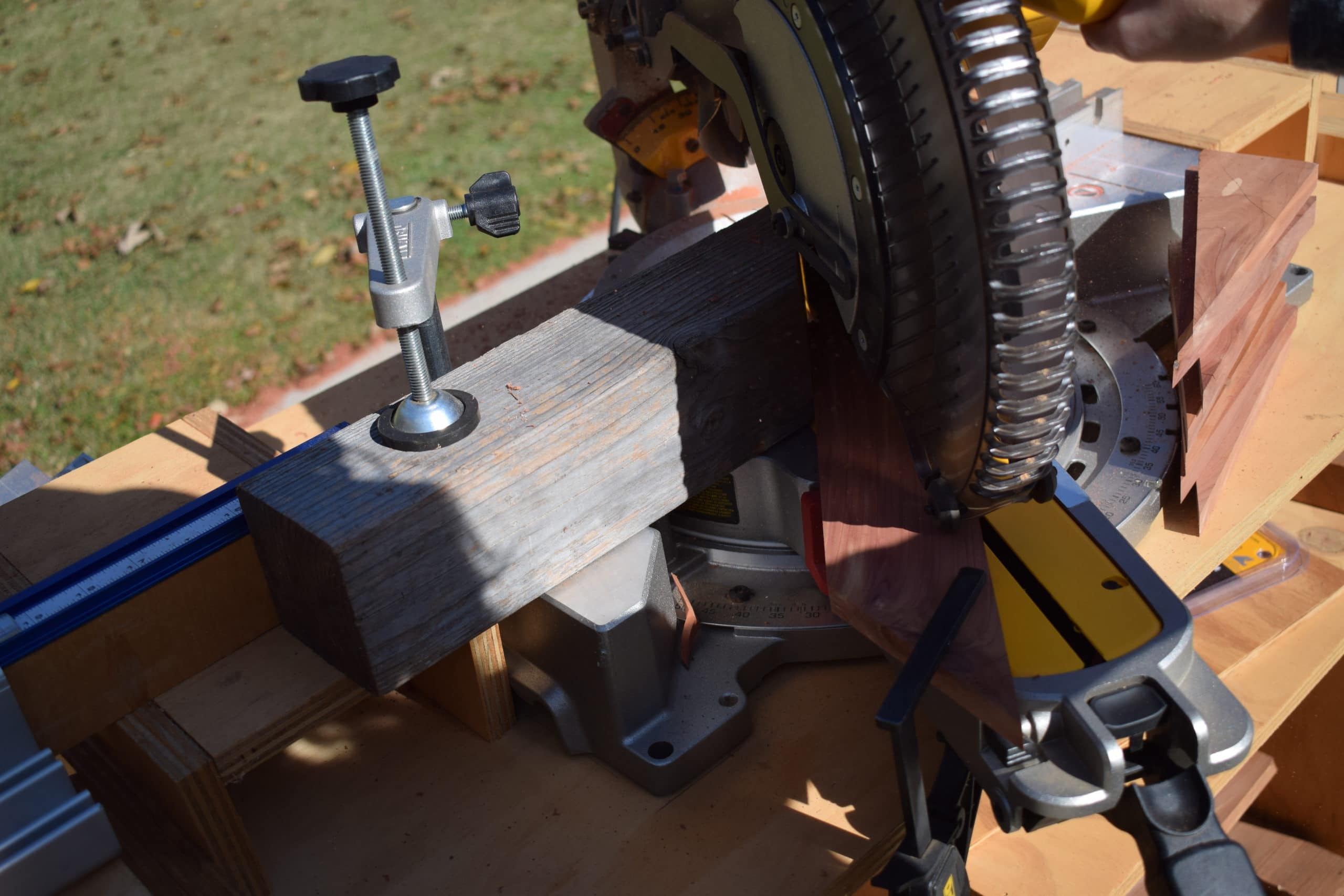 Do that 10 times, until you eventually have 10 identical pieces to make the wooden star!
Step 5: Assemble the Wooden Star
Piece together the star and mark where you will join the pieces together.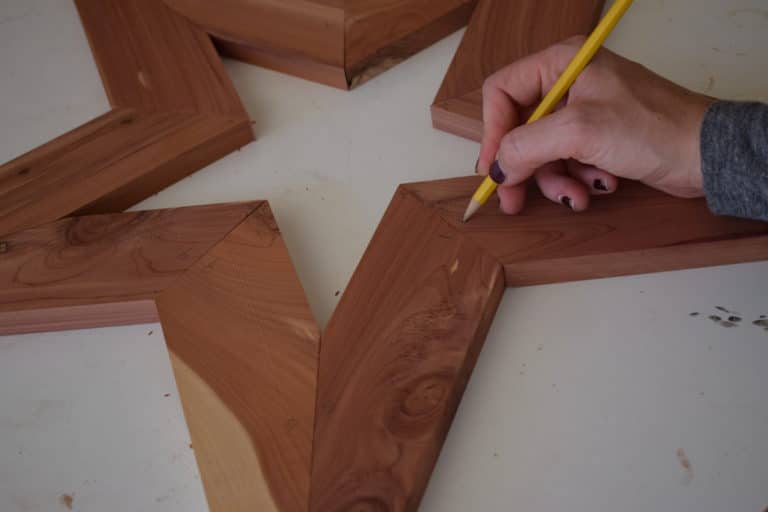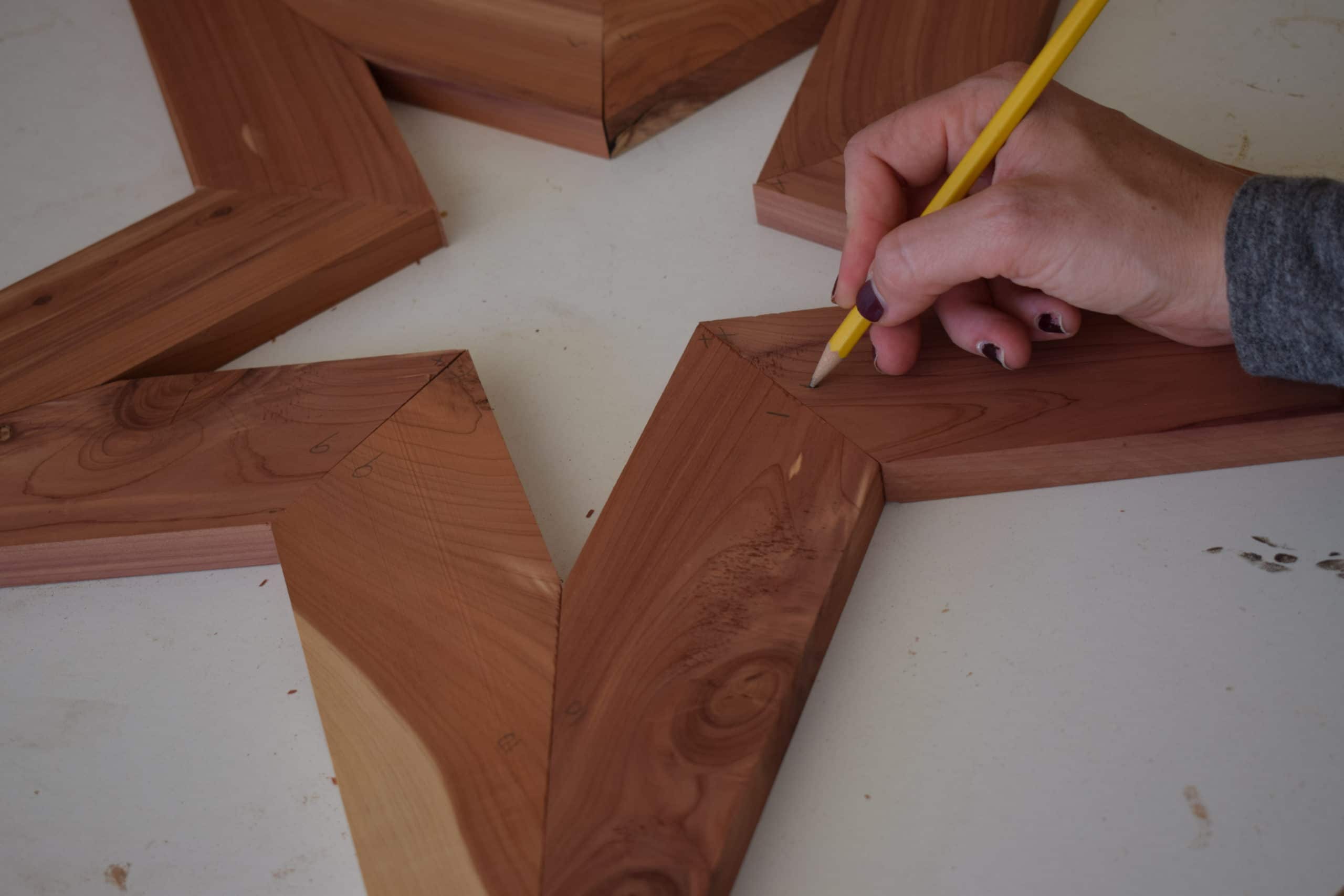 Using a Kreg jig, drill your pocket holes where you made your marks.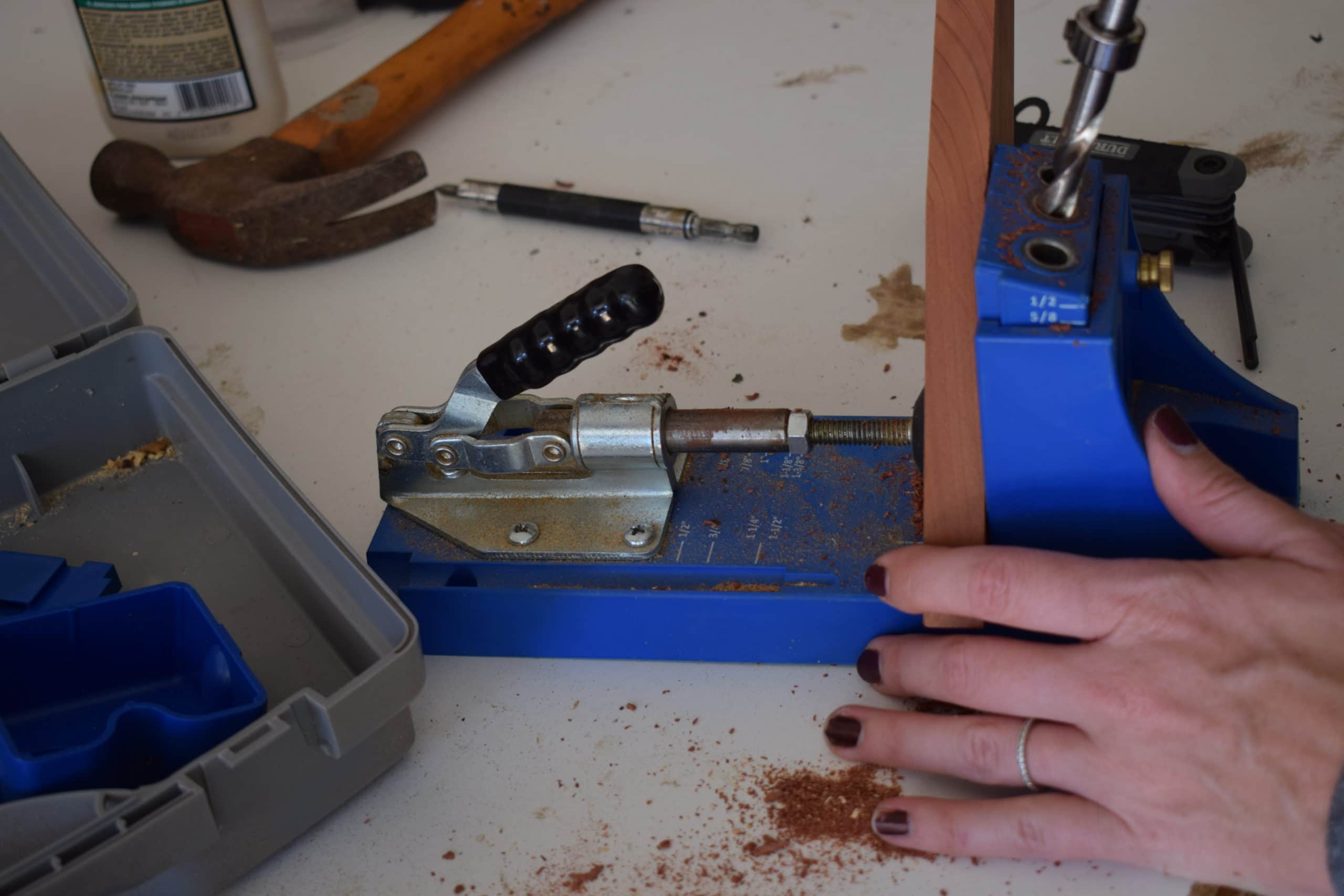 When you are assembling the star, use wood glue rated for outdoor use (my favorite is Titebond III).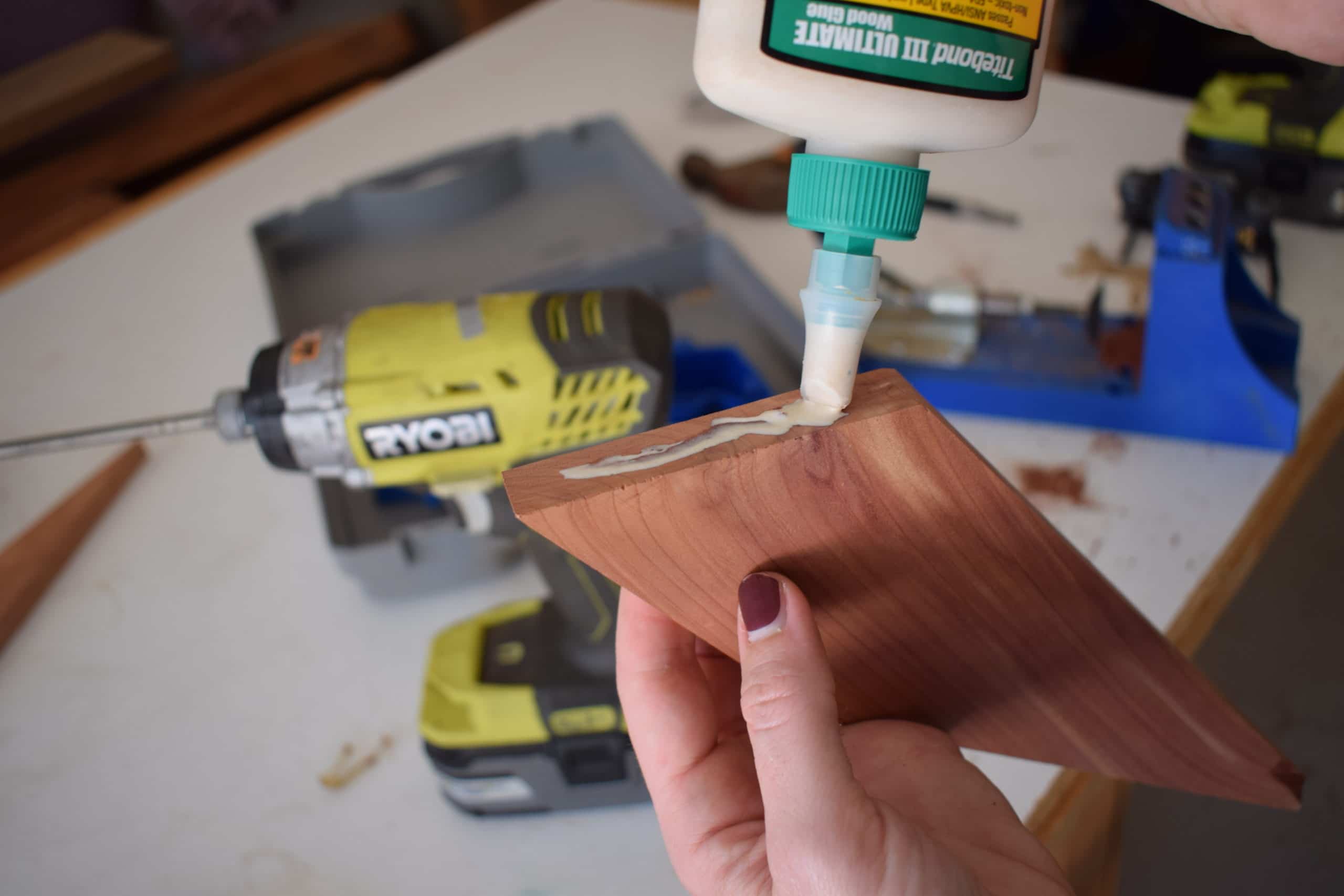 Attach the pieces using 1 1/4″ Kreg Screws.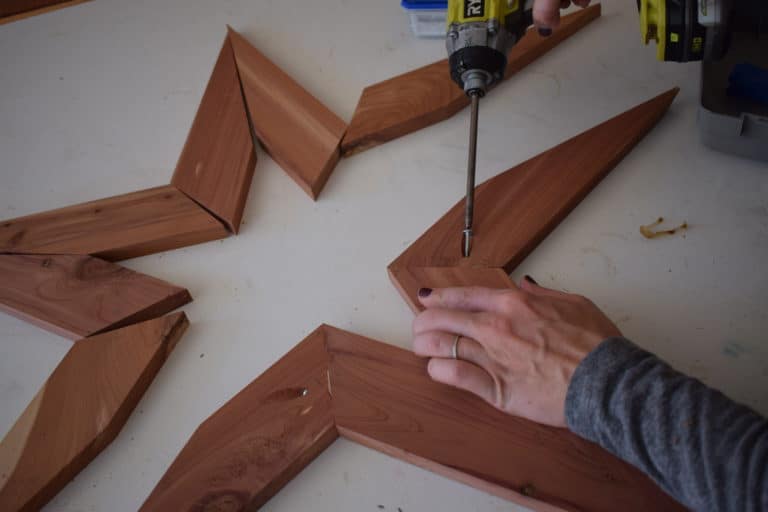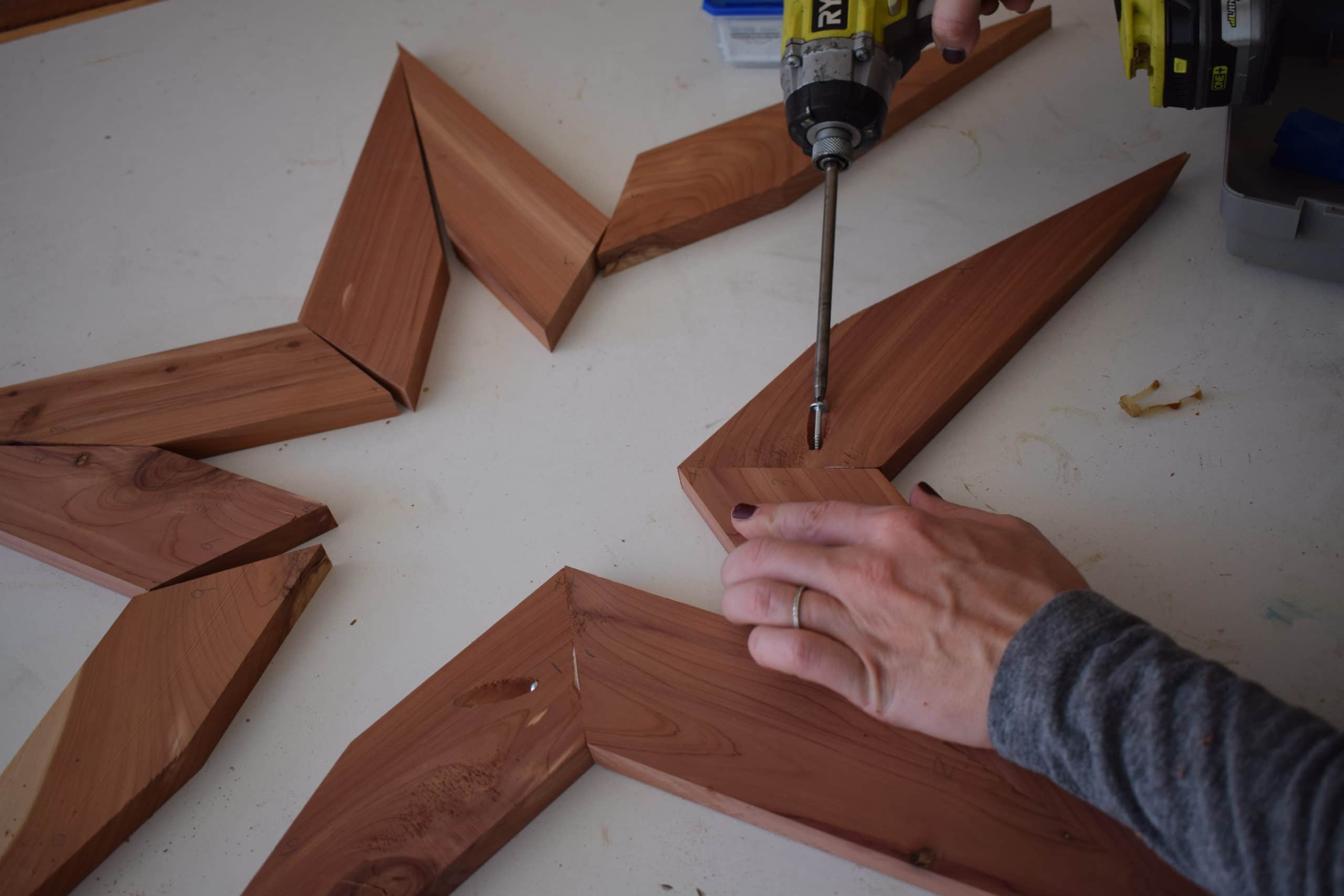 Work your way around the star, assembling with glue and 1 1/4″ Kreg Screws.
Step 6: Attach lights to the wooden Christmas star
I'm using this star as an outdoor Christmas decoration for my home, so I bought these battery powered waterproof warm white LED lights with a timer. Since this wooden Christmas star will be outside, I needed something waterproof. I also didn't want a power chord going all the way up to where we will hang it, so I bought battery powered lights with a remote to light up the star.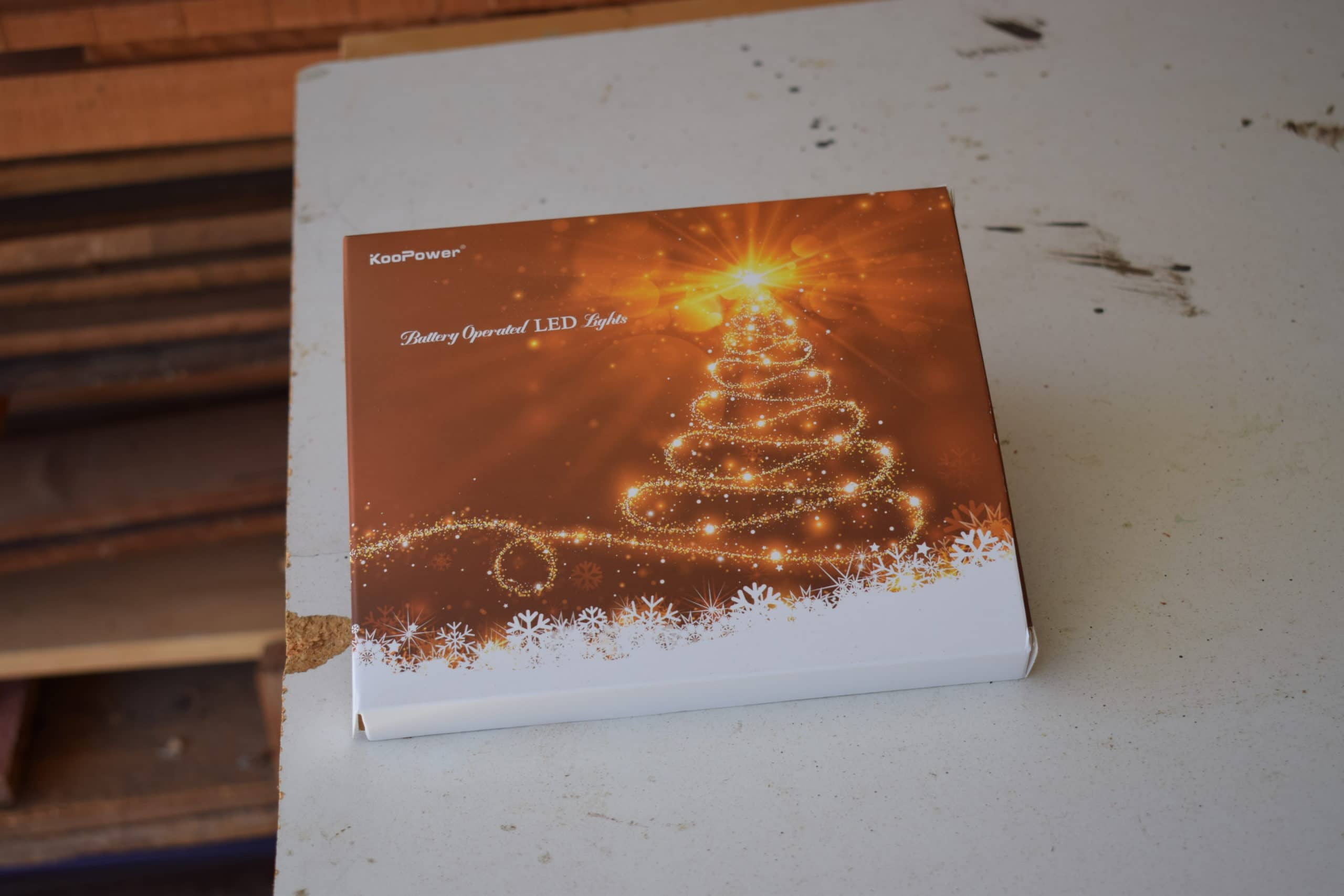 Using my stape gun, I stapled the string lights on the back.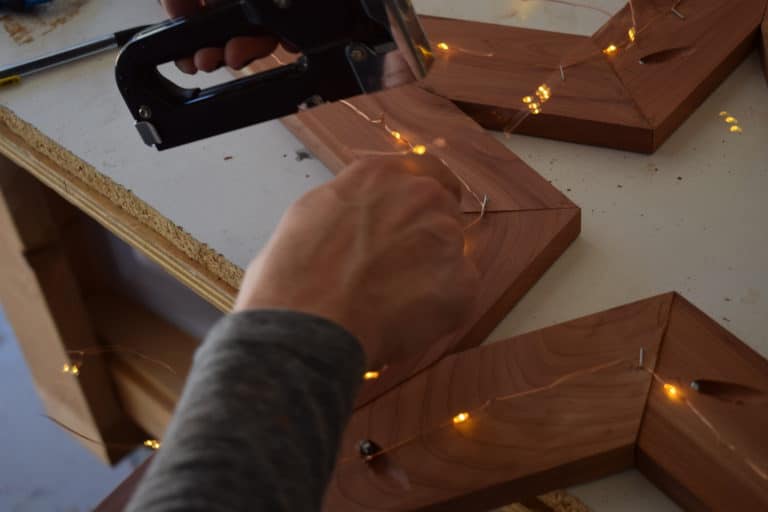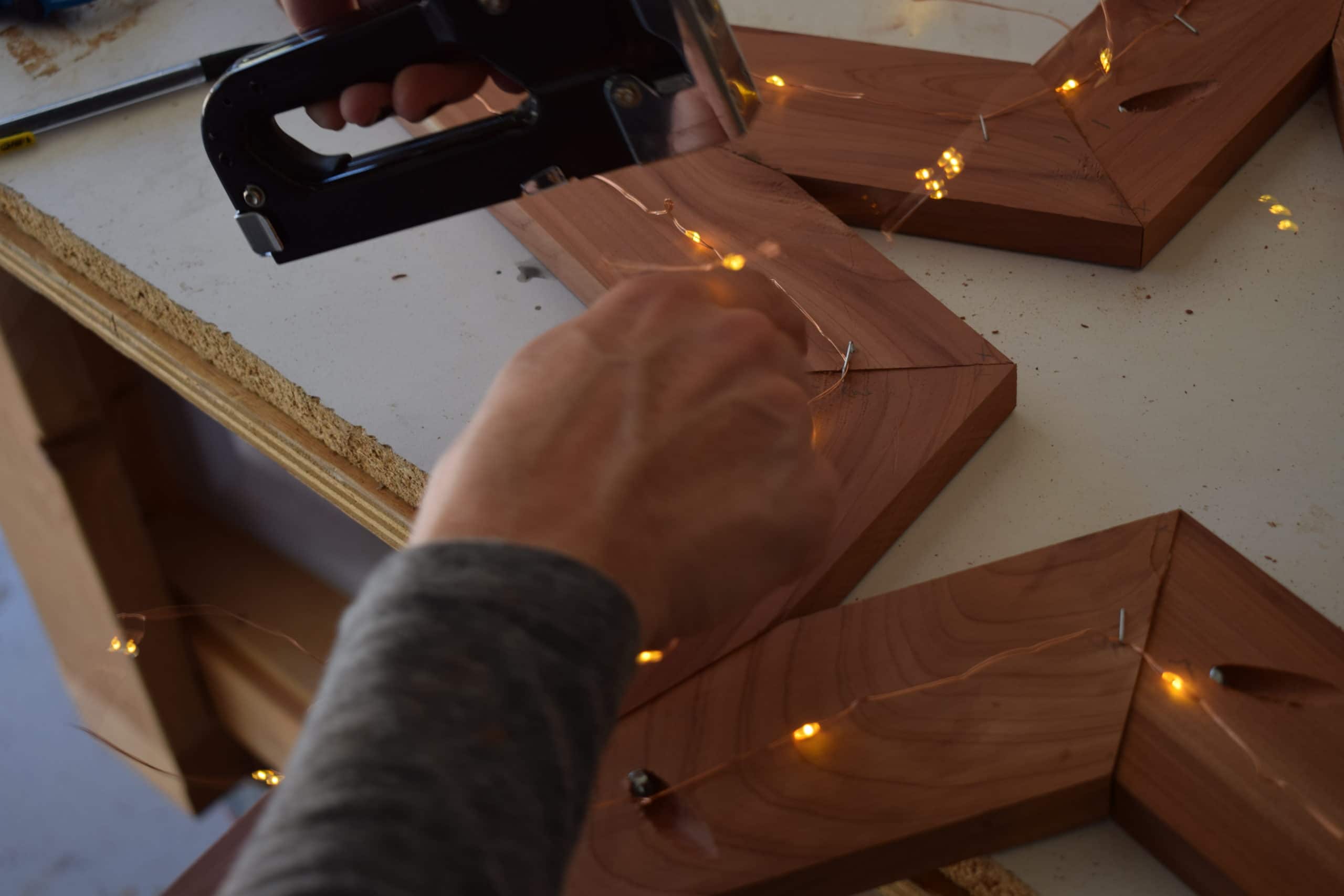 I also secured the battery pack to the back of the star.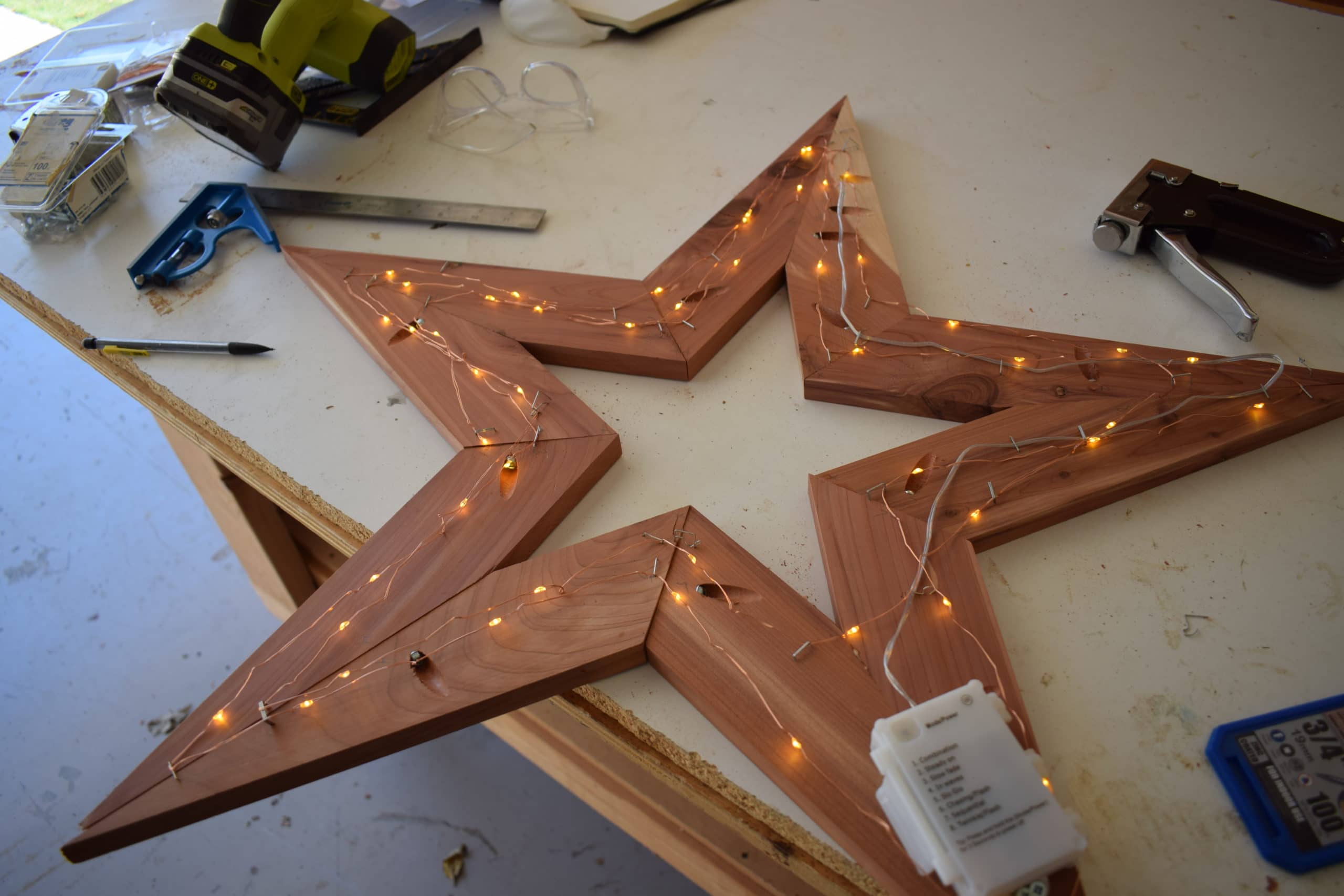 Step 7: Seal the wooden star for outdoor use
And now for the last step. Seal the star with a spar urethane. This is the best sealer for something you will be putting outside.
And there it is! A tutorial for how to make a 5-point lighted Christmas star out of wood. I would love to see pictures if you make your own!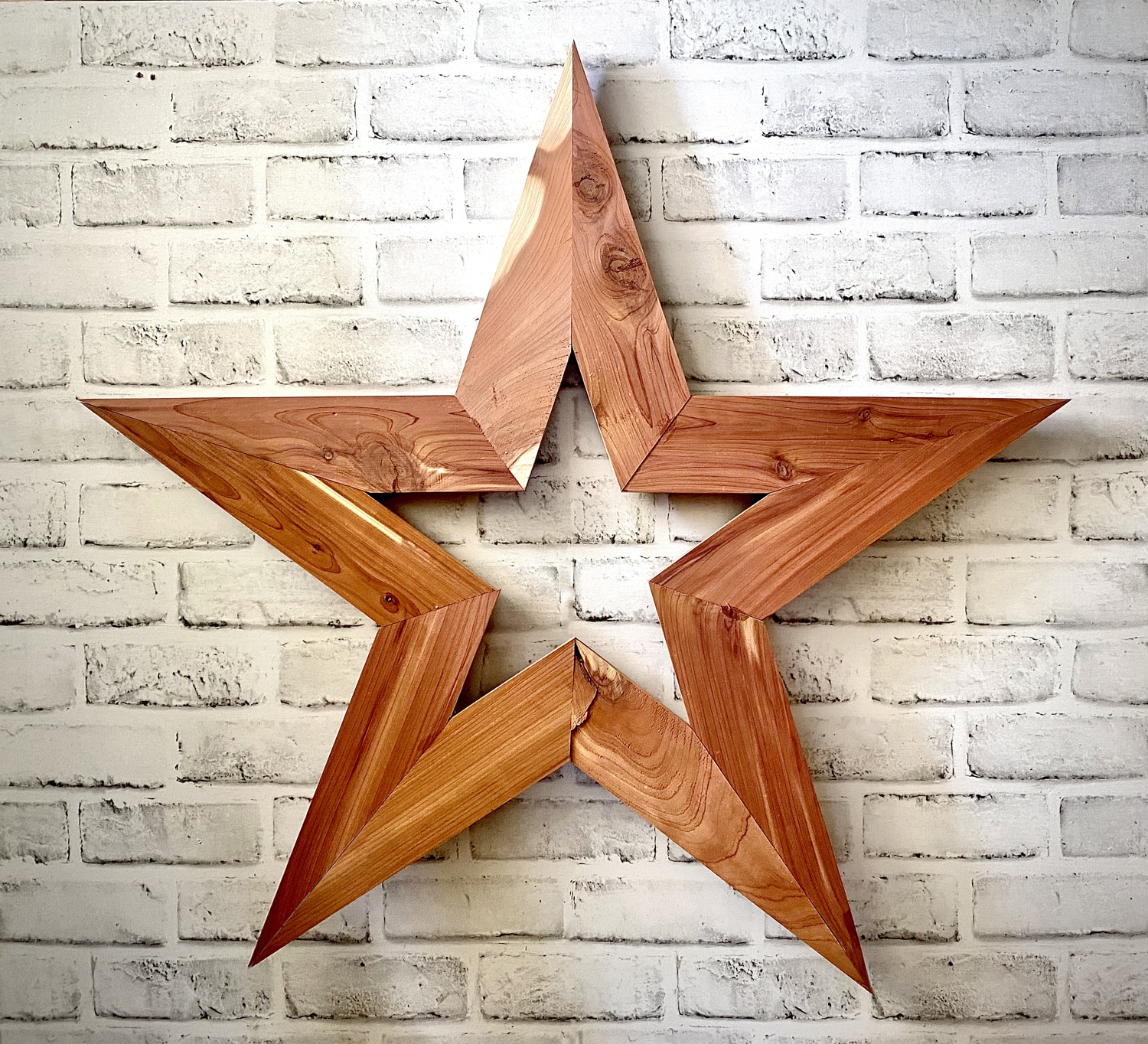 Check out the Web Story for this Light Up Wooden Star!