In this article, I will share our master bathroom floor plans with you. We designed this master bathroom with our architect and it's safe to say that every square in was poured over. I always knew that designing a home from the ground up would be quite the project, but I definitely underestimated exactly how detail oriented one needs to be when designing their own home.
During the home building process, I found it extremely helpful to see actual homes, where actual floor plans were provided, and reviews from people who actually lived there. So, that is my goal with this article. I'll cover the ins and outs of our master bathroom floor plan, with hopes that it helps you in your home building or remodel journey!
I will be discussing why we laid it out the way we did and what led to those decisions. I'll also provide an update as to how well we like it now that we have lived with it for awhile. As a true review, I'll also share all of the details of things that I would change about it now.
When we were designing our new custom home, we took extra time in designing the master bathroom. You often hear that potential home buyers look at the kitchen and the bathrooms the closest, as those rooms can have the biggest impact on whether or not they want to buy the house.
We built this house knowing that we might sell it in the future, so I wanted to design the most functional floor plan I could. We needed to make sure that it would work for most families in the event that we sell it in the future.
Idea for Master Bathroom Floor Plan
Let's start with the big picture of our master bathroom floor plan. The floor plan below shows the whole master suite layout, so you can see how the bathroom relates to the master bedroom and master closet.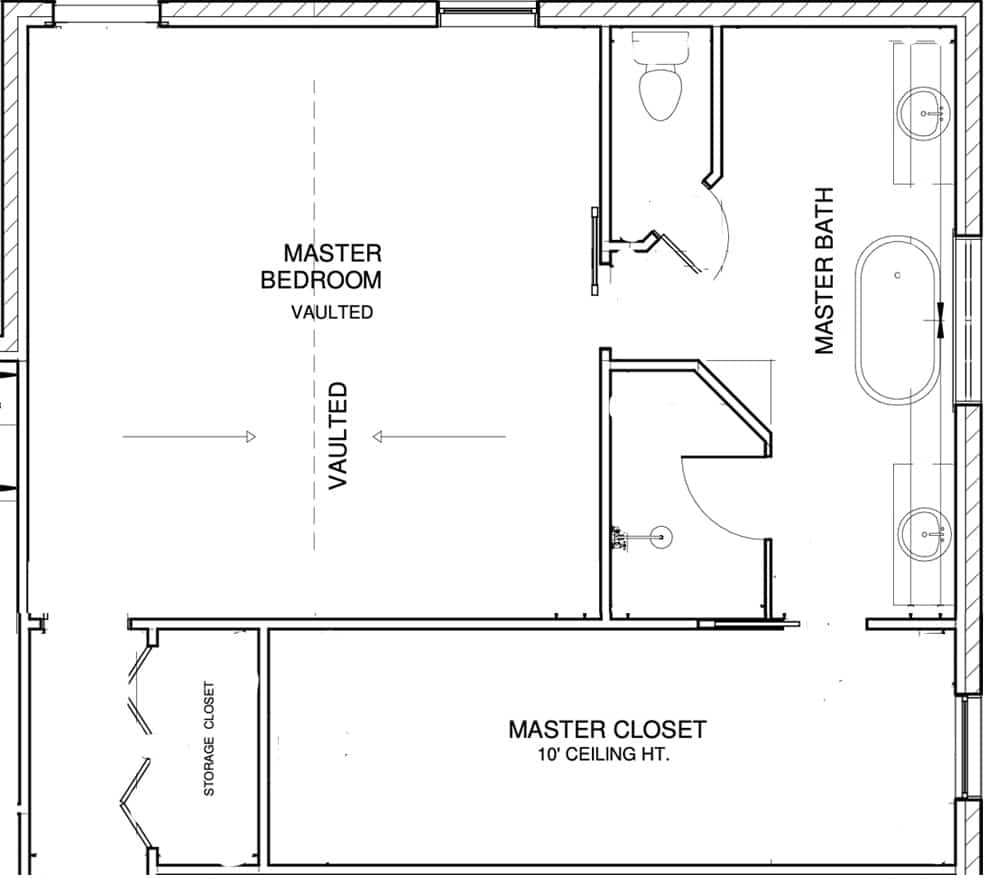 You'll notice that the master bedroom, bathroom, and closet make a big square. This would hopefully make it easier to incorporate into your new home designs.
The whole primary suite square footage is a little under 650 square feet.
Alright, let's dive in to just the master bathroom section of the floor plan. The master bathroom itself takes up about 180 square feet. It measures approximately 10 feet by 17.7 feet.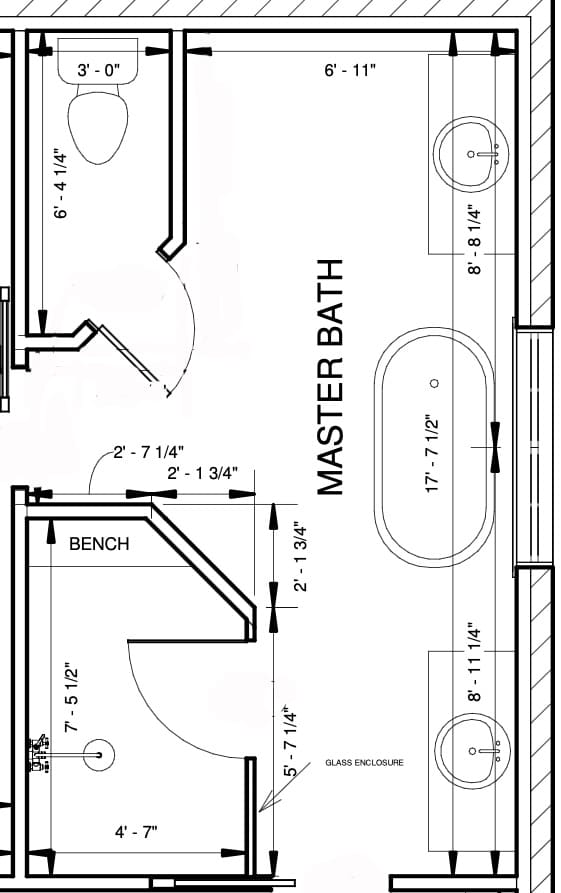 Vanity Layout in the Master Bathroom
The first decision we made when designing the master bathroom was the layout of the vanities, and also how many. In the end, we decided on separate his and her vanities, with a free standing tub in the middle.
I love how these turned out! Between the wall color and floor and shower tile, there is a lot of white in the bathroom. So, I wanted to soften the space up a bit with a warm wood tone on the vanities. In the end, I decided on white oak vanities.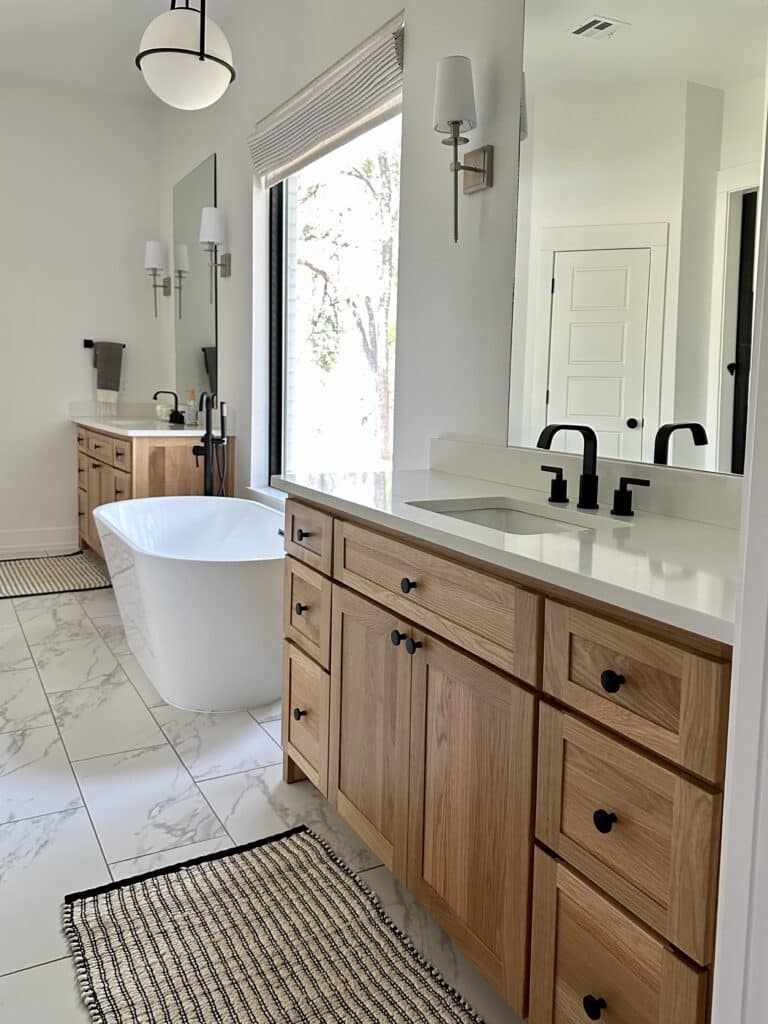 These vanities are actually RTA (ready-to-assemble) vanities from a company called Cabinet Joint.   It is such a great company and we are so happy with our vanities.  You can read all about them in this post in this article on the Best RTA Cabinets Made in the USA.
The main gist of the company is this: you can order custom sizes for cabinetry, along with many, many options for finishes or wood species. They provide all of the parts for things like kitchen cabinets, pantries, laundry room, and vanities. Really, anywhere you have a need for a cabinet, they have you covered. You will do the assembling yourself, and in the end, you will have beautiful, custom cabinetry for a fraction of the price. I highly recommend you check them out! They are a great way to save money when building a new home or remodeling an existing one.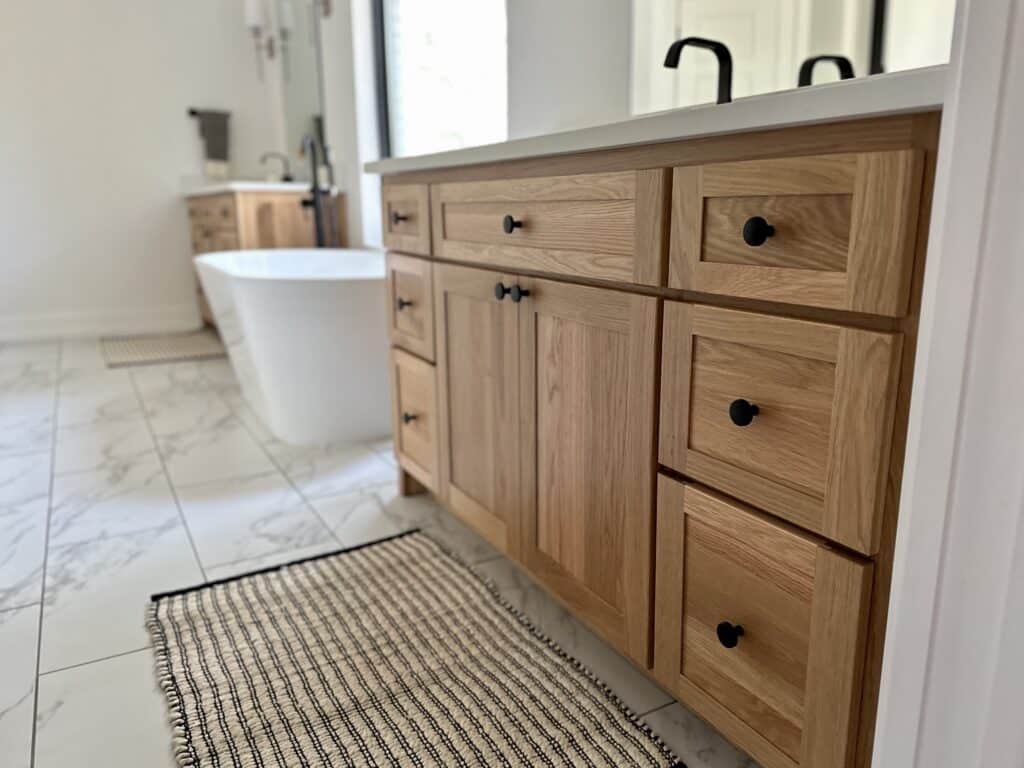 The width of the both vanities is 60 inches. This still leaves enough room on the wall for both vanities and a free standing tub. There is plenty of counter space, since we each get our own.
We were sure to specify that both vanities have an end that will be seen and need an end cap. So, that's something to consider if you go with this master bathroom layout.
All of the doors and drawers are soft close. We had our electrician install plugs into the large drawers on the bottom of both vanities. This added touch really took the custom aspect up a notch or two. I highly recommend doing that to your bathroom vanities!
The quality of the vanities is top-notch and we couldn't be happier with them.
Other common vanity layouts include one large vanity with multiple sinks (aka double vanity or double sink) or an L – shaped vanity with multiple sinks. You can also incorporate a knee space in the vanity so that you can have a stool if needed.
Walk-In Shower in the Master Bathroom
I love how spacious this shower is! We had enough room for the 2 shower heads. They are main, wall-mounted shower head, plus a rain shower head.
There are two storage nooks in the shower wall. Since this is a fairly large shower, there was enough space to install a good sized bench. The glass has been pretty easy to clean (more on that here), thanks to our whole-house filter and squeegee that we use after we shower.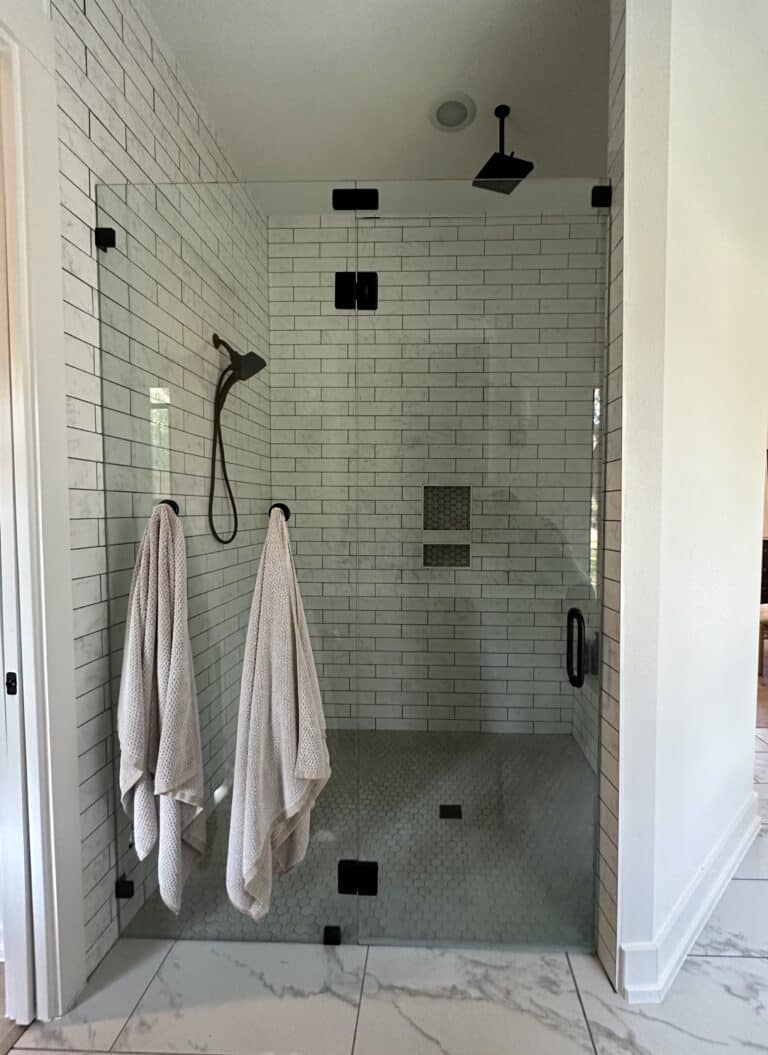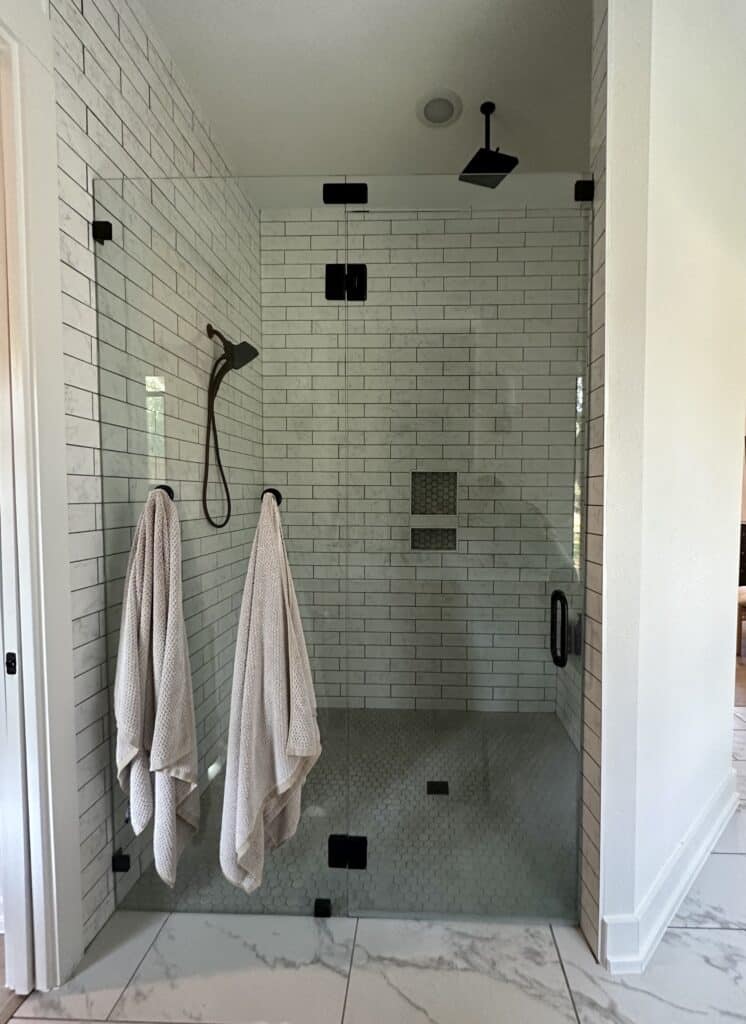 We went with a slightly darker grout and I'm so glad we did. This makes it so much easier to keep clean. I've heard many horror stories of white grout in the shower, so I was sure to stay clear of that.
We went with matte black shower fixtures since they tie in with the matte black fixtures on the bathroom vanities.
Free-Standing Tubs in the Master Bathroom
We purchased a 59″ freestanding tub.  I was a little worried about the size, but it has been great. It fits well between the two vanities and is also spacious to use. It creates a beautiful focal point as it is in the center of the room!
We also wanted to have a floor mount tub filler. A quick note on that: your plumber will need to know that it's a floor mount before the slab is poured! Ours had to bust out part of the concrete to get this installed.
Lighting in the Master Bathroom
The master bathroom in this floor plan has 7 light sources. There is 1 sconce on either side of the mirror above both vanities, so 4 sconces total. There is a pendant light above the freestanding tub. There is a can light in the toilet room. And lastly, there is a can light in the shower.
All of these lights, along with the large window allows for plenty of light in the bathroom.
Window in the Master Bathroom
The window above the freestanding bathtub is fairly large – coming in at 5 feet wide and 6 feet tall.  It is the focal point of the whole bathroom. I wanted something with a big impact and tons of natural light, since it's the first thing you see when you walk in the bathroom.  We don't have neighbors within view on that side of the house, so I chose to keep the glass clear.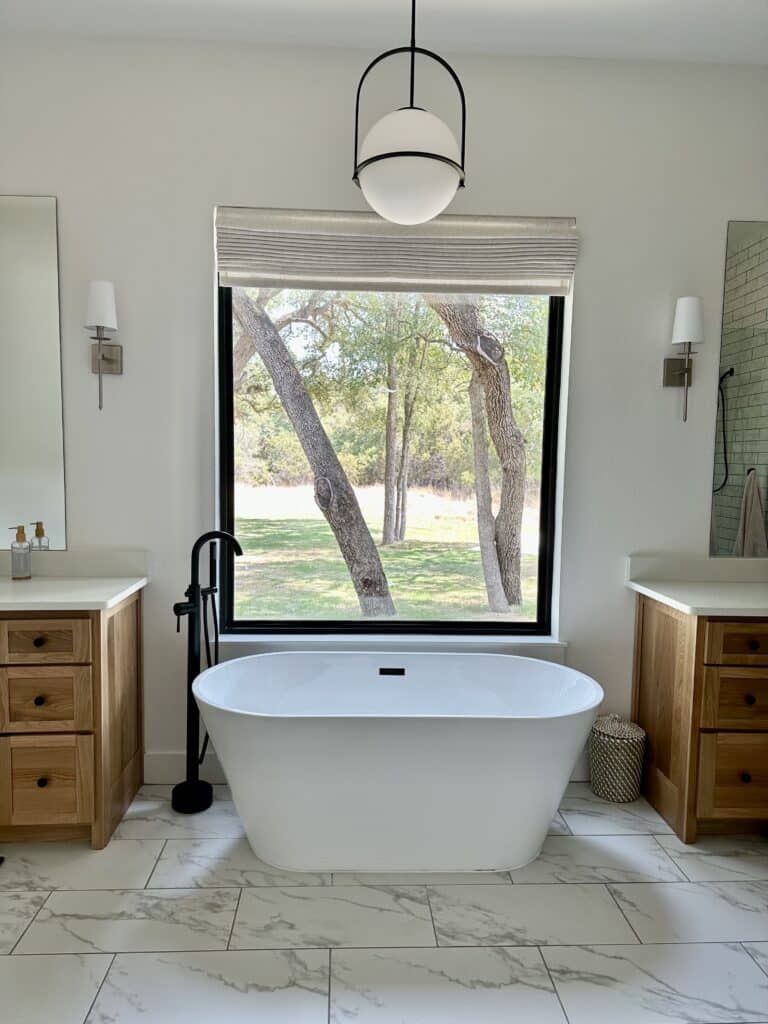 It is common to have a rain finish on a bathroom window, and if we had neighbors close by, I would have done that. However, I love the clear glass so we can enjoy the view when the shades are open.
There are of course times that we want the privacy, so I purchased remote controlled roman shades. A remote control was needed because that window would be hard to get to in order to open or close the blinds or shades. We have been so happy with the roman shades! We have lived here for 3 months and haven't had to charge them yet. They are opened and closed daily.
They are the Classic Roman Shade in Pearl White.
Mirrors in the Master Bathroom
Since the ceilings are somewhat tall in our Master Bathroom, I wanted to fill the space vertically with a large mirror above each vanity.
They measure inches 60 tall and 36 inches wide.
I was sure to leave enough space on either side of the mirrors for the sconces to be mounted to the wall.
Doors in the Master Bathroom
We enter the closet through a pocket door that is at the end of the bathroom. There was a bit of finagling that our framer had to do in order to make the pocket door work with the shower head, but he was able to do it. I'm very happy with the pocket door. It was a good idea because it would have been too cramped with a swinging door.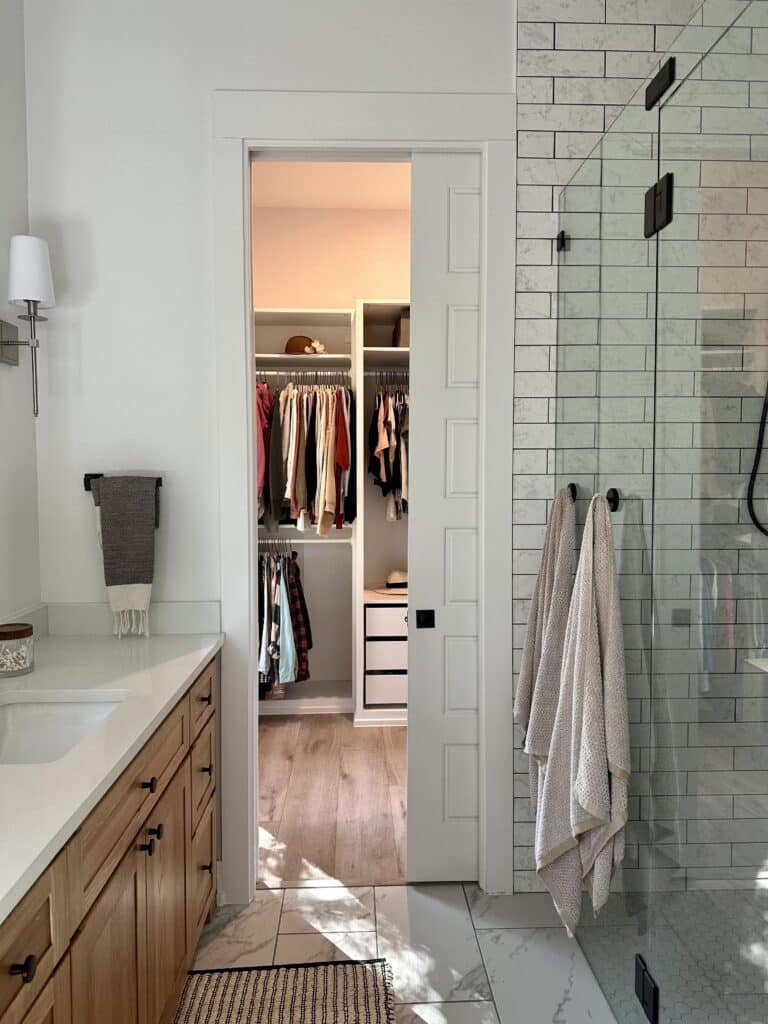 Check out this post on how to build a custom walk-in closet on a budget if you'd like details about our master bedroom closet.
We enter the master bathroom from the bedroom through a sliding door.  I wanted this doorway to be tall, so I had our framer make the opening a little over 8 feet tall.  I then built a sliding door that fully covers the door opening.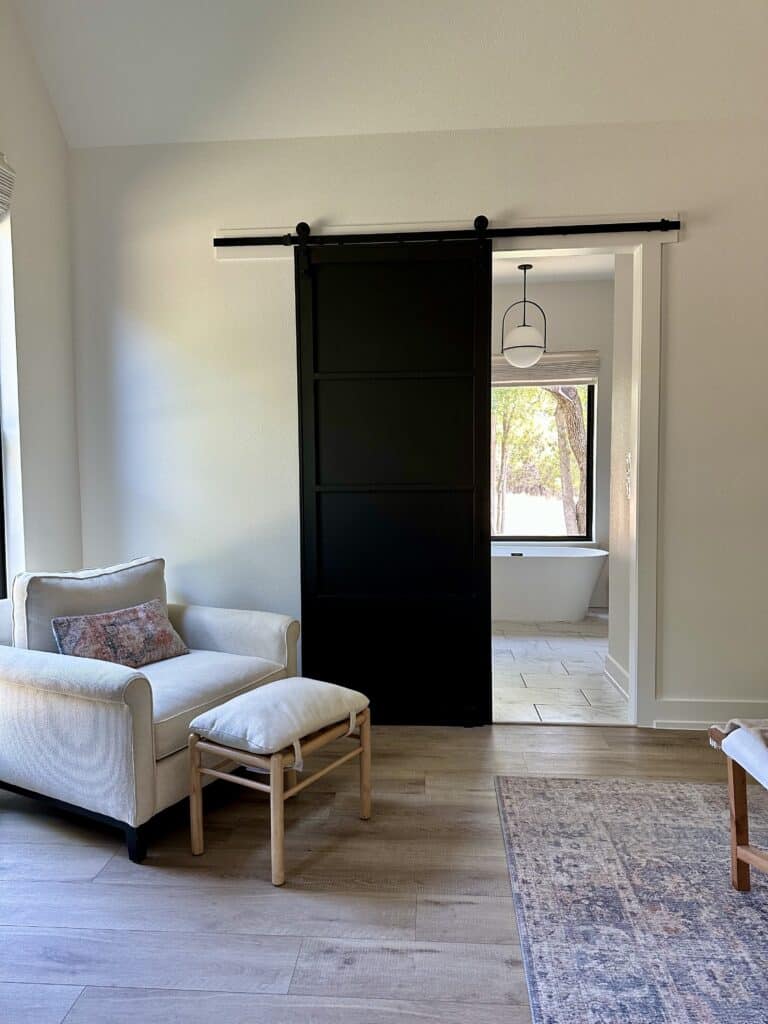 How to Lock a Sliding Door for a Bathroom
We did need to figure out how to lock this sliding door since it is a bathroom door.  After doing a bit of research, I found this sliding door lock.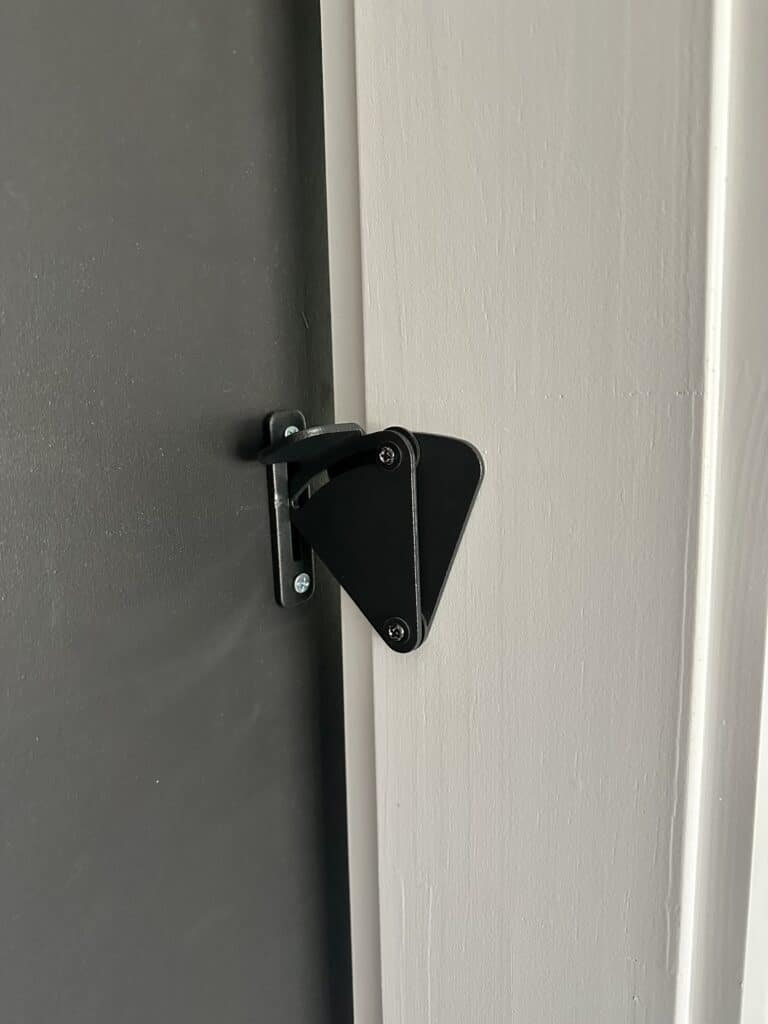 It has worked great so far.  A quick note, though: if you don't have a floor guide for the sliding door, it wouldn't work.  The door needs to be stable and not able to swing out and in for this lock to work.
It is very cost effective and I was able to install it in just a few minutes.
Living With This Master Bathroom Floor Plan
Now that we have lived with this layout for awhile, I can speak to what it's like to use this bathroom everyday.
In short, I love it and there are very few things that I would change (more on the things that I would change below!). There is ample space so we don't feel cramped. I have loved having separate vanities. The large 60″ vanities provide ample storage for both of us.
The walking space is spacious and doesn't feel cramped.
The shower is roomy and I wouldn't change anything there either. I highly recommend this master bathroom floor plan for your master suite!
Master Bathroom Floor Plan in Pictures
Sometimes it helps to see lots of pictures of actual master bathroom layouts.  So, I will do my best to provide lots of pictures so you can get a feel for what this master bathroom floor plan looks like in real life.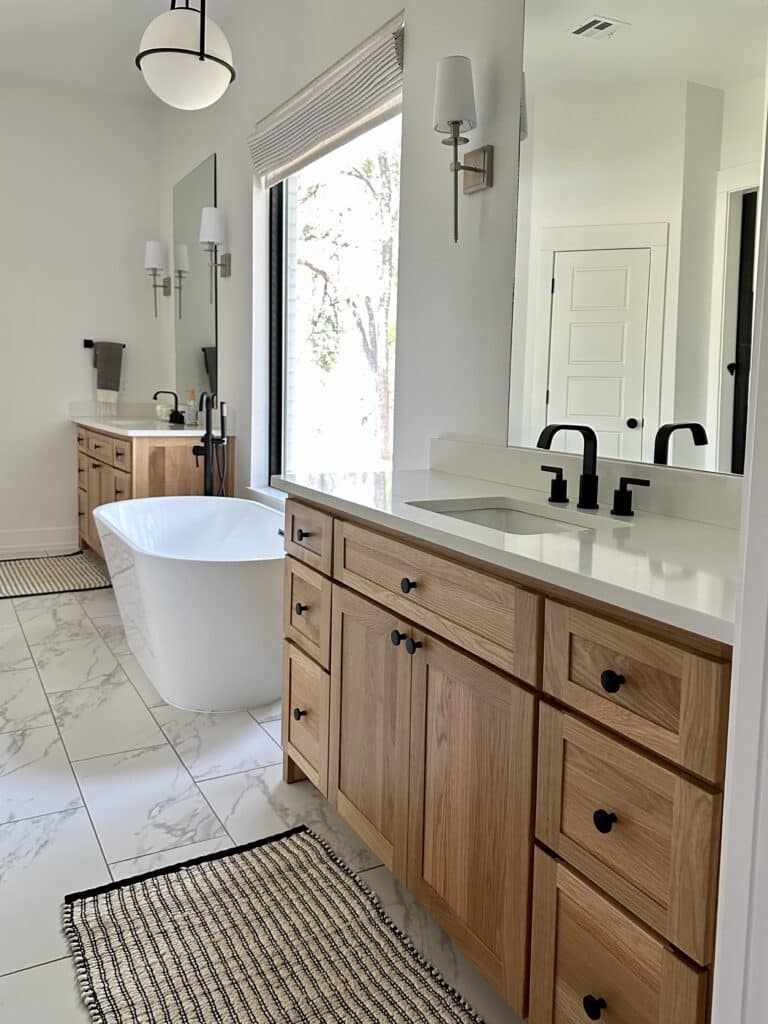 Things I Would Change About this Master Bathroom Floor Plan
Thankfully, there are only few small things that I would change about this master bathroom floor plan. I wanted to mention them here in case you utilize the master bathroom plans, you can hopefully make these changes with your architect early on in the process.
The first thing I would change is the way to door swings for the toilet room, as it is a separate room. I would have it swing in, rather than out. That door stays open most of the time, which means it is in the way when we walk into the bathroom most of the time. There is ample space for it to swing in (right to left when entering). That way, it would be able to stay open, but it wouldn't be in the way when we are walking into the bathroom.
The second thing I would change is I would add a linen closet. There is enough space on the wall opposite shared with the toilet room and the opposite wall of the north vanity. So, it would be directly behind you if you were standing at that vanity.
It would be a shallow linen closet, but it would be functional. Having that extra storage would be helpful. It would be perfect for hair products or a place to store extra towels and the like. In fact, I'm planning on adding one very soon. Stay tuned for that!
The last thing I wanted to mention isn't actually something I want to change, but it is something you might want to consider. We have clear glass for the window above the tub. However, if you want more privacy , consider a window with a rain finish.
And that's it as far as changes go! And to be honest, I'm a picky person, especially when it comes to something that I designed. Thankfully the change list is short and nothing on the list is too big. Knowing that I'll probably want to change lots of things once we have lived with it is what kept me up at night when we were designing a new home! Thankfully, this list is small so far.
How do Decorate a Master Bathroom
The wall color we chose for this bathroom is called Snowbound by Sherwin Williams.
Aside from a couple things like our kitchen island and some trim in our living room, the majority of our house is white (walls, ceilings, cabinets, and trim). We used Snowbound for all of the white, just in different sheens for the walls, trim, and cabinets.
We used a ceramic marble-lookalike for the tile on the floor. This is a great option because it is cost effective and easy to maintain it is!
I will link everything else we have used to decorate the master bathroom below.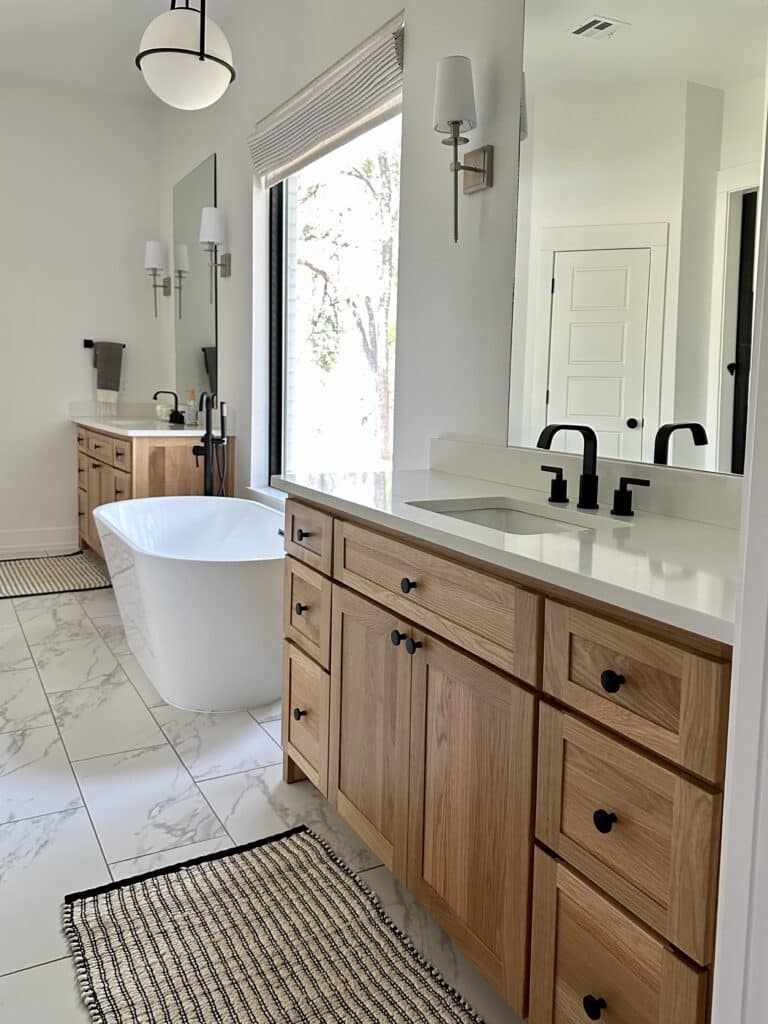 Sources: Rugs | Sconces | Knobs | Faucets | Tub | Pendant | Hand Towel | Towel Holder | Tub Filler | Roman Shades | Wall and Trim Color: SW Snowbound
Hopefully this helps you figure out a new bathroom layout for your floor plan. If you found this article helpful, be sure to check out the following articles: