Choosing the correct size screw for a Kreg pocket hole jig is fairly simple if you know what to look for. There are some handy charts, guides, and selectors that I will highlight in this post. In addition, you will find information on how to pick the correct Kreg screw overall, not just the correct length for the woodworking project you are working on. I have also provided my thoughts on actual Kreg Pocket Hole Jig Systems and common questions about choosing the correct length of Kreg screws.
Table of Contents
Like I have mentioned many times before, the Kreg Pocket Hole Jig System is a staple in my shop. It has enabled me to make quality furniture for my house and complete numerous home decor builds. A few examples are the wooden mosaic doormat, wooden star, and modular tables.
Part of using the Kreg pocket hole system is learning how to choose the correct size screw for whatever different wood thicknesses you are using. Keep reading to learn how to choose the correct Kreg screw length!
The Correct Size Kreg Screw Length to Use
When choosing the correct length of pocket hole jig screw, you need to determine the thickness of the board you are joining with pocket holes.
It is important to note that the thickness you will look at is the actual thickness of the board, not the nominal thickness. For example, a 2×4 board actually measures 1.5″ x 3.5″. The nominal thickness is 2″x4″, but you will base your decision on the actual thickness. So, choose the screw based on 1.5″, instead of 2″.
Choosing the screw length is NOT determined by the width or length of the board. It is only determined by the thickness (or height). Since the measurements of a 2×4 means that the board is 2″ thick (height), and 4″ wide, you will base your Kreg screw length decision on just the thickness (2″). Again, although you are basing your decision off of that number, be sure the measure the actual thickness, not the nominal thickness (1.5″ for a 2×4).
So, the Kreg screw length will be the same for a 2×4, 2×6, 2×8, 2×10, etc. The correct size Kreg screw length for a 2×4 is 2.5″. The correct size Kreg screw length for a 2×6 is also 2.5″. The same is true for 2×8, 2×10 and so on, since they are all 2-by's.
Another note on choosing the correct pocket hole screw size: If you are joining two boards of different thicknesses, base your decision on the thinnest material. So, for example – if you are joining a 1×4 to a 2×6, you will choose the Kreg screw based on the thinnest piece (1×4). Remember, you are using the actual thickness, so you would choose the correct screw for 3/4″, not 1″. The correct screw for material that is 3/4″ thick is a 1 1/4″ pocket hole screw.
Kreg Screw Length Guides and Charts
Below are some Kreg screw length charts in order to size the correct Kreg screws.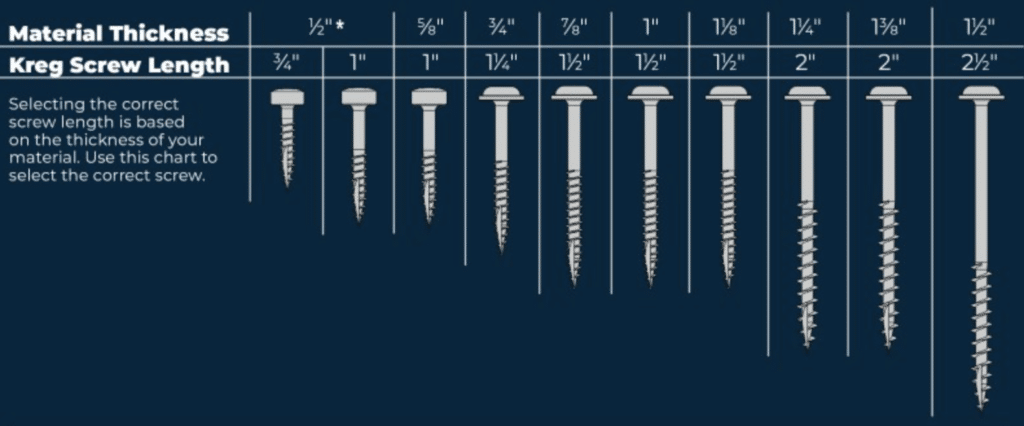 The Kreg screw metric guide chart below is helpful because it provides the setting for your actual Kreg Jig as well.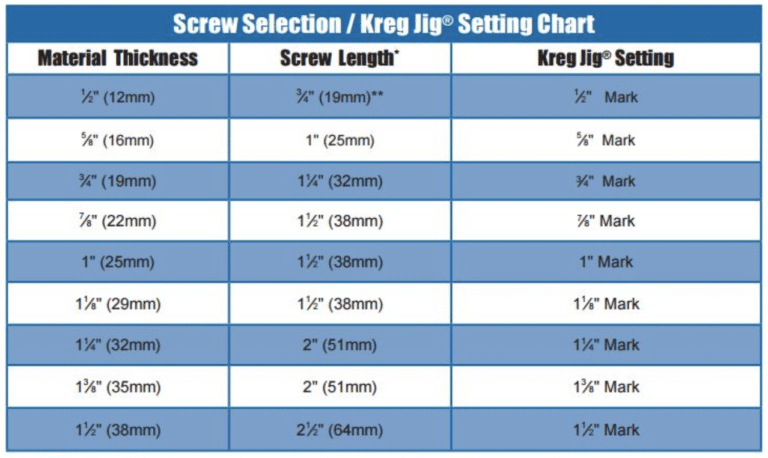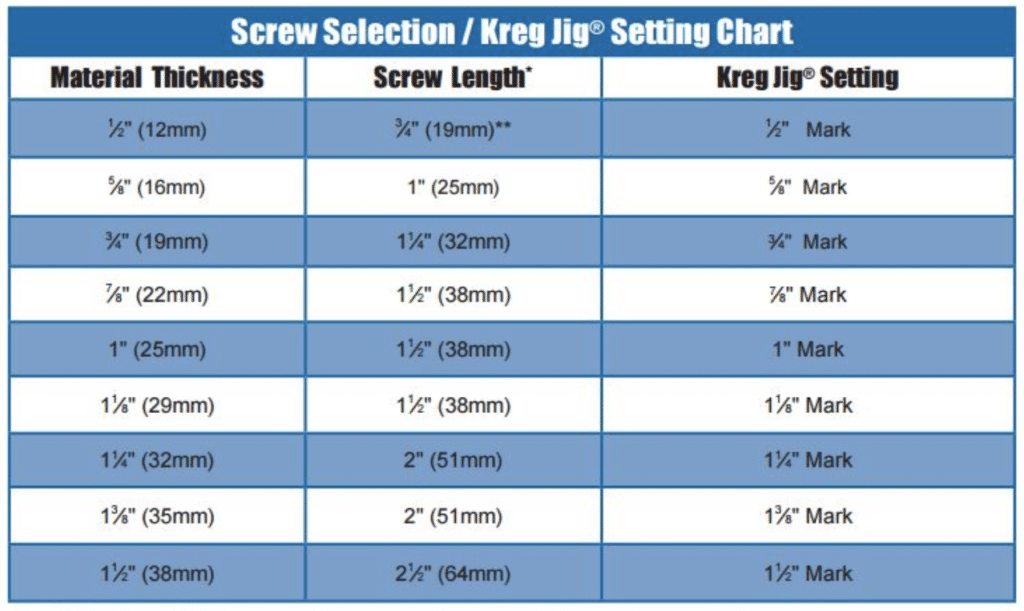 If you prefer to have a printable physical copy of something similar, you can also purchase a Kreg screw selector wheel. This would be very handy to have in the shop while you make pocket holes as a quick reference guide.
How to Choose the Correct Kreg Screws
There are 3 main things to determine when choosing the correct length of Kreg pocket hole screws. They are: (1) whether it is an indoor or outdoor project, (2) the type of wood, and (3) the wood thickness.
Determine whether the project is indoor or outdoor:

If your piece is indoors use zinc-coated
If your piece will be outdoors, use Blue-Kote screws
If you are using it for an outdoor deck, use Protec-Kote

Determine the type of wood

For softwoods like pine, plywood, melamine, particle board, and MDF, use course thread screws
for hardwoods like maple or oak, use fine thread screws

Determine the wood thickness (see above)
Once you determine these 3 things, you are ready to select the correct Kreg Pocket Hole Jig System screw.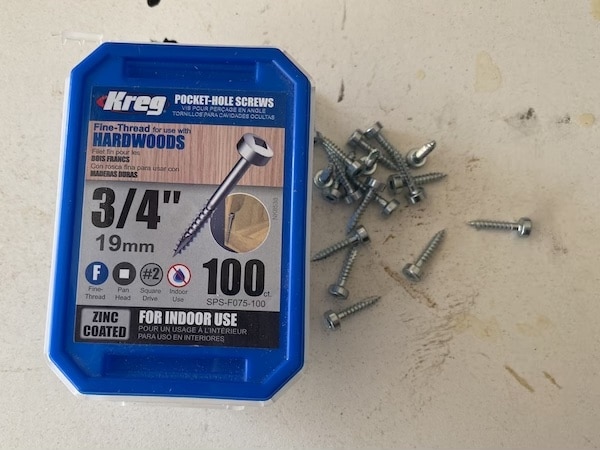 Tips and Tricks for Using Kreg Screws
Kreg Pocket Hole Plugs
You can fill all of the pocket holes that you drill for the screws with Kreg hole plugs like paint grade ones, pine ones, plastic ones, and oak ones.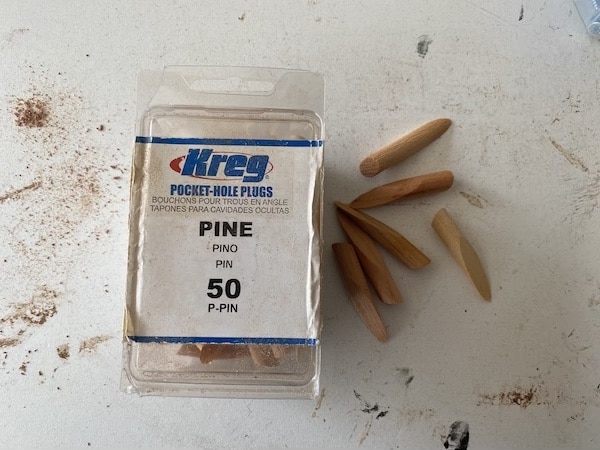 Kreg Pocket Hole Clamps
Kreg offers some really great clamps that will make the pieces you build more accurate and increase your efficiency in your projects. I highly recommend the face clamp and the corner clamp.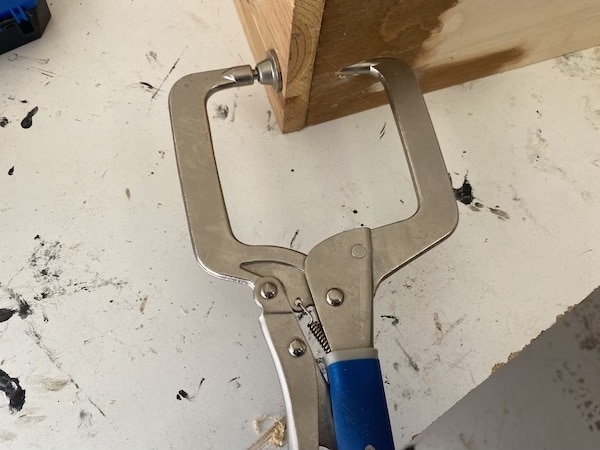 Kreg Pocket Hole Jig Systems
Kreg Tool offers a lot of different options when it comes to pocket hole jigs that they sell. I used the K4 for years, but they don't make it anymore. I have since upgraded to the 720Pro, which I highly recommend!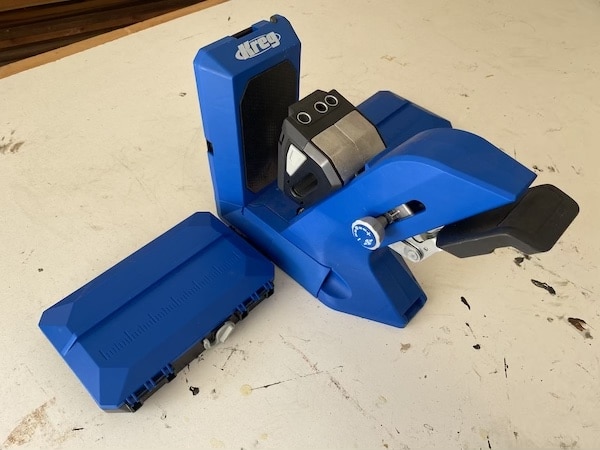 I took a deep dive into how to use Kreg pocket hole jig systems in this post. The other pocket hole systems Kreg makes range from the small Kreg R3 Jr., to the mid-sized Kreg Pocket Hole Jig 320, all the way to the Kreg Foreman, which is very expensive, but it does the clamping and drilling for you in one step.
For a first-time pocket hole jig user and beginner woodworker, I recommend the Kreg Pocket Hole Jig 520Pro.
Common Questions
What size pocket screws should I use for a 2×4?
You should use 1.5″ pocket hole screws when joining a 2×4.
How far apart should Kreg screws be?
When you are joining a wide enough board that needs multiple pocket holes, you should space your pocket holes 6-8 inches apart.
If you are joining a smaller piece, place two pocket holes right next to each other. This will ensure that the piece doesn't twist. Glue is optional, although it will make your joint much stronger.
In addition, the pocket holes work like a clamp while you are working. So, once you join the pieces together with pocket holes, you don't have to wait for the glue to dry to move on.
What should be the Kreg Jig setting for a 2×4?
The correct setting for a 2×4 on the Kreg Pocket Hole Jig is 1.5″.
Is it necessary to use Kreg pocket hole screws?
In short, yes, it is necessary. They are manufactured specifically for pocket hole joinery and have features like a self-tapping tip so it won't split the wood or need to be pre-drilled. Additionally, the smooth shank draws the wood together.
What size Kreg screw for 2×6?
The correct screw for a 2×6 is a 1.5″ screw.
Find the web story for how to choose the correct Kreg screw here!