In this article, I will cover all the best wood options for a cutting board. I will also cover all of the other factors that go into the decision, like cost, hardness of the wood, ease of working with the species of wood, and finishing options.
The Importance of Choosing the Right Wood for Cutting Boards
Choosing the right wood species for your new cutting board is such an important decision. Choosing the right cutting board wood can affect effective food preparation, food safety, and how long your knives stay sharp.
It's important to understand the pros and cons of the 8 different types of wood species that I will cover in order to choose the best wooden cutting board for your project or purchase.
I have made many, many cutting boards over the years. Most of the boards are very large – around 18 inches by 32 inches. They are this large because they are used for big 14+ pound briskets smoked on the Traeger. I have used many different species of wood, like walnut, maple, pecan, mesquite, osage orange, purple heart, and beech.
You will want something that won't harbor bacteria and is strong enough to last for years to come, but soft enough that it won't dull your knives. Keep reading to find out the top winner in the best wood for cutting boards.
My goal in this article is to provide you with all the information you need to choose what wood species is best for your cutting board, whether you are building it yourself or purchasing a new cutting board for your kitchen.
What is the Janka Hardness Scale?
Before we start, we need to talk about the hardness of hardwoods. The hardness is graded on a scale and that scale is called the Janka scale.
The range of numbers in the Janka Hardness Scale shows how much pressure is needed to make a dent in the wood. The higher the number, the more dense, hard, and durable the wood will be.
If the wood you use for your cutting board is too hard, it will dull your knives quickly. The goal is to find a hardwood species that is in the middle.
The Janka scale is commonly used when talking about wood flooring. However, I'll be referring the the Janka scale when I discuss all of the common wood species for cutting boards below.
The Best Wood to Use for Cutting Boards
I'll give away the ending right now: Walnut is the #1 choice to use in wooden cutting boards. This is due to its beauty, hardness, sustainability, price, and small pores.
In this article, I will cover the pros and cons of the following wood species for cutting boards:
walnut
maple
cherry
beech
acacia
teak
pecan
bamboo (this is technically not wood, but rather a type of grass. I'll still cover this, as it is a common type of cutting board)
Walnut Wood
I'm going to start with walnut, because like I mentioned earlier, it is my #1 choice for cutting boards.
Why Walnut is the Best Choices for Cutting Boards
Walnut is gorgeous in its natural state. When a protective coat is applied to it, the color is a beautiful, rich brown. I love that it doesn't have much of an undertone like red or orange.
Walnut is, by nature, darker in color. I see this as a positive, because I love the tone of the color so much. However, if you want a lighter wood for your wooden boards, this is not it.
The very first cutting board I made was made out of walnut. It has lasted beautifully for years and through heavy use.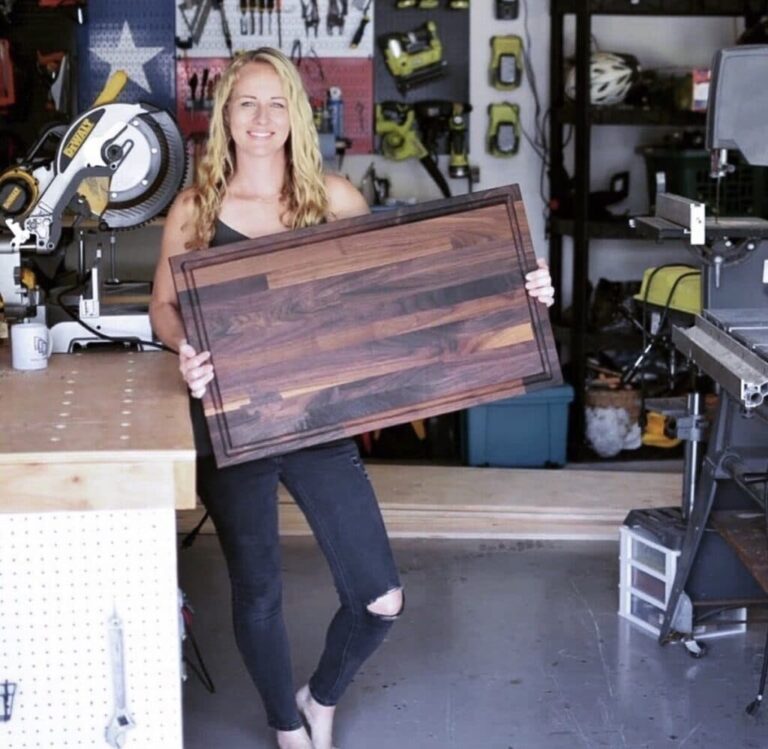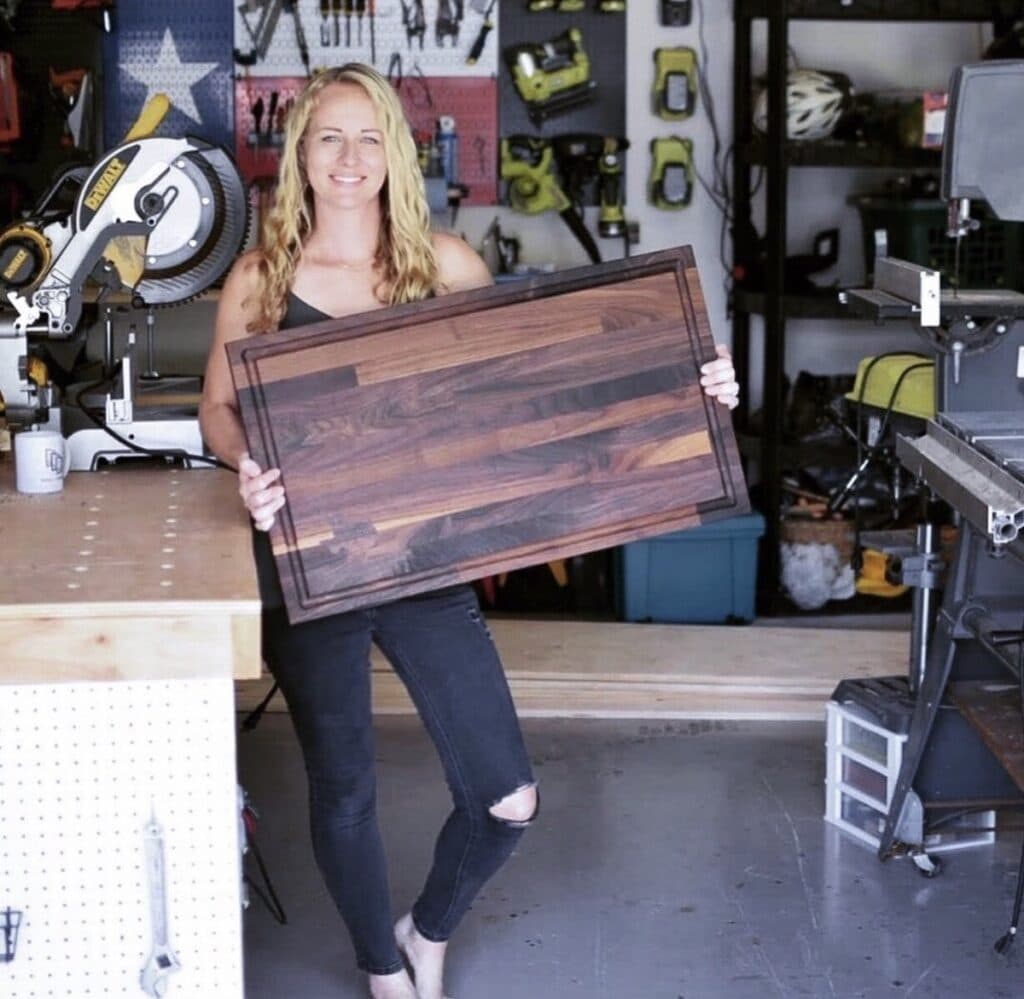 Walnut is non-toxic, given that walnuts themselves are commonly eaten.
Walnut wood also has natural antibacterial properties that can help guard against unwanted germs. It is closed-grain, so there is no place for bacteria to grow. If you're preparing raw meat on your cutting board, this is especially important. In my opinion, all of the best cutting boards, wooden chopping boards, or butcher blocks have at least a portion of walnut in them!
Janka Rating of Walnut Wood
Walnut has the perfect Janka Scale rating of 1010. This makes it a moderately hardwood overall and perfect for cutting boards. It is not too hard, but not too soft.
If your walnut cutting board does get too many scratches from knives, it can be sanded down and re-sealed. This is one of the huge benefits to using a wood boards over a plastic cutting board. Plastic boards can knick and can't always be repaired. However, a good cutting board can be sanded and re-sealed, and used for many, many more years.
Maple Wood
Maple wood is a gorgeous species of wood that leans on the lighter side. It has a very smooth wood grain with a gorgeous finish, making it a very popular choice for woodworkers.
The lighter colored wood in the edge grain peel below is maple, and the darker wood is walnut.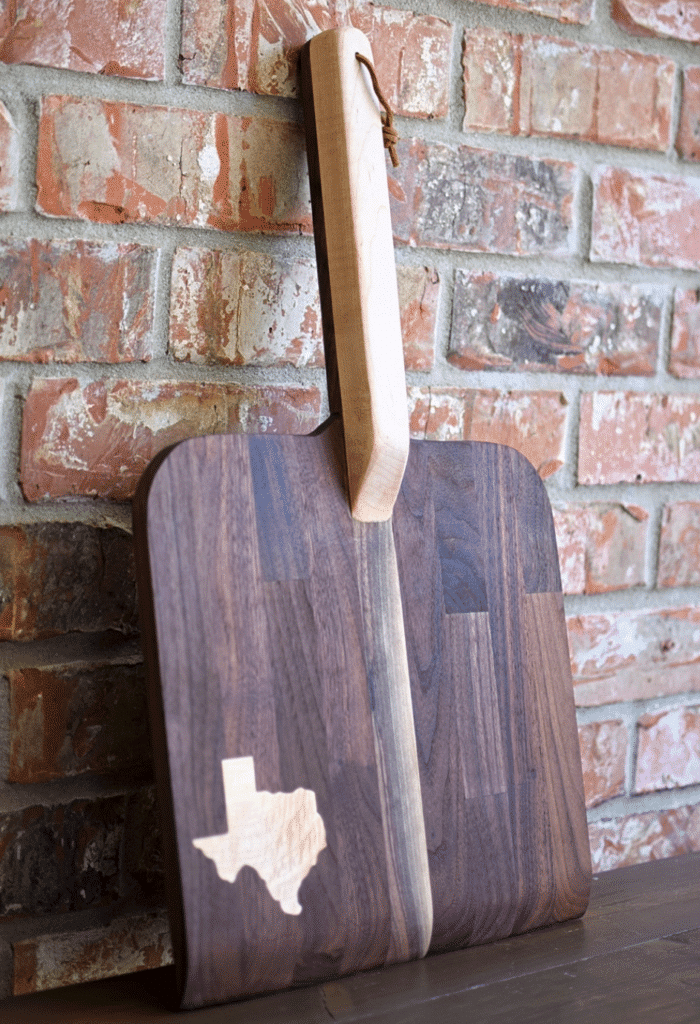 Pros of Maple
Being that hard maple is so light-colored, it would be a good choice if you want to mix wood species on your board. It makes a beautiful accent color to any cutting surface on a board. This is especially true if it contrasts with a darker color like walnut.
The lightest color wood in the board below is maple. The other colors are purple heart, mesquite, and walnut.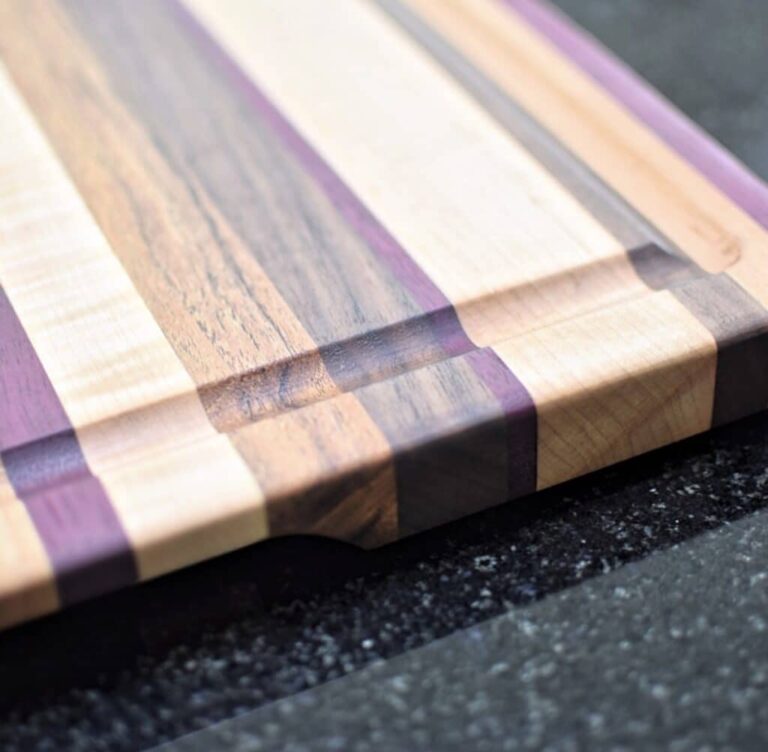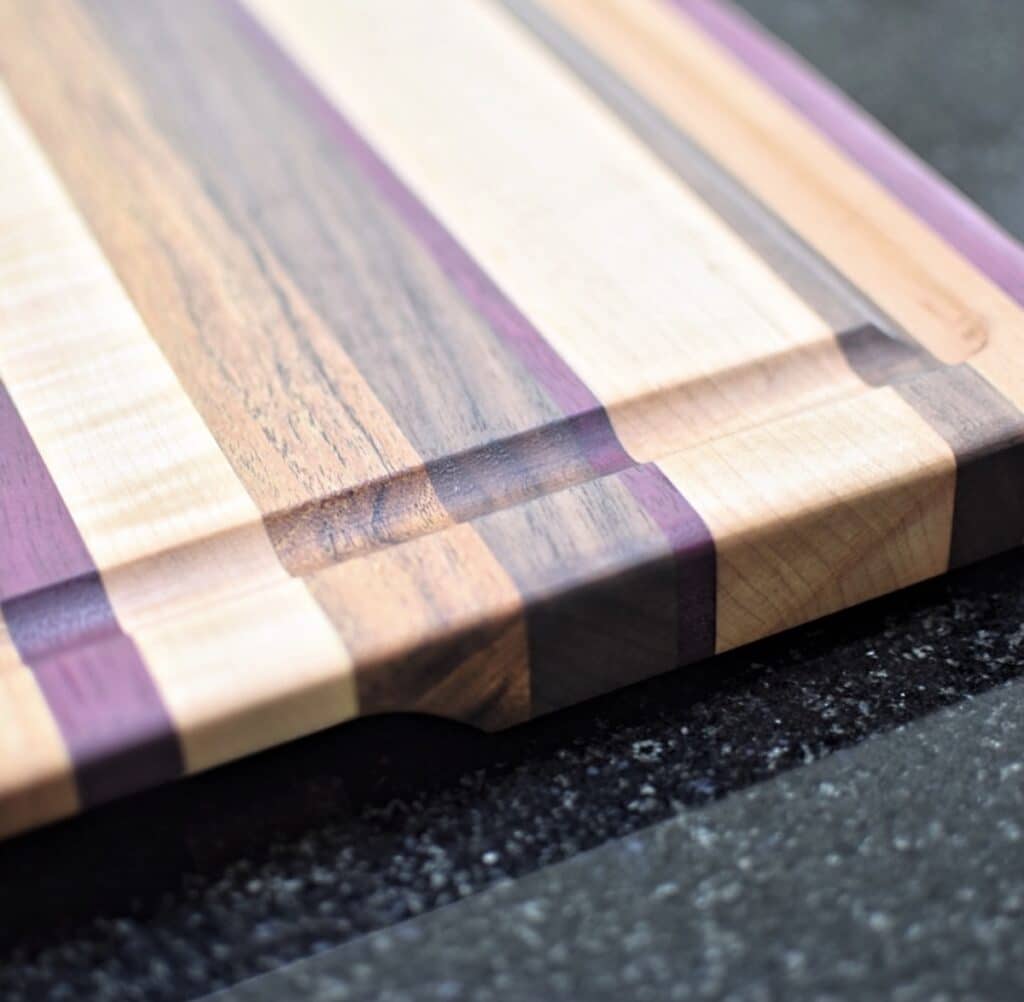 Maple has very little grain variance. So, if you're looking for a uniform grain pattern, maple is it. The end-grain board below was made from off-cuts of the chaos board above.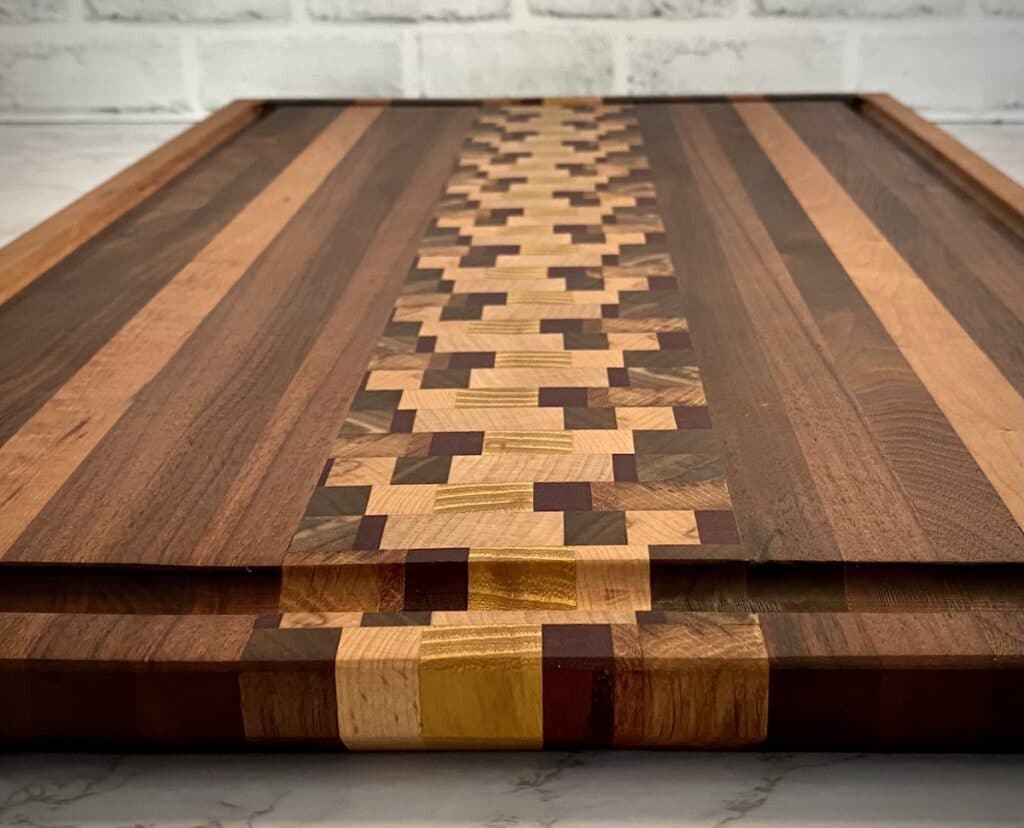 Cons of Maple
If you are making a maple cutting board, it can be hard on your tools, being that it is so hard. Additionally, burn marks can easily occur when you are milling the pieces for the cutting board. This is due to both the hardness of the maple and the light color.
Once the board is made, it will be more prone to staining as well, since it is so light in color.
The Janka Rating of Maple Wood
There are different types of maple, but I will share the Janka rating of spalted maple: 1450. Compared the the hardwoods I will cover in this article, it is one of the more dense woods. So, it will hold up very well to heavy use in the kitchen and be scratch-resistant.
Cherry Wood
Cherry wood is a beautiful and unique color option for a cutting board or chopping board. Due to the closed grain, it will be silky smooth when finished. It is reddish-brown in color and has a beautiful grain pattern that would look great when sealed or stained.
Janka Rating of Cherry Wood
Cherry wood is on the softer side of hardwoods used for cutting boards. It comes in around 950. So, it is great to work with from a woodworking perspective, however, it won't stand up as well as other hardwoods for everyday use.
Pros of Cherry Wood
Cherry is very smooth, beautiful, and would be great for cutting boards. It is close-pore, so it will resist bacteria well.
Cherry wood is non-toxic and has natural antibacterial properties.
Because it is one of the more softer woods that I'm covering, it will be gentler on your knives.
There is not much contrast in the wood, which is great if you prefer a more uniform look.
The vintage-looking riser I made below is made out of cherry wood harvested from upstate New York.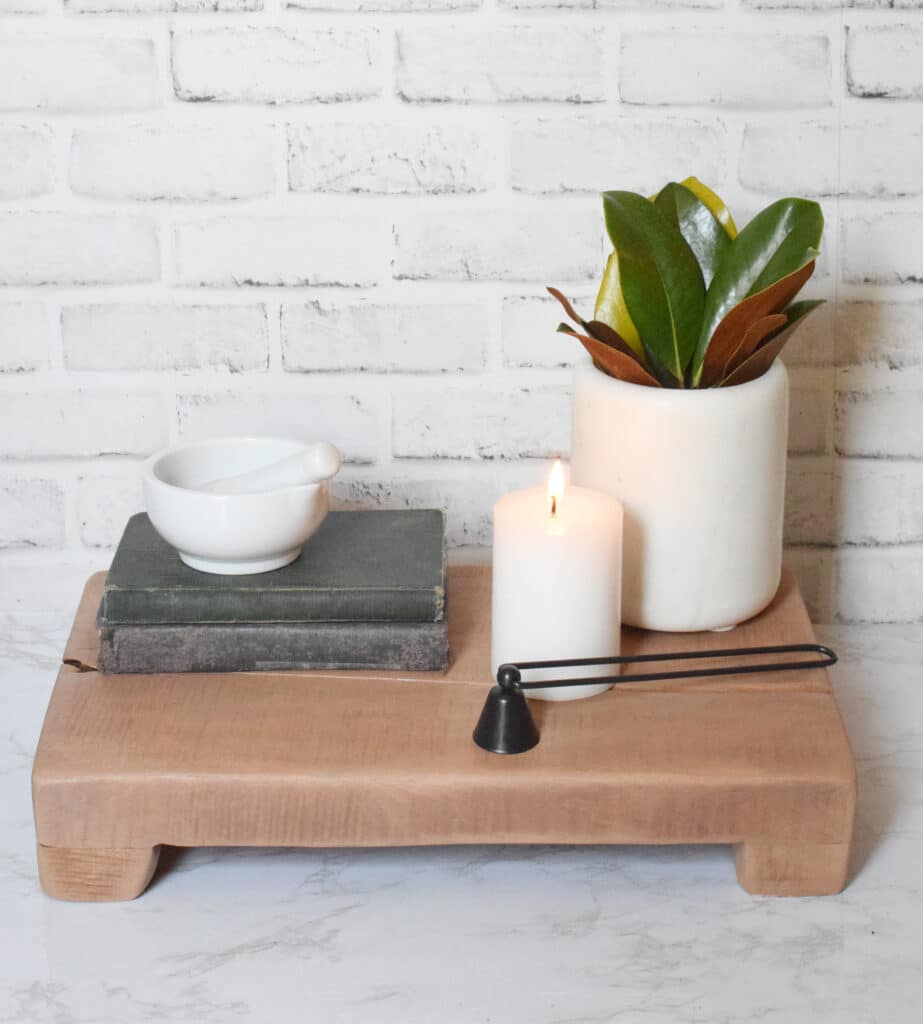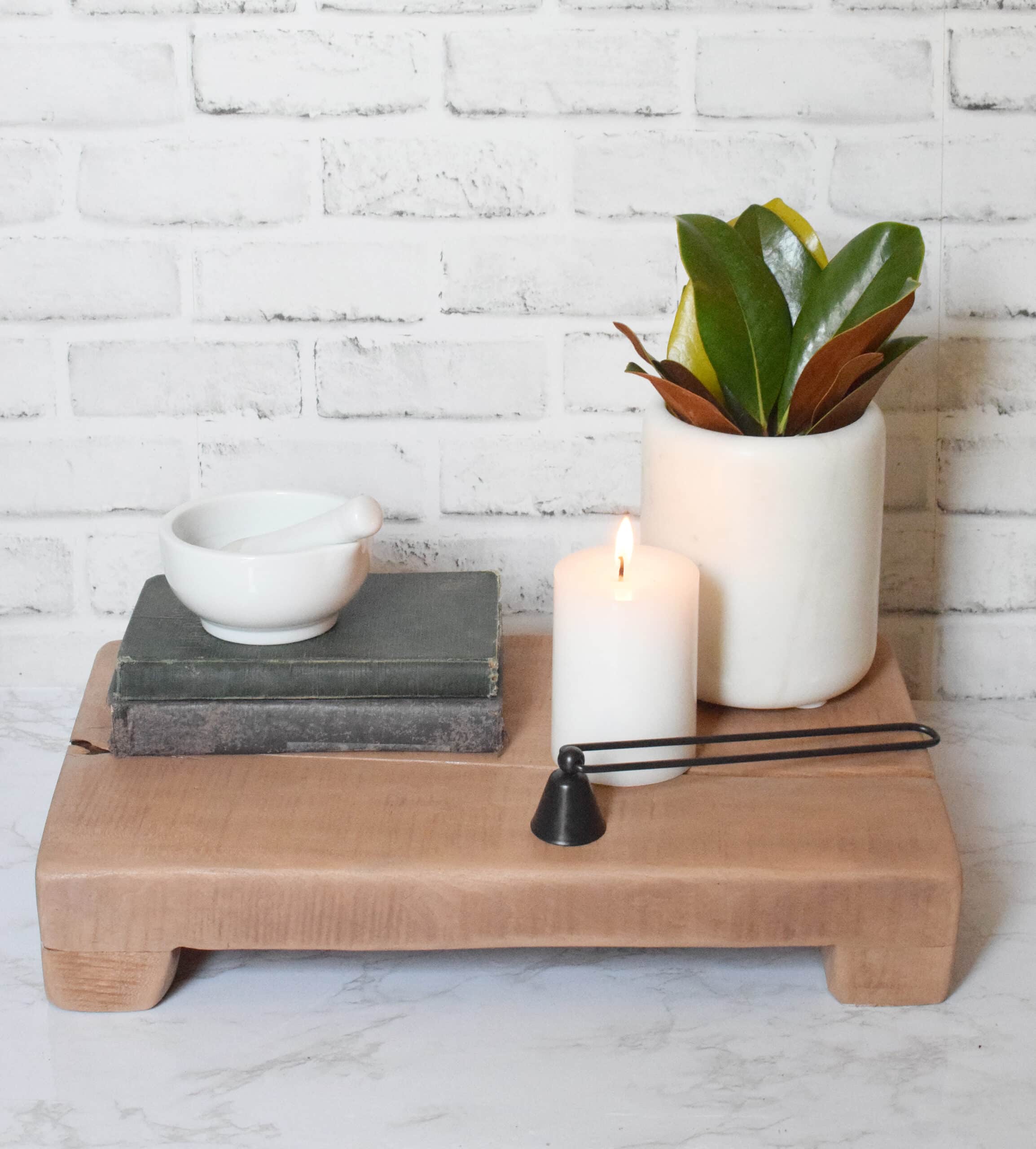 Cons of Cherry Wood
Because cherry is one of the softer woods I'm covering, it would be more prone to getting dents and scratches. So, it would need basic maintenance regularly.
Pecan Wood
Pecan can make for a very beautiful cutting board. It has a medium-brown color, somewhere in between walnut and maple.
Cons of Pecan Wood
Pecan wood can sometimes have a tendency to split, especially if the wood is not properly dried.
Spalted Pecan
If you're lucky, you can find a spalted piece of pecan to build a cutting board out of. Spalting is actually caused by a fungus in the wood, but it results in darker colors that follow the unique grain pattern. This makes for a truly unique and gorgeous piece of furniture or cutting board.
You can see the spalting in the pecan slab below.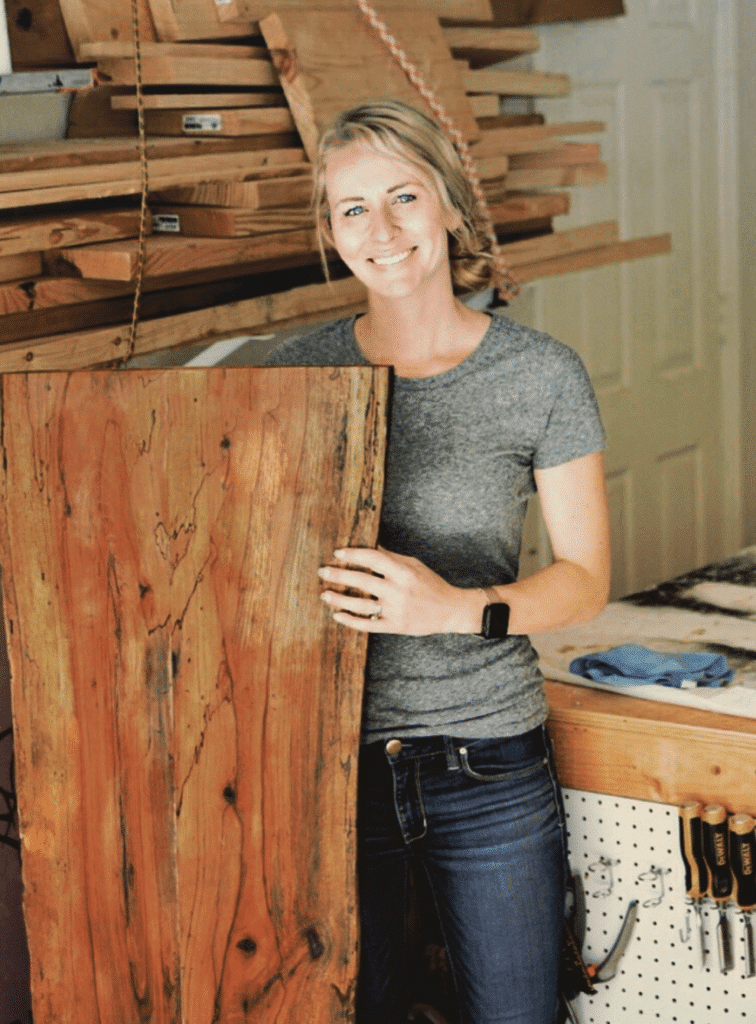 Beech Wood
Beech is a light-colored wood that is very similar in look to maple. It makes a beautiful accent color on cutting boards. It doesn't have much variation in grain pattern, so it would work perfectly for a more uniform look.
I used beech to make the shelves in the American flag challenge coin holder below. The darker wood is walnut and the lighter stripes are white oak. The background of the flag is essentially just edge grain boards.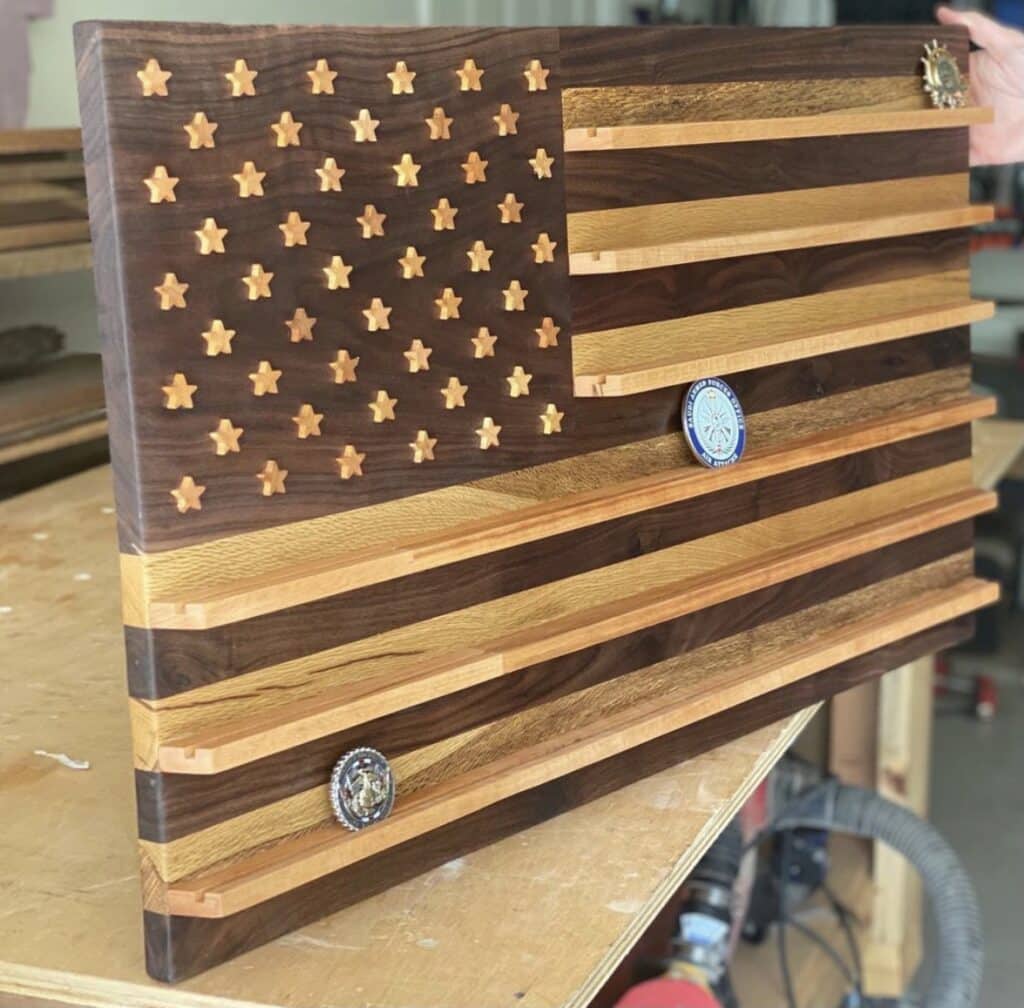 Other Hardwoods to Consider for a Cutting Board: Acacia, Teak, and Bamboo
I wanted to mention other hardwoods used for cutting boards. All of them would be a great option for making or purchasing a beautiful and durable cutting board.
They are acacia and teak. Teak is commonly used in outdoor furniture, but it doubles as a great option for cutting boards too. Acacia is very common in store-bought charcuterie boards and cutting boards. It has. a beautiful wood tone.
I wanted to mention bamboo board here as well. However, it is technically not a wood species. It is a grass. But, it is commonly used for cutting boards and for good reason. They are durable and scratch resistant, yet gentle on knives.
They're cost-effective and lightweight. Bamboo cutting boards are also sustainable, as bamboo grows very fast. For all of these reasons, bamboo is a great option for cutting boards.
All three of these options would be great cutting board material, especially over plastic chopping boards.
Where to Buy Hardwood for Cutting Boards
A good place to start is your local lumber yard. They can often order different species for you if they don't have it in stock.
Join some local or state-wide woodworking groups online. Oftentimes, people are selling their hardwood stock online and that can be a great place to load up your stash.
I have also had a lot of luck finding quality hardwood on local sales online, like Facebook Marketplace and Craigslist.
I personally lucked out with a garage sale where I got a garage full of a retired woodworker's walnut stock. It had been harvested from Georgia decades ago and had been drying in his basement since then. I have built many cutting boards and a couple of dining tables from that stash. Check your local sales!
How to Season and Seal a Wooden Cutting Board
I cover this topic extensively in the following post: Best Finish for a Wood Cutting Board. So, be sure to check that out.
However, I can boil it down to my favorite product for finishing a wooden cutting board. It is a product called Odie's Oil. It is food-safe, non-toxic, smells amazing, and lasts a long time. I highly recommend it!
People also commonly seal their boards with mineral oil. However, I believe that the benefits of Odie's Oil greatly outweighs that of mineral oil. There is much less regular maintenance with Odie's Oil, for starters.
Wood to Avoid for Cutting Boards
There are a few types of wood species to avoid when building or purchasing a cutting board.
For example, oak is not a good choice for a cutting board. Although it is common in household furniture and cabinetry, it isn't a good option for cutting boards.
Oak is open-grained and has large pores. So, it will harbor bacteria and be especially hard to keep clean. It would be susceptible to soaking up liquids and and harboring mold.
Oak is also very hard. It would be too harsh on typical kitchen knives. The same is true for mahogany and birch. It would be best to leave these wood species for household furniture instead.
On the other end of the spectrum, wood species like pine and cedar are too soft. They will not hold up well as a cutting board and they will scratch and splinter very easily. They will also be a breeding ground for bacteria, as they are very porous.
If you found this article helpful, be sure to check out the following articles