I just finished this DIY Wood Slab Flattening Router Jig (with printable PDF plans!) and I'm so excited about the projects that I can complete now that this is done.  This Router Sled is adjustable height, so you can plane many different wood thicknesses.  I made this router flattening jig to fit my workbench, so you can adjust the dimensions as necessary to fit your space.
Enter your email below to have the free, printable PDF plans for the router sled jig immediately delivered to your inbox: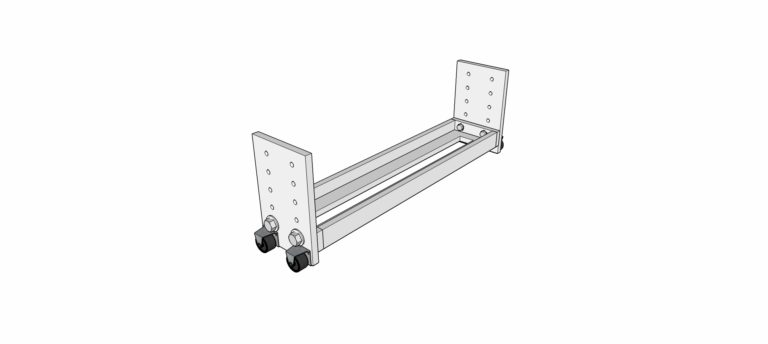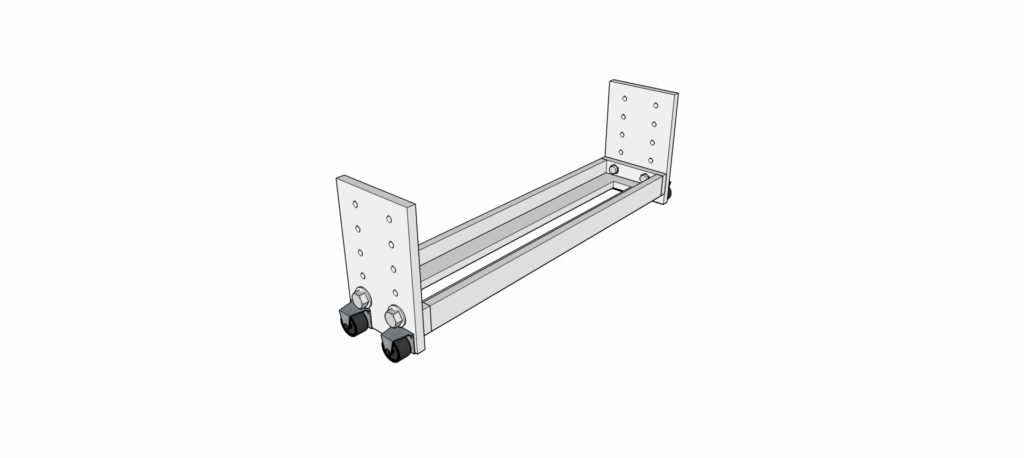 You will need:
(1) 3' x 2' x ¾" plywood
(4) 3″ bolt
(8) washers
(4) nuts
(4) Low Profile Casters
Fixed Base Router
1.5" bottom cleaning router bit
Drill bit large enough for the bolts to fit through (Find a Beginner's Guide to Using a Drill here)
1.5" wood screws
Wood glue
Drill
Jigsaw
Circle saw or table saw
Tape measure
The plans for this sled are made to fit my router.  My router has a 6″ base plate, so be sure to adjust the plans according to your router. My router can be found here.
To start making the router slab flattening mill, cut the plywood pieces to size.  I used my circle saw and track, but you can use a table saw as well.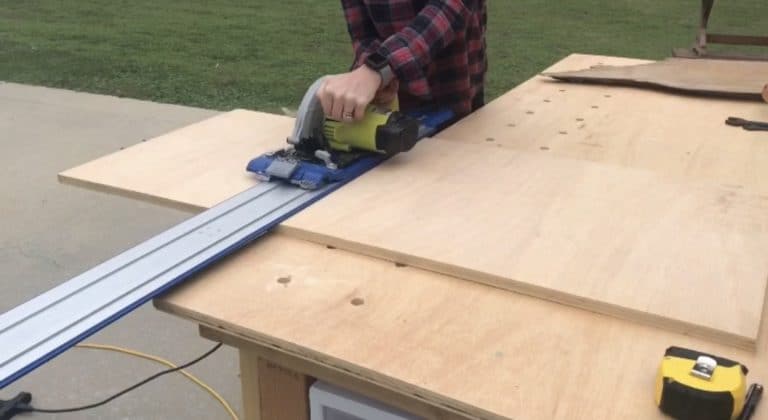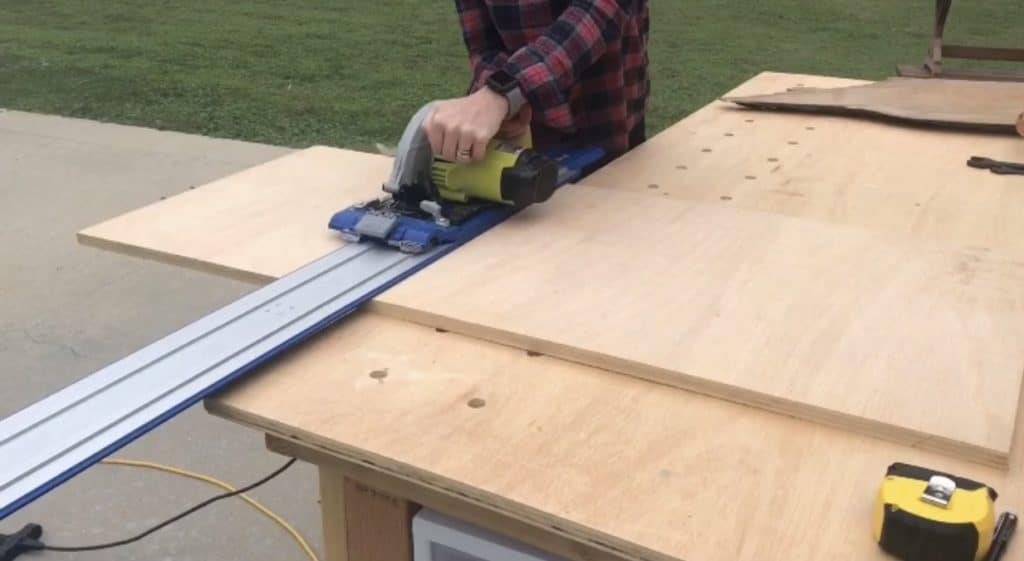 Now you will cut the center out of the 33″ x 6 1/4″ piece of plywood.  The width of this should be the width of the base plate on your router, plus 1/4″.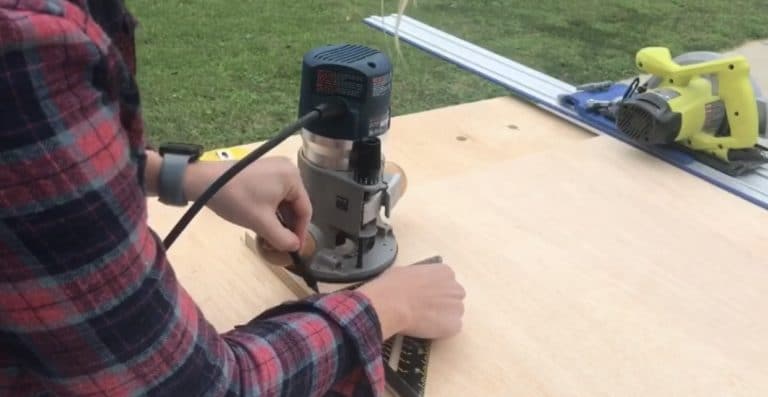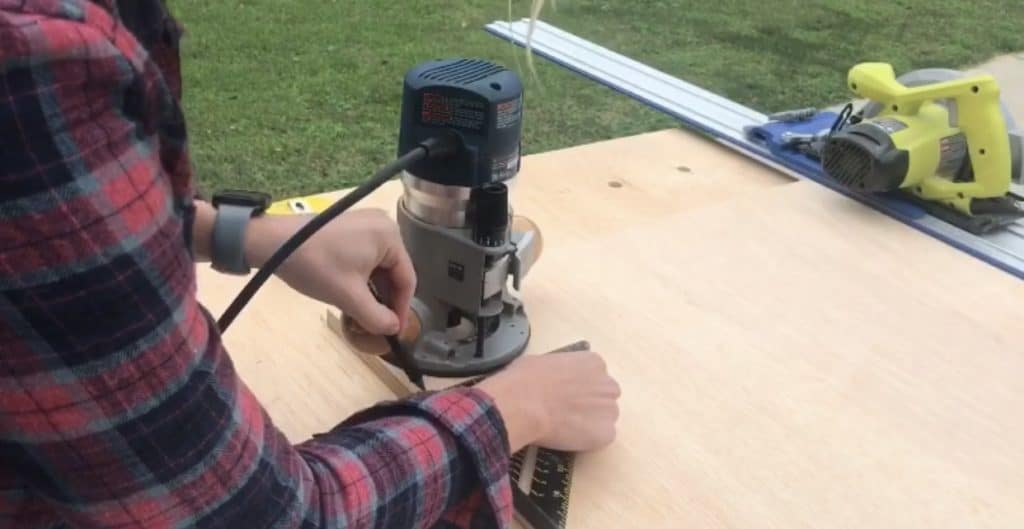 The center cut out should be wide enough for your bit to fit through. This is the bit I used.
Question: What type of router bit is best for flattening slabs?
A: You will want to use a 1/2″ bottom cleaning bit to plane your wood using a router and this DIY sled.  This is a great option for this slab flattening mill.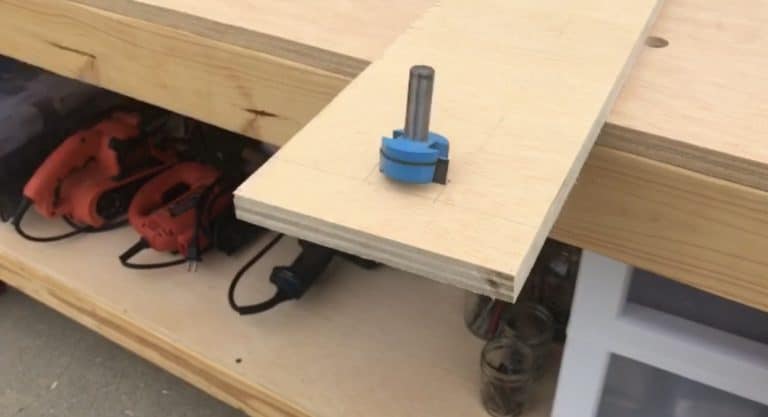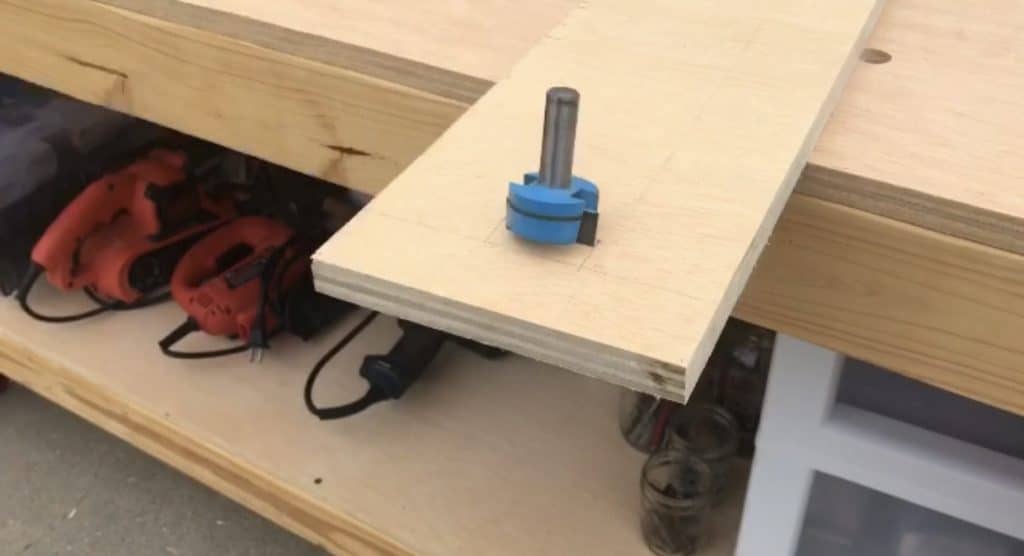 I found it easiest to drill holes in either end and use a jigsaw to cut out the middle.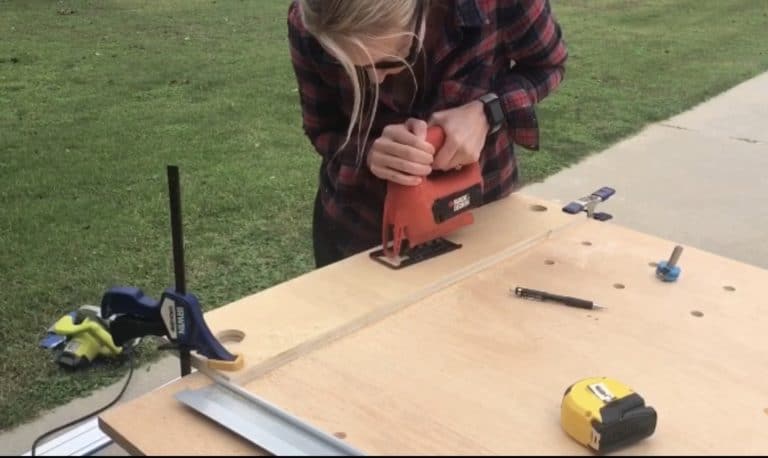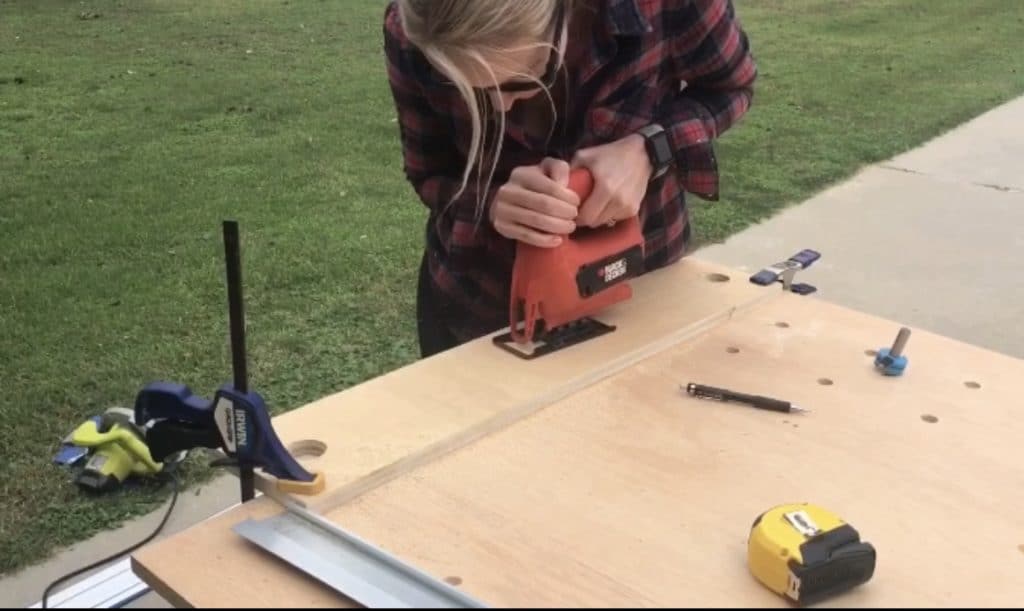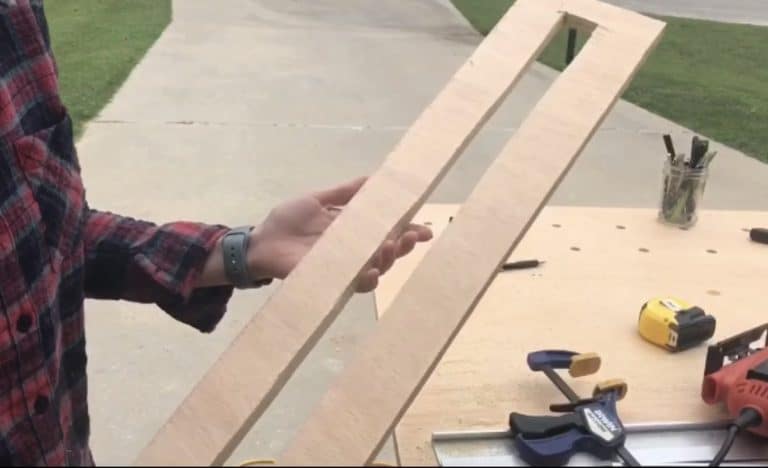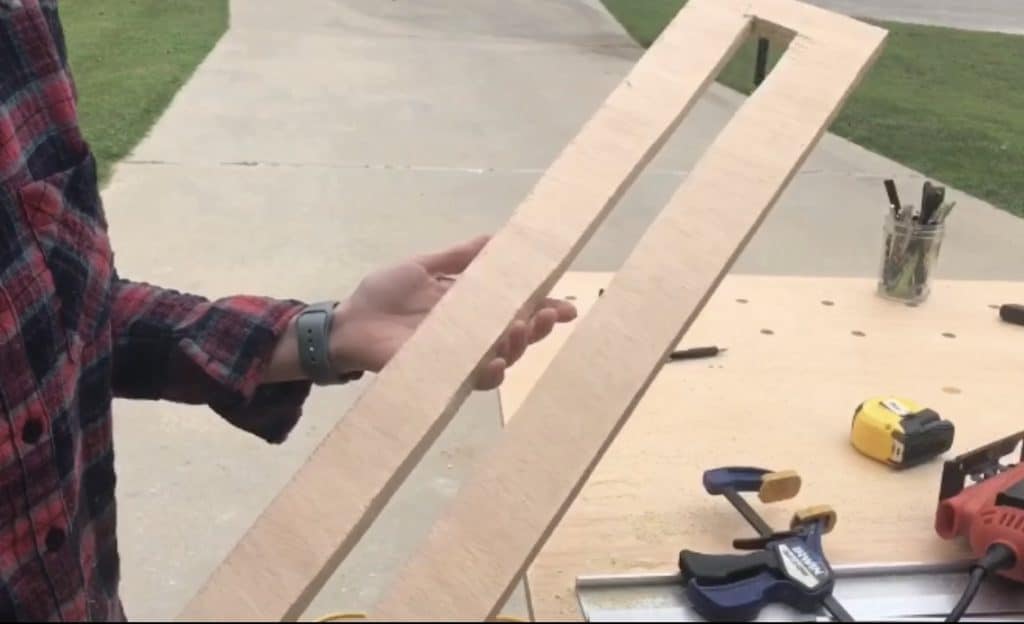 Once your pieces are cut, you can assemble them using wood glue and screws.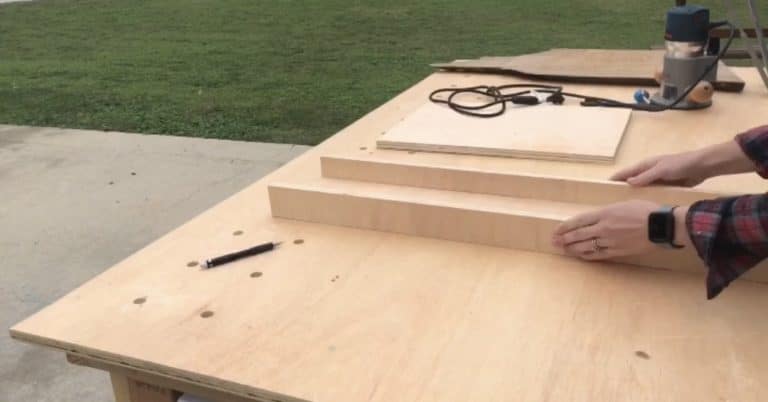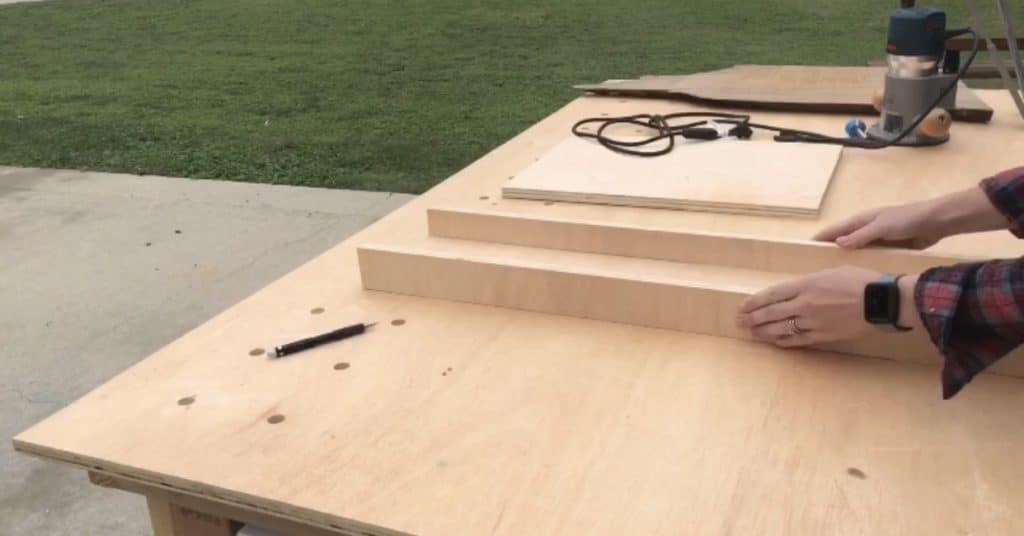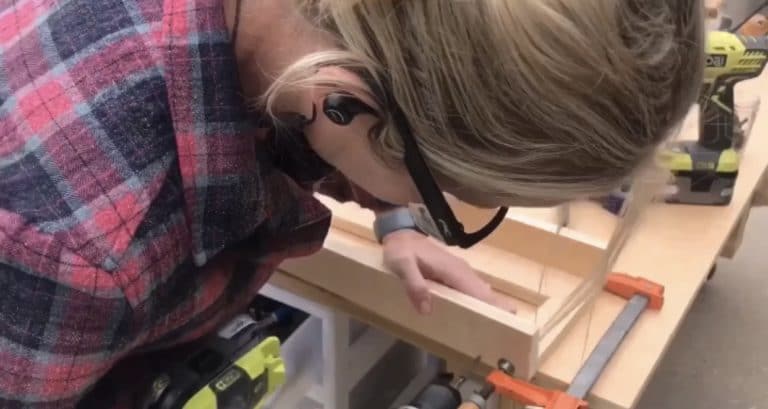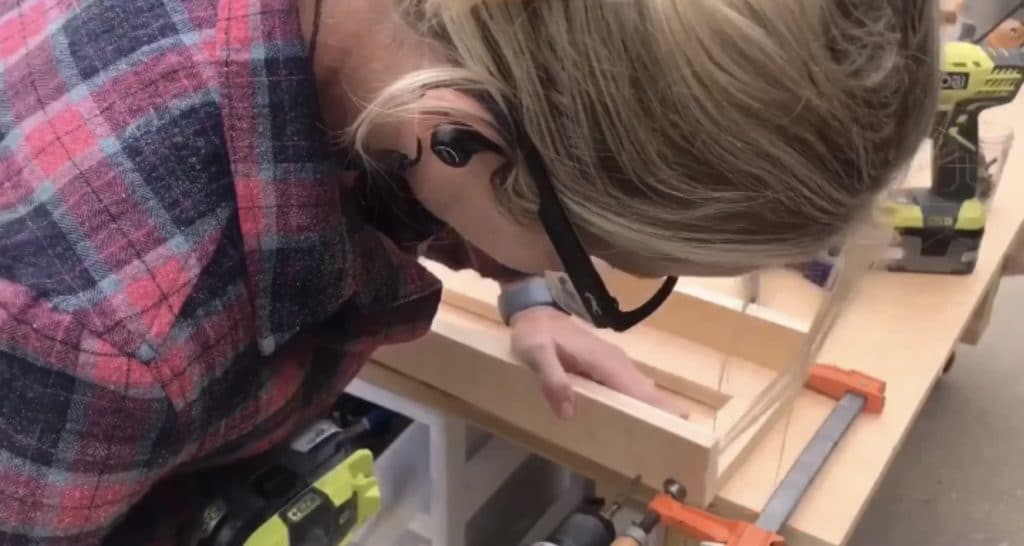 The router should now be able to slide freely through the flattening sled.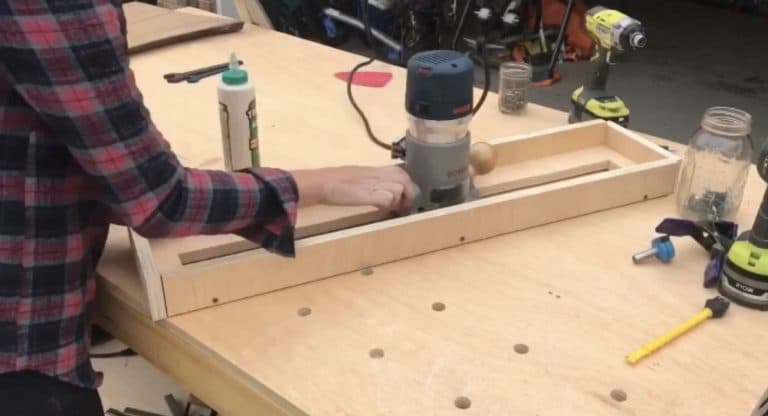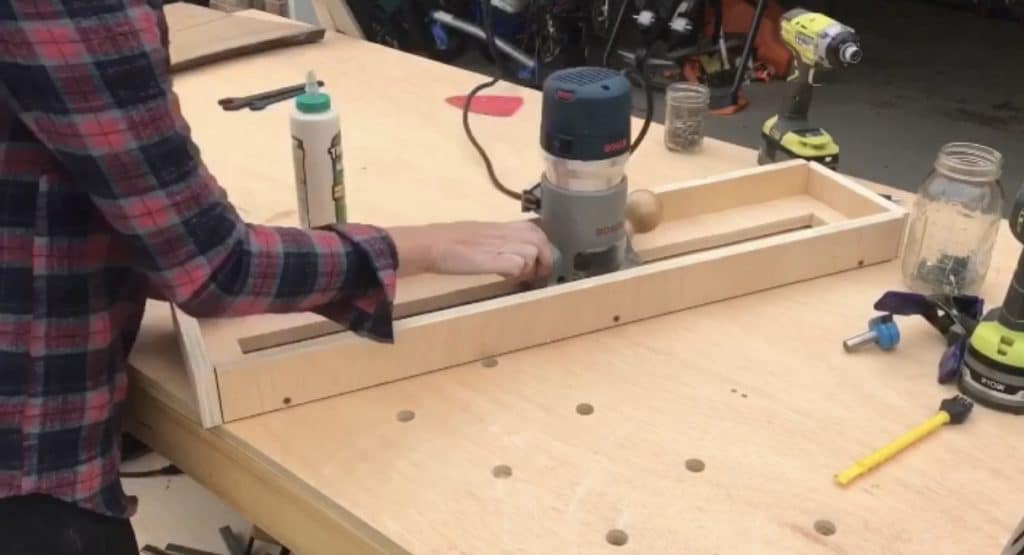 To be able to slide the sled over the wood slabs to plane it, you can now attach the casters to the ends.
RELATED: Ever wonder how to create straight edges on long boards?  Check out How to Joint Boards without a Jointer here.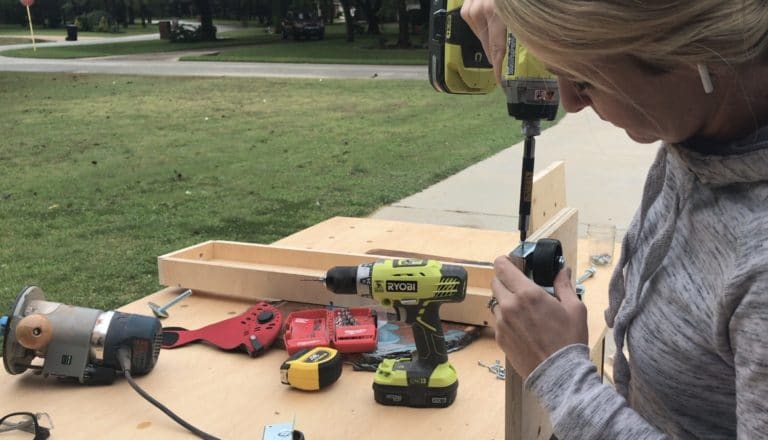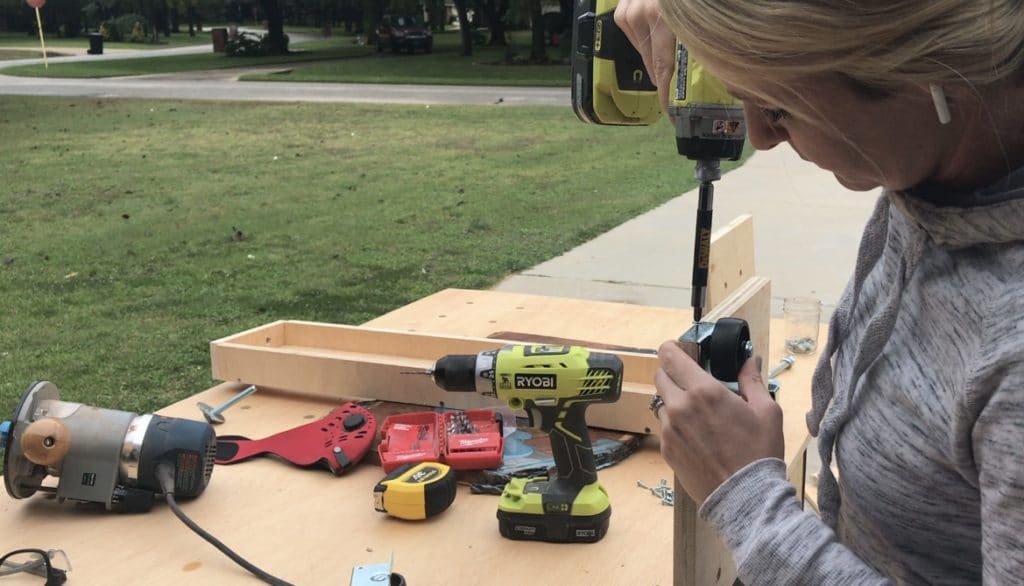 Now, assemble the whole jig using the bolts, washers, and nuts.
For the best finish when you're planing using the router, shim your slab so that it won't move while you plane it.  I have found that it's best to shim evenly around the whole piece, rather than shim one side.  This will cut down on the amount of your slab that has to be planed off.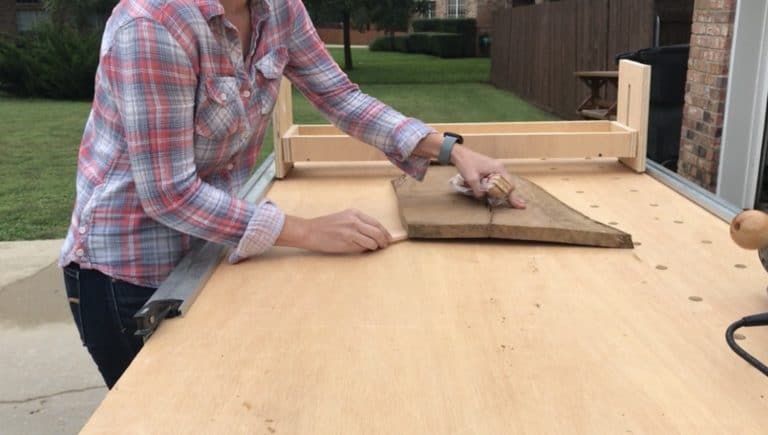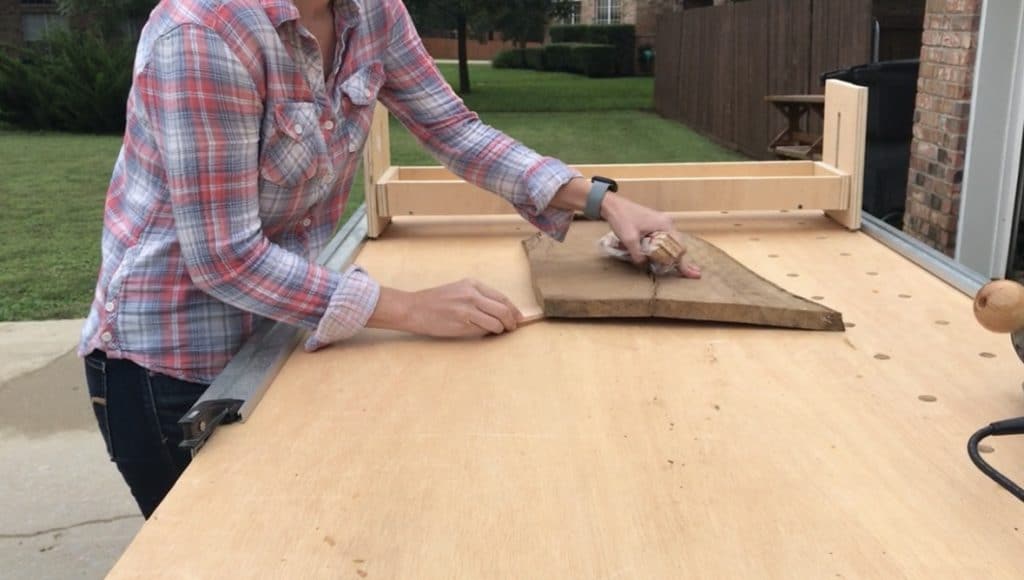 For the best finish, plane with the grain.  The casters should make this much easier.  It makes a huge difference planing with the grain vs. against the grain.
You should also clamp straight edges to your workbench so the sled won't accidentally slide off and gouge out your slab. 
For a couple more router tutorials, check out how to cut a juice groove on a cutting board and how to route finger groove handles in a cutting board, how to build a round side table, and how to cut a perfect circle in wood!
Be sure to wear protective eyewear and a mask because of all the dust.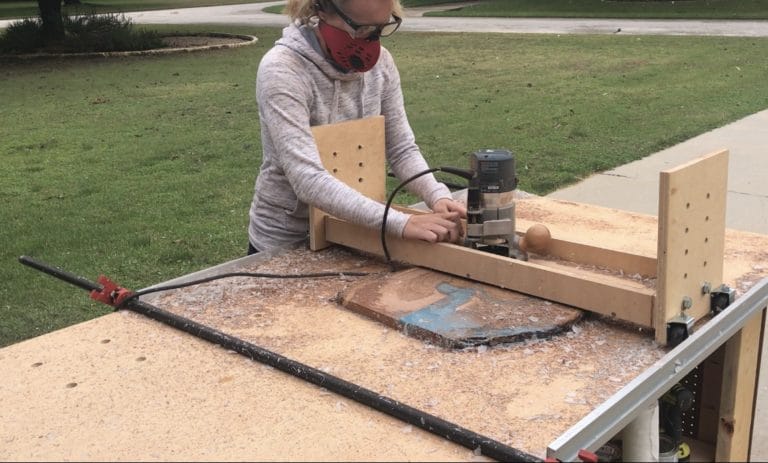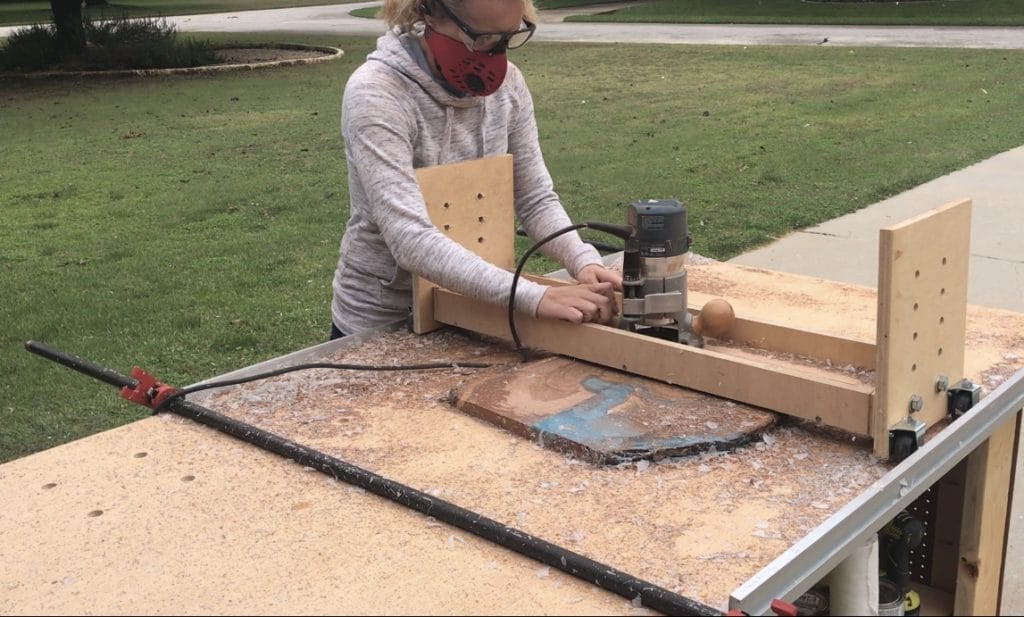 This creates A TON of sawdust.  It's very important to consistently clean your work area.  If the router rolls over sawdust, it won't plane it perfectly flat.
Now that you have a perfectly flat slab, I recommend trying your hand at creating a wood waterfall edge corner joint!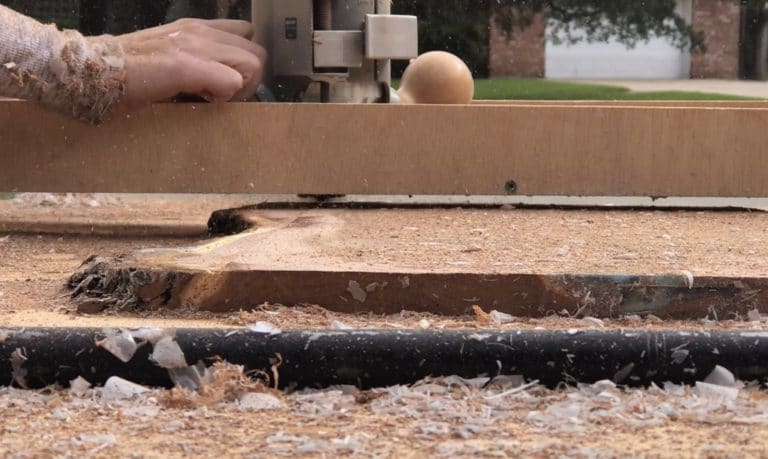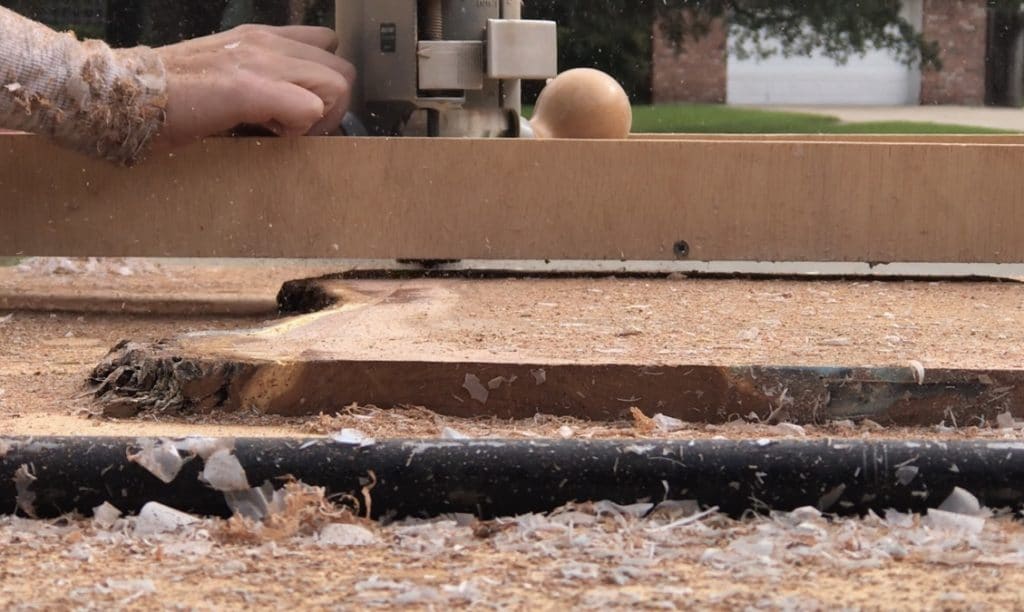 That's it! Let me know if you make this – I would love to see what pieces you create!
Q: Where can I buy a router flattening sled?
A:  If you prefer not to DIY your own sled, you can find great options here, here, or here.
Find the web story for how to make a router slab flattening sled jig here!