Charcuterie boards have made a splash recently and for good reason. The process to build your own charcuterie board out of wood is actually really simple, so I create a step-by-step guide for you to make your own! This project is fairly simple and great for beginners. Follow along for the whole process below.
I received this live oak slab awhile back and finally decided that I wanted to make a charcuterie board. When they're styled well, they can be so beautiful!
RELATED: If you have a bigger live edge slab, check out this live edge wood and concrete table!
Step 1: Create the handle
I started by sketching out the handle.
And squaring off the bottom, curving out the edges.
I used this
jigsaw with these
blades to cut out the handles that I drew.
Step 2: Smooth and Sand
I then ran them through my planer
. Which by the way, this
was a new purchase for me and I can't recommend it enough. It's a big purchase, but it will take the quality of things you can make up a couple notches. Seriously, a game changer for me.
I then sanded the edges of the wooden charcuterie board using these
sanding drums. When they're put on a drill press, it makes sanding vertical surfaces a breeze.
And now to fill the cracks. I have used this
stuff for awhile now and it's the best I've found to fill small holes/cracks.
It goes on quickly, then when you spray it with this accelerator, it can be sanded in 15 minutes!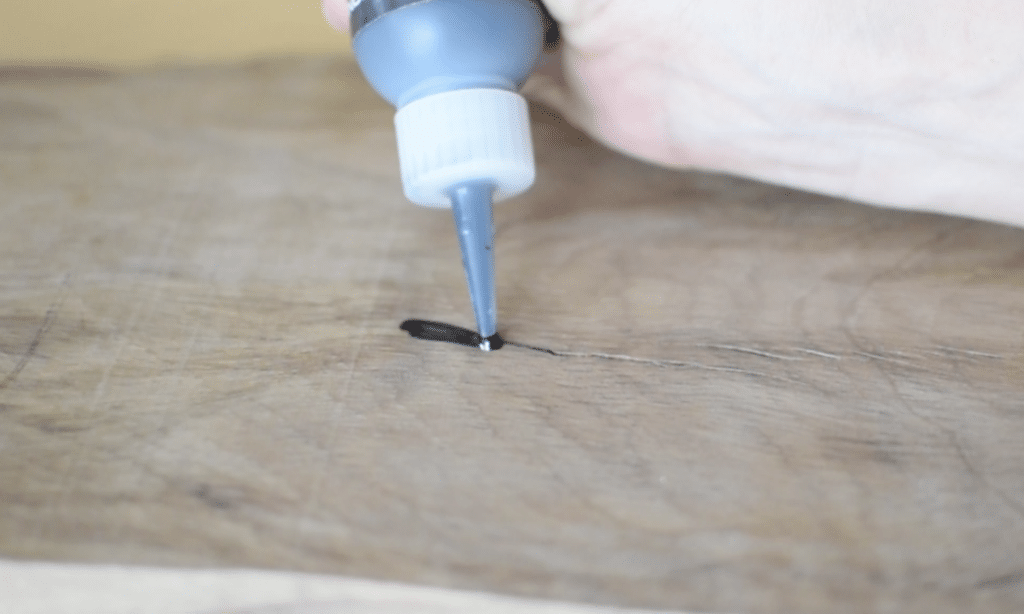 The glue sands pretty easily. I use this
orbital sander and I love it as well. I start with 80 grit, then 120, then 220.
Also – a note about sanding. After I sand it down until it is smooth, I water pop it, then sand it again. This means that I spray it with water and let it dry. This causes some wood grain to "pop" and the piece becomes rough again. When you sand this down a second time, it makes it perfectly smooth. Just a quick sanding trick for you! This is a must for making your own charcuterie board out of wood, since it will be used for serving, you will want it as smooth as possible.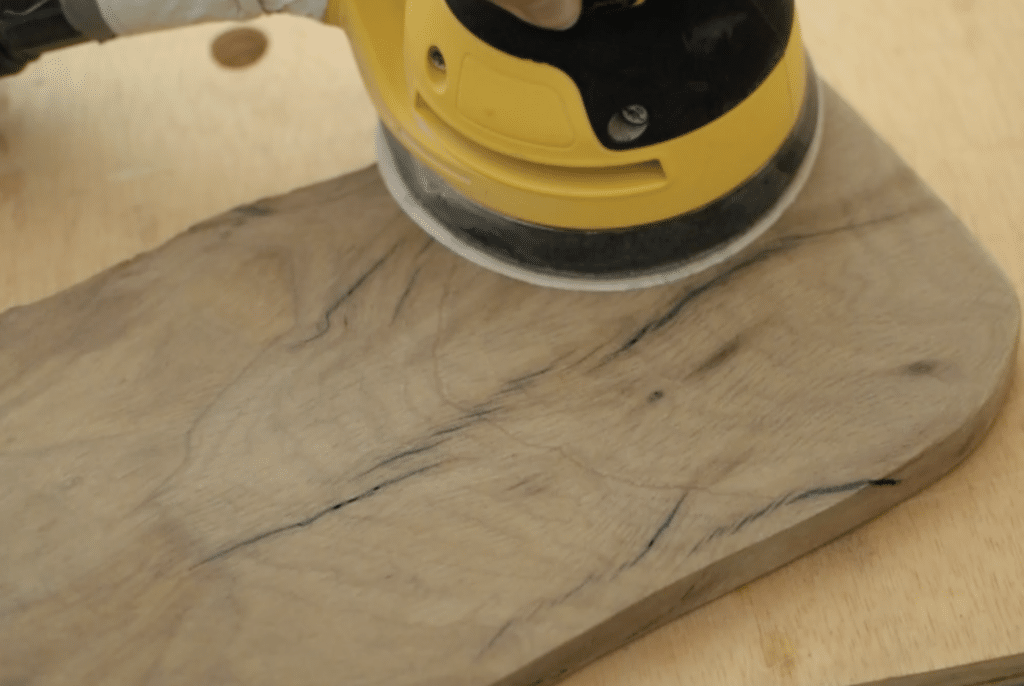 Step 3: Apply Finish
I finished it with my favorite – Odie's Oil. It is food safe, protects it the best I have found, and smells so good!
I go into all the reasons why Odie's is the best finish for things like charcturie and cutting boards here.
I made a similar project recently; it is an antique-looking wooden riser that would make a really cute display stand. I also think that these would make great small woodworking items that sell. Another idea for that would be these wooden cigar ashtrays!
If you'd like to try a different version of this, check out the basics of how to make a DIY cutting board here!
Step 4: Style It!
There are lots of great ideas out there for how to style your cheese board.
I especially loved this post from Cristin Cooper on styling her beautiful charcuterie board.
I definitely have the bug to make many many more of these unique charcuterie boards now. I'm picturing a huge one for appetizers, or even to decorate the middle of our dining table with! I would love to see you create your own charcuterie board out of wood – so if you make one, send me a picture!
Check out the Web Story for this Live Edge Charcuterie Board!