Kreg Tool's Adaptive Cutting System Master Kit Review
I have used the Adaptive Cutting System made by Kreg Tool for a few projects now, so I wanted to do a complete review on this track saw and system. I will cover what the system is, setting up and using the system, and benefits/drawbacks of the system as a whole.
The Adaptive Cutting System Master Kit is Kreg Tool's answer to the need for a versatile and complete wood cutting system. I'll cover this later, but this system makes it possible to complete all of the cuts for so many basic woodworking projects – from cabinets, to dining tables, to household items like cutting boards, and so much more. It is truly a one stop shop for almost any woodworking project you have.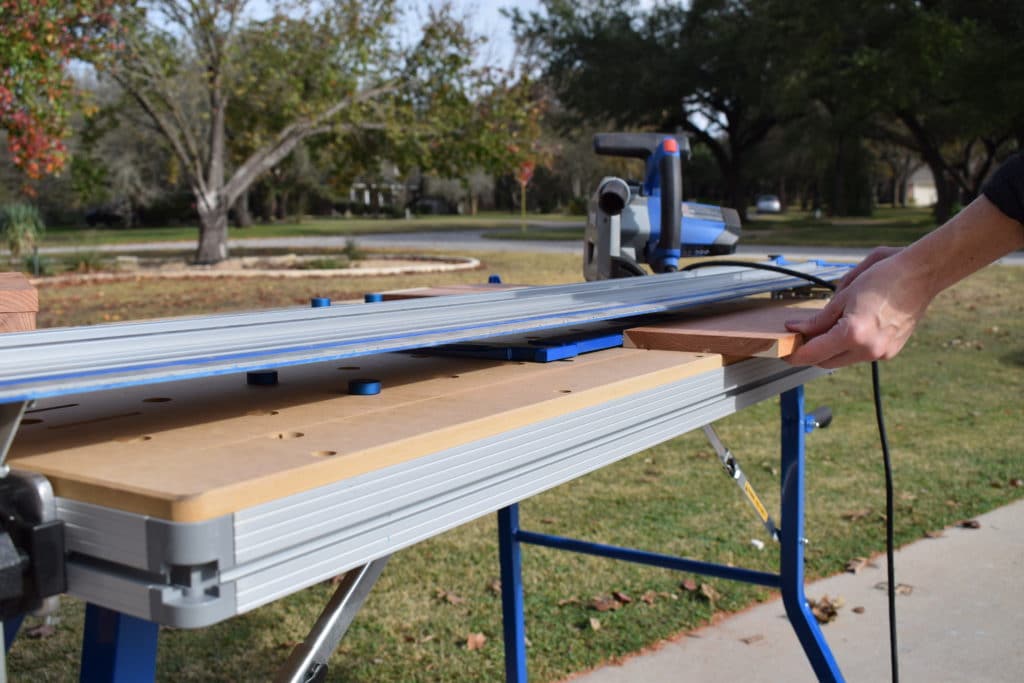 Table of Contents
What is Kreg Tool's Adaptive Cutting System?
The Adaptive Cutting System Master Kit is a guided cutting system that allows you to quickly, accurately, and safely make many different types of cuts like rip cuts, crosscuts, repeatable cuts, bevel cuts, and miter cuts.
What Is It Made Up Of?
The Adaptive Cutting System is made up of the table/bench, the plunge saw, the guide track, and the accessories.
You can purchase either just the table and accessories or just the plunge saw and track. Or, you can purchase all of it together in the Adaptive Cutting System Master Kit.
Disclaimer: Kreg Tool provided me with this system, but all opinions are my own.
Adaptive Cutting System Bench Table
The table that comes with this system has many features that make it truly great. First, the bench is lightweight and mobile. The table can easily be moved, which is especially helpful if you, like me, roll your tools out of your garage or workshop in order to cut down on sawdust in your workshop.
It also stores upright, which is very helpful in cutting down on real estate that tools take up in a garage shop if space is an issue for you.
Although it is mobile and lightweight, it feels very stable. It is not wobbly at all. It can handle large slabs of wood, like this 7 foot live edge mesquite slab I used to make this waterfall edge bench.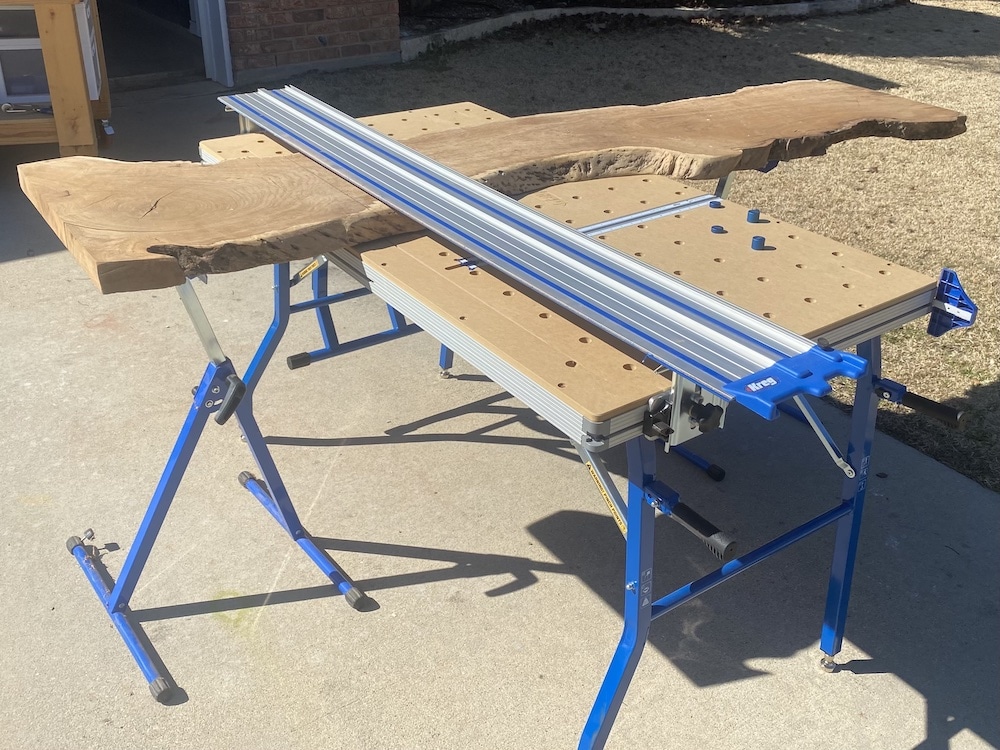 It also comes with dog holes drilled in it, which allows you to quickly and easily add versa stops to make squared-up cuts, or use them to clamp your piece down.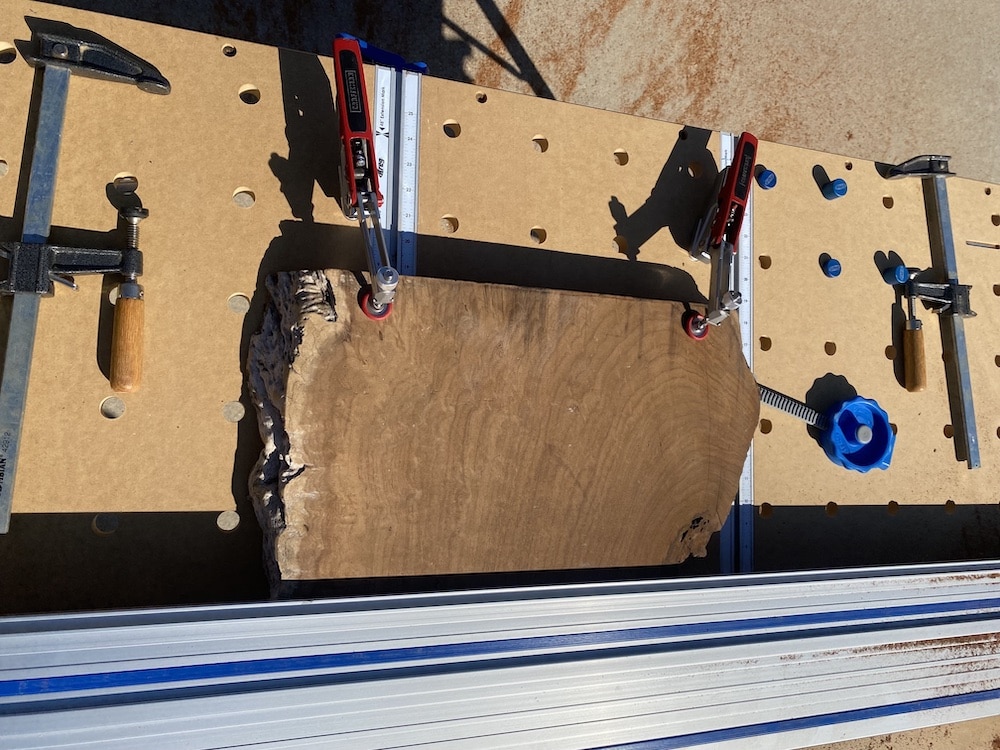 Kreg Plunge Track Saw
This plunge saw is designed to fit the cutting track made by Kreg. The saw allows you to make cuts over 2″ deep when cutting a 90 degree angle. You can quickly and easily change the bevel angle up to 47 degrees, which is one of the many reasons it is so versatile.
This came in especially handy when I made a Wood Waterfall Edge Corner Joint and a DIY River Table that you can read about.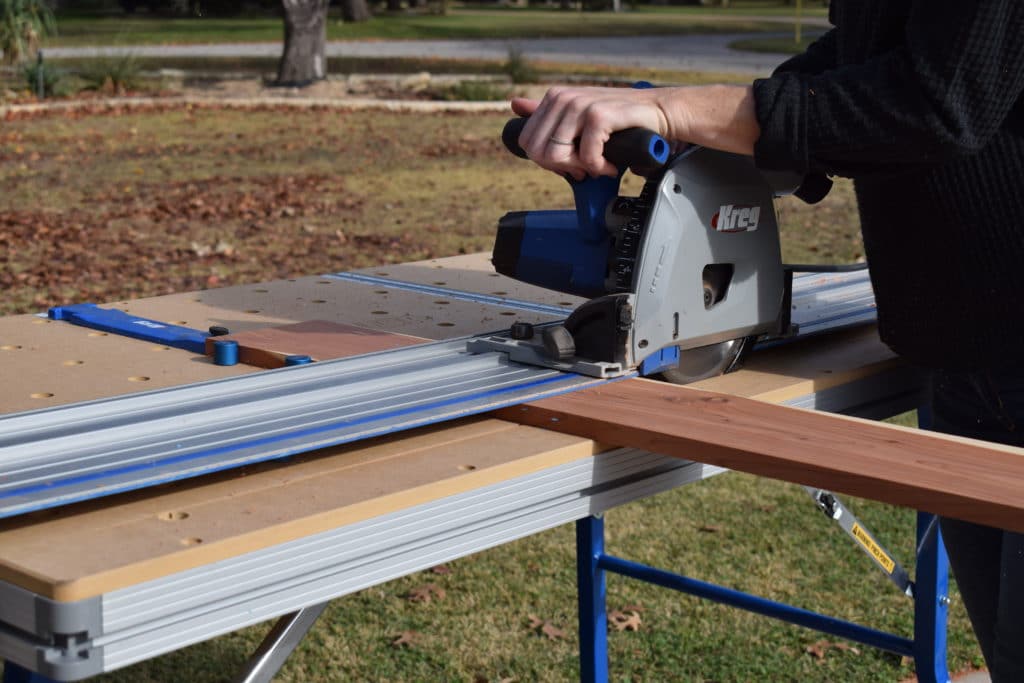 There are many safety features on the saw as well, like kickback control, a riving knife, and a blade brake. And, just by the nature of a plunge saw, the blade is retracted when not in use. Kreg truly thought through so many things to make this system not just functional, but safe as well.
Like I mentioned earlier, I have cut 8/4 mesquite slab with this and the Kreg track saw handled it so well. This is no small feat, considering the density and hardness of mesquite wood!
Kreg Guide Cutting Track
This cutting guide track is designed to fit Kreg's Plunge Track Saw. It measures 62″ long and is also designed to fit on the Adaptive Cutting System Table. However, it can be removed from the table if needed and used like a typical track for a track saw on a piece, independent of the Adaptive Cutting System bench.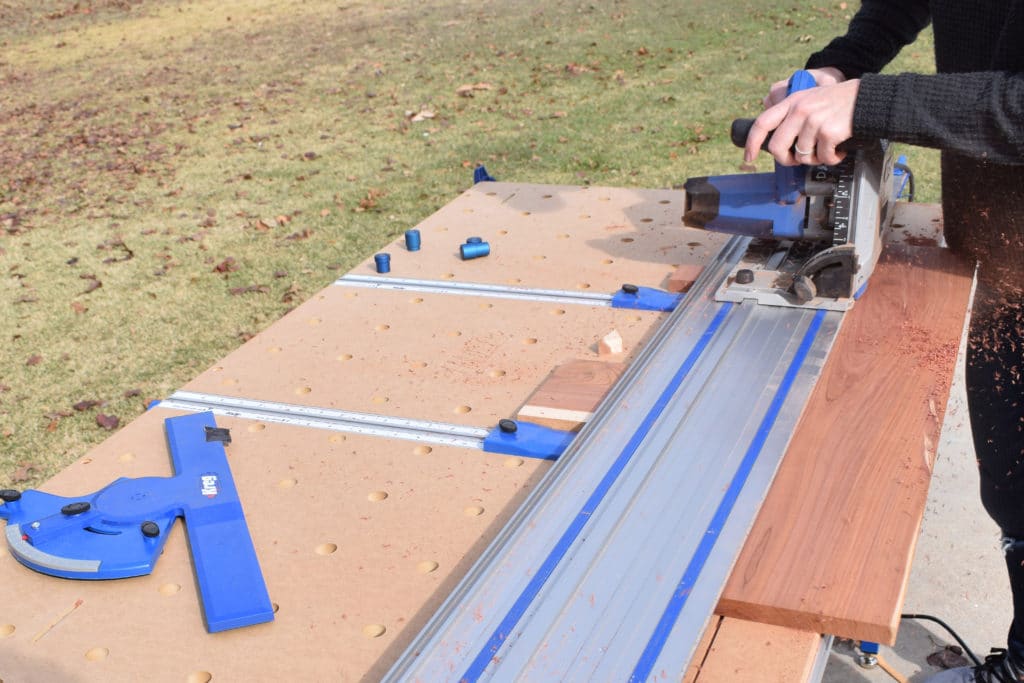 It is an aluminum track with a rubber edge. This rubber edge is an anti-chip strip and it shows the exact cut location, so you can easily see where the cut will be made. It also helps to greatly cut down on chip out when cutting.
A track like this is very helpful when ripping boards like a couple steps in how to make an end grain cutting board from scrap wood.
This track, along with the plunge saw, is a great alternative to Festool's track saw system, given that it is much more affordable and can handle many cuts on different species of wood.
Adaptive Cutting System Accessories
These accessories come with the purchase of the table and are all a necessity to make a variety of cuts on your system. The include:
versa stops – for the dog holes in the table. Your piece will butt up against these to ensure the piece doesn't move, and that you're making square cuts
measuring tapes – you install these when you are initially setting up your table. They allow you to measure your cuts quickly and without a tape measure.
rip guides – utilizing the measuring tapes on the tables, you can set the measurements of your cut. These allows you to quickly make repeatable cuts
miter gauge – allows you to quickly make miter cuts at common angles. This would have been especially helpful when making extreme cuts in a project like outdoor light up wooden star
extension brackets – allows you to cut larger stock than the table size
Setting Up and Using the Adaptive Cutting System
This system does take a little bit of time to set up the first time. I was able to complete the whole set up and begin making cuts in about 4 hours. You have to assemble the table and track and calibrate it.
Kreg offers some really great videos for how to set up your adaptive cutting system table and how to set up the plunge saw.
Once you have completed all of the steps to set it up, you can begin using your system. The track edge will show you exactly where the cut will be. The stops allow you to make repeatable cuts, which would come in handy for things like cutting boards, cabinets, or an outdoor wooden doormat.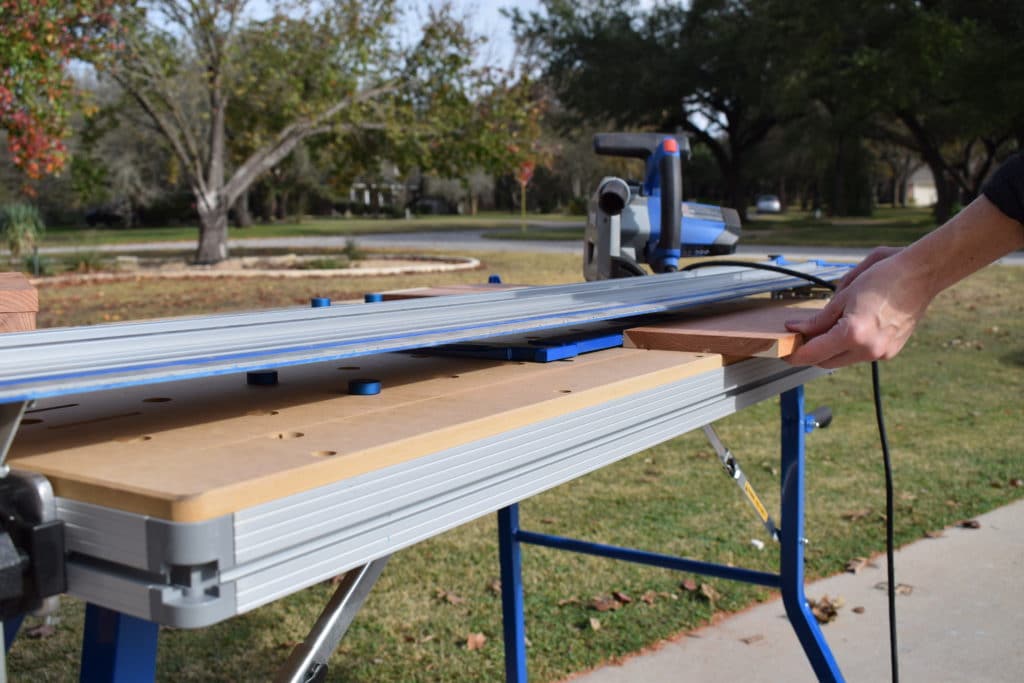 Benefits of the Kreg ACS
Now that I have used this system many times and for many projects, I can say that this system has so many benefits. It could even potentially replace staples in your shop, like a miter saw, a circle saw, or even a table saw!
It is a great option for those just getting into woodworking, because you can make so many different types of cuts with just this one system. It is incredibly safe, especially compared to a table saw, and Kreg added so many safety features.
It stores upright, it easily rolls wherever you need it, it's quick to start using (after the initial setup), it's versatile, and it's accurate. I highly recommend this system, as it has become my go-to when I am making any cuts for a project.
Drawbacks of the Adaptive Cutting System
While I was making the waterfall edge bench, I did run into a problem with the depth of cut when I was cutting a bevel. The max depth for a 45 degree angle is 1.5″. While that is a great depth for a plunge saw, I can get a deeper cut on my table saw. So, this isn't really a drawback of the system itself, more of a drawback of plunge saw vs table saw.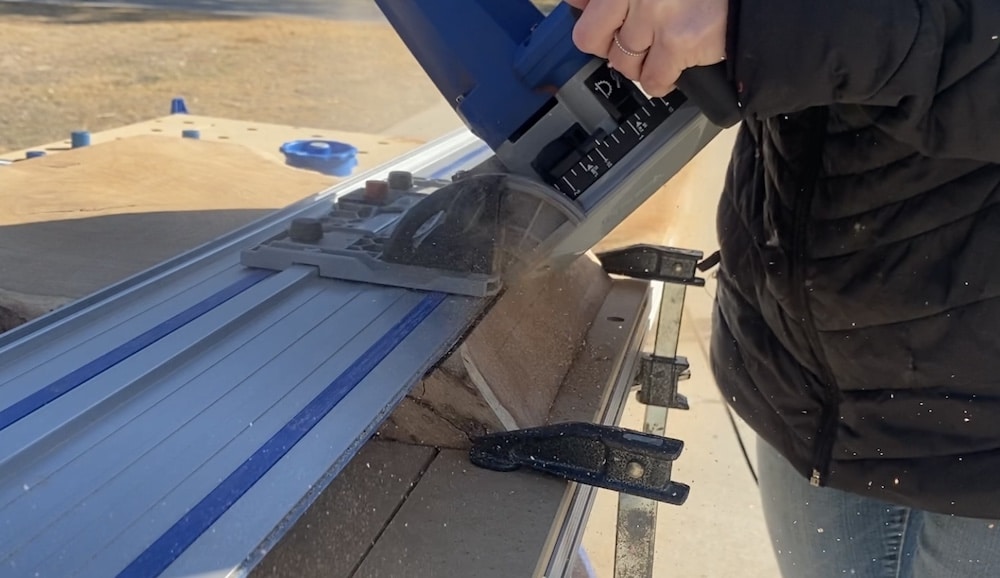 There are also times that I wish the table was slightly larger. They do sell extension brackets that are helpful, but that is just one more thing that you have to buy.
Is the Kreg ACS System Worth It?
All in all, the Adaptive Cutting System Master Kit made by Kreg Tool is a truly great cutting system. It is well worth the money in my opinion, as the value it provides is hard to beat in one system.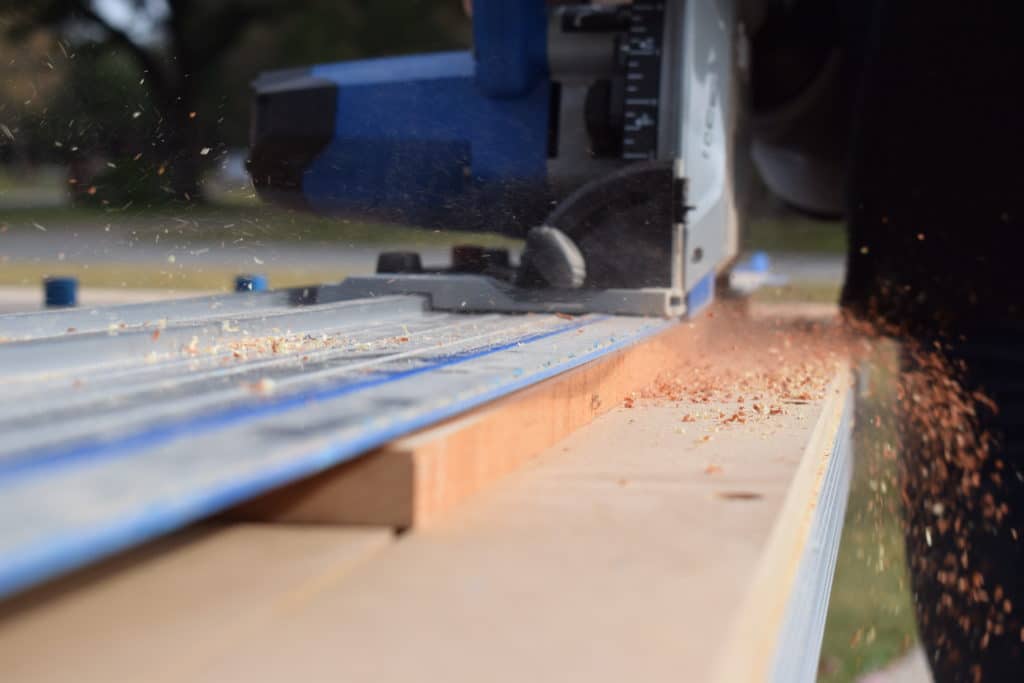 This system would be a great addition to your home shop!