In this post, I'm going to share how I made a simple set of no-sew tie up curtains to cover a window.  It is a simple project that requires no sewing and is an easy way to cover those large windows!
I have a confession to make.  Are you ready? It's kind of a big deal….
I have no idea how to sew. At all. No idea where to start.
Whew! Glad I got that off my chest.  That's right…a diy-er that can't sew.  A conundrum if I've ever heard one.  My mom is amazing at it and I would love to learn, I've just never taken the time. It's pretty hindering especially when your guest bedroom looks like this…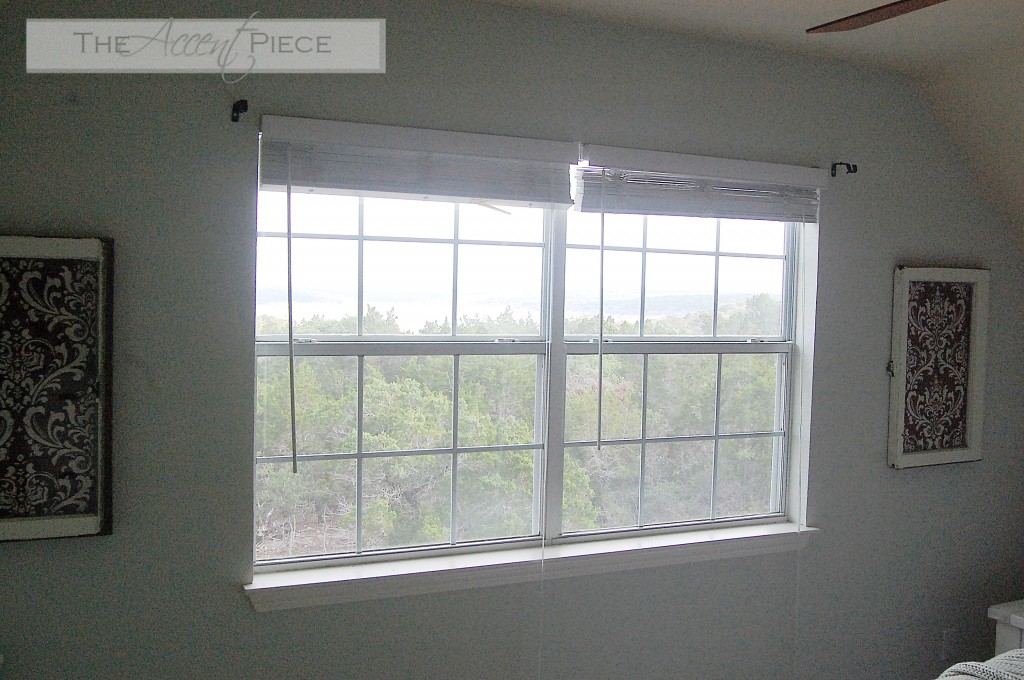 …in dire need of curtains…valance…shades..anything!  I knew the look I wanted and I had the material to do it.  Since this diy-er-non-sewer couldn't just whip out the sewing machine and make curtains, I had to make them another way.  They're super simple.  The way I like it.
You will need:
Enough fabric to cover the width of your windows, plus about 6″
Iron
ribbon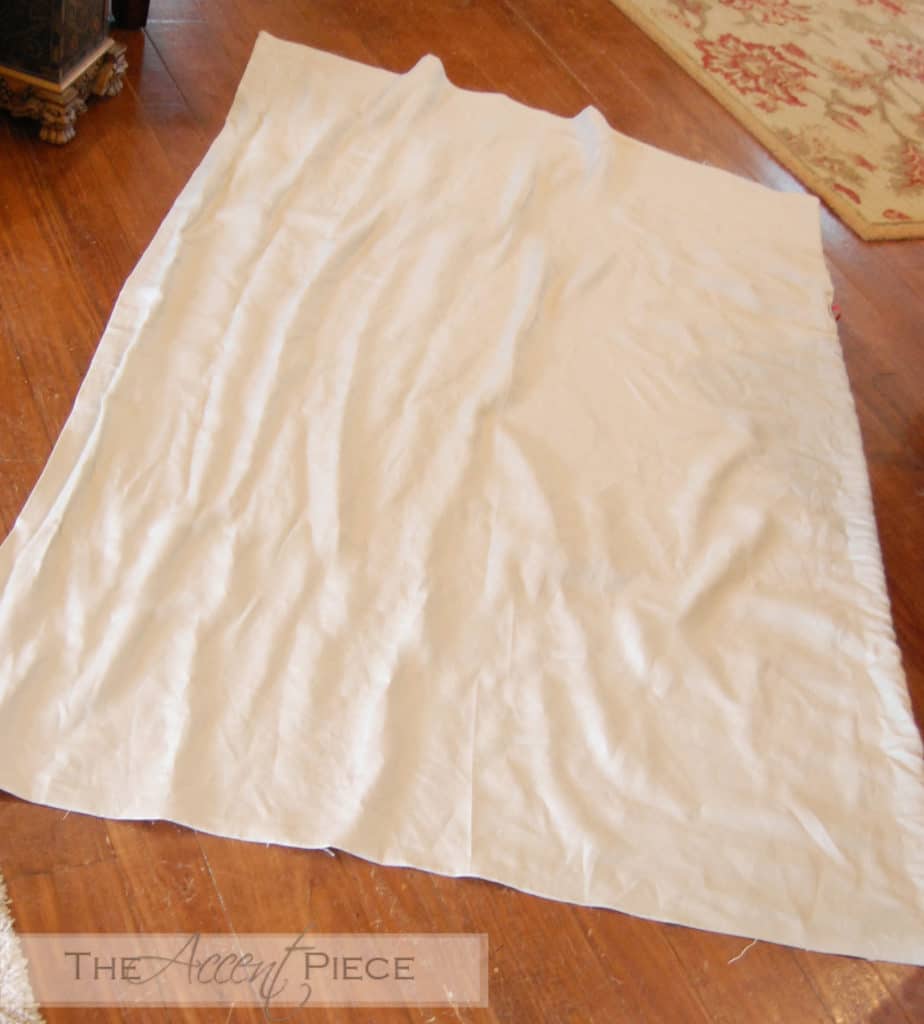 I had this fabric left over from the DIY headboard I made, and I figured it would work out perfectly.  Start by cutting your fabric the width of your windows, plus about 6 inches just to be safe.
To get rid of the frayed ends, use your iron-on adhesive.  This is where sewing would come in handy, but a girl's gotta do what a girl's gotta do.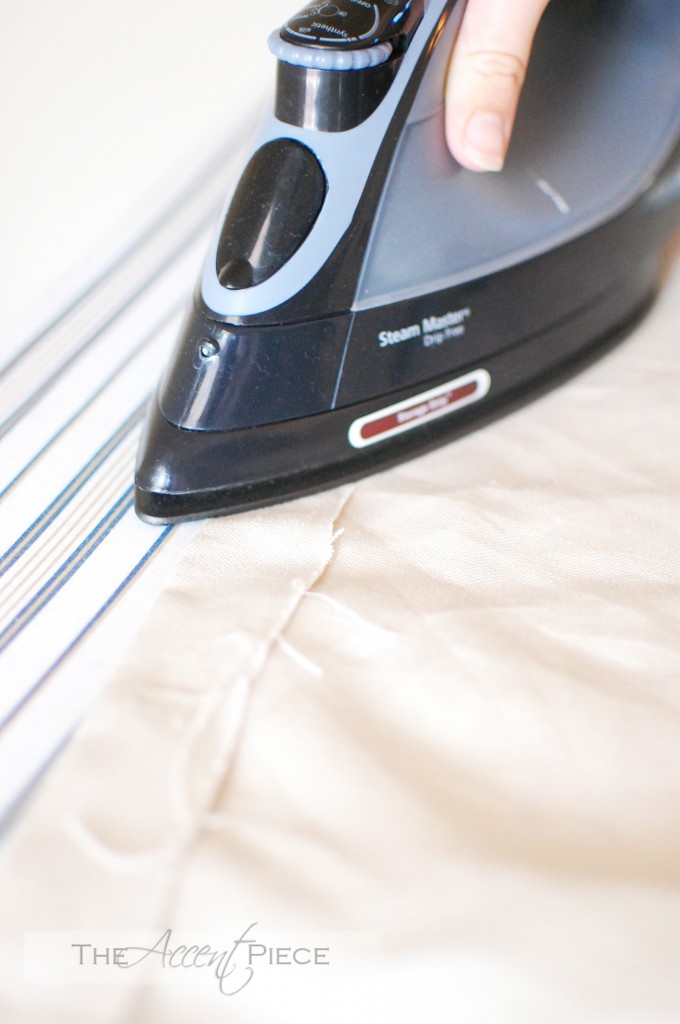 On 3 sides, fold the ends over about 1″ and iron it down with the iron-on adhesive.  Don't do anything with the top just yet.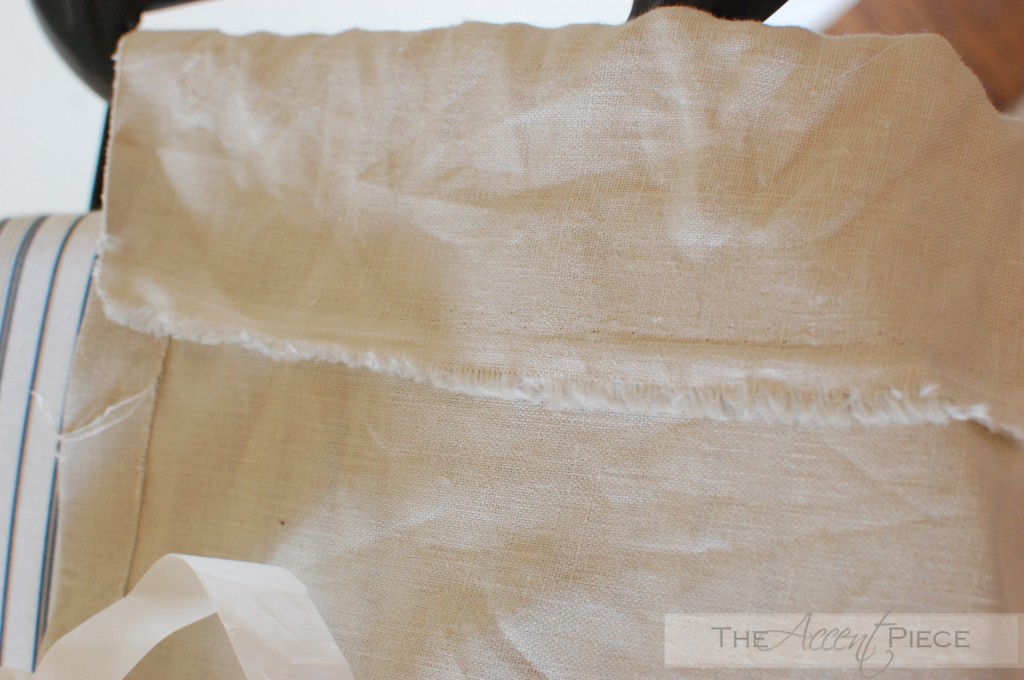 The top part will have to be wide enough to let the curtain rod go through it.  I folded mine over about 4″ and it worked out pretty well.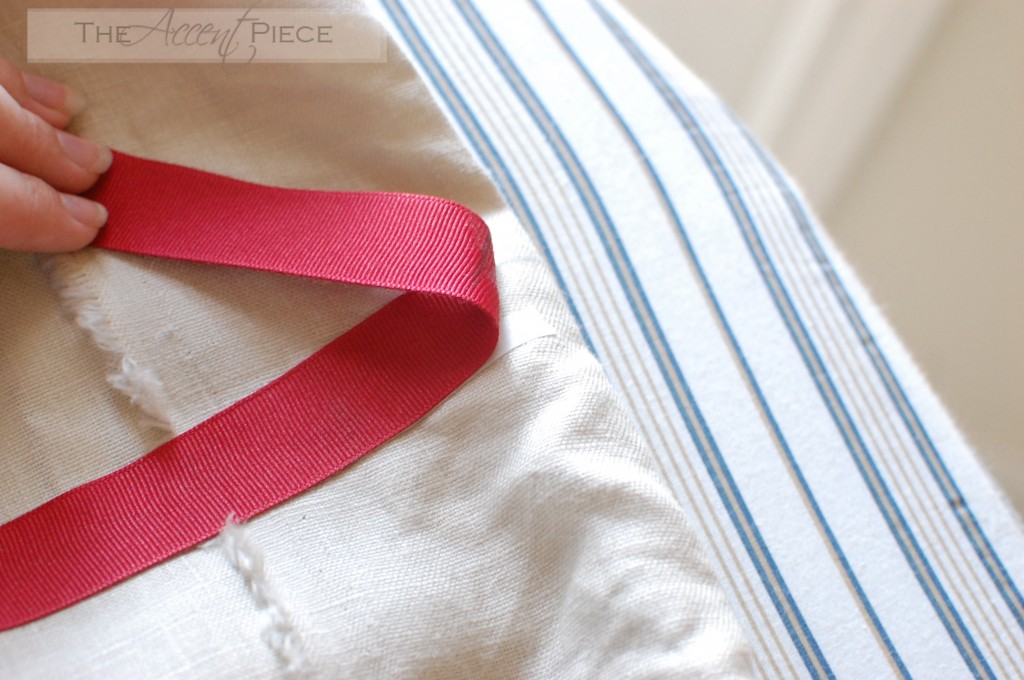 Next, measure the height of your curtains.  Double that and cut your ribbon accordingly.  The ribbon will drape over both sides. Once that is cut, use the iron-on adhesive to attach the middle of the cut ribbon to the top of the curtains.  It only needs about 4″ of adhesive.
I used ribbon to match the fabric on the DIY bench I made earlier.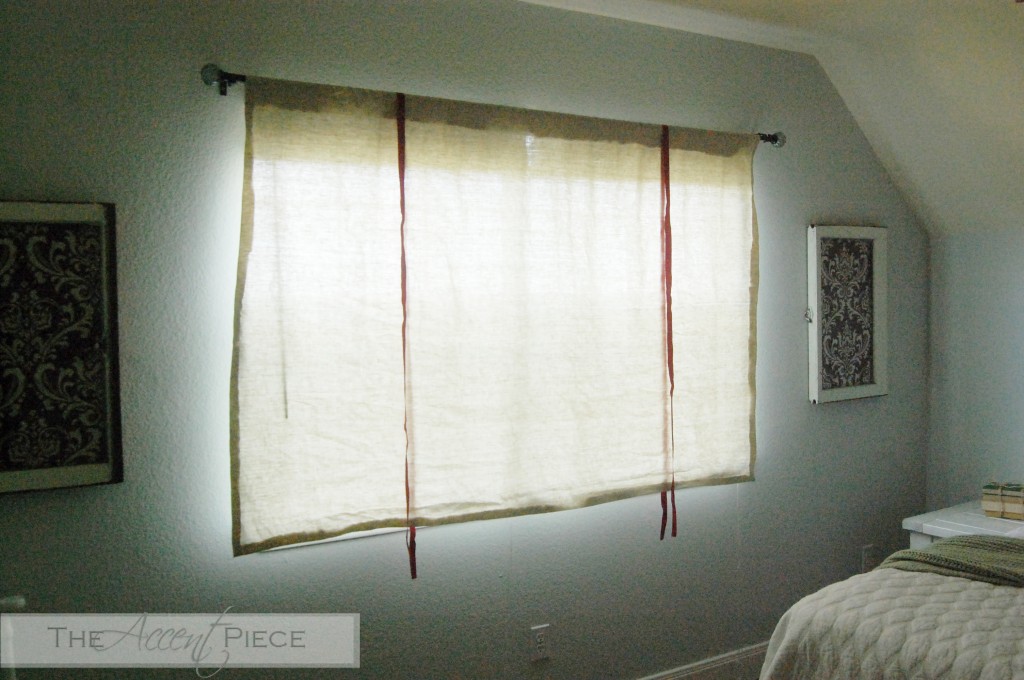 You can hang it up now.  The next part is easier if it's hanging.
The ribbon should fall on either side of the curtains.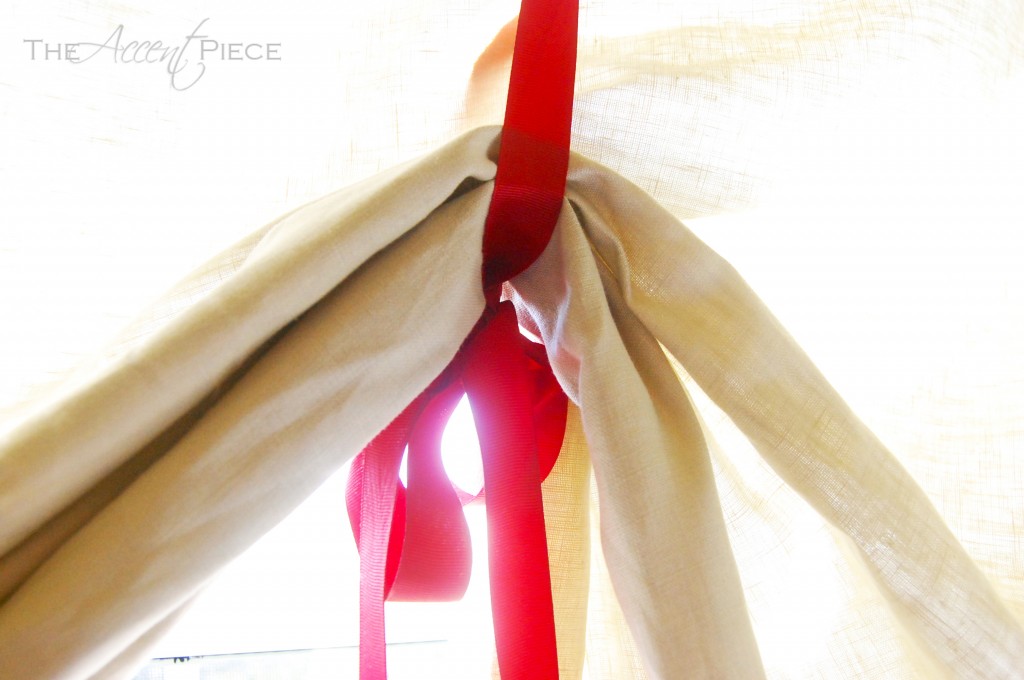 Then just tie it up!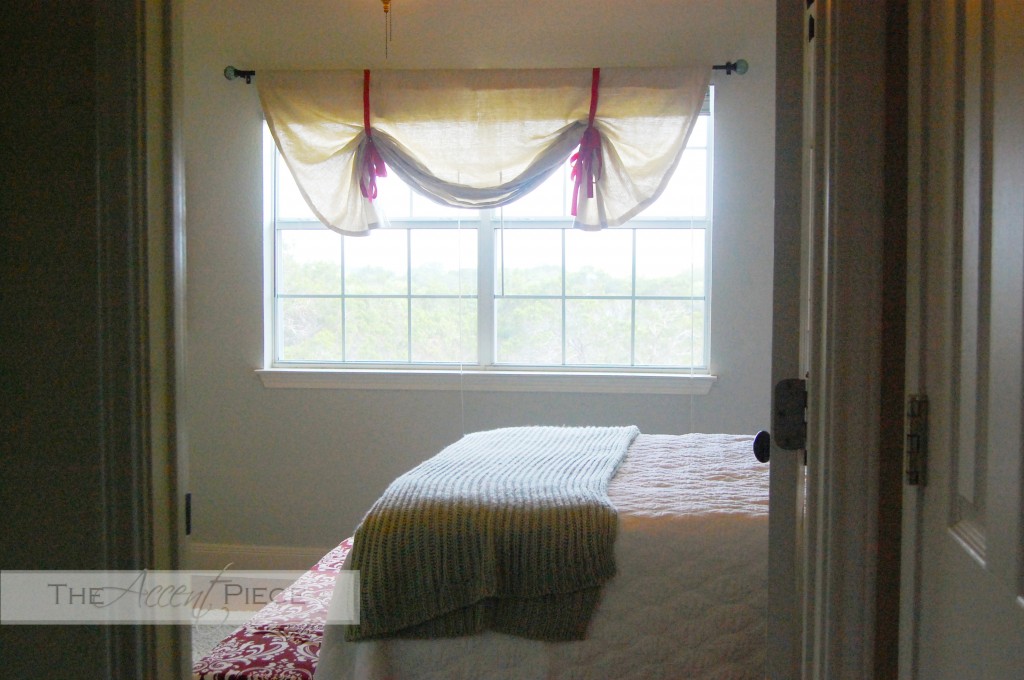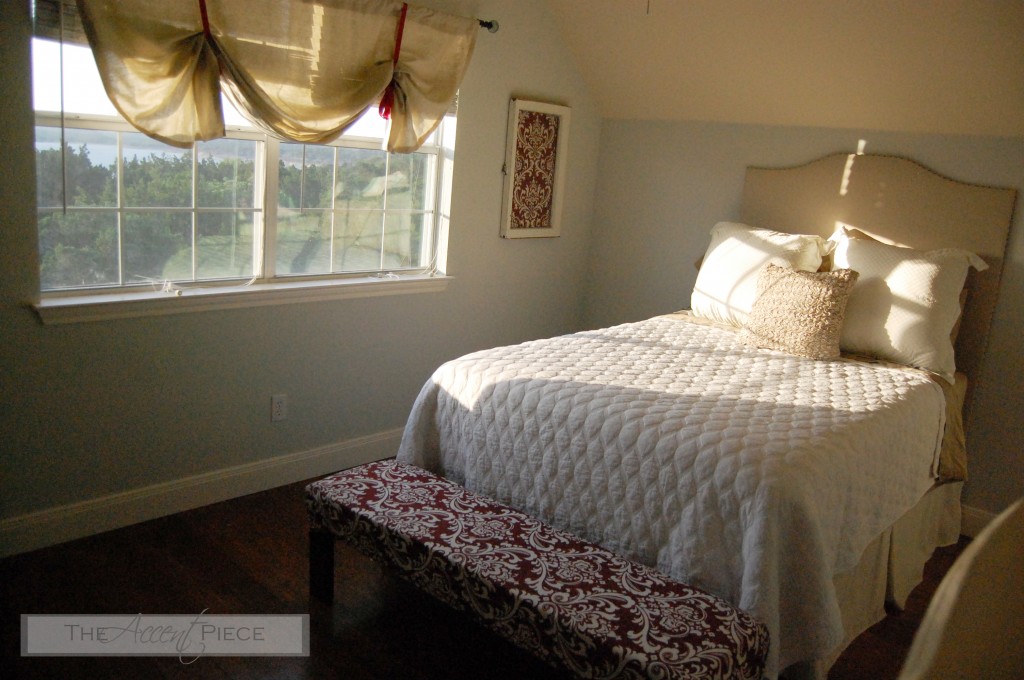 For another room darkening project, check out this cheap and easy way to DIY blackout a window.
Now we have curtains that are made from the same fabric as the headboard and ribbon that matches the bench for about $15. Pretty simple stuff!  If you make these easy tie-up shades, be sure to show me your finished product!
Find the web story for how to make DIY No sew Tie up curtains here!