Pottery Barn Inspired Headboard
I have been looking for a headboard for our guest bedroom.  I stumbled upon this headboard from Pottery Barn.
Hate to break it you Pottery Barn, but I don't have $1,199.00 to spend on a headboard.  I do love you, but that ain't happenin.  So, I decided to make my own.
To make this headboard, you will need:
1 large piece of wood (I used particle board, 4'x6′)
Jigsaw (I use this Black & Decker Jigsaw)
Nailhead trim (can be found here)
2 yards of fabric (I used a linen-like fabric)
Spray adhesive (can be found here.)
quilt batting
hammer
measuring tape

Start with drawing your desired curve on only half of a large piece of wood.  Once that half is cut, use the wood that you cut off as a template to draw the other side of the headboard.  That way, you have a symmetrical curve.  I begged kindly asked my handsome hubby to help me with this step since he's much better at cutting wood than I am.  Oh, and use protective eyewear.  Oops!

Once you have your pretty little curves cut at the top, lay the board down on a flat surface.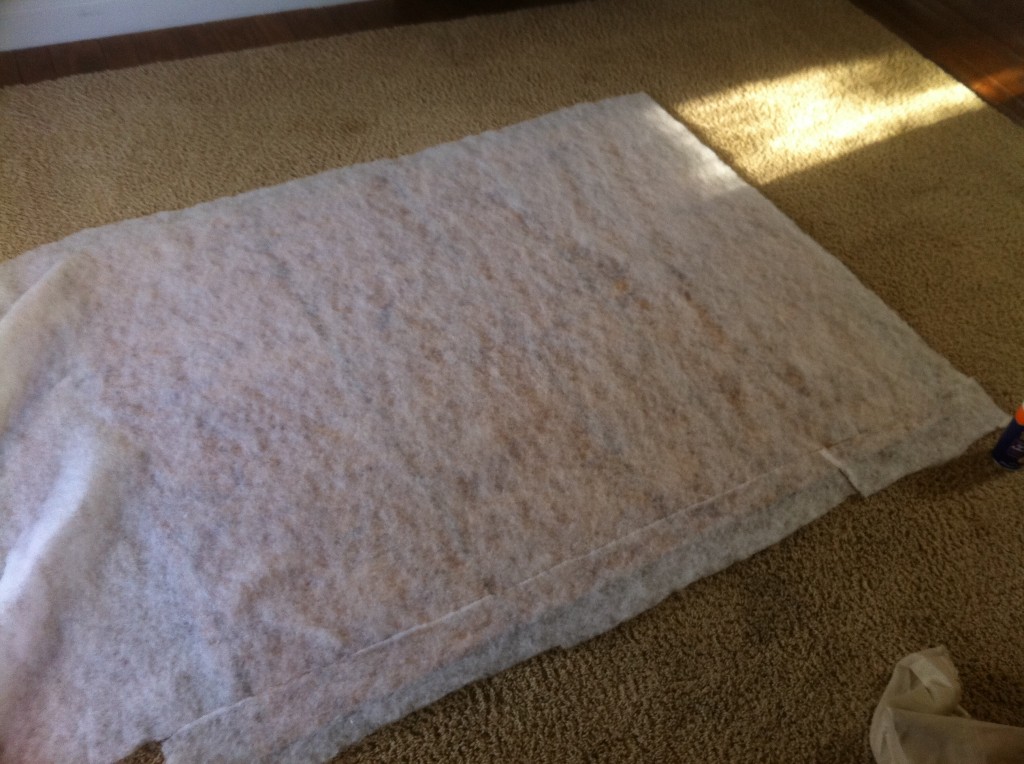 Spray some spray adhesive on the board and lay the batting down.  Now that I've finished the project, I would recommend use at least 2 layers of batting for extra dimension and cushion.  I used one and I'm while I'm happy with it, I would do more layers if I did it over again.  It's all about trial and error, right!?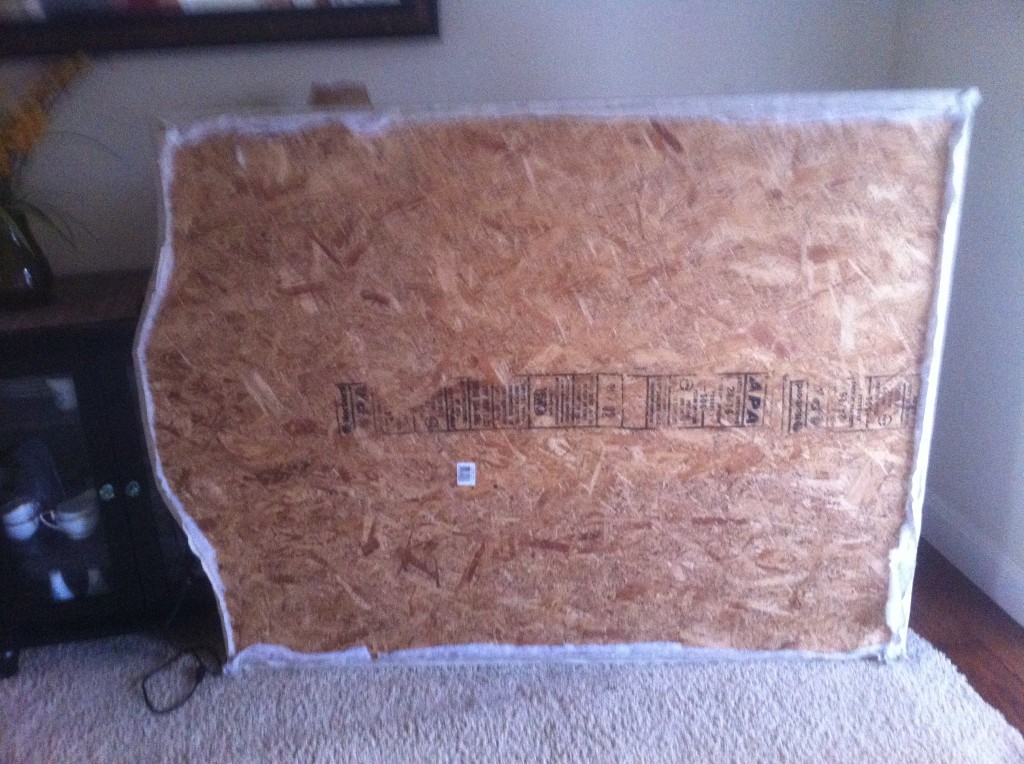 Using a staple gun, fold the batting over the back and staple it there.  Do the same with the fabric.  I didn't take a picture of this step (just got so excited to finish!) but you get the idea.  Be sure to pull it very tight after each staple.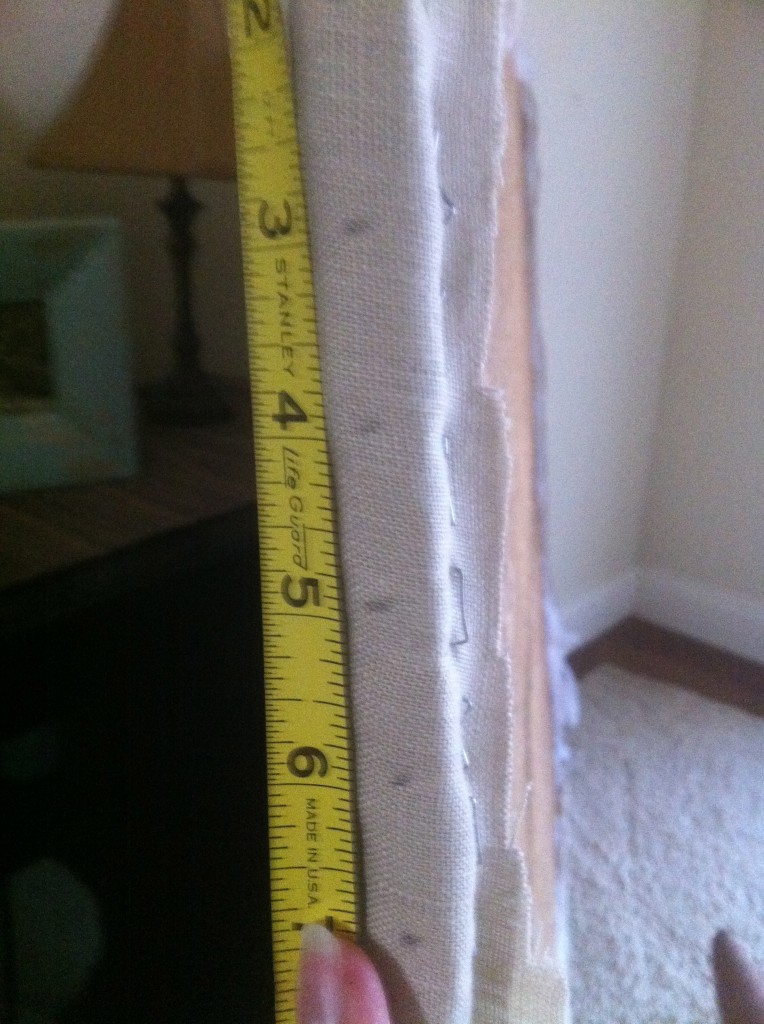 Once everything is stapled, mark every 1″ along the border using your tape measure and a pencil.  This is where your nailhead trim will go.

Start nailing in the nailhead trim.  Watch out for your fingers. Trust me. 🙂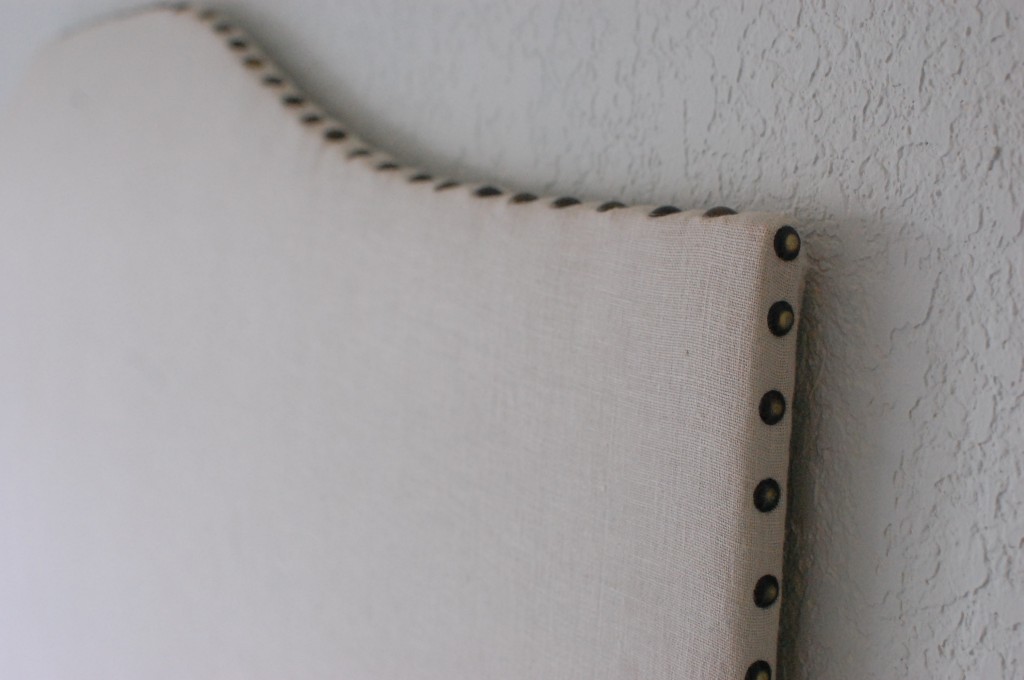 How cute would this look tufted?? Drill holes in the back, sew on a button and pull tight. Hmmm, maybe I'll have to do that.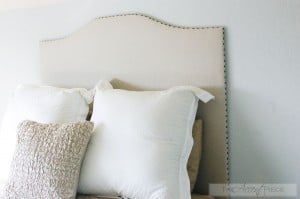 For more projects from this room, check out these no sew tie up curtains and diy blackout windows.
Here it is in its new home! I'm lovin' how it looks in our guest bedroom!