It's been awhile since I have re-finished a piece of furniture and it feels oh so good to get back into it. I got this piece a looong time ago. And by long time ago I mean its-been-a-year-because-I-couldn't-decide-what-to-do-with-it-and-its-been-staring-at-me-ever-since. Consider 'Project: Clean Out the Garage' in full swing.
And It only took me a year to get to it! At this rate we should have a clean garage sometime before year 2792. Stay tuned!
-sigh-
This is the only before picture I could find. The poor guy was an ugly green, had a warped top, peeling veneer, and was falling apart structurally.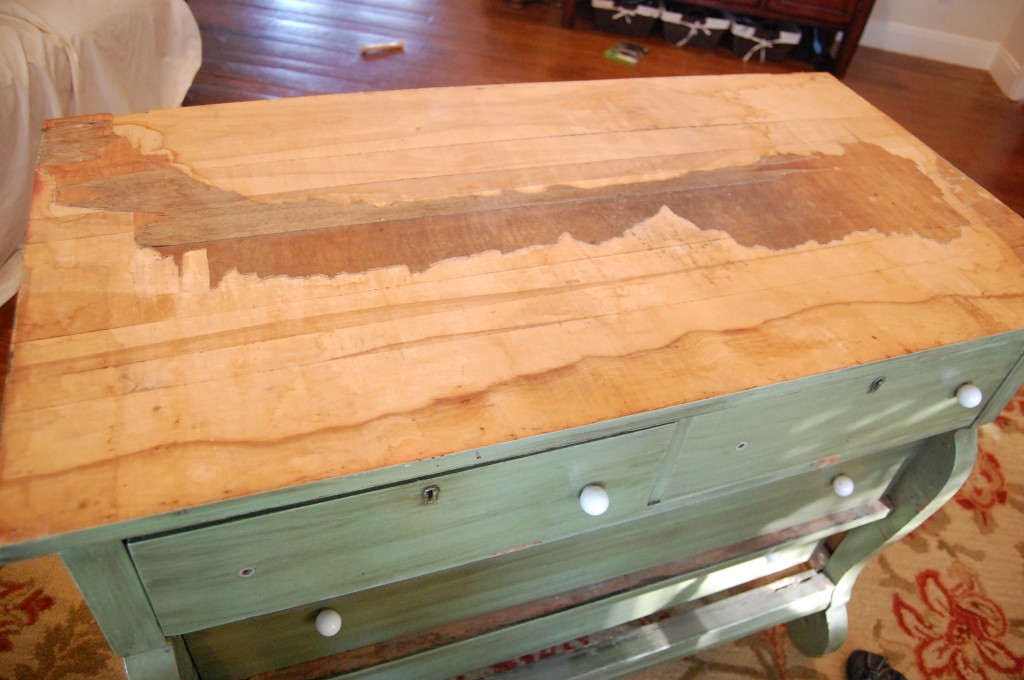 I started trying to scrape off the existing veneer but eventually I decided that even if I could scrape it all off, it would still be warped and in pretty bad shape. So I just decided to take the top off and make a new one.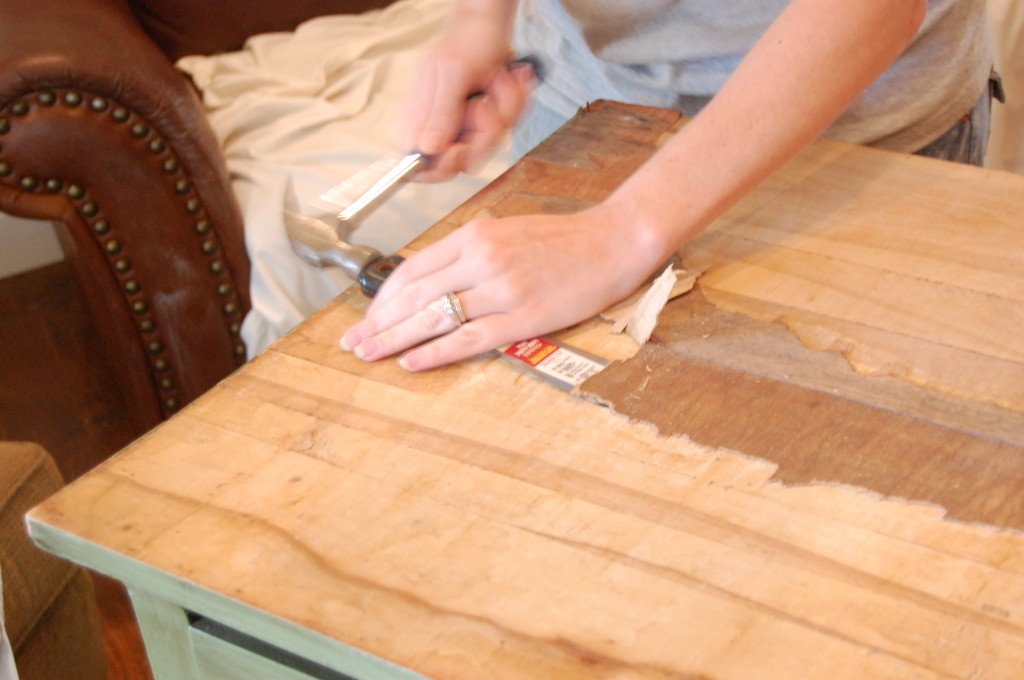 I bought a couple 1×6 boards and cut them to size for the top.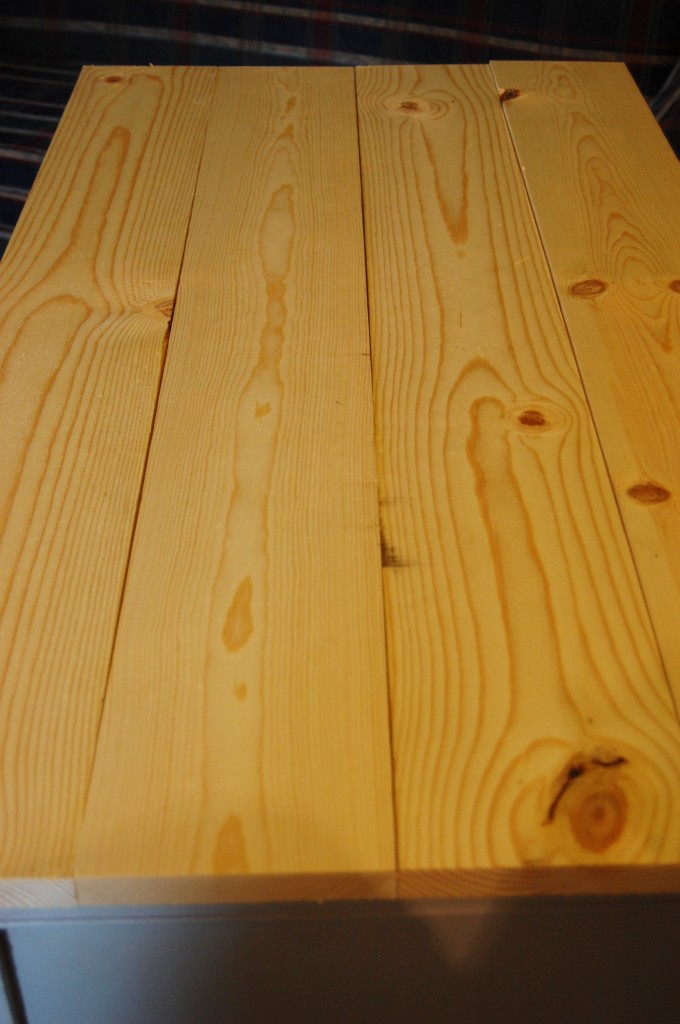 I joined them with braces and wood glue.
Then we flipped the dresser over and attached the top from the inside of the dresser so we wouldn't see the screws.
See that stripper in the window?
…wait, what?
No seriously. This sat like this for a couple months before Jon pointed out the humor in it.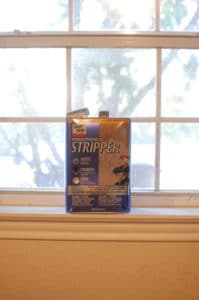 The conversation went something like this:
me: "Can you hand me the stripper please?"
Jon: "Sure, where is it?"
me: "In the window."
Jon: "Seriously? You're joking right?"
me. "why would I joke about the stripper in the win….ooooohhhhhh"
I had big plans for this dresser. I had envisioned stripping it down to the natural wood, re-staining it, and having a beautiful natural wood piece.
After stripping it 5 times, this was as nekked as it was gonna get.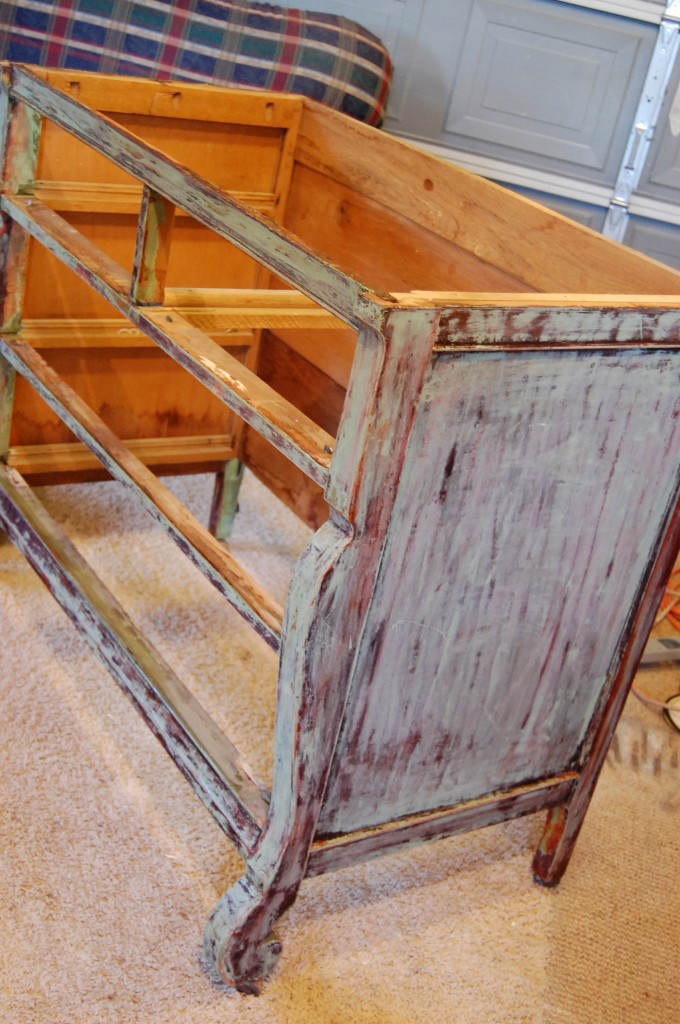 I ended up painting it a color I had on hand. It is a gray/blue mis-tint that I got from the Habitat for Humanity Re-store. After the first coat, I decided on a non-distressed, smooth finish. Then, I put the drawers in. After one pull, it scratched the paint on the sides off. Welp, guess I'm going with a distressed look. Heeeeeere's your sign.
I stained the top with a couple coats of English Chestnut (find it here
) and sealed it with this poly
in semi-gloss.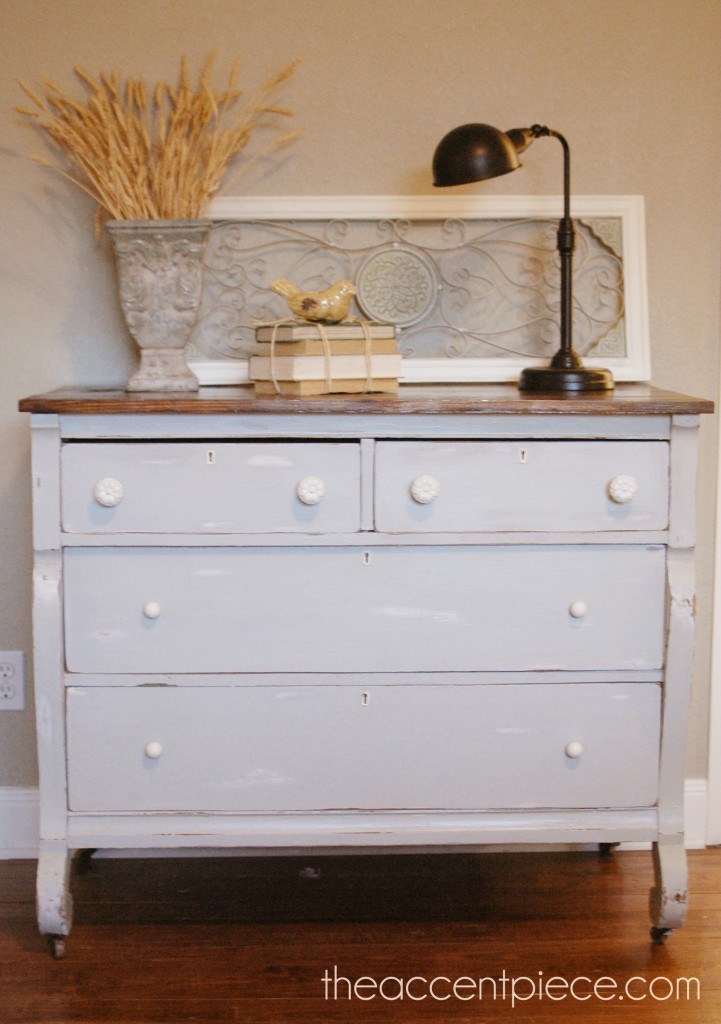 The hardware on the bottom two drawers is original with the piece. I had to buy hardware for the top two drawers, so I bought some that I thought went with the original ones.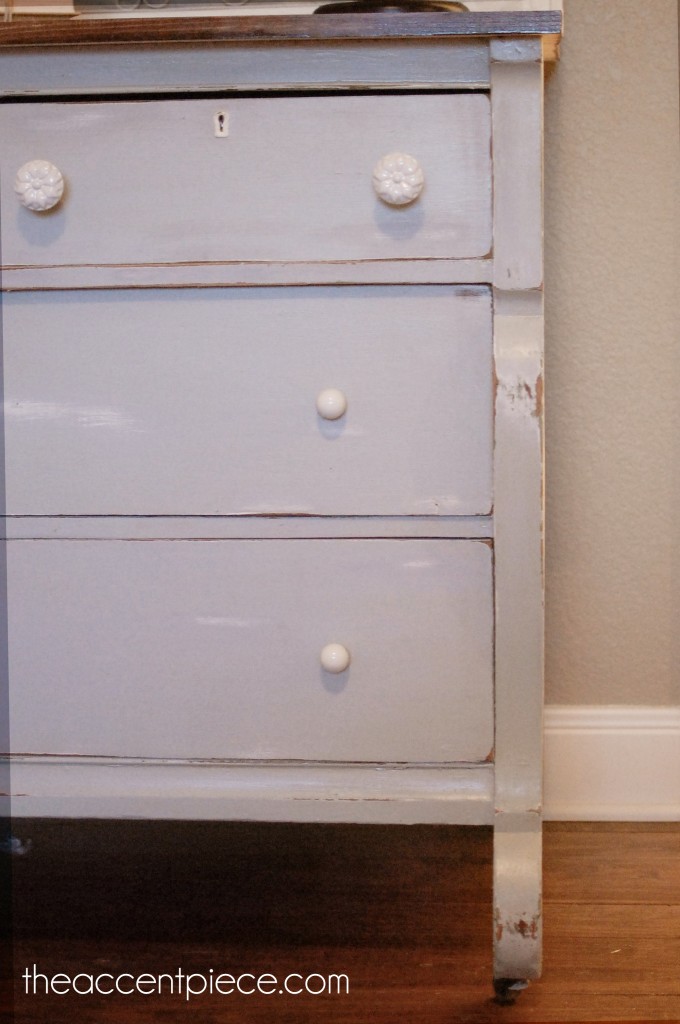 It still has the original wooden casters. And I love love love them. I'm gonna hug them and squeeze them and call them George. (name that movie)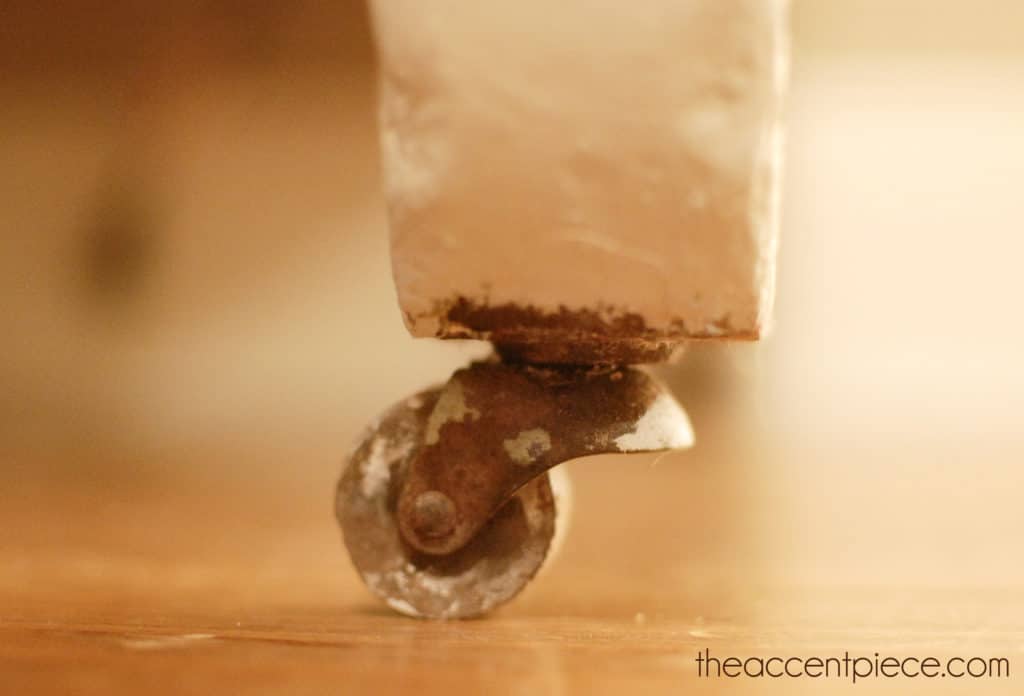 I painted the key holes white to tie in the white hardware.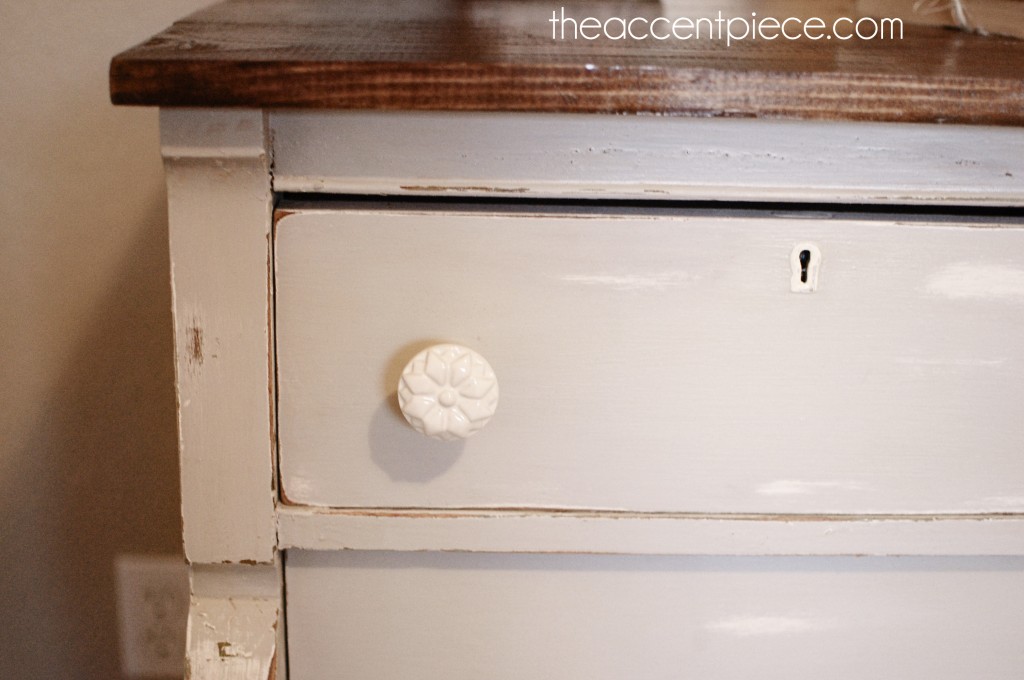 I think this piece would look super cute in a kid's room. Since we don't have kids yet, someone with kids should come get this. Just sayin.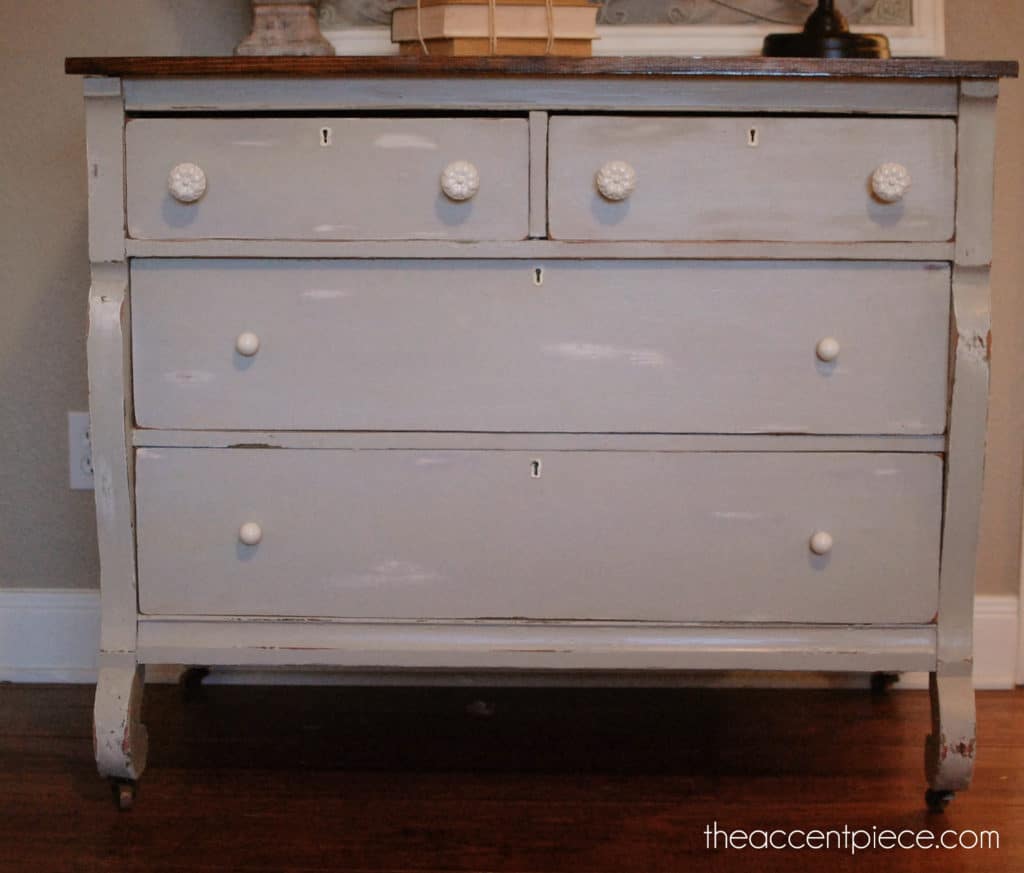 So this piece went from being stripped to the natural wood, which changed to a smooth painted finish, which changed to painted and distressed. Just gotta go with the flow sometimes I guess!