Hard water stains on glass can be a very frustrating problem to have to deal with. Sometimes it seems as though the problem is never-ending. However, I have found a product that works incredibly well in removing hard water stains from glass. The product works very quickly, is safe to use, and removes scale buildup from things like glass shower doors very easily.
The product is called Bioclean Hard Water Stain Remover. In this article, I will cover the best way of removing hard water stains and water marks with this product, specifically from shower glass doors. Additionally, I'll cover all of the great aspects of this hard water stain remover product.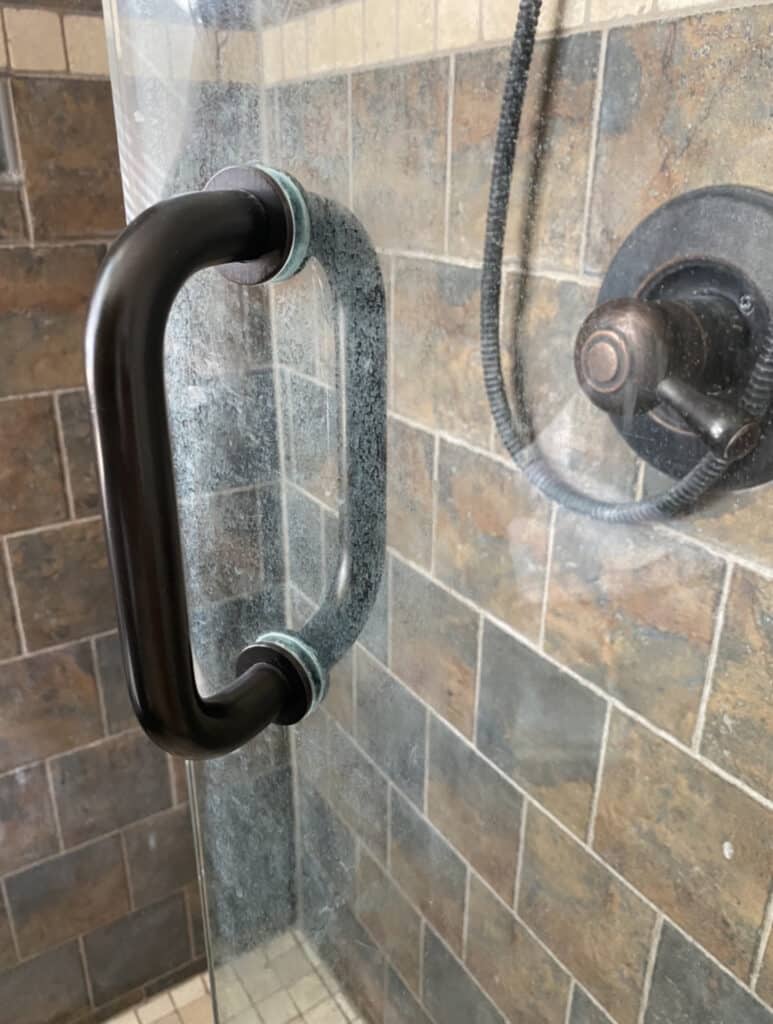 How to Remove Scale, Haze, or Hard Water Stains from Shower Glass Doors
Hard water in our area is constantly causing haze, calcium deposits, mineral deposits, soap scum, and scale on glass. Build-up can be on shower glass doors, auto glass, windows, or glass dishes. Since it is such an issue where I live, I set out to find the best way to handle the issue of hard water stains.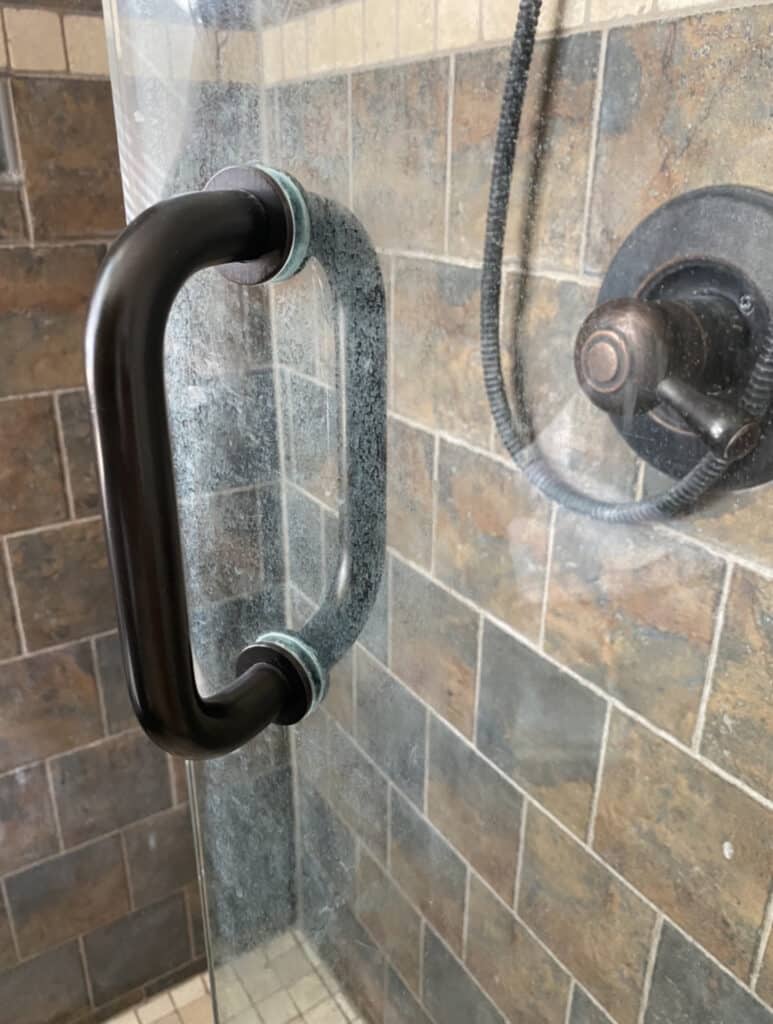 The process I will cover will remove the hard water stains from all of those surfaces, however, I will cover how to specifically remove hard water stains on a shower glass door.
Step 1: Gather Materials
And that's it! All of those hard water spots on glass surfaces can be removed with those two simple supplies.
Step 2: Buff the Hard Water Stain Remover on the Stains
Using a microfiber cloth, apply some product to the microfiber cloth. The product is similar to a thick paste that can be applied directly to a dry cloth. Buff the product on the glass in the affected area using the soft cloth. Do this for about 2-3 minutes maximum on the affected area.
One of the great things about this product is that it takes very little elbow grease to remove the hard water mineral build-up. It does a great job of quickly doing the job.
Make sure that the stains are completely covered in the product. While you do need to spend some time scrubbing them, but there's no need to go overboard with the scrubbing. The stains come off easily. There is no need for a scrub brush or steel wool, as these products might scratch the surface of the glass.
It should also be noted that this product shouldn't be used on Plexiglas, soft plastics, or shiny auto paint. It's always a good idea to test the product first on an inconspicuous area first.
If you are trying to apply cleaning products to hard-to-reach areas, you can always use an old toothbrush to reach those tight spaces. This is the easiest way I have found to effective apply the product to areas like this.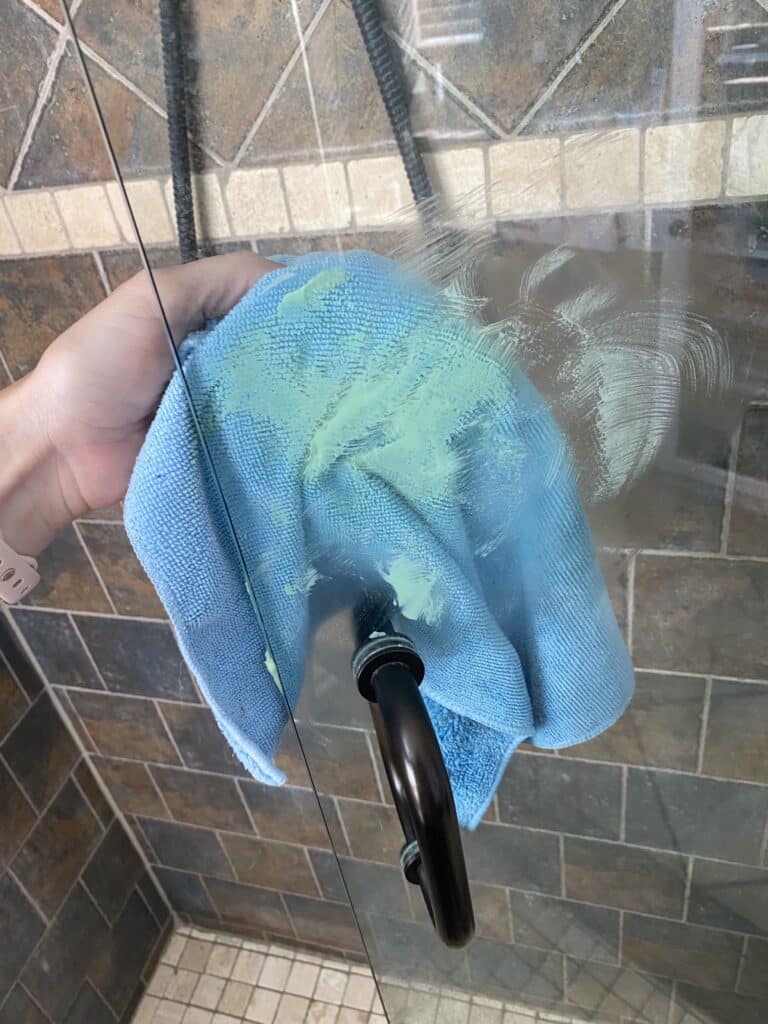 Step 3: Clean the Product off the Glass with Water and a Microfiber Cloth
Apply some water to the microfiber cloth. Scrub the glass with the microfiber cloth with water on it and buff until it is clean. A microfiber cloth is a better option than a paper towel in this instance because the paper towels might leave debris on the glass, whereas a microfiber cloth will remove all debris.
You will find that the water stains come off very easily.
You can then rinse the glass with water. After you rinse the water, it's a good idea to wipe the excess water off with a clean towel. Since the hard water stains were caused in the first place because of water droplets sitting on the surface, be sure to remove any excess water from the glass.
And that's it! The shower glass doors will now be completely clean, polished, and clear. It's such a great product for removing those stubborn hard water stains! This product produces the best results with minimal effort that I have found.
I also wanted to point out that this post isn't sponsored in any way. It is simply me sharing a product that I have found that I have been impressed with, so I wanted to share it with my readers.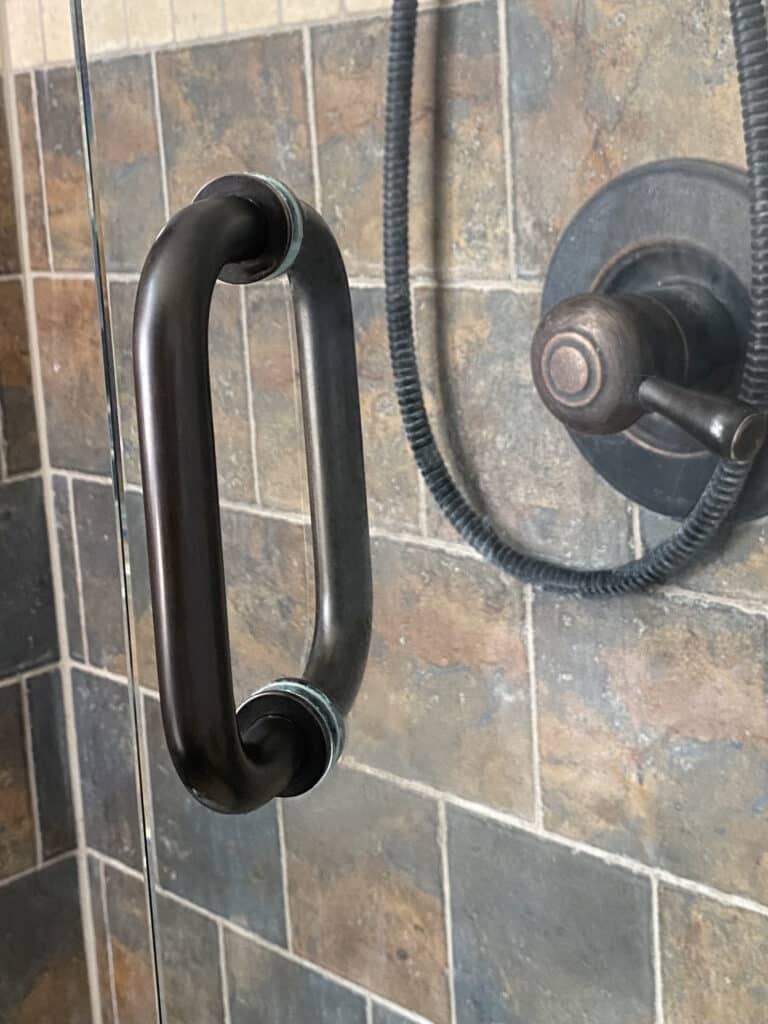 The Best Product to Remove Hard Water Stains from Glass
There are a lot of homemade remedies for removing hard water stains. A popular example of this is to use a mixture of baking soda and white vinegar or lemon juice. However, while testing different methods for removing hard water stains, I found this homemade remedy to be less effective than using Bio-Clean Hard Water Stain Remover.
When using the baking soda and vinegar in a spray bottle, I had to do much more scrubbing and buffing. In addition, in the end, the results weren't as good as what the product provides. There were still small water stains that weren't removed, whereas this product effectively removed all stains from the glass.
Additionally, those methods can be very strong smelling. One of the great aspects of this product is the great smell. It has a slight minty smell that is not too much at all.
One reason why people might be drawn to using items found in the home to clean hard water stains is because of safety. However, this product is non-toxic, eco-friendly, and biodegradable. The company offers a money-back guarantee and is made in the USA.
In addition to cleaning the hard water stains off of glass, it also seals it to help prevent future hard water stains. The sealant can last for up to 3 months. However, if you feel like your glass shower door needs extra protection, Bio-clean Products also offers a protective sealant that is available for purchase.
Effective on Car Windows, Home Windows, and Glass Dishes
In addition to shower doors, this product is just as effective on bathroom surfaces, auto glass, car windshields, car window glass, home glass windows, aquariums, stovetops, corian, or glass dishes. The process to remove the hard water stains is the same for all of these surfaces.
How to Prevent Hard Water Stains on Glass
The most effective way to prevent hard water stains, especially on shower glass doors, is to treat the water supply source. Some areas have much harder water in their area than others, thereby requiring more treatment. This is caused by a high mineral content in the water supply and varies among different regions.
By installing a water softener system in your home, you can greatly cut down on the hard water stains on the glass in your home.
A popular brand for whole house water filtration systems is Aquasana. They offer both whole-house water filter systems and under-the-sink systems. If you're treating just shower glass doors, you can also purchase just a shower head filter.
Another option to prevent hard water stains on glass in your home is to apply a glass sealant to the surfaces. Although this isn't a permanent solution, it will cut down on the cleaning that you will need to do. Of course, this should be done on things like glass dishes, but for things like showers, it could be a great option.
You can also prevent hard water deposits from forming on the surface of glass by removing the water droplets immediately. You can do this by using a squeegee right after a shower. Although this is something that you will constantly have to like (like after every shower) it takes somewhat minimal effort and is effective in preventing hard water stains on glass shower doors.
If you're interested in more cleaning tips, check out this post on the best way to remove rust from concrete, the best non toxic rust remover, or how to get steam stains out of a wood table.
So, there it is – the best way to remove hard water stains from glass. If you use this product and have feedback, let me know!